February 24, 2015. Astrid and Robert van Buuren have checked in as the new owners of #80. Click here to go to #80's new page.
Hi Ron,

I'm not sure if this is the proper way to check in but we just want to update your Dolphin site to #80. My husband Robert and I were so lucky to get her from Steve Ludwig and Jennifer. We will keep her at Woodley Island marina at this time and have already spent some time to get to know her.

She will be much treasured and well taken care of :)...

Astrid and Robert van Buuren

Welcome Aboard Astrid and Robert

*****************************************

************************************************
January 19, 2015 - We'll stand by for her new owner to check in
Ron,
Huachinango sold today. Took her out for one last sail with the new owner. I gave her a going away present. Enjoy the video

This has been a very useful website and I thank you for your efforts in administrating it as well as your advice


Cheers,
Steve

Thanks for your nice words and Fair Winds, Steve and Jennifer

******************************
December 6, 2014 - Updated Craigslist ad - also see pictures on ad
November 5, 2014. On our periodic search of Craigslist we came across this (ad updated)
Yankee Dolphin 24 S&S sailboat - with Trailer $11,000 (Eureka)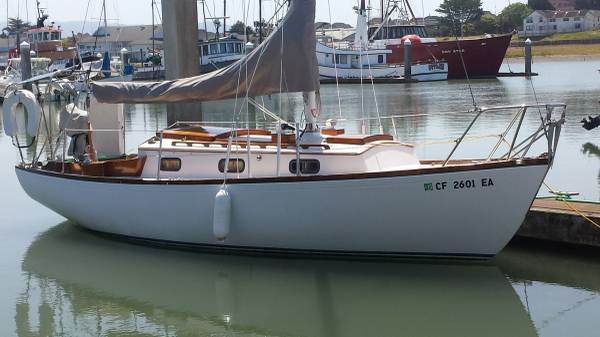 Classic Sparkman/Stephens sailboat with modified full keel and centerboard. This boat is a solid offshore capable pocket cruiser. She's been updated, well maintained and cared for.


Running rigging is new, standing rigging is about 5 years old and sized up for offshore (very stout). Boat will be on the hard for new bottom paint in December. Has great sail inventory with new main bought for it in 2012, great selection of head sails. Full galley, private head, 5 gallon holding tank, 20 gallon fresh water, V berth and double berth. Ideally she can sleep two adults comfortably.

Only calls will be answered and deals are in person. 7o7-five nine nine four six three three.


Other equipment:
Dodger
New full boat cover
Brand new Raymarine auto tiller
Lowrance GPS chart plotter with maps
2012 Tohatsu 6hp sailpro with about 50+ hrs
9 gallon fuel capacity in two tanks
VHF
All safety equipment
Anchor with 280ft rode and chain
Drogue

November 6, 2014. We have heard from Steve. He and Jen are moving on to a bigger boat, a Tashiba 31, on which they plan to cruise away into the great blue yonder. He has a trailer for her that he just bought which can be negotiated into the deal. He wants make sure she ends up in good hands.
**************************************

*****************************************************************************
February 20, 2012. Yesterday, Steve Ludwig checked in and advised that he and Jennifer Nichols are the new owners of #80. They bought her from Buck Owens - in her past she was named El Gitano. He sent in a couple of emails, and some photos of her new look and how she got it. Pending receipt of her 'all done' pictures we'll start with the #80 signature photo - that of her sailing on the 1967 Yankee Yachts brochure. Webmaster Note October 26, 2015 - For more on this brochure click here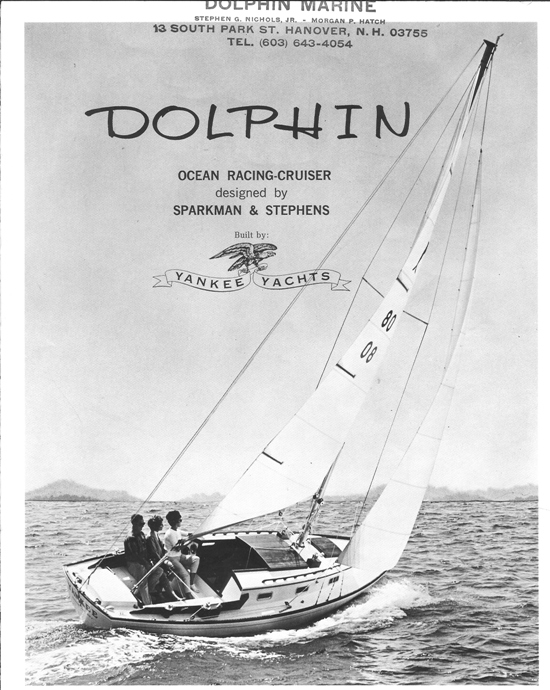 Here are Steve Ludwig's emails (consolidated with minor edits).
Hey Ron

I just bought Yankee Yachts #80. I hauled it out, refurbished the hull, bottom painted it, and I pulled the rudder and installed new packing around the rudder shaft. Other than that the boat was in great shape. The previous owner took lovingly care of her. All she needed was a little face lift.

You have a great web site here. It helped me out quite a bit with my whole buying process. Thanks!

Here's some pictures. She's back in the water now and ready to sail. I'll send you some additional pictures after the renaming ceremony. I just want to give a shout out to "Buck" Owens, the previous owner, for his help and fairness. That was the most pleasant transaction I have ever had buying anything. "Buck" is one STAND-UP man.

-Steve

ps Her name will be El Huachinango
What can a webmaster say - but thanks, Buck! And from the Dolphin 24 dictionary: Huachinango - 1) A bright red reef fish of the snapper family from the Gulf of Mexico 2) A large red jalapeno chile from the Central Valley of Mexico. And because we knew you'd ask, El Gitano - a gypsy
Here are Steve's pictures.
| | Whew! Good Work! |
| --- | --- |
Now the tricky part....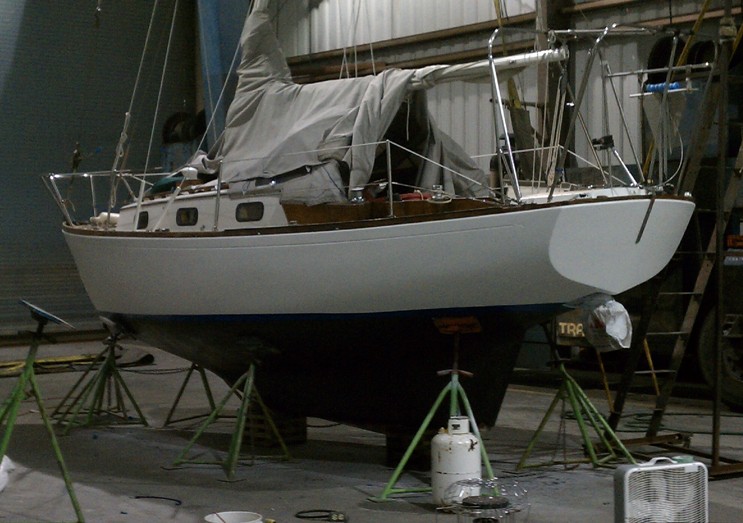 February 23, 2012
Ron,
Here's a web address to a video of El Huachinango's maiden voyage.
http://www.youtube.com/watch?v=HgMWOQ5iHbo
Thanks, Steve

**************************************
September 11, 2011. A day with memories - here's a good one. Steve and Jennifer report on a cruise from Humboldt Bay to Trinidad, a small fishing harbor about 25 miles up the coast (minor edits). Check out the video!
Ron,

We took "El Huachinango" on a weekend cruise up to Trinidad. Trinidad is a quaint little fishing village with a natural harbor. Its about 50 miles round trip. It was a wonderful trip. We only motored about 20% and the rest we sailed. We had great winds coming into Trinidad Harbor and were close hauling with the 140% Genoa at about 5 1/2 knots. We looked great! I say this because being the only sail boat in the harbor we got nothing but compliments from fishermen about our boat and how we looked coming in. We owe it all to "El Huachinango". What a great boat. I've attached some photos and a link of our trip to a

YouTube video( http://www.youtube.com/watch?v=gFGtH7rdZMo&feature=plcp)

Thanks for the website and all your previous advice,

Steve

P.S. The new main came from New JSI. I took the recommendation from the owner of Robin Lee (Erik Evens)

| | |
| --- | --- |
| Leaving Trinidad? | Trinidad ahead - weather coming! |

Trinidad Harbor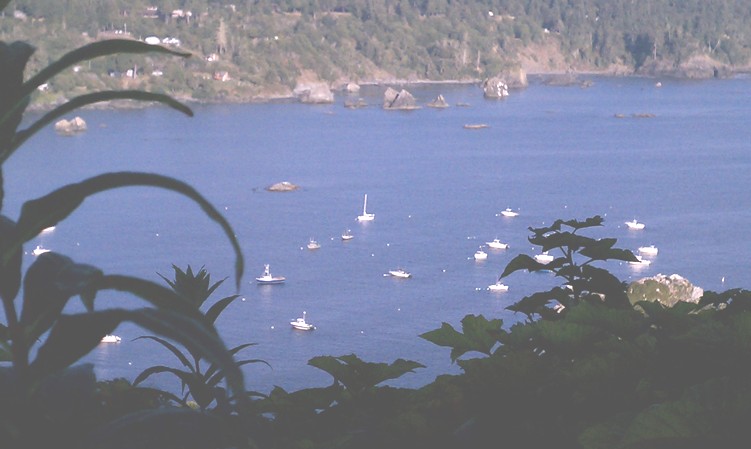 Another view - she's the boat with the mast...

Still another view
Nice! The best view. Home in Eureka. But, we need a pushpit explanation here....see below
Steve came back with an explanation of his pushpit.
Ron,
The "pushpit", right now, acts as a hoist frame to pull the outboard. I have future plans to mount a solar panel on top. The next project is to add a bow roller, deck pipe for chain and rode and mount a smaller anchor forward and get rid of the anchor at stern.
Steve
********************************
September 21, 2012. Steve sent in some very interesting additional pictures and explanations, and it seemed that we should set up a page on this pushpit in our Technical Section. One picture here will pique your interest....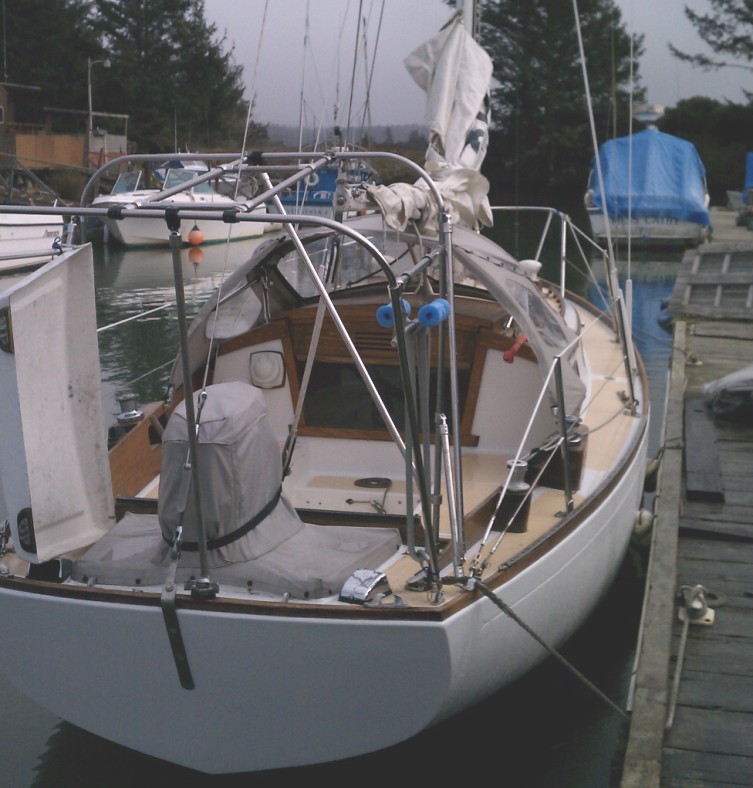 Here the motor is raised out of the water and covered - click here to go to the Technical Section page
**********************************
June 28, 2013, Steve earned his DFI badge today by finding our 212th Dolphin advertised on Craigslist - Jerry Lacroix' Spot, Yankee #133, Sausalito, California
******************************
August 18, 2013.
Here's El Huachinango scooting by the Eureka city Marina. Photo taken by a good Samaritan.
-Steve
Now, because we knew all you Dolphinites are perfectionists, and suspecting Steve would not want the millions of viewers to get the wrong impression, your webmaster asked if these were El Huachinango's original sails - it would make a good tag line for the above photo. We needed to have some commentary - like "having too much fun to tweak the cunningham and put on some more jib luff tension", or the latest in west coast speed wrinkles, or....:-)
Ron,
Funny...you are an observant man. I admit the sail trim was lookin' pretty sloppy, but as far as the the jib is concerned, right before the picture was taken the snap shackle at the tack popped open. So... I plead innocent because I had a "rookie" on board who hanked on the jib. I know the captain is ultimately the one at fault here and my wife along with her friend ("the rookie") reminded me of this all afternoon. We did heave to shortly after this picture was taken and sorted things out - and put a reef in the main. It was starting to blow 20kts.

By the way the main is new, and yes, we here on the west coast have way too much fun.


Steve

**************************
November 5, 2014. We got these 2 interior pictures from Steve's Craigslist ad
Click on the photos for a larger image
January 6, 2015. Steve comments on heavy weather sailing - click here to go there.