February 24, 2014. Astrid and Robert Buuren checking in at the new owners of Yankee #80, soon to be officially named Ocean Gypsy. (Emails consolidated/minor edits)
Hi Ron,

I'm not sure if this is the proper way to check in but we just want to update your Dolphin site to #80. My husband Robert and I were so lucky to get her from Steve Ludwig and Jennifer. We will keep her at Woodley Island marina at this time and have already spent some time to get to know her.

She will be much treasured and well taken care of :)...

Astrid and Robert van Buuren

The New Crew on Board

ps We will rename her Ocean Gypsy but have not yet had the time to officially do that.

We have spent several weekends, and a short 4 day stretch, on her to set up the living quarters as our Casita del Mar. It's been very windy so we only have taken her onto the bay once...and only to learn how she handles motoring.

One day the little steps will lead to all the ocean adventures we are daydreaming of :)...

Welcome Aboard Astrid and Robert

Click here to see Yankee #80 in her prior life

*****************************
May 14, 2015 See an Ocean Gypsy video on Youtube - Sailing on Humbolt Bay. Click here to see it
***************************
October 26, 2015. Yankee #80 was the cover boat on the Yankee 1967 brochure. Whatever her current name she carries this picture wherever she goes, so here it is again. For more on that brochure click here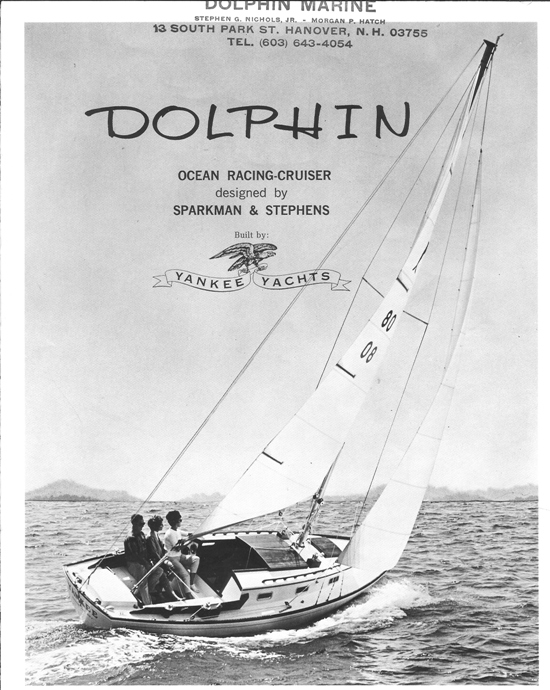 Webmaster Note October 24, 2016. A little late on this but better than never. Steve Schumaker, son of Yankee founder, John Shumaker, posted the following historical tidbit on the Forum/History Section on October 20, 2016. http://dolphin24.org/forum/forum_posts.asp?TID=291
Hull #80, Yankee, is seen on the cover of the brochure for the second model of Yankee Dolphins. Those had a fiberglass deck/coachroof and aluminum mast, but wood coamings and hatch covers. It was our family's second Dolphin, the company owner needing to have a current model for sales and promotional purposes. The cover photo features my Dad at the helm, my mother next to him, and my aunt. The photo was taken in Marina Del Rey, but Ben Sears, an illustrator my Dad used extensively, put in a more scenic background.


*****************************
February 29, 2016. Here's a neat picture Astrid posted on the Dolphin Facebook group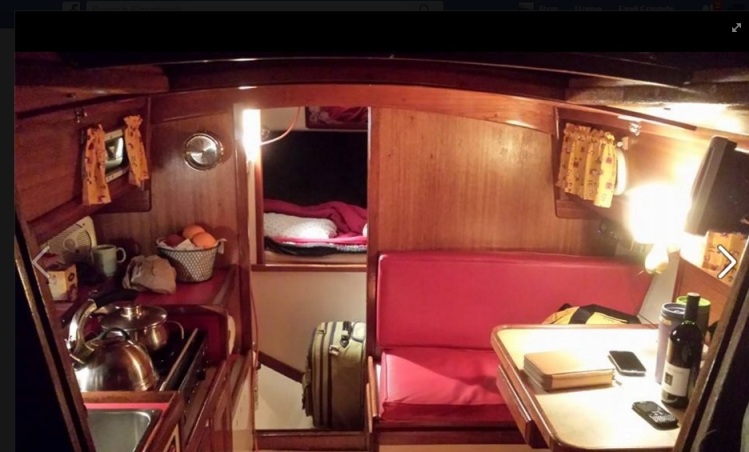 ******************************
June 4, 2016. We have a short update from Astrid responding to a 'what's up with Ocean Gypsy?"
Planning on a half year sail up to the inside passage next year - lots to prep, hoping to install a tiny solid fuel or propane heater this summer......

****************************************
August 16, 2017 Astrid's been doing a lot of work on Ocean Gypsy. A couple of weeks ago she posted some updates and photos stuff up on the Facebook Dolphin 24 Sailboats page https://www.facebook.com/groups/dolphin24sailboats/ We are just catching up. Click the photos for larger images
First hull coat of gelpaint on

v berth getting ready to be painted

| | |
| --- | --- |
| | first I scraped for hours, then I sanded it for hours, then I wiped it down with a moist rag and water, then I used a nontoxic mold treatment which was washed off, then clorox wipe down of all followed by last wiping with plain warm water, now it should be ready for painting :).... kind of long process but worth it |

here is the comparison after the prep work and the first coat of paint....should be even better after the second coat....we dont want perfection but it sure is nice to not have flaky paint on our sleeping bags anymore

also, I am kind of tiny, so that helped with working in the very tip part

*****************************
March 23, 2018. We got the following update from Astrid (you've got to swim fast to keep up with these owners!)
Hi Ron


We took our Ocean Gypsy out of the water last summer, trailed her home to our backyard where we painted her hull, installed solar panels, sanded and painted vberth, etc. Then we moved her to our new slip in the Petaluma Marina so that we can sail her on the Bays around San Francisco. We were on a 3.5 months bicycle tour in Southern Chile over winter, so we are just getting back to spending time on our beloved Ocean Gypsy.

Oh yeah, we finally did the official christianing of her after putting her back onto the water. We also now keep a GoSun solar oven on her and can bake the most amazing bread and treats right on her deck - at anchor - and it smells like being in a bakery. Hope to spend lots of time on her once we are back from Europe in July.....

Astrid

Click on the above photos for a larger image

Where? - The Petaluma River
Postscript. We had a couple of followup questions for Astrid - she responded so quickly that her response qualifies as a postscript!
Hi Ron,


The horizon photo above was taken on Petaluma River where we had anchored for the night. The morning mood on the river was amazing. Unfortunately the inside passage trip had to be postponed to an unknown future (see June 14, 2016 comment above). In the meantime we will explore all that the San Francisco Bay has to offer, get more practice with various anchoring challenges and more ocean-going experiences out of the Golden Gate. I am still a novice on a sailboat but have the intention of one day (way in the future) getting my captain license.

Thanks for keeping the Dolphin site up!
In keeping with continuing website staff efforts to 'educate' itself, and readers, with the homewaters waters that our Dolphins sail, check out here what Wikipedia has to offer, and with the help of Google Maps, below is an overview. The target is where the Petaluma River enters San Pablo Bay - test next week....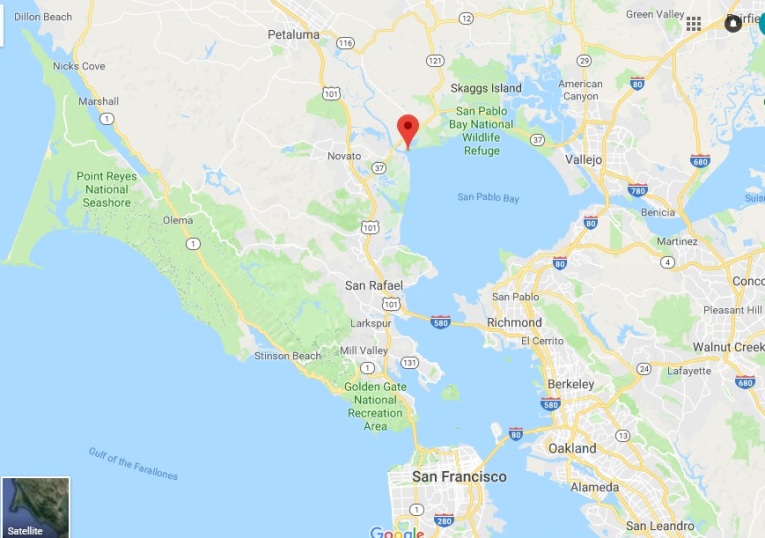 ****************************
September 19, 2018. We got the following update from Astrid
Hi Ron

We just got back from our one year travels, settling back into life. Planning on doing the outside teak work varnishing soon and then take her out onto the San Francisco Bays sailing. So hopefully, more news and pictures within the next couple of months. She is still as beautiful as ever and we still love her, eager to go sailing.

Astrid

******************************
August 19, 2020 We're a lttle late on this one - a 30 second video of Ocean Gypsy sailing on the Petaluma River August 11 - posted on the Dolphin 24 Sailboats page - click https://www.facebook.com/astrid.vanbuurenstaedelin/videos/10217256235854068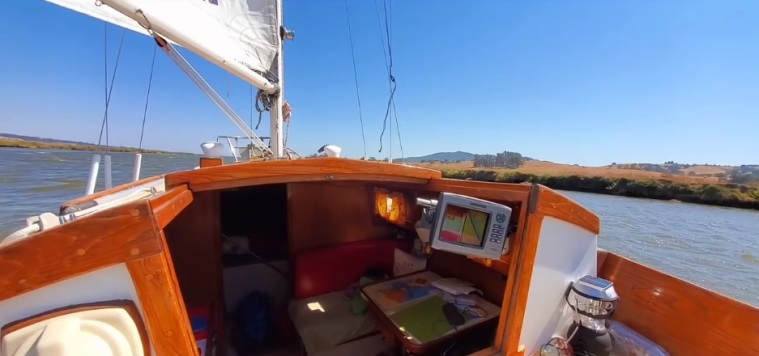 ***********************************
September 25, 2021 - Astrid posted a neat video on the Dolphin24 Facebook page - click here to see it.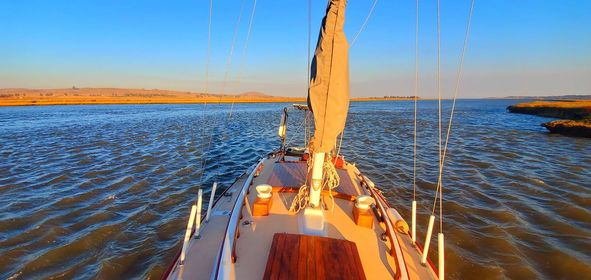 *************************************
j