Marionette's 'Blade' sail. When the breeze is up and likely to get stronger, and there is a lot of upwind work ahead, the crew on Ron Breault's Marscot/O'Day #12, Marionette like to go with an old jib from our Atlantic, Relish A-91, a heavyweight cloth sail, about 7/8ths height on the forestay, with short battens. This sail is more comfortable rolled up, not bagged. The sheets lead to a short track inside the shrouds right next to the cabin trunk in line with the mast. Despite its age this sail has a beautiful shape and tacks inside the foretriangle. The windward sheeting traveler is fairly wide and we play it a lot in the puffs, letting it down to keep the boat on its feet.. This combination of full main with eased down traveler and blade jib keeps the boat moving fast and pointing, delaying the eventual reefing and depowering.

At left, Marionette racing in these conditions, traveler eased;

above is the close inboard track
Below is a picture of the same jib on Relish, A91 our Atlantic racing in pre Dolphin days.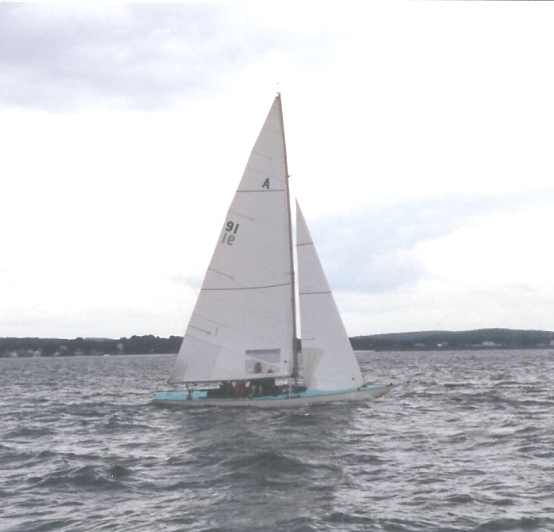 To read more about the connection between Atlantics and Dolphin 24s click here.
**********************************
January 17, 2017. Back last October we had a post on the Forum, http://dolphin24.org/forum/forum_posts.asp?TID=309 that former (17 time) Atlantic Nationals champion, Norm Peck, had four used Atlantic jibs that he needed to find a home for ($50). Mike Zint (Grand Finale) got one, and here is his comment
"The blade jib is here and looks to be almost brand new"

************************************