January 2, 2020. We need to start the new year right, and a confession is needed. For the past year the Dolphin24.org webmaster has been working on a book about his 25 years with Marionette, The 'need' to do this was the consequence of several factors combining to provide the energy to 'turn on the light'.
1) In late September, 2018, when single handed motor sailing in heavy fog on east Penobscot Bay in Maine, Marionette, thru no fault of her own, struck a seaweed covered submerged rock (Marionette's log, 2018).The webmaster has made this particular voyage, solo, from Center Harbor in Brooklin, Maine to Camden many times over the years. So, confident of his 'local knowledge', his Garmin was safely tucked below in the cabin.....

2) A fall while skiing, complicated by an arthritic condtion in the webmaster's left knee, posed medical options that have yet to be addressed, but resulted in physical cautions not supportive of skiing, and introduced concerns over single handed sailing.....

3) reading John Rousmaniere's article Farewell to the Gulf Steam
A first draft of the book was completed in May, 2019, and a second draft in late November, Consultations with possible publishers resulted in 'reality checks', but also a request to write an article titled "Why the Book"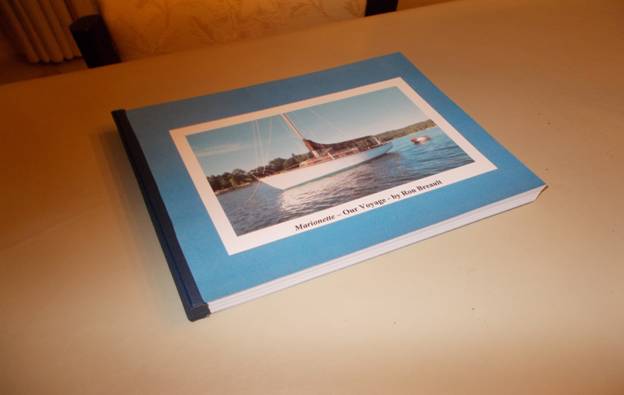 Stay Tuned
Update May 24, 2020 - The New Cover Below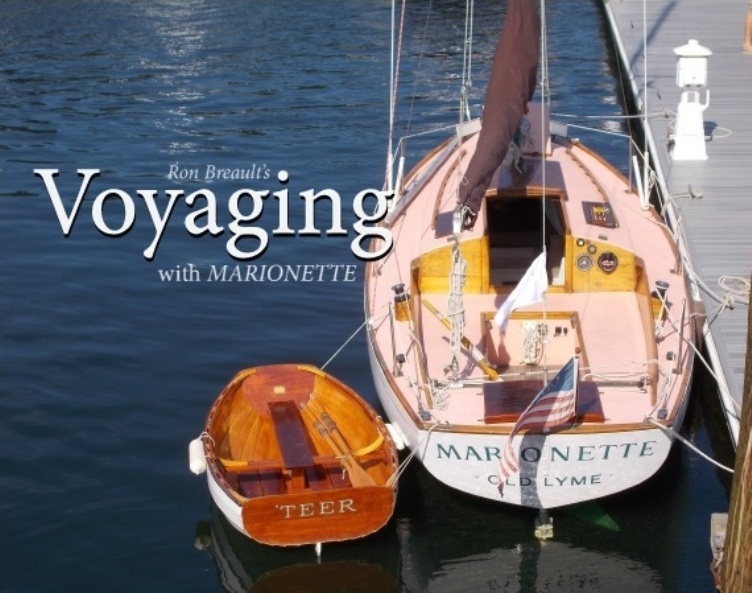 Ok, back on our timeline.....
February 4, 2020 - Back in December I sent a draft copy of the book to John Rousmaniere. He is the Historian for the New York Yacht Club. He liked it and arranged for it to be exhibited on the NYYC Library's presentation table. Here is the email from the Librarian and a photo
Hello Mr. Breault,

Here is a pic of your book on the NYYC display table. I'm not sure how long it will be there, but as you can see, it is in good company.

Best,

Vanessa M. Cameron, Librarian & Archivist, New York Yacht Club

Click here for a larger image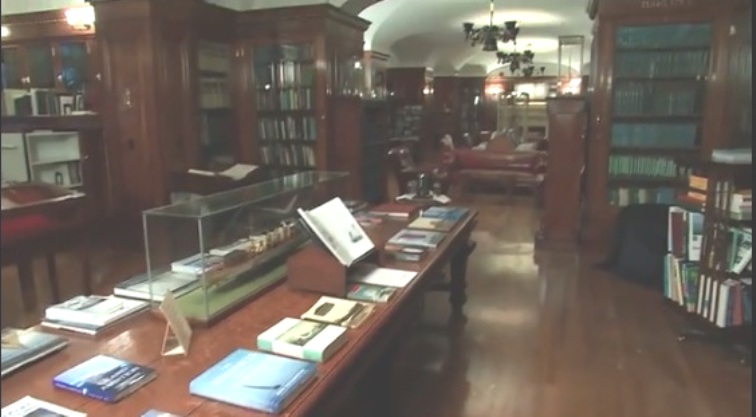 The 'Presentation' Table (file photo)

The front of the NY Yacht Club, 37 West 44th Street, New York, NY 10036
**********************************
May 18, 2020 The Sparkman & Stephens 2020 yearbook arrived with their version of the Why the Book article. Click here to go there.
************************************
May 24, 2020. We've been busy. We've selected a publisher, MarinerMedia/Whaler Books. Owner Andy Wolfe is the editor of the quarterly journal of the Traditional Small Craft Association, The Ash Breeze, which 2 years ago published the article I wrote about Marionette's dinghy 'TEER (click here to go there).
We expect to release the book for printing next week. Stay tuned for how to order your copy!!! Below is a copy of the back cover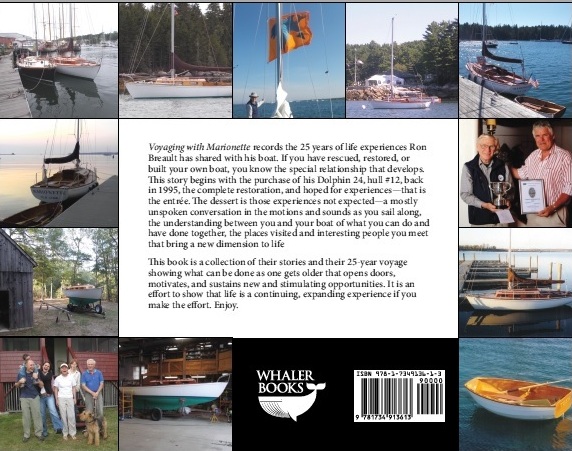 For a better quality, larger print click here - Stay tuned
*************************
Stay tuned
June 26, 2020 - Information regarding ordering the book will be posted in coming days - patience.
*******************************
July 7, 2020 - Pending getting bookstores to carry the book here's how to order books and get the Introductory $10 Dolphin24.org website discount - offered for a limited time only
Book ordering Instructions - click here (updated September 17, 2020)
Book reviews are planned in coming months by Windcheck Magazine, Good Old Boat Magazine and Lymeline.com
Many,if not most, bookstores are closed or operating on a limited basis (this pandemic timing was not in the plan) - A list of bookstores carrying the book will be posted on this page at some point - assuming we don't have a major rehit by Covid 19.
****************************************
July 9 - WindCheck Magazine's July issue has published the webmaster's article Why the Book - here is the link to their website - the magazine is on its way to marine stores and yacht clubs
*****************************
August 4, 2020 Lymeline.com is the Connecticut online community news for Lyme, Old Lyme and surrounding towns. They have a book review section that just published a review of The Book by their review columnist Felix Kloman (Full disclosure here - Felix and your webmaster are Friday morning regulars at Ashlawn Coffee in Old Saybrook.....) Click here to go to the Lymeline review.
August 12, 2020 - Windcheck magazine just published a book review of Voyaging with Marionette. Click here to see it.
August 13, 2020 - The first 2 bookstores 'signed on' and have the book on display -
Harbor Books - Main Street, Old Saybrook, Connecticut - http://www.harborbooks.com/
Postscript September 4, 2020. A follow up visit to the store resulted in the following pics - Graham, the owner has the honor of making the first bookstore sale of the book
Connecticut River Museum Book Store, Essex. Connecticut - https://ctrivermuseum.org/
August 31, 2020 Postscript - A picture of the book on display at the CT River Museum Bookstore.

Click here for a larger image

September 12, 2020 - For a larger updated image
*****************************
August 14, 2020 Here is the link to the Publisher's page for the book, including summaries of the two reviews so far.
https://marinermedia.com/product/voyaging-with-marionette/

September 10, 2020 Note: Due to a 'system crash' they were temporarily unable to accept online orders. Update September 17, all ok now. For ordering information click here

**************************************
August 27, 2020 Points East Magazine (Sept issue) has published a review of the Book. Click here to see it.
****************************************
September 4, 2020 Good Old Boat Magazine has published a review of the book by Dan Spurr - Click here to see it
*****************************************
September 17, 2020. Online ordering info has been updated - click here to go there
*****************************************

October 6, 2020 Bank Square Bookstore, Mystic, Connecticut is our 3rd bookstore.

Stay tuned for a photo of the book on display

| | |
| --- | --- |
| Postscript October 10, 2020. Bank Square Books sent us a photo of the book on display in their boating section | |

***********************************
October 30, 2020. Latitude 38 magazine's November issue has a Voyaging with Marionette book review article. Click here to see 'extracted' version.
**************************************
November 8, 2020. St Francis YC has a Wednesday Speaker Luncheon - guess whose speaking on December 2....Click here to find out
**************************
November 25, 2020 The Bowerbird in Old Lyme, Connecticut is our 4th bookstore
Website: thebowerbird.com
Address: 46 Halls Rd, Old Lyme, CT 06371
Phone: (860) 434-3562
Click here for a larger image of the book on display

Click here for a larger image of the description sheet

December 4 Postscript - sold 3 books!

Proof above
December 17, 2020 postscript - Here is the link to Bowerbird's webpage for the book -
https://thebowerbird.com/products/voyaging-with-marionette-by-ron-breault?_pos=1&_sid=6563a9005&_ss=r
*******************************************
November 25, 2020. Check out Eastern Connecticut Sailing Association Commodore Anne Hannan's Facebook post https://www.facebook.com/groups/279886569480145
**********************************
November 28, 2020. Lymeline, our community online news service, put out an article regarding a gift shop, the Bowerbird, carrying signed copies of the book - click here to see it.
********************************
December 2, 2020 Here's the direct link to today's St Francis YC Yachting Luncheon with Speaker/Webmaster Ron Breault talking about his book Voyaging with Marionette
UPDATED LINK "There is Nothing, Absolutely Nothing, Half So Much Worth Doing, as…" | WYL Ep. 137 - YouTube
************************************
December 11, 2020 Bank Square Books, Mystic, Connecticut has THE BOOK up on their website - Great 'presentation' click here to go there
****************************
| | |
| --- | --- |
| January 2, 2021. Over the holiday weekend there was a neat article about the book written by Rita Christopher, senior correspondent for Shore Publishing. It was published in Harbor News/Shoreline, a weekly newspaper, and on their online news service Zip.com. | |
**************************************
January 16, 2021. Our local country market - Coffee's Country Market - is carrying THE BOOK!
Click on the photos for a larger image
**********************************************
March 7, 2021

The magazine Maine Boats, Homes and Harbors, Mar/Apr edition featured Marionette on their cover and included a neat article written by the webmaster. Clicking this link will take you there.

This photo was one of several of Marionette taken by Benjamin Mendlowitz (Wooden Boat Calendar) on Eggemoggin Reach.

Senior DFI/daughter Nicole and her husband Bruce were delivering Marionette from Blue Hill to Bucks Harbor. This link tells that story

*******************************

April 8, 2021. A local weekly newspaper, The Lyme Times, published Rita Christopher's article Ron Breault: Voyages known and unknown. It was on pages 19 and 20 in their Friends and Neighbors section.

The article first appeared in the Harbor News in early January - see January 2, 2021 post above.

Click here to see the article.

Click this link to go to the online version of the article https://www.theday.com/article/20210407/NWS01/210409719

************************

*****************************************
April 28, 2021 - Another bookstore will carry 'the book' - Breakwater Books, Whitfield St (on the Guilford Green) Guilford, Connecticut. In the good old days 8 different Dolphins called Sachem's Head Yacht Club home. Marionette, in the '70's was homeported in Essex, CT on the Connecticut River but often made the trip downriver, overnighted and raced with her sisters.
Jim Kurt - The Rachael K; Stan Barnes - Shaman; Carlton Granberry - Savili; George Watts - Odile; Orin Jones - Lady;
Edwin (Binks) Fisher - Tantivy; Jeff Burt - Nalina; Jim Homet - Tiki



*****************************
May 8, 2021 Just arrived the 2021 Sparkman & Stephens yearbook containing an article written by Ron Breault about Marionette Click here to go to the article
*************************************
October 19, 2021 Your webmaster's recent move across the CT River to Essex, CT necessitated a copy of THE BOOK be available to Essex residents - after all, 25 years ago, it was here I bought her from the CT River Museum .Here's a photo of THE BOOK on the new books shelf at the Essex Library.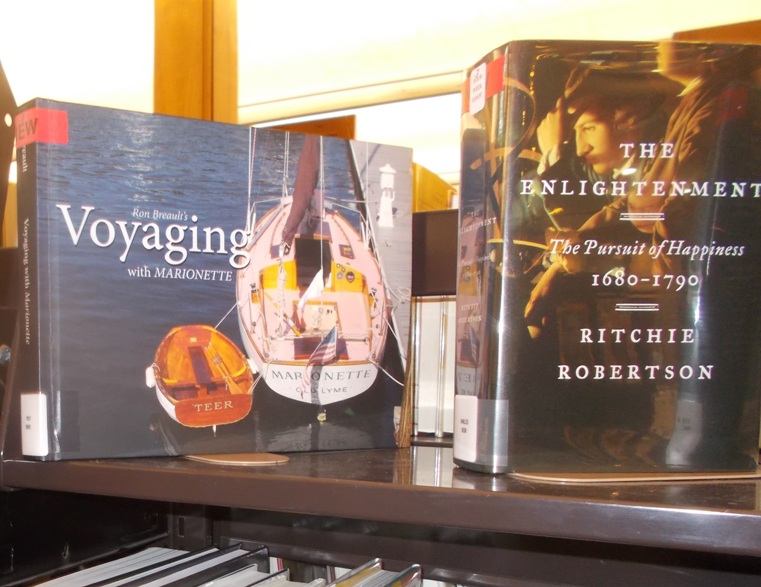 Postscript - at right is a photo of the entrance to the Essex Library. The bricks on the periphery of the walkway are engraved with the names of Essex residents who supported the library.

Below is a photo of the Tom Marston (RIP) family's brick. Tom owned Marionette for many year's. It seemed that that he would have liked to have a book about his boat in his library.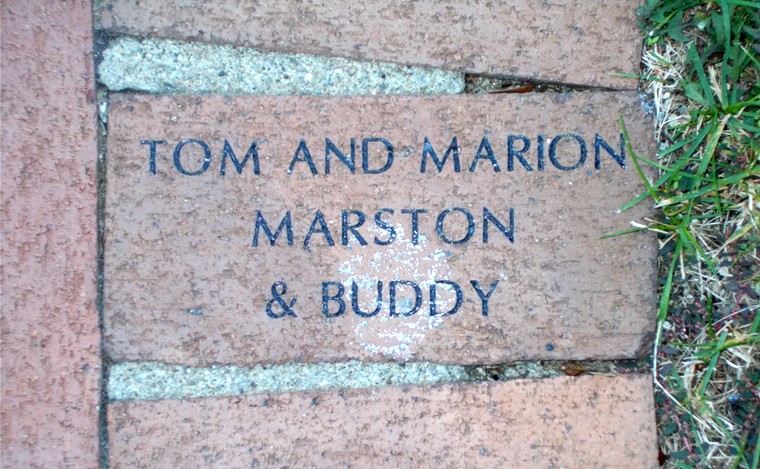 ********************************