July 14, 2018 We're a little late on getting this going. Marionette's activities up to June 8 are covered on her home page, http://dolphin24.org/restorations_marionette.html. Yesterday, daughter Nicole and I sailed her from Niantic Bay YC west on Long Island Sound and up the CT River to Old Lyme Marina where she was hauled, washed, mast unstepped and loaded on her trailer for the 5 mile trip back to her barn in Old Lyme. There, she will undergo some TLC to ready her for the road trip to Camden where she will race in the Camden Classic Cup in late July. Click this link - re the regatta http://dolphin24.org/ccc2018.html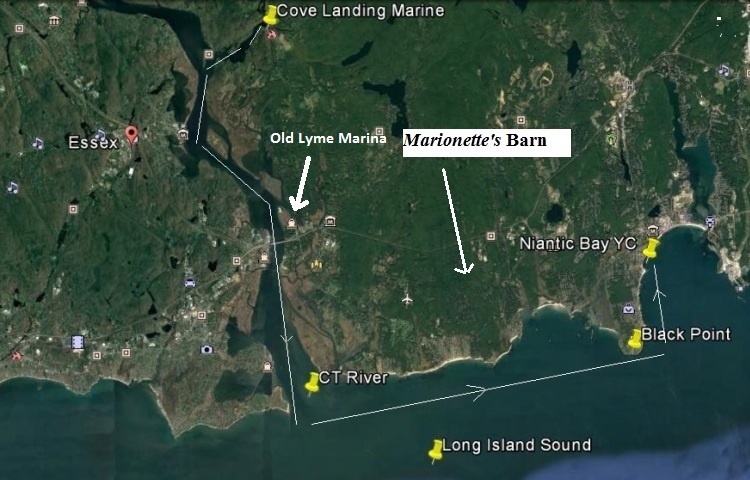 Reversing, almost, her trip in June when she was launched at Cove Landing Marine
CT River RR bridge - Click here for a larger image

Old Lyme Marina in far distance beyond highway bridge

Old Lyme Marina - CT I-95 bridge in background

Click here for a larger image
Click on the above photos for a larger image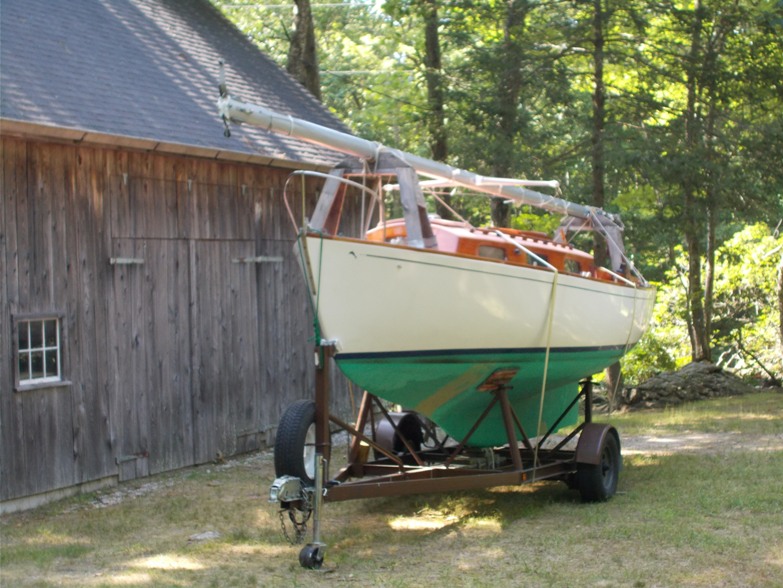 Back at her barn - Awaiting TLC
**********************************
July 24, 2018 TLC - repair mast top bracket that holds the wind vane and radio antenna; hand (scotch brite) wash the bottom; repair 'gouge' on end of rudder; revarnish 'TEER's bow; touch up deck; paint edges; check tires/inflate to 'road' pressures; redo straps; etc. etc......

She's ready! Departure 6AM. ETA Camden, Maine about Noon....

Click here for a larger image
*******************************
August 5, 2018. Lots of catching up to do. Rain, then Heavy Fog at the Camden Classic Cup/Dolphin 24 New England Championships. Little Haste won and, due to a scoring error, we still don't have final results for positions 2, 3 and 4. Maya Elena was 'fogged in' at Spruce Head and never made it to the regatta. In race #1 Marinette rounded the wrong mark in the fog, and withdrew, but she won Race Two! On August 3rd we sailed/motored to Brooklin, Maine and she is now on a mooring there for the month of August, returning to Camden in early September.
Pending final results here a few photos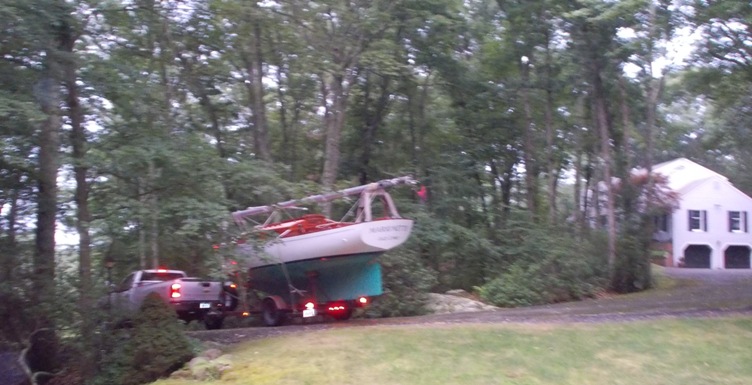 Above - Leaving Old Lyme 6:15AM - Click on the photos below for a larger image
Size matters left, and umbrellas ready for the rain, right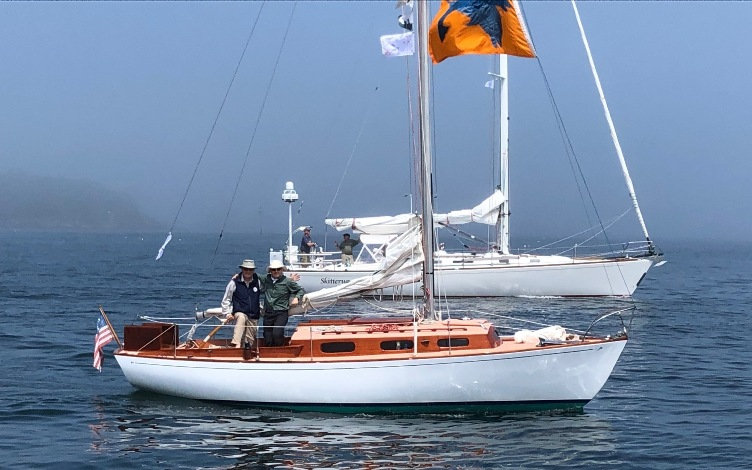 Thanks Mike Burns!
Stay Tuned
August 6, 2018. Still no final results for places 2, 3 and 4 at the NE Championships.

> On August 2nd left at 5:15AM and drove from Old Lyme to Belfast in son Mike's car (traffic was brutally heavy),

> picked up an Enterprise Rent a Car and both of us drove to the Brooklin Boat Yard (2 hours away); left Mike's car there;

> drove back to Belfast to return the rental car;

> taxi picked us up and drove us to Camden/Lyman Morse dockmaster office - arrived at 4:30

Lyman Morse launch picked us up and we arrived at Marionette's 'float' in the inner Camden Harbor at 5PM - 430 mile trip - long day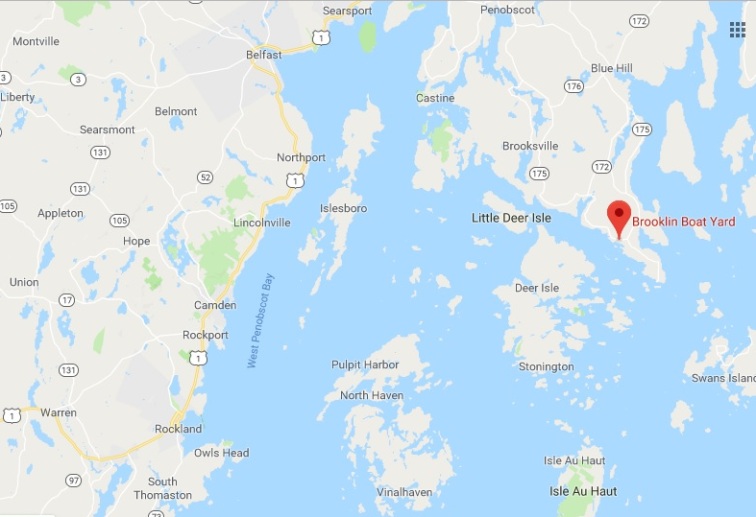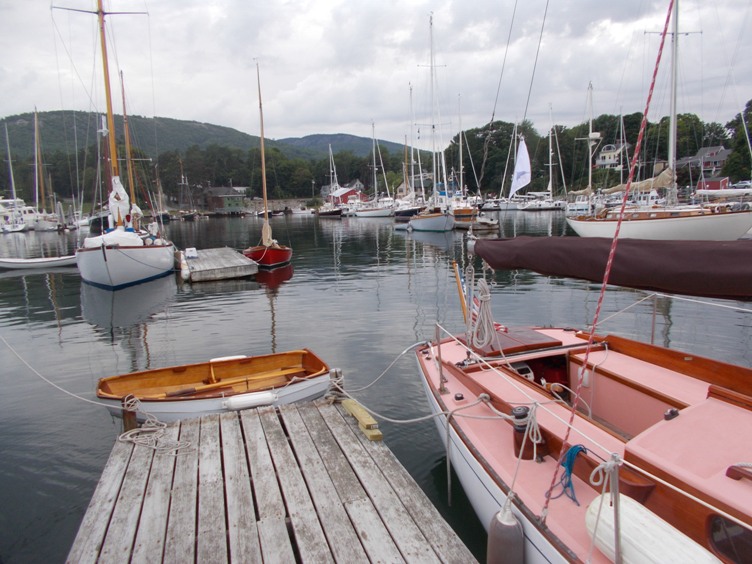 Marionette and 'TEER at Camden Inner Harbor float
On August 3 left Camden at 10:30 for Brooklin, very light breeze, motor sailing, cut thru the Isleboro 'gap' between Job Island and Lime Island - This is Dolphin territory at near low tide.....

Light breeze came in and we sailed across east Penobscot Bay into Eggemoggin Reach and Brooklin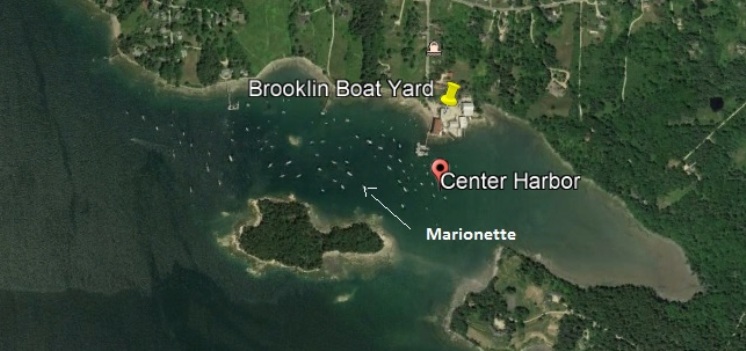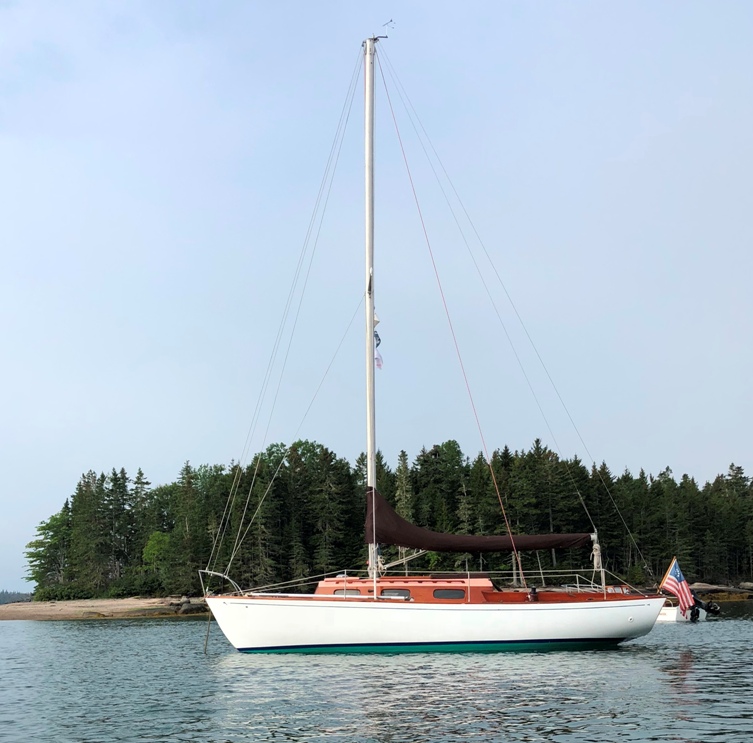 Stay Tuned
August 7, 2018 - Corrected results are in for the Dolphin 24 New England Championships. It was a fierce 3 way battle for 2nd place, and for the new Ed Glover Trophy (right).

Marionette finished 2nd despite having to withdraw in Race #1 for failing to round the final windward mark - due to heavy fog, we did not see it! We made up for it by winning Race 2.

Complete results are below

************************************
August 11, 2018 - Back up to Brooklin Thursday, August 9 to visit with Marionette. A couple of DFI stops along the way in Camden and Searsport to check out a couple of Maine dolphins.......

Bailed out 'TEER using our battery powered portable stick pump - right

Rain and fog. Sunset over Center Harbor on Thursday after pizza at the Pub (check out photo above Dolphins trophy right)

Click here for a larger (more impressive) image
***************************
August 15, 2018. Here's the 'new' Ed Glover Award with plaques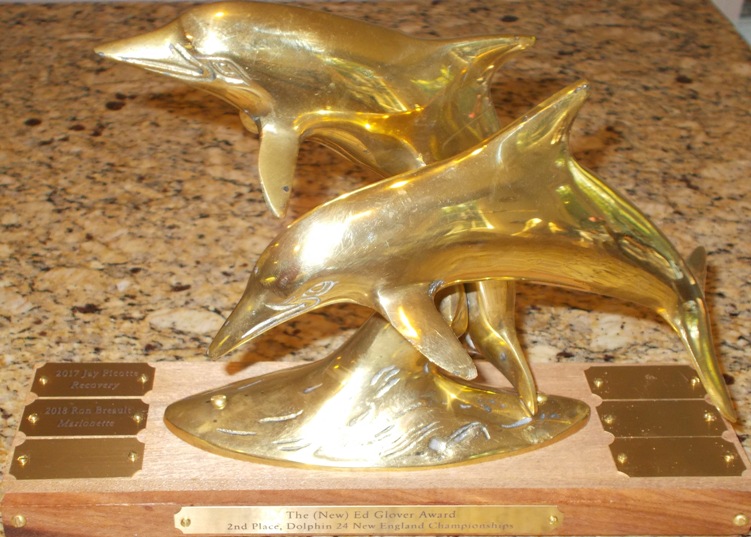 2017 Jay Picotte, Recovery; 2018 Ron Breault, Marionette; 2019 ?????
**************************************
August 22, 2018. So, your webmaster got permission from the Admiral for another quick trip up to Brooklin, Maine to comfort Marionette waiting patiently on her mooring there. and, donning his DFI hat, stopped in Stockton Springs Harbor to check out Makarios, Yankee #246 - click here to go there.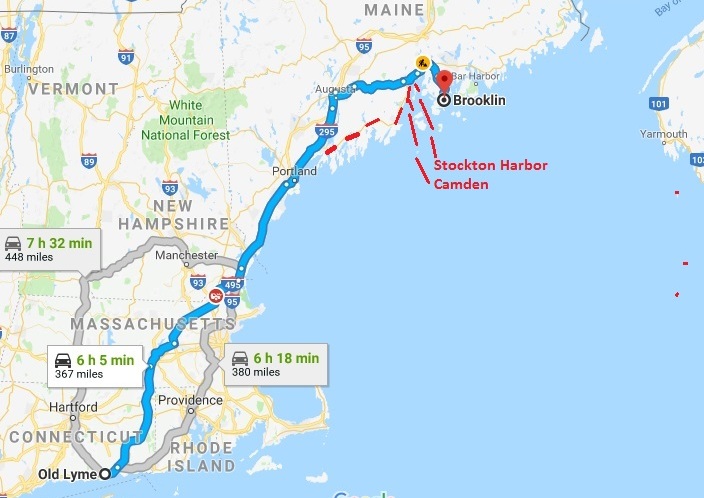 Old Lyme to Brooklin is a 7+ hour trip - heavy summer traffic.
A stop was made in Camden to meet with Marnie Read of the Camden Classic Cup/Dolphin 24 New England Championship. Issues discussed related to the combining of the Dolphin 24 fleet with the Daysailor fleet and consequent scoring problems. These issues will be addressed for 2019, and the 2018 Regattaman scoring will be corrected - stay tuned. Done! August 23, 2018 Corrected Dolphin 24 Fleet results have been posted on Regattaman - click here to go there
Mid afternoon arrival at Brooklin BY, bailed out 'TEER, rowed out to Marionette, aired her out, had a beer, and rowing back to the dinghy dock got this picture - she loves having her picture taken...

Quick trip up to Blue Hill and the Kollegewidgwok YC to visit with Relish, Atlantic #91 - she left me after 15 years together when Marionette appeared on the scene - not happy in a nearby boatyard - below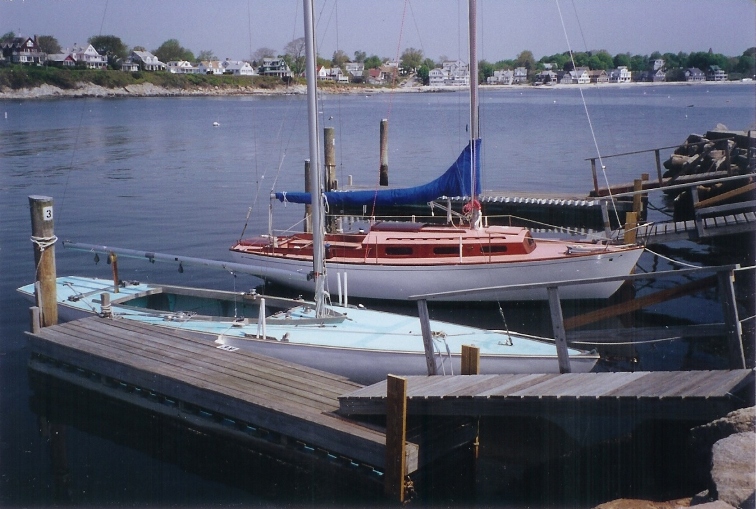 Relish and Marionette at Niantic Bay YC - circa 1995
The Blue Hill/Eggemoggin Reach area has been a Marionette/Webmaster cruising ground for many years. Here's a Google Earth view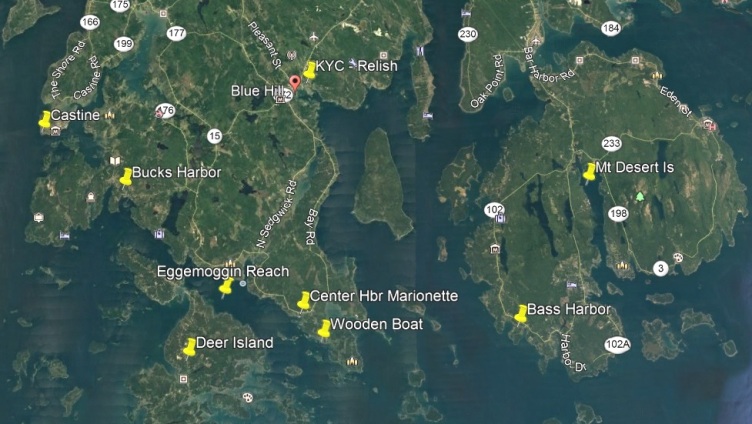 | | |
| --- | --- |
| Long day.... back to the Pub for a WiFi website/email update, an early dinner (local oysters as an appetizer, pulled pork on a toasted bun, mashed potatoes on the side, locally brewed summer ale...), then back to the Brooklin Boat Yard, a short row in 'TEER out to Marionette and turned in just as the sun went down off her transom..... | |
Next morning up at dawn, 5:15!!!. A light fog, weather forecast - flat calm until the afternoon, then a very light breeze from the east (on the nose for the planned day trip over to Bass Harbor).

Decision Time - cancelled the planned cruise in favor of a land cruise up the Reach to Bucks Harbor for breakfast at the Bucks Harbor Market, across the street for a visit with Rae Kurt (The Rachael K), a quick check in at the Bucks Harbor YC, followed by a visit to Castine and conversation at the Dolphin Books and Prints shop., then a DFI stop in Belfast to check on the whereabouts of the Belfast Dolphin, followed by the long ride home.

So, I tidied up Marionette, rowed ashore, stopped at the nearby Brooklin General Store for carry out coffee, and started driving.....

Outdoor table at Bucks - click here for a larger image

Thanks to the hospitality of the Kurts Marionette spent many nights at their guest mooring in Bucks Harbor off Harbor Island (center left in picture) including safely weathering a memorable hurricane.
Home at 5:15PM - Stay tuned
Forgot one important truth picture - hanging on the wall of the Pub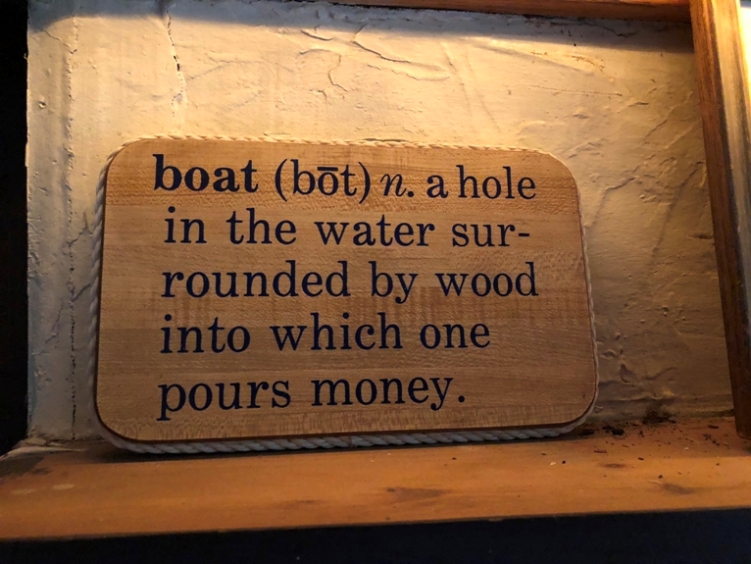 The word 'wood' withstands the test of time and technology
****************************************
September 8, 2018 - Marionette's 2nd place keeper trophy for the 2018 Dolphin 24 Class New England Championships arrived - a solid pewter AGA Correa disc.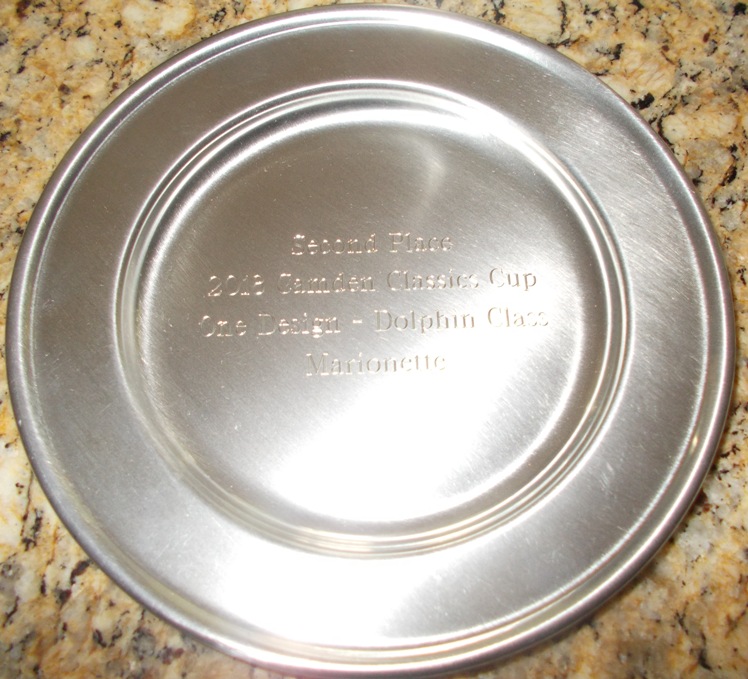 **************************
September 18, 2018 Keeping Marionette from getting lonely means driving back and forth to Brooklin, Maine in summer/holiday traffic - 7/8 hours one way - no fun. And, the heavy morning fog, very light/no wind forecast did not help. This weekend the plan was to take her from Brooklin back to Camden, normally a beautiful 5 hr sail down (up) Eggemoggin Reach, thru the islands in eastern Penobscot Bay, take a (locally known) shortcut thru Isleboro, across western Penobscot Bay - with the beautiful mountains in back of Camden and Lincolnville watching you (and sometimes, here a diversion, the occasional marine photographer)

The first leg of this trip is a 5+hr drive from Old Lyme, CT (4:30AM departure!) to Camden, check in with the dockmaster to get the location of the inner harbor float which will be Marionette's home for the next couple of weeks, leave the car and connect with the cab that is going to drive me on next leg up to Camden, 2+ hours. On arrival in Camden, heavy fog.

Then, Cabbie called in reporting a vehicle breakdown and would be late for our 11AM planned departure - so arrival in Brooklin would be too late to sail to Camden that day.

OK, execute Plan B, stay in Brooklin overnight, pizza at the Brooklin Inn Pub, leave early Sunday morning - another heavy morning fog forecast......

While waiting did some webmaster work in the Lyman Morse visiter lounge, and observed a neat bi-plane flyover.

At right, the view thru the lounge window when the fog lifted, and below, a shot of the bi-planes.

The cab trip to Brooklin was uneventful. I bailed out 'TEER, who had been resting at the dinghy dock, and rowed out to Marionette. She was anxious to get to the Brooklin Boat Yard dock so we motored in, secured her and 'TEER, and then made the 3/4 mile walk into 'town'.

The library offered free WiFi service and website duty called.

A 4PM closure on Saturdays meant a short walk over to the Brooklin Inn and completion of website work on their porch followed by still another first (again first person into the downstairs Pub), which opens at 5:30.

They have a neat brick oven centered in back of the bartender, so after a Pepperoni Pizza and a couple of beers, back to Marionette for an early turn in. Still, a long day.

Click here for a larger image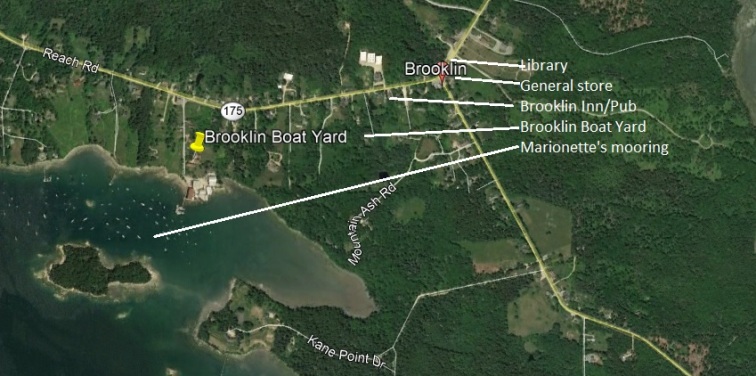 September 19, 2018 Up at 5:45 - heavy fog!! Weather forecast - should burn off mid/late morning

OK, opportunity for a long neighborhood walk and work up an appetite.....Long, leisurely breakast, walk back to Marionette. Still foggy. Saw a guy taking pictures, We chatted.

Turns out this guy is a marine photographer, Steve Greenburg, who just moved to Neskeag, the eastern end of Brooklin, and a favorite Marionette short cut when on her way up to Blue Hill from the Wooden Boat anchorage. Steve graduated from the Wooden Boat School marine photography program.

Marionette has had her picture taken by some 'famous' marine photographers - Benjamin Mendlewitz (Wooden Boat Calandar) is one - click here to check out that story. Anyway, Steve sent me the photo right.

Over the next couple of hours the sun broke thru, then hid several times. About 10 we decided it was time and, fingers crossed, no wind, we left. Marionette's dockmate was a very big, carbon fiber something....click here for a Steve Greenberg close up
Not much to report - very light breeze came up, on the nose, naturally. I raised her main, pulled the traveller way up, and we motor sailed at about 4 knots down the Reach, under the Deer !sland Bridge. Notice that 'TEER throws off a larger wake than Marionette - towing her costs a 1/2 knot.....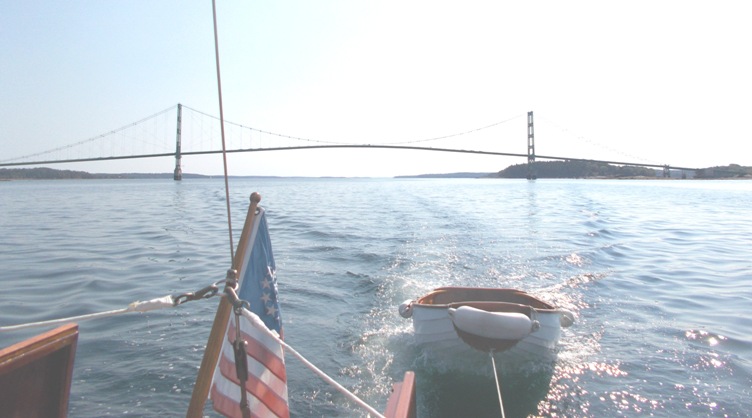 A little further on we passed Pumpkin Island at the opening western end of the Reach, and the old lighthouse - a favorite sight when our family rented a cottage on Weir Cove just across the Reach on the north side. Our now departed Airedale's name was Pumpkin....Marionette's log for 2011 touches on this http://dolphin24.org/marionette_summer_2011.html

Making our way through the islands across Penobscot Bay is always more interesting if one elects to take shortcuts. This particular shortcut story will be told another time. Nevertheless, we arrived safely in Camden at 4:30, tied up at a harbor float up near the head of the harbor, pulled 'TEER up on the float, tidied up, got picked up by the Lyman Morse Dockmaster launch, got to my car, was on the road at 5:15PM, and arrived back in Old Lyme, Connecticut at 10:30. Long day......will be back September 24 for a few days to daysail, then will have Marionette hauled, and plan to pick her up on Oct 2, and take her home.
Stay tuned
September 29, 2018 Arrived in Camden on Monday, Sept 24, late afternoon after a long, traffic heavy drive up from Connecticut.....

Besides the Admiral and her sister, one of Marionette's crew (Nicole) was with your webmaster, We were hoping for a couple of light duty day sails before we prepped Marionette and had her hauled.

We stayed at a really neat motel in Rockport, Glen Cove Inn, with outstanding breakfasts and interesting conversations with other visiting sailors.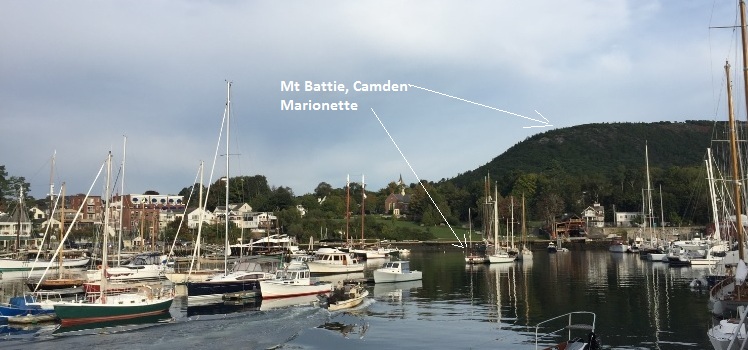 Camden Inner Harbor - Marionette waiting - threatening skies, Monday, September 24, 2018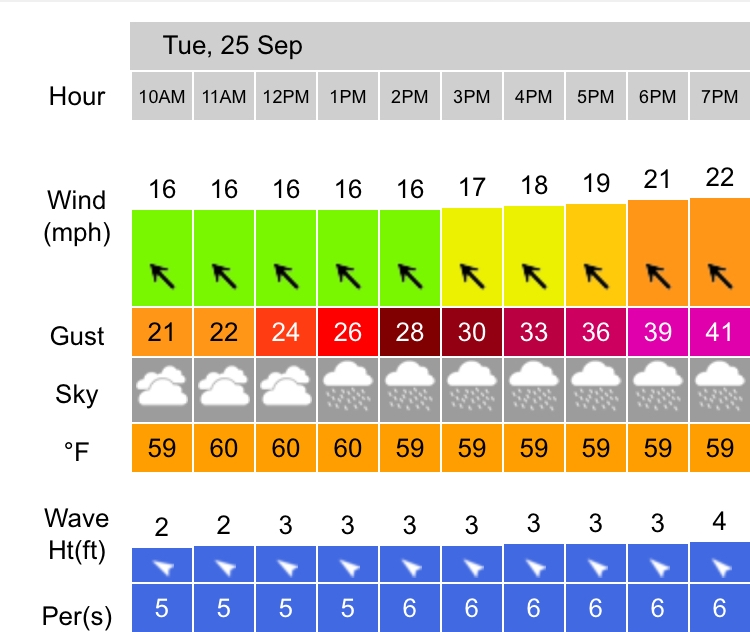 Weather Forecast Camden, Tuesday, September 25, 2019 - No sailing today!!
So, with Wednesday's forecast for heavy rain/fog, on Tuesday morning we had the Lyman Morse launch take us out to her float, stripped off her main sail, halyards, deck anchor, lifelines and stanchions, stored everything below and made her ready for hauling.

"TEER" had been stored on the float so we rowed her to the dock and carried her up to her temporary resting place on the grass.

Note: Mt Battie in background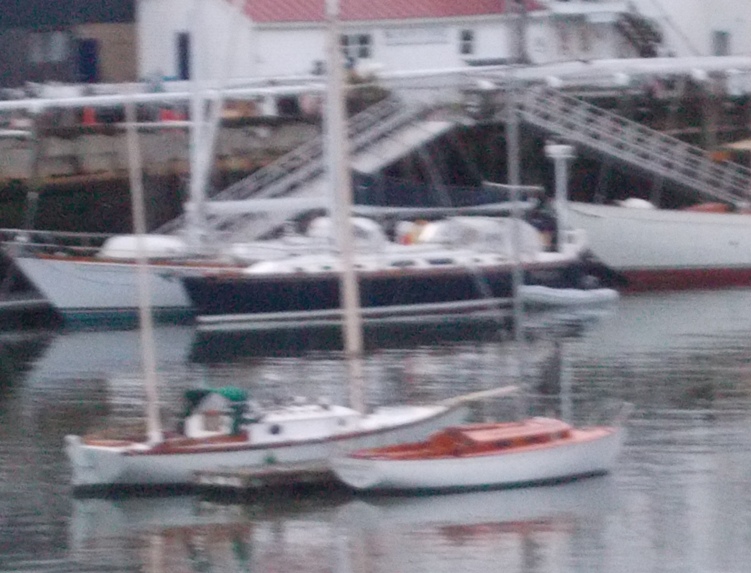 Waiting......
Then, Plan B was executed - before the heavy fog came in we had a quick visit to the top of Mt Battie to show off Camden Harbor to Marionette's crew, followed by 2 days of visits to Rockland's Farnsworth/Andrew Wyeth Museum, the Olson House, a visit to Owls Head and Spruce Head Island (DFI visits to Abbie Burgess and Maya Elena's barn), Tenants Harbor, Port Clyde and lots of lobster rolls.....

We left Thursday, September 27 at 10 just in time to catch several hours of the Senate Judiciary Committee hearings...........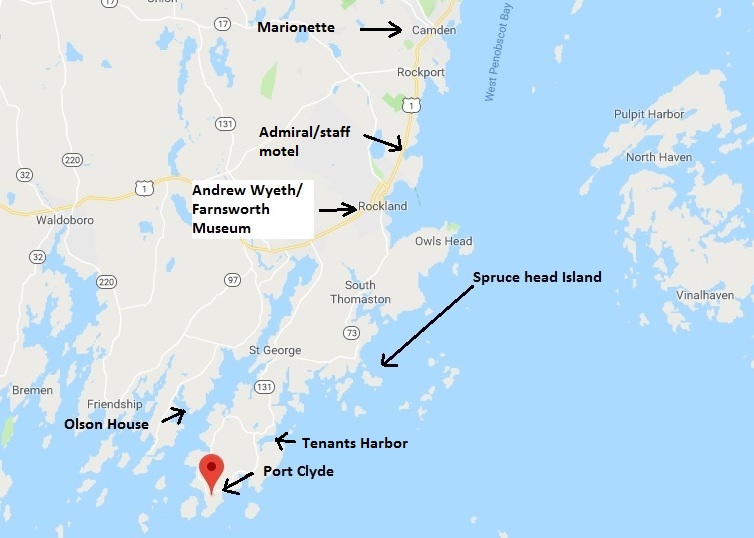 **************************
October 5, 2018. Long hard week. On Tuesday, October 2, left Old Lyme at 5AM! with Mark (Marionette's long time trailer driver) and his pickup to drive up to Camden - rain and fog the whole way......

Arrived at the Lyman Morse boatyard at 10AM and, fortunately, caught a rain break for the 2 hours we needed to load Marionette's mast on her horses, strap her securely on the trailer, load 'TEER in the back of the pick up, recheck everything, and start the long trip back to Old Lyme.

Rain, sometimes very heavy, and fog came back to to help us on the return trip. A lunch stop (lobster rolls, of course) at "The Taste of Maine" on Route #1 in Woolrich, Maine (near Bath). Heavy rush hour traffic in Worcester, MA.

Back in Old Lyme at 7PM - 14 hours.....No time to unload, rain, dark.....Good job Mark!!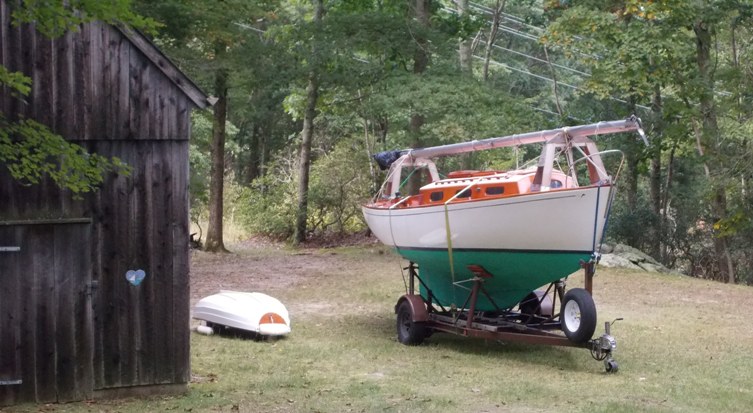 Wednesday Morning - Marionette back home waiting to be unloaded, washed, sails washed/dried.........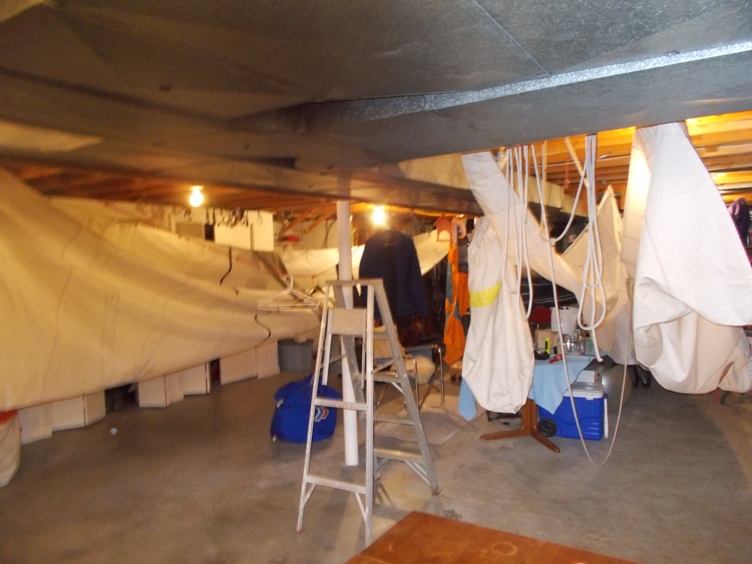 3 days of unloading, cleaning/drying sails, cushions, gear, etc - above sails drying in the cellar.......
Stay Tuned
October 7, 2018. Continued - pictures really are worth thousands of words (Webmaster Note: Re-reading logs help us get through long winters).

Click on photos for larger images

Right - mildew on her blade sail !! - 1/2 cup bleach, dash of laundry detergent, pail of water, long handle brush, scrub, rinse, hang on railing....

Below left - washing ("TEER's) bottom (her dinghy)

Below right - They're both in the barn!

Below - Mark and his pickup leaving after helping get the mast off Marionette and moving her into the barn - out of sight so far. He has been her favorite trailer driver.

Right - Mark will be back to help get the mast up thru that 2nd floor barn door and hung from the rafters - still needs cleaning, WD40 coating, and Saran wrapping for the winter.....
Stay tuned
October 9, 2018 - a Marionette Camden/Brooklin/Bucks Harbor Gallery......Click here
*******************
October 14, 2018 - An 'In the barn' update. The mast is cleaned, WD 40'd, Saran wrapped and safely up in the barn. Click here for a larger pic.

Back on the Brooklin/Camden del'y report (September 19, 2018 above) your webmaster alerted readers to an 'incident' that has resulted, eventually, in a necessary TLC barn project. In heavy fog, motor sailing with just the main, we were passing thru the barely visible islands west of Eggemoggin Reach, when a 'floating mass of seaweed appeared' directly ahead - not an unusual occurance in Penobscot Bay. Almost simultaneously we came to an abrupt 'stop', fortunately bouncing to port with a few 'scrapes', and we were free of the 'seaweed'. This particular seaweed was attached to a submerged rock ledge.....Part 1 of this TLC project below.
Click on these pics for a larger image
A question came up about 'stabilizing' the filled epoxy while it cured - basically, the filling is 'upside down'. A piece of thin cardboard was covered with Saran Wrap and taped to one side (port) and fore and aft, creating an envelope open on the remaining (stbd) side. The thickened epoxy was squeezed into the open side and pushed into the area to be filled. Then the open side of the envelope was tightly taped to the hull and any bulges hand smoothed (a picture here would have helped...). After a day I stripped off the cardboard. We'll give it a couple more days to fully cure then sand to the keel shape. If this TLC comes out ok we'll add a page to the Technical Section/Repairs.
Stay tuned
October 16, 2018 Postscript A quick trip down to the barn, camera in hand, and I discovered that the 'cardboard cover' had not been trashed, but was waiting to have its picture taken! Note that the Saran Wrap did not stick to the epoxy filling. Also note that the cardboard selection was hopefully prophetic "Seize The Day" and 'Smart Start". Despite the cold, high 40's temperature, the patch seems to be curing nicely. This qualifies the repair as Technical Section/Repairs eligible. Click here to go there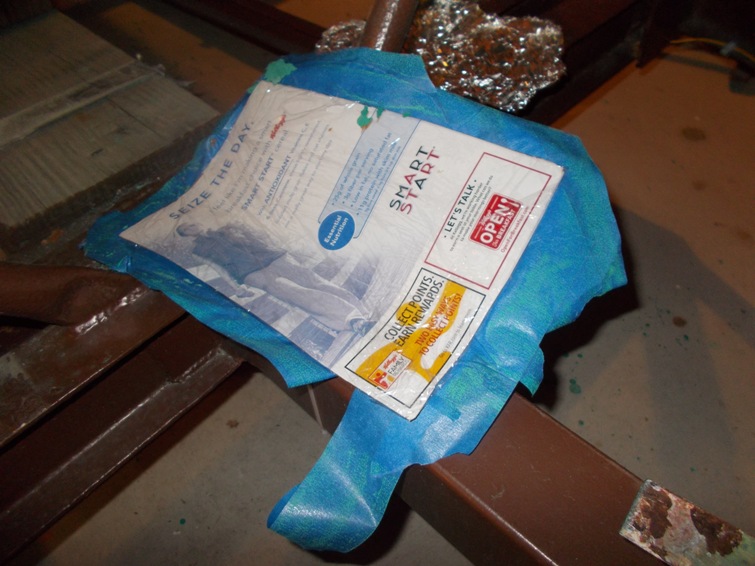 Click here for a larger image