July 14, 2018 We're a little late on getting this going. Marionette's activities up to June 8 are covered on her home page, http://dolphin24.org/restorations_marionette.html. Yesterday, daughter Nicole and I sailed her from Niantic Bay YC west on Long Island Sound and up the CT River to Old Lyme Marina where she was hauled, washed, mast unstepped and loaded on her trailer for the 5 mile trip back to her barn in Old Lyme. There, she will undergo some TLC to ready her for the road trip to Camden where she will race in the Camden Classic Cup in late July. Click this link - re the regatta http://dolphin24.org/ccc2018.html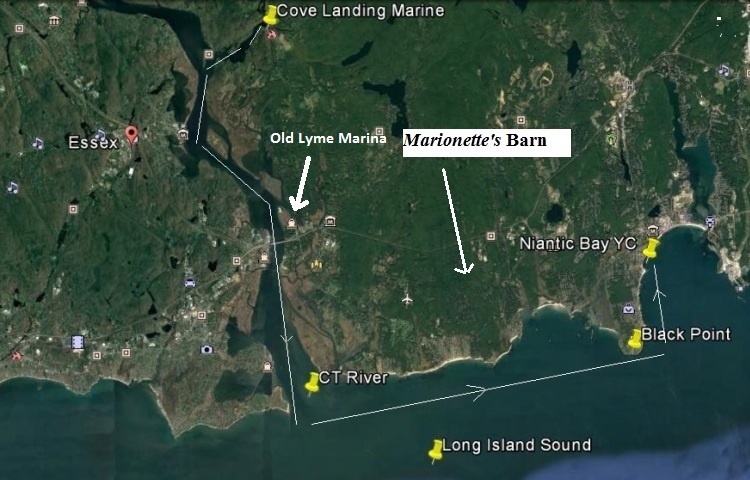 Reversing, almost, her trip in June when she was launched at Cove Landing Marine
CT River RR bridge - Click here for a larger image

Old Lyme Marina in far distance beyond highway bridge

Old Lyme Marina - CT I-95 bridge in background

Click here for a larger image
Click on the above photos for a larger image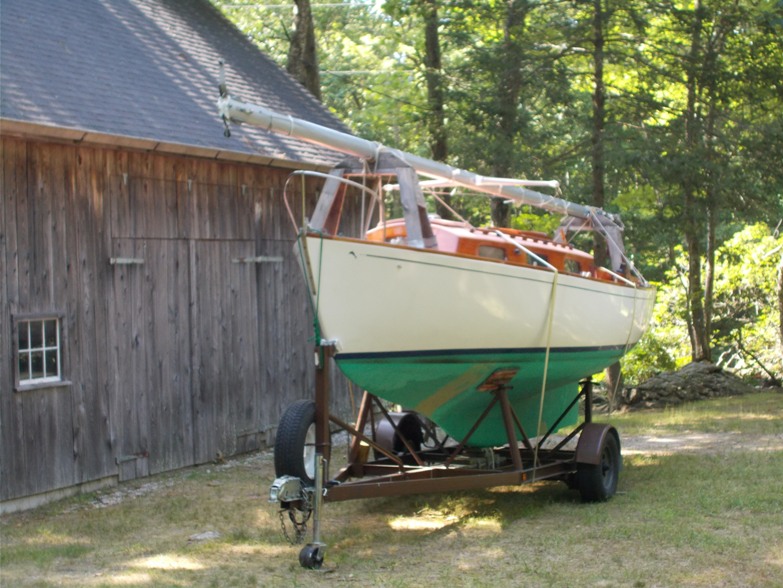 Back at her barn - Awaiting TLC
**********************************
July 24, 2018 TLC - repair mast top bracket that holds the wind vane and radio antenna; hand (scotch brite) wash the bottom; repair 'gouge' on end of rudder; revarnish 'TEER's bow; touch up deck; paint edges; check tires/inflate to 'road' pressures; redo straps; etc. etc......

She's ready! Departure 6AM. ETA Camden, Maine about Noon....

Click here for a larger image
*******************************
August 5, 2018. Lots of catching up to do. Rain, then Heavy Fog at the Camden Classic Cup/Dolphin 24 New England Championships. Little Haste won and, due to a scoring error, we still don't have final results for positions 2, 3 and 4. Maya Elena was 'fogged in' at Spruce Head and never made it to the regatta. In race #1 Marinette rounded the wrong mark in the fog, and withdrew, but she won Race Two! On August 3rd we sailed/motored to Brooklin, Maine and she is now on a mooring there for the month of August, returning to Camden in early September.
Pending final results here a few photos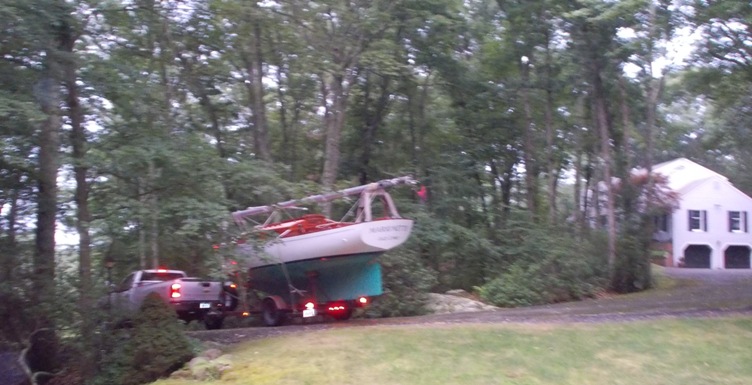 Above - Leaving Old Lyme 6:15AM - Click on the photos below for a larger image
Size matters left, and umbrellas ready for the rain, right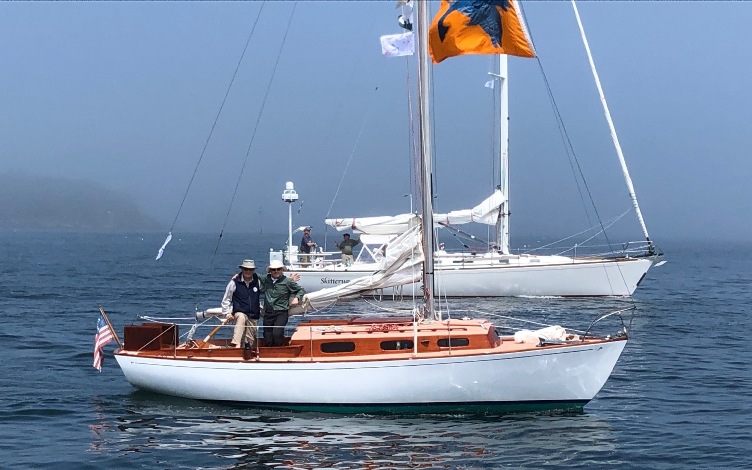 Thanks Mike Burns!
Stay Tuned
August 6, 2018. Still no final results for places 2, 3 and 4 at the NE Championships.

> On August 2nd left at 5:15AM and drove from Old Lyme to Belfast in son Mike's car (traffic was brutally heavy),

> picked up an Enterprise Rent a Car and both of us drove to the Brooklin Boat Yard (2 hours away); left Mike's car there;

> drove back to Belfast to return the rental car;

> taxi picked us up and drove us to Camden/Lyman Morse dockmaster office - arrived at 4:30

Lyman Morse launch picked us up and we arrived at Marionette's 'float' in the inner Camden Harbor at 4:30 - 430 mile trip - long day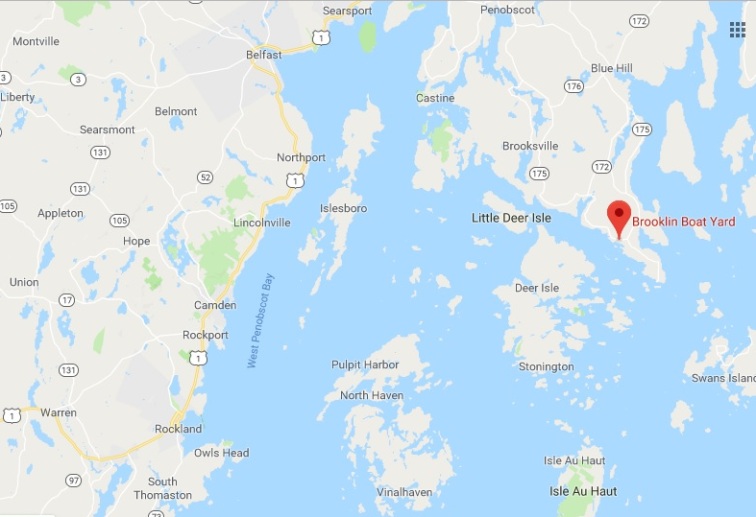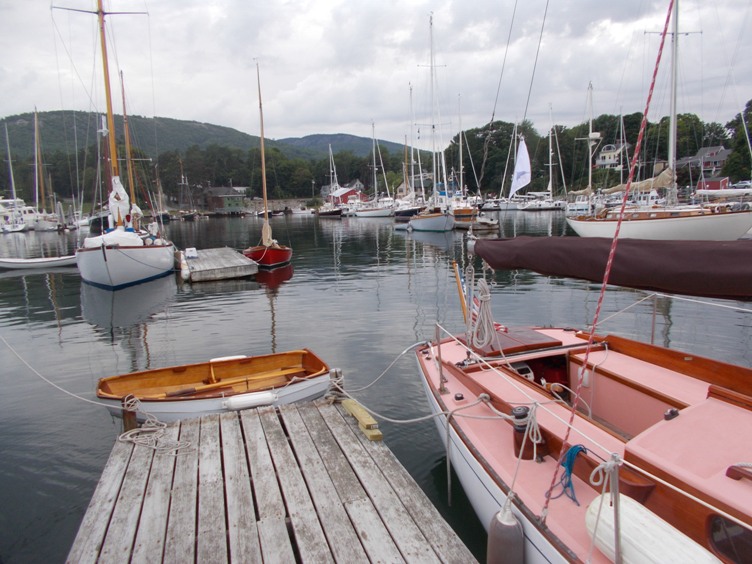 Marionette and 'TEER at Camden Inner Harbor float
On August 3 left Camden at 10:30 for Brooklin, very light breeze, motor sailing, cut thru the Isleboro 'gap' between Job Island and Lime Island - This is Dolphin territory at near low tide.....

Light breeze came in and we sailed across east Penobscot Bay into Eggemoggin Reach and Brooklin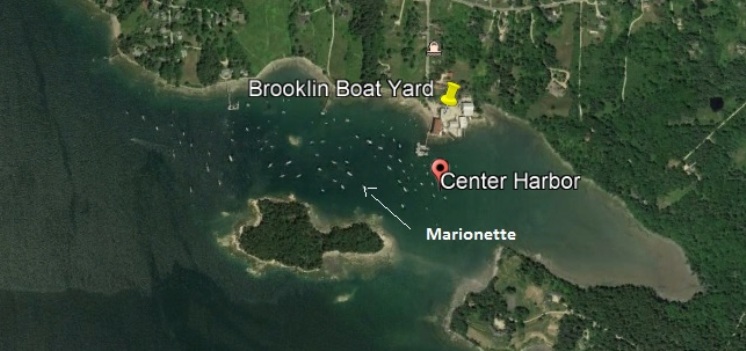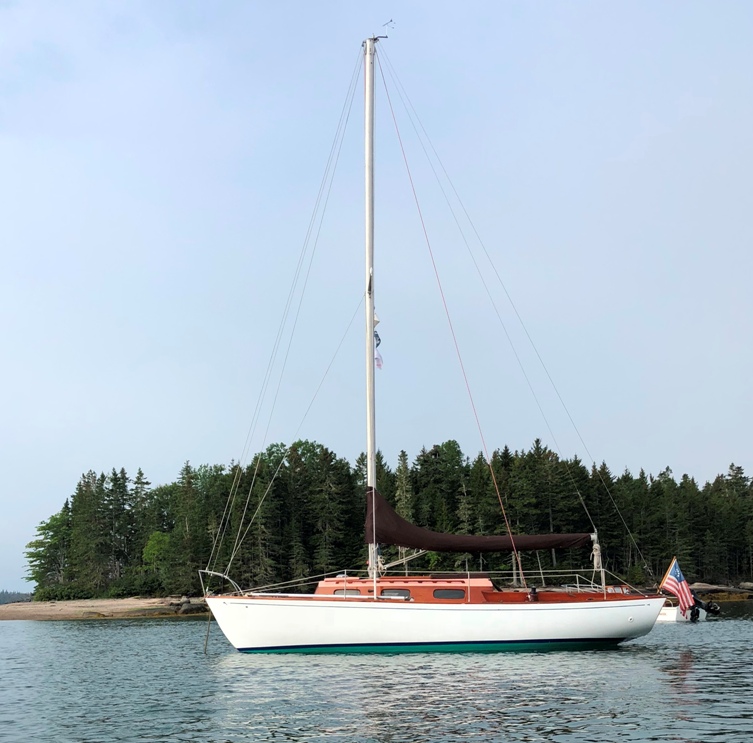 Arrived at 4:30; cleaned up (a little); rowed ashore; got into Mike's car and drove to the nearby Pub at the Brooklin Inn - beers, nachos, pizza - and webmaster work (note the laptop on the bar!)

Click on the photos for a larger image
Stay Tuned
August 7, 2018 - Corrected results are in for the Dolphin 24 New England Championships. It was a fierce 3 way battle for 2nd place, and for the new Ed Glover Trophy (right).

Marionette finished 2nd despite having to withdraw in Race #1 for failing to round the final windward mark - due to heavy fog, we did not see it! We made up for it by winning Race 2.

Complete results are below

************************************
August 11, 2018 - Back up to Brooklin Thursday, August 9 to visit with Marionette. A couple of DFI stops along the way in Camden and Searsport to check out a couple of Maine dolphins.......

Bailed out 'TEER using our battery powered portable stick pump - right

Rain and fog. Sunset over Center Harbor on Thursday after pizza at the Pub (check out photo above Dolphins trophy right)

Click here for a larger (more impressive) image
***************************
August 15, 2018. Here's the 'new' Ed Glover Award with plaques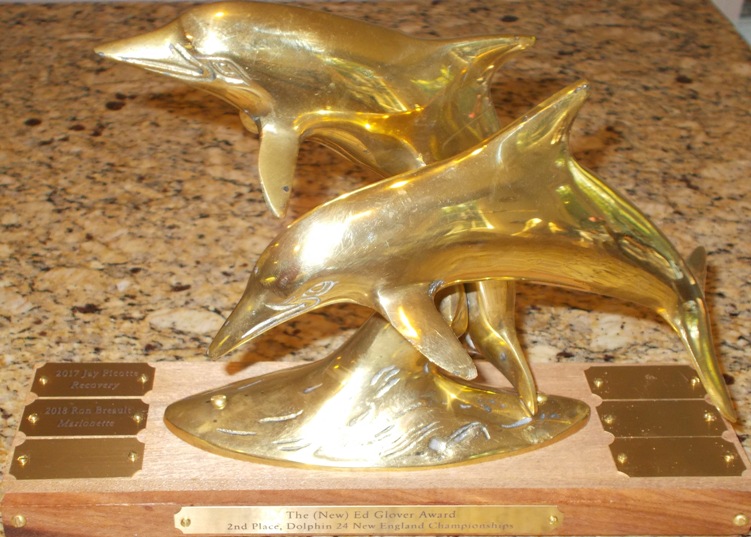 2017 Jay Picotte, Recovery; 2018 Ron Breault, Marionette; 2019 ?????
**************************************