October 3, 2014. DFI Mike Friel has finally found his Dolphin! Here is his email and "announcement".
Ron,

We closed the deal yesterday. Deb and I are the new owners of Yankee Dolphin hull # 241. Formally known as "Colossal", or "the Ithaca Dolphin". Well, at least on paper that is. We are waiting for a local marina to transfer the boat from its storage cradle onto the trailer we modified using information from the Dolphin technical section as a guide. Once we get her home we plan on taking inventory and starting a to do list. Haven't chosen a new name yet, but her home port will be Stockton Springs Maine. Will send pictures when we get her home.

Mike
October 8, 2014 Postscript:
Thanks for the web page. We live in the rather small town of Dalton, just west of Scranton. Spent a couple hours after work today removing the registration numbers and name off our boat. Hair dryer and plastic scraper worked pretty well. Problem is, there is an outline of each letter of dirt/hardened adhesive that just doesn't want to come off. Tried every chemical I could think of. Might have to use a buffing compound to clean things up. When done, we'll get a "before" picture off to you.
Your webmaster and Mike have been 'working' on his search for a Dolphin for some time. We excerpted from a previous email of his some interesting stuff about Colossal (edited).
We are actually going to trade a current boat we sail on Lake Cayuga, an O'Day Mariner which we restored a couple years ago, to the Cornell sailing center. We keep the Mariner at a nearby marina and on a windless day were poking around the Sailing Center and came across the Dolphin.

We had no intention of buying another boat and were unfamiliar with Dolphins in general. Pat Crowley spoke with us saying that the Sailing Center "liked Mariners" and maybe we could work out a deal. However due to tax purposes we would have to wait until October. We spoke with Pat several times over the summer and until yesterday were never 100% sure things would work out. Until the Dolphin is at my house I won't be happy.

Some details. I've seen "Colossal" in my marina and out on Lake Cayuga for many years. It's been on land now since being donated to Cornell a couple years ago. It is a Yankee Dolphin, hull number 241. We have yet to fully assess its condition as it is still mostly covered in shrink wrap. We did see the boat from the cabin aft and down below. While not a project boat it will need a fair amount of TLC.

Long term plan is to refurbish the boat and move it up to Maine where it will live on our mooring in Stockton Springs Harbor up near Belfast, Maine

Mike and Deb

Welcome Aboard, Mike and Deb!
We're hoping to get a picture of Makarios soon and will reserve a space here. Click here to go to her former life as Colossal in Ithaca, New York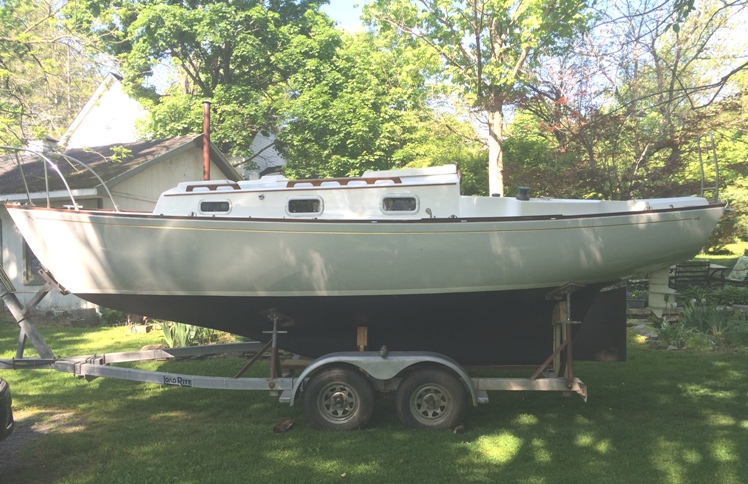 May 29, 2016 - Here she is - ready to head to Maine
************************************************************************
October 7, 2014. Makarios's first voyage was not without some road stress but she arrived safely at her 'temporary' home in Pennsylvania. Here's Mike's and Deb's report (minor edits).
Ron,

Had an event filled ride getting our Dolphin home. A trip of only 100 miles, we followed in the "chase car" while a friend did the towing.

A few things we observed on the trip. The forward and lazarette hatches decided to open a different times. The boat had a decided starboard list on the trailer due to faulty travel lift placement. A new axle/hub/wheel and tire assembly had a pronounced wobble. Worst though, we could watch as at 65mph the poppits would unscrew themselves rather rapidly. Forgot about the hose clamp trick.

Now safely tucked behind the house we can take stock of the situation. The refurbishment will be a bit daunting although not as bad as many on the website have had to deal with. Mainly a badly oxidized deck and wood trim that is in sad shape. The engine is a 2005 9.9hp Johnson 4 stroke Sailmaster. No idea how or if it runs, but it looks to be in decent shape. Down below a fair amount of TLC should do the trick.

For the more pleasant surprises, the sails seem to be in fair to good condition. The main is a full batten design, set up with a Dutchman flaking system. There is a Harken roller furling system with two jibs. The boom sports a Garhauer rigid vang . There is a nice hinged mast step, I'll have to send a picture as I'm not sure if it's the original. There are nice screens for the hatches and various other neat odds and ends.

For her name, my wife and I decided on "Makarios", a Greek word meaning blessed, fortunate or happy. Pretty much sums up how we feel about our new addition.

Mike and Deb

***************************
January 2, 2015. Mike explains a couple of mast raising systems he has had on prior boats. We have posted this in the Technical Section. Click here to go there.
********************************
January 19, 2015. Makarios had no stanchions when Mike got her and now she does. Your webmaster and Mike swapped a few emails on this subject and we gathered them together in the Technical Section/Hardware Section. Click here to go there.
Ron,

Found some stanchions that should do the trick. They are from a J30. There seem to be a few of these boats being parted out as they are getting a bit long in the tooth.

The stanchions are 25" tall, double line, fairly substantial SS tubing with a cast SS base. I got two gate stanchions which I will put on either side just forward of the cockpit coaming with separate line going aft to the stern rail. This should allow dinghy access to either side for boarding. The bases have a slight angle which when trial fit to the deck camber give the posts just a hair of inward slant. This may be an advantage when pulling alongside a piling lined dock.

Will send pics this spring when mounted.

Mike

Click on the photo above for a larger image

********************************************************************
June 22, 2015 We got the following update from Mike on Makarios (minor edits), and a DFI report with pictures of Glorianna, an Ithaca, NY Dolphin - click here to go there.
Hello Ron

Just came back from Ithaca, NY and not very far from where we acquired "Makarios", we spotted this Dolphin (Glorianna) at Johnson's Boat Yard. I couldn't find the name in the alphabetical roster but I believe someone may have reported on this boat before (Webmaster Note - Yes we had her but under a different name)

Regarding "Makarios", Deb and I have been hard at work. Deb has removed all the interior woodwork and sanded and applied four coats of Epifanes varnish. We have stripped the topsides of all hardware, sanded and primed in preparation for paint.

Since it appears from water stains on the boot top that our boat squatted a bit at the stern, (that big 10hp 4 stroke?) I moved the battery to a new location under the V berth water tank. New cables will run to a distribution panel where the battery used to reside. Pictures to follow when it is completed.

We had contemplated slotting the transom to swing up the motor when not in use but couldn't bear to ruin a pretty stern. We are now looking into possibly lifting the engine straight up and using a removable, temporary engine mount when we have to leave the boat on the mooring for extended periods. Pics and description once we sort it all out.

Mike

******************************
December 6, 2015. Mike has sent in an update in August that somehow your webmaster overlooked. So this is catch up (edited)
August 8, 2015

Hey Ron,


Taking a break from cutting the cabin sides of our Dolphin for new opening ports. Pretty stressful. Measure 14 times and hopefully just cut once. Going to install 4 Lewmar opening ports.

As for our progress on Makarios, we figured out a way to use a small A frame gin poll to pull the motor when not in use. It utilizes a temporary motor mount that spans the motor well opening. Seems to work OK in our backyard. Pics to follow. Also just this morning shortened the backstay using a Sta Lok fitting (pretty slick) to accommodate our split backstay system necessitated by the motor lift set up.

Last weekend rolled and tipped the topsides after primer and LOTS of hand sanding. Two more coats to follow.
Enough lying about, back to work cutting port holes…


Mike

************************

December 5, 2015

Ron,

Finally starting to see the light at the end of the tunnel on our Dolphin refurb. Deb decided to try her hand with gold leaf on the cove stripe. Came out really well, looks better when you can see the whole hull.

Cheers, Mike

Click here for a larger image

ps On another note, we gave up on the idea of mutilating the transom in order to raise the motor while not in use. There was just no easy way to do it. Came across this article on another site and thought it would be worth a try. I think in the Forum somebody may have alluded to this technique. Leaving the boat on a mooring up in Maine there would be a real problem with marine growth fouling the external and internal cooling water surfaces.


Click Here for the descriptive sketch

Webmaster Note: An interesting idea if you have to deal with the weight of a 6+ HP outboard - lets see how it works for Mike next summer. In the meantime check out the Technical Section/Outboards for some more discussion on this topic http://dolphin24.org/technicalindex.html

*****************************
April 19, 2016. Mike has passed along a nice bit of info re cabin lights using LED low battery drain technology. His email and a picture is below. More pictures are included in the Technical Section/Electrical and Related, and Interiors Sections. (minor edit) Click here to go there.
Ron,

Here a link to an article that I came across about affordable 12v RV lights and it seemed like a good idea.

http://www.livinlightly.com/affordable-12v-rv-lighting/

This winter we bought two kits and installed them on the under deck trim pieces in the cabin area. Very easy job. They give a nice soft light, not what you would expect from LEDs.

Minimal battery draw. I plan on installing more up in the V- berth area.

I emailed some pictures of the installation on to you.

Cheers,

Mike
****************************************
April 26, 2016. Makarios has a new transom boarding ladder. Click here to go our Technical Section/Ladders to see Mike's report with photos.
*************************************
May 29, 2016. Getting ready for the long trip 'Downeast"
Hey Ron,
Congrats on getting the S&S trophy. Again.

Enclosed are a couple pictures of Makarios getting ready to head north. We leave early tomorrow morning hoping to beat most of the traffic and wondering if our Toyota Tacoma is up to the task.

Will keep you posted.
Mike

Click on the photos for larger images - then you can really see the reflections in her topsides....




Over 500 miles on Memorial Day weekend - we stand by for the trip report - drive safely

Postscript 6PM We just got Makarios in and snugged down in Searsport, Maine. Long haul from Pa. Nearly had a head on when another car crossed the centerline on Rt 3 just outside of Belfast. Our trailer which we modified as per info on the forum worked great.


*************************************************
January 12, 2017. We checked with Mike to get the latest on Makarios and got the following update (minor edits). We have included these comments and pictures in the Technical Section/Electrical. Click here to go there.
Hey Ron,


Best wishes to you and your wife for a happy and healthy New Year.

Your email finally got me in gear to send some pictures of a completed project on Makarios. As you know we are running the rather large, heavy, 4 stroke Johnson outboard she came with. We could see from the "slime line" when we acquired her that she must have sat low at the stern.

The original battery location was a bit of a mess with tangled wires and a really dicey battery hold down arrangement.

Deciding to move the battery forward to help in overall balance, it seemed like the large, unused space below the water tank compartment would be a good place.

I removed the water tank and cut an access port in the bottom of the compartment. I then formed, and epoxied in place, a base on the inside of the hull for a proper battery box and hold down strap. (photo at left)

For the long battery cables I visited the local auto salvage yard and for $5.00 each bought two stock battery cables from an early '90s BMW. These are really quality heavy cables with built in terminals and lugs at either end.

And they fit my set up perfectly!

| | |
| --- | --- |
| | |

These pictures show how they were routed under the cabin sole, exited at the centerboard tube and ended at a new cutoff switch. The picture (above right) shows the cables laying flat on the sole - that round port covering has nothing to do with the cable routing - just happened to be ajar when the photo was taken. After the cables exit at the centerboard tube, they take a hard left turn and are secured to the bulkhead (below left) where the switch is located, and then enter into the old battery box compartment through holes with protective grommets. A new fuse panel and associated wiring completed the installation.

Overall, I'm very happy with the modification.


Mike

************************************************
February 13, 2017 Makarios is not going to make it to the Camden Classics Cup/Dolphin 24 New England Championships this summer. Here's Mike's email (minor edit)
Ron,


Unfortunately, though Makarios made it up to Maine last summer, due to other pressing commitments, she never got to see the water. If possible we will try to finish up her rebuild this summer and get some time aboard. When we will be able to accomplish this is anyone's guess.

That said, if we are able to be up in Maine for the race we'll definitely come by to meet fellow Dolphin owners. And if all goes well and we get some time aboard, we'll be ready for next year.


Cheers,

Mike

************************
July 13, 2018

. Mike confirmed his DFI status by reporting a craigslist ad for a Dolphin for sale in Medford, Oregon.

The Y/E website bonus committee has been advised.

http://dolphin24.org/medford_dolphin.html.
****************************
July 13, 2018. Mike, realizing a report was past due on Makarios, sent one in. Here it is.
Ron,

Well it's been a long time since I've contacted you, so a quick update on Makarios. We launched a little late last summer, but she floated perfectly on her lines. Moving the battery forward corrected the stern squat she had due to her large outboard.

We attempted our first sail into a building sea breeze and a bit of a snotty chop. On our first tack we found the end of the boom interfered with the split backstay. "Funny it didn't do that on the mooring?!" We tried to correct the situation by lowering the gooseneck position on the mast. Bad move. We have a Gerhauer rigid spring loaded boom vang which quickly pushed the boom off the gooseneck fitting causing it to rotate 90*. OK, enough for a first sail.

Motored back in. Also noticed that we had salt water in the bilge. Seems that the impeller fitting for the knot meter was leaking a bit as was the gland nut for the rudder post stuffing box. Next day decided to motor over to the town dock to remove the boom, remove 2-3 inches and straighten the bent vang fittings. Motor started and promptly dies. After several trips rowing over a quarter mile in the dinghy each way, we replaced gas, lines, filters, plugs etc. etc. No luck. Had to leave Maine and return to Pa.

Next trip up it was getting into the Fall so we had the Harbor Master tow us back to the dock. Had a bit of a tough time getting her back on the trailer. No matter how tightly we tied her to the trailer bow stanchion she kept settling aft by 6-8 inches when hauled out of the water. We had dangerously little tongue weight. Finally, I had to go into the water, up to my chest, and with a strap "come along" around the rudder, post gingerly haul her tight to the bow roller. We have since moved the trailer bow stanchion forward a few inches, re-engineered a trailer winch set up, and will lower the bow poppets on retrieval of the boat.

For some good news, our mast raising system works great. My wife and I can raise/lower the mast stopping anywhere along the way without problems or drama. What a relief. For this year we launched the boat last week. We tracked last year's motor problems to a faulty emergency cut off switch. This year ran fine at the dock, motored out towards our mooring and about 150 yards out motor dies and will not restart. RATS!! Had a stiff following breeze and luckily my trusty first mate was able to snag the mooring line on her first and only try.

Again after much rowing, bad language and frustration found that the gas tank had a leaking fitting allowing air to enter the line. Ok for an idle or slow motor but not enough to provide any speed. Ordered a new OEM gas tank which arrived yesterday. The boom is now shortened and appears to clear the back stay. (sound familiar?) I removed the impeller fitting and fiberglassed the opening this spring. Likewise I repacked the rudder stuffing box. So far both are dry as a bone. Again, had to leave and head back home to work - and (postscript) added Dyneema lifelines this year.

We hope to get up to Maine the first few days of August. I'll keep you posted. I also have some pics that I'll try to get out to you tonight (Done!)

Cheers,

Mike

PS Ran across Glorianna on the hard in Ithaca a few weeks ago. Sadly looked to be in rather rough shape.

Right - Makarios in Stockton Harbor this year (Maine sun)

Below - Stockton Harbor, Penobscot Bay - Click here for a larger image




A couple shots of Makarios when we launched last year (Maine fog....)