October 3, 2014. DFI Mike Friel has finally found his Dolphin! Here is his email and "announcement"
Ron,

We closed the deal yesterday. Deb and I are the new owners of Yankee Dolphin hull # 241. Formally known as "Colossal", or "the Ithaca Dolphin". Well, at least on paper that is.

We are waiting for a local marina to transfer the boat from its storage cradle onto the trailer we modified using information from the Dolphin technical section as a guide. Once we get her home we plan on taking inventory and starting a to do list.

Haven't chosen a new name yet, but her home port will be Stockton Springs Maine. Will send pictures when we get her home.

Mike
We'll set up a new page for her when he and Deb decide on her new name. On October 7, 2014 they did - "Makarios". Click here to go to her.
Your webmaster and Mike have been 'working' on his search for a Dolphin for some time. We excerpted from a previous email of his some interesting stuff about Colossal (edited).
We are actually going to trade a current boat we sail on Lake Cayuga, an O'Day Mariner which we restored a couple years ago, to the Cornell sailing center. We keep the Mariner at a nearby marina and on a windless day were poking around the Sailing Center and came across the Dolphin.

We had no intention of buying another boat and were unfamiliar with Dolphins in general. Pat Crowley spoke with us saying that the Sailing Center "liked Mariners" and maybe we could work out a deal. However due to tax purposes we would have to wait until October. We spoke with Pat several times over the summer and until yesterday were never 100% sure things would work out. Until the Dolphin is at my house I won't be happy.

Some details. I've seen "Colossal" in my marina and out on Lake Cayuga for many years. It's been on land now since being donated to Cornell a couple years ago. It is a Yankee Dolphin, hull number 241. We have yet to fully assess its condition as it is still mostly covered in shrink wrap. We did see the boat from the cabin aft and down below. While not a project boat it will need a fair amount of TLC.

Long term plan is to refurbish the boat and move it up to Maine where it will live on our mooring in Stockton Springs Harbor up near Belfast, Maine

Welcome Aboard, Mike and Deb!

*******************************************

******************************************************************
This is the story we had on Colossal. On December 4, 2013 a website reader sent in the following picture. This may be a newly found Dolphin - we are trying to get more information. It was! For some reason we forgot to update our webpage - so on October 3, 2014 she officially becomes our 223rd Found Dolphin!
This boat is located at the Cornell Community Sailing/Merrill Family Sailing Center. Contact Pat Crowley email pc93@cornell.edu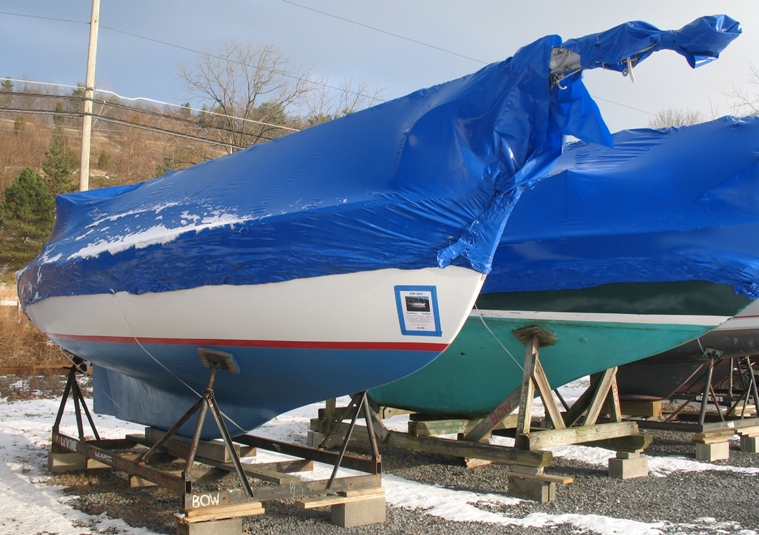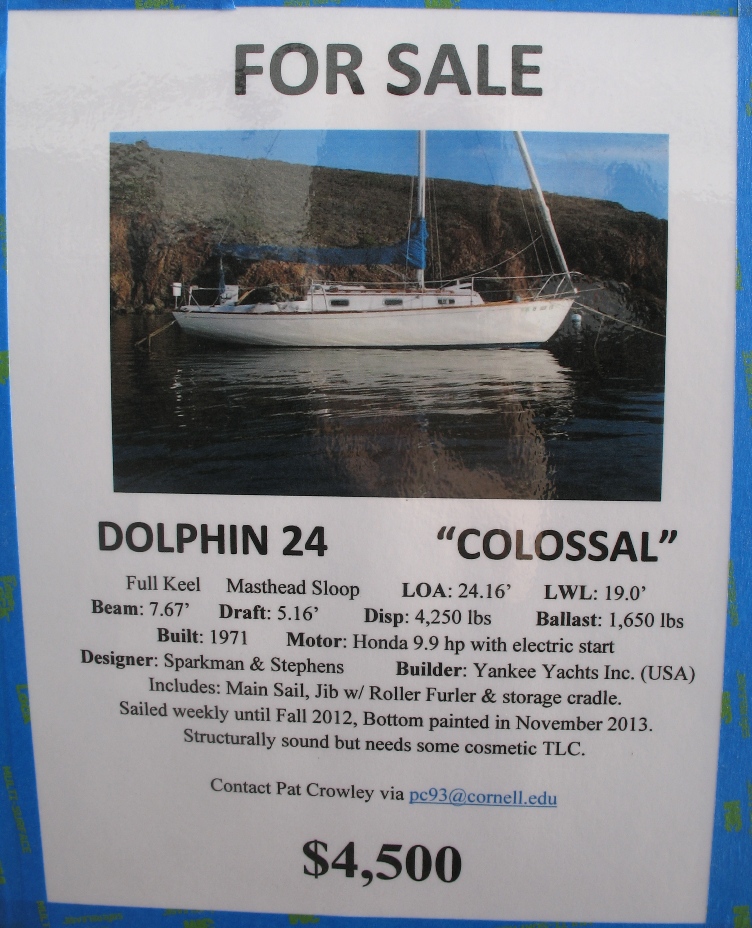 ************************************
December 9, 2013. We have heard from Pat Crowley who advises that, for tax reasons, this boat cannot be sold until the Spring. At this time he has no additional information he can share with us. He would like to have us help him find a buyer.
Stay Tuned