September 25, 2011. The subject of ladders has come up a few times. This page is a effort to collect info on this subject. Over time I hope we get more examples of Dolphin ladders, plus comments from owners on how they feel about their own ladders. We'll start with the ladders on Marionette, a Marscot/O' Day hull #12.
Marionette's swim ladder - Marionette has no stern rail so a fixed ladder seemed problematic at the time. She has a light weight, very functional, swim ladder that folds for storing under the cockpit, and in use is easily moved to different places along the toe rail. It is aluminum, with wood steps, white plastic handle guards, white rubber tipped hull offsets, and homemade pads on the deck surface end. I really like this ladder.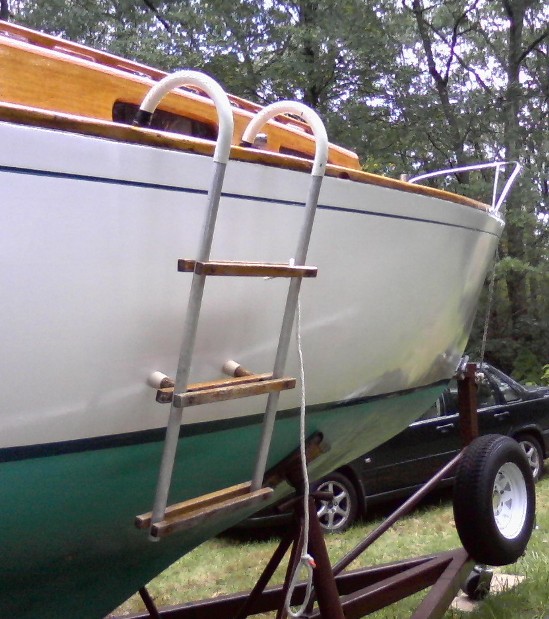 The rope loops over a cleat, winch, or whatever is nearby
Maybe overdue for some sanding and varnish...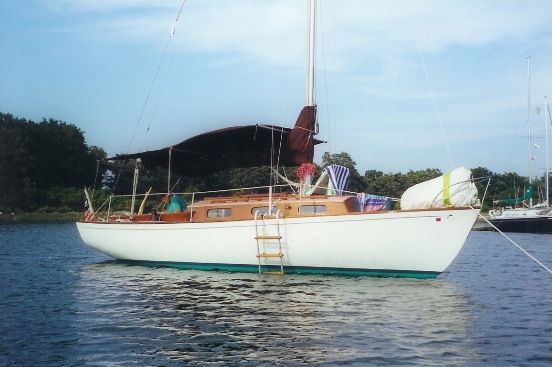 I like to use this ladder at the shrouds as you can use the shroud to pull yourself up as you climb
September 12, 2014 Note: We had a request for the ladder specs. Here they are
1" OD aluminum tubing, wall thickness 1/8"

Ladder length from bottom of tubing - 38" to inside of 'hook' diameter (39" overall); Ladder legs (between inside edges) are 12 1/2" apart

Inside diameter of 'hook' 8"; "hook" plastic cover starts 32" from bottom of ladder tubing (leg)

Ladder (tubing) legs are plugged at bottom; plastic electrical tape secures a felt pad at the deck contact surface (I did this - original rubber tips disintegrated) maybe it floats? never checked...

Steps are 1" high x 3/4" x 16" long; Maybe Oak?

Bottom step location (bottom surface) is 7/8" from bottom edge of leg; Steps are 10" apart (top surface to bottom surface).

Hull offset posts are Oak?, 1" in diameter and 3 1/4 " in length, including rubber hull guard; and the outside edge of the post is located 2 1/2 " from outside edge of the step

The steps appear to be rivited to each other through the hole in the aluminum legs - there's a countersink to accomdate the heads. Probably could done with simple SS bolts with threaded sleeves and Loctite

*************************
Marionette's Man Overboard ladder - When single handing I have a fold up plastic step/rope ladder that lies neatly folded between the port quarter toe rail and the coaming, and over cleat to which it ties. It is long, has a homemade pull down rope that you can grasp. The ladder stays folded because of 2 elastics around it - which break easily when the ladder is pulled down.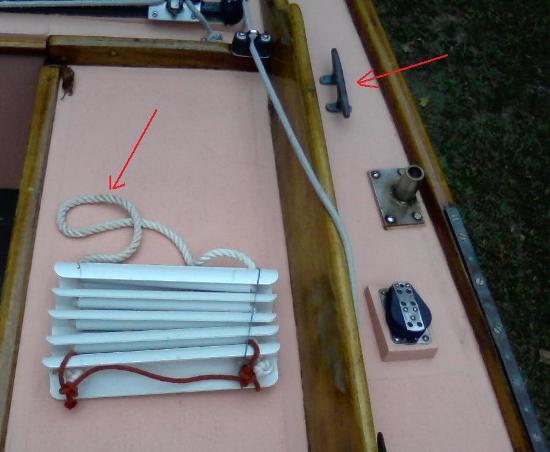 Red line is pull down loop
The bundled ladder (sans elastics), the pull down loop, and the tie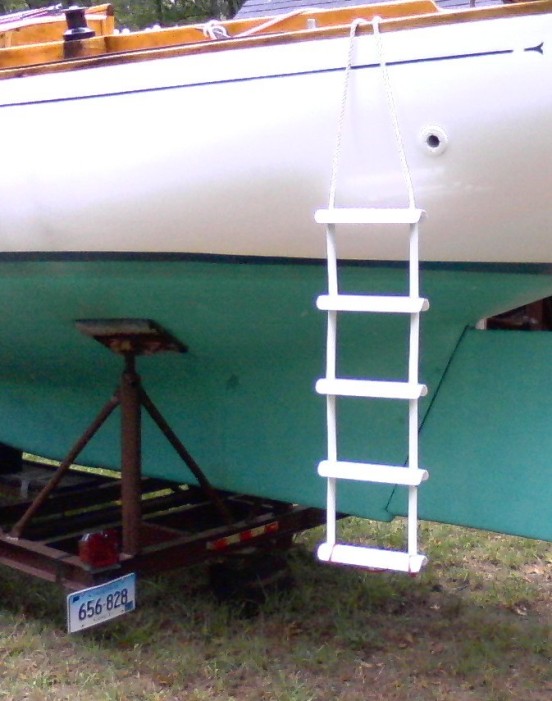 tested (not in extremis!) - it works

*******************************************
Here's the fixed ladder on Ian Holzmacher's Wanderlust, Yankee #122. Note that it is independent of the stern rail and folds up just under the edge of the rail.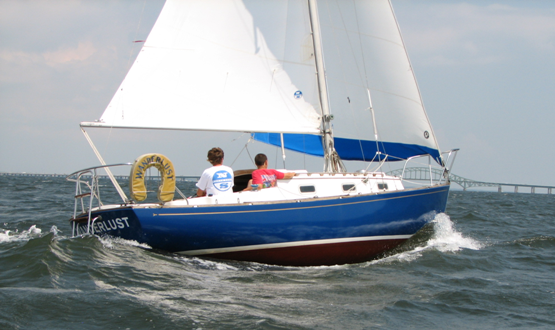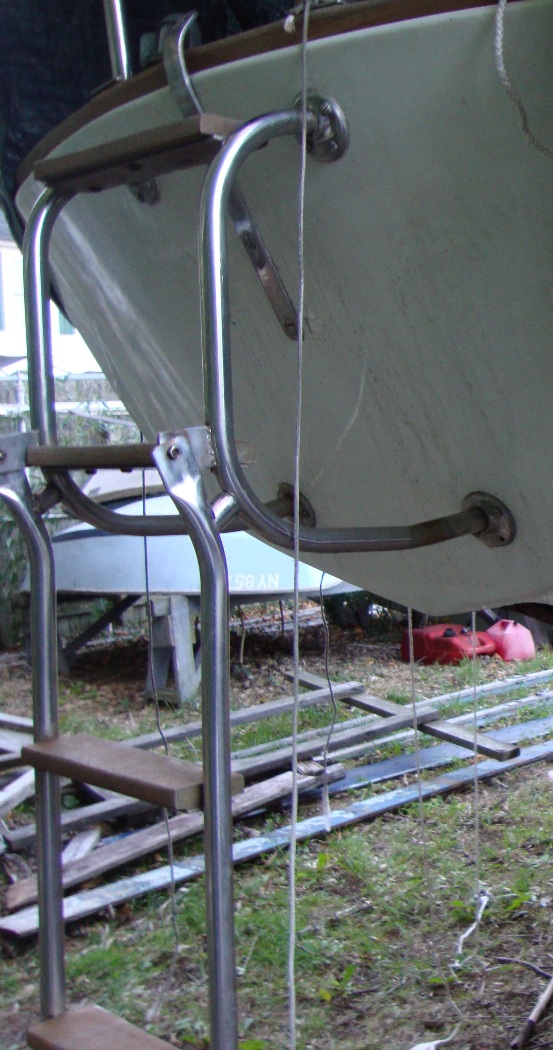 Transom not yet painted
***************************************************
Jerry Horan's Calmante, Yankee #210 has a short, fixed transom ladder and does not have a stern rail. But she does have a stout support for her steering vane, plus the back stay, to help climbing aboard.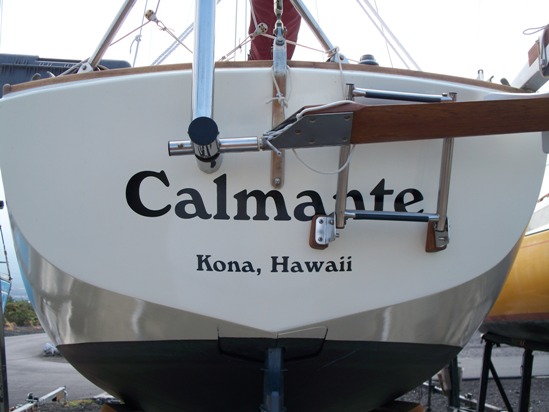 *************************
Here's the short transom ladder on Mark Larson's AGAPE, Yankee #146. This one looks like it is extendable.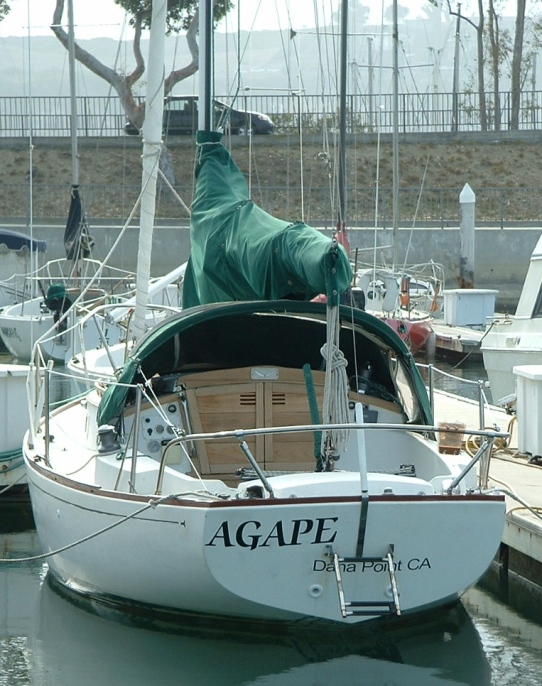 Note the low stern rail
**************************************************
******************************************
Peter and Carol King's Mahi-Mahi has a ladder fully incorporated into the stern rail design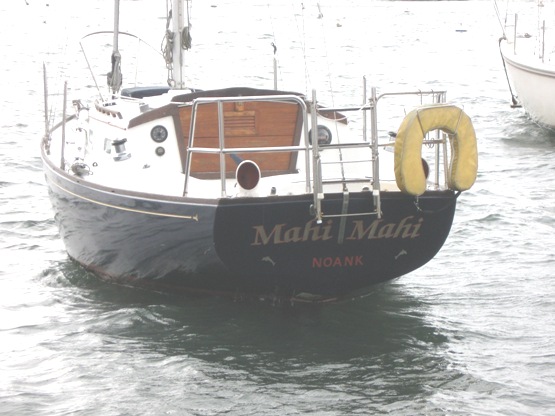 In this ladder the offset legs fold down
*************************
October 1, 2011. Here is another version of a ladder incorporated into the stern rail design. Its on Jeff Burt's Nalina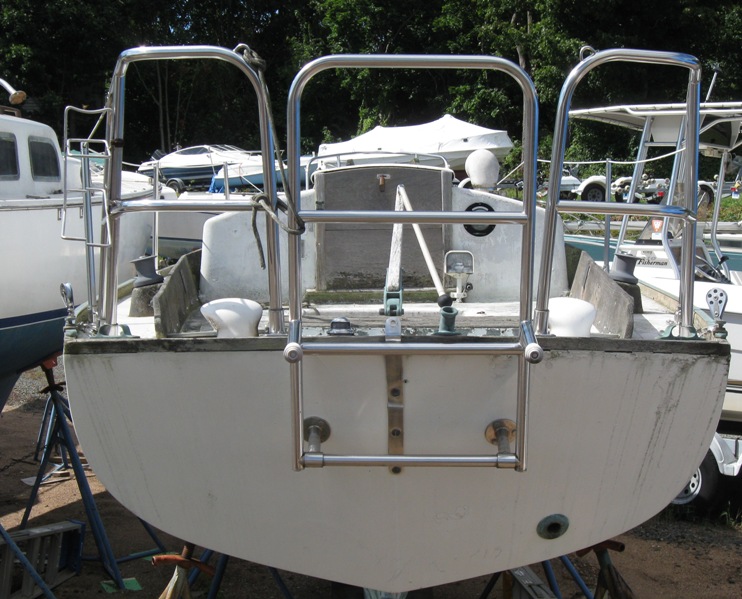 In this ladder the offset legs are fixed
******************************
This is Passage's aluminum folding ladder.
This ladder is attached to U shaped clips (not shown) that are screwed into the side of the hull below the toe rail. 'Bolt heads" at the top of the ladder insert into these clips. The image at left was taken by simply hanging the 'bolt heads over Marionette's toe rail.

The second step from the top has, on the back side, offset pins with rubber heads (see picture above) that hold the ladder off the hull.
********************************************.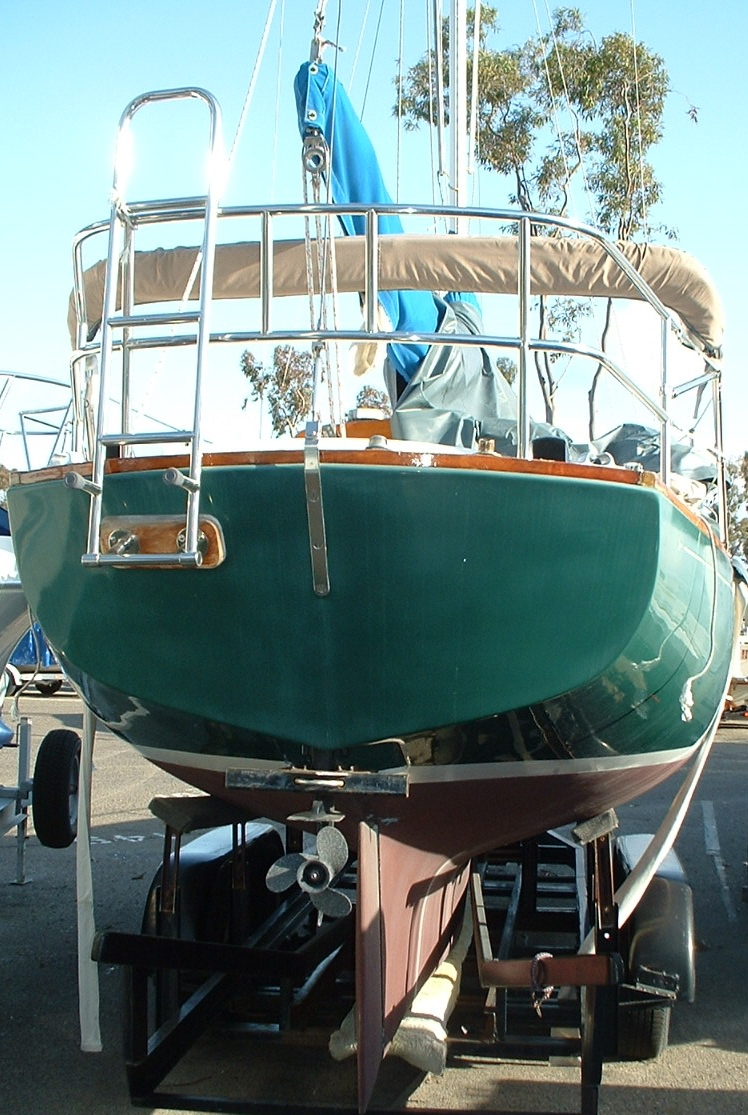 December 5, 2011. Bob Colston's Serene, Yankee Dolphin #239, Dana Point, California has a serious stern rail and swim ladder
***********************************
March 29, 2012. Ernest Tan's Aurelie, an S&S 24, has a nice looking laddar. This transom is the same shape as a Dolphin 24. Note the after market split back stay chainplates, and the forward traveller bar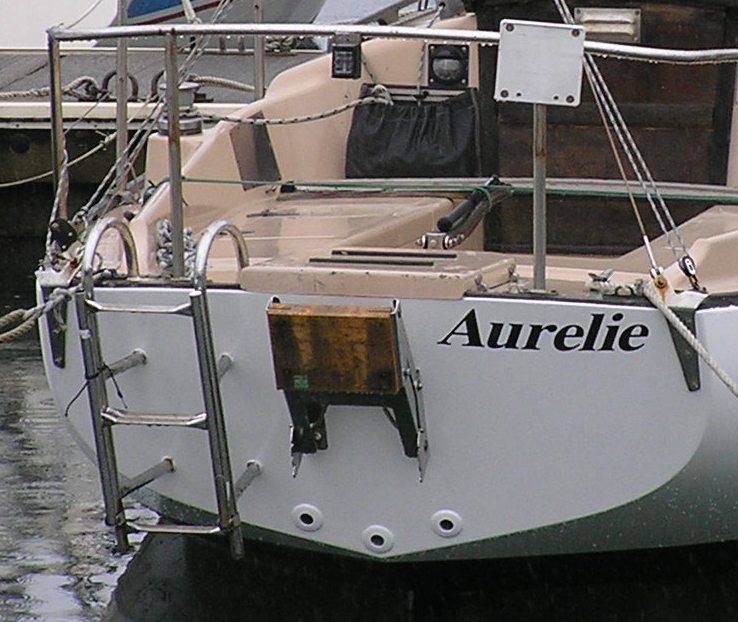 ********************************
July 23, 2012. Alden Harris sent in a photo of #263's ladder.
I forget to send a picture of the great ladder that came with the boat. It's hinged and folds up nicely for storage. Not sure that I will keep it attached to the toe-rail.

Regards,
***************************
April 26, 2016. Mike Freil (Makarios, Yankee #241) sent in a report on a new boarding ladder
Hi Ron

Enclosed are some pics on how we rigged up a boarding ladder. This is one item I consider a necessity after the event we had of being the first on the scene of a capsized boat in Penobscot bay. Think we told you that story when we met with you and your wife up in Searsport. Anyhow, this is the stock ladder from a J30. Every now and then you find one of these boats being parted out. It required only very minor modifications. There are flat rungs, easy on the feet, and it has good standoff from the transom. I've tried it a few times on land and it seems to work well.


Mike

Click on the photos to view a larger image

Postscript. Plan on using a light weight piece of cotton string to hold the ladder up. About two years ago a guy died in our home harbor of Stockton Springs. He fell off his dinghy on a cold fall day while trying to board his Pearson. Even though he was wearing a PFD, they found his body two days later at the high tide mark. Remember looking at his boat when they towed it over to the dock, nice big boarding ladder on the stern. But, the ladder was tied in the up position with a piece of 1/4'" line.........We probably will mount a split pushpit sometime in the future.

************************************