August 15, 2021 - Former owner Ian Holzmacher advised us that Wanderlust is again for sale - here is the CraigsList ad link and info
https://longisland.craigslist.org/boa/d/blue-point-dolphin-24-yankee/7364812089.html
Dolphin 24 (Yankee) - $5,500 (Patchogue)

1969 Yankee Dolphin. 24 ft. Sparkman & Stephens designed boat. - Draft 2'9 with board up 5'8" board down. Roller furler. 9.9 2 stroke Johnson outboard. Tiller. Sleeps 2-3. Includes Main, Jib and Spinnaker sails, enclosed head porta poti. Sink with foot pump 20 gallon water tank, ice box. All cushions for cabin and cockpit. 2 battery's 2 battery marine battery charger. Shore power.

Fast ocean passage capable sailboat. In water at Patchogue.
Postscript August 19, 2021 Current owner is Everett Richie.
*******************************
***************************************************
***********************************
April 26, 2021 - Mimi has advised that Wanderlust has been SOLD! We standby for the new owner to check in and wish Mimi
FAIR WINDS!!
*****************************************************
January 9, 2021 Mimi has updated her FOR SALE ad for WANDERLUST. Here's the link to the CraigsList ad, and below the ad text. Contact is via the Craigslist REPLY
https://longisland.craigslist.org/boa/d/blue-point-24-ft-sailboat/7257581601.html
For Sale. Wanderlust. 1969 Yankee Dolphin. 24 ft. Sparkman & Stephens designed boat. Great Day Sailer, Great for the GSB - Draft 2'9. Roller furler, 9.9 Johnson outboard, tiller. Sleeps 2-3. Includes Main, Jib and Spinnaker sails, porta-potty (never been used), foot pump sink with water tank, ice/cold compartment for drinks, life jackets and cushions. Front vBerth, extra berth in cabin from convertible table. Really fun, fast sailboat. Engine serviced last year and winterized. Currently on the hard in Patchogue.

*******************************************
October 22, 2020. Mimi has updated her FOR SALE ad for WANDERLUST.
Hi Ron,

Just to let you know Wanderlust is still for sale. I am lowering the price to $1500. Would you be able to update it on the website?

I hope you are doing well.

Mimi


**********************************************
December 12, 2019. Mimi Benach has advised that her Wanderlust is For Sale. If interested you can contact her at:
email - Mimibenach@gmail.com
phone - 917 553 2339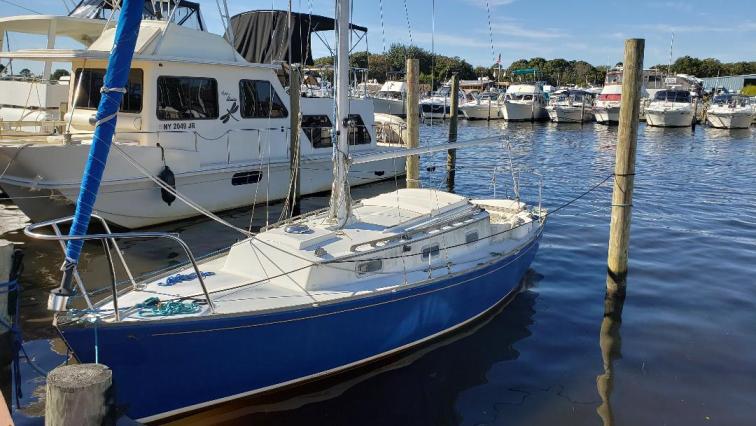 Stay Tuned
********************************
Below is the history we have on Yankee #122
May 20, 2013. Ian Holzmacher advises Wanderlust is sold - this time, for real. Fortunately, his DFI status, a life time appointment, continues. Fair Winds, Ian! And Welcome to new owner Mimi Benach! We stand by for Mimi to check in.
Hi Ron,

Well as of today I'm Dolphinless. Wanderlust has been sold to Mimi Benach, who plans to keep her berthed at the boat yard where I have hauled her the last two seasons in Amityville. Just under 10 miles west of her previous home port. Also she plans to keep the name.

My family is currently in the process of upgrading from a Morgan 30 to a Pearson 35. So I will still be able to get out cruising the Great South Bay.

Thanks for all the advice over the years. I will still be checking your site daily for updates as I've done since I discovered it way back when I first came across Wanderlust at a nearby boat yard. If I come across any Dolphins or see any listings I will be certain to relay the information to you

Many Thanks,


Ian Holzmacher
Webmaster Note February 19, 2016 - We have not heard from WANDERLUST's new owner so we asked former owner and DFI Ian Holzmacher for a report. Here's an excerpt from his email.
Ron,
Glad to hear from you. Mimi has been using Wanderlust from what I hear. I teach sailing lessons in Sayville and often sail up the creek Wanderlust is berthed in for the summer - which is in Patchaugue.
Ian



*************************

*******************************************************
April 22, 2013. Ian Holzmacher advises that WANDERLUST is still FOR SALE as the previously reported pending sale did not go through.
**********************************
February 7, 2013. Ian needs to get himself a drivers' licence and a car, so Wanderlust is up for sale. Here is his email and ad.
Hi Ron,
I have come to the conclusion that I'm now getting close to getting my drivers licence, and will be needing to buy a vehicle. So I have decided to sell Wanderlust. Although I do love everything about the her, and have had many great times on her! I probably wont have much time for her this summer. I'm not sure how you layout the for sale listings so I've provided a list of improvements since I bought her in 2010, as well as a list of equipment. I've included a picture of the interior. Sorry for the leaves on the galley table.

Thanks,
Ian

WANDERLUST, Yankee Dolphin #122


-Interprotect 2000E on the bottom. Very smooth
-Topsides profesionally painted
-Rebuilt furler with new luff extrusion
-2000 Johnson 9.9 with an alternator and spinlock cockpit controls
-New Nicro vent on forward hatch
-New mounted battery charger
-2 Batteries
-Shore power setup
-110 outlet in the cabin
-Interior cushions
-Exterior cushions
-150% Genoa in Good condition
-Main in Good condition
-Built in swim ladder
-Spinnaker in Good condition
-New Custom winter cover
-New custom tiller cover
-Lots of spare parts
-New Gusher foot pump for fresh water system
-Electrical system has been rewired
-New electrical panel with water proof switches
-VHF Radio mounted in cabin
-Depth meter with night lighting
-Knot meter with night lighting
- working centerboard



She isn't missing anything. I've sailed her for the past 2 years with several overnight trips and can't think of anything that she needs.
Asking - $6450
Currently hauled out for the winter in Amityville NY
Contact email - Holzmacherair@aol.com

Click on above images for larger versions - click the back arrow on your browser to get back here

*******************************************
This following is the chronological record of Wanderlust on this website. On November 24, 2010, Ian Holzmacher checked in with Yankee # 122. We had no record of this boat so she is a 'newly found Dolphin", our 170th. We'll try and get more info about her.
Hi Ron,

I have just recently acquired Yankee Dolphin # 122 In Babylon New York. I don't know any of the history of the boat other than that she has been sitting out of the water for the past 5-6 years. She is in good condition other than needing cleaning,sanding and refinishing the woodwork. I am hoping to launch her this spring with the name of "Wanderlust".

I thought this would be of interest to you and please add her to the roster on the web site. Thanks for the web site it has been a great help. I have included several pictures of the boat.

Thanks,

Ian Holzmacher

***************************
November 25, 2010. Some history about #122.
Hi Ron,

Thanks for adding "Wanderlust" to the roster. I bought her from John Kelleher. I believe the original owner was James Heacock. I found two names but I don't know what owner goes to what name. They are ''Jimel'' and ''Lily Belle I" . She was bought new from Doug Westins Boat Shop Inc. in Sayville New York.She was ordered on 9-18-69 and she was delivered on 4-1-70 for $6,450 . Wanderlust's home port will be Babylon, New York.

Thanks,

Ian Holzmacher
Webmaster Note: Jimel and Lily Belle I have been added to our Rosters. Someday, hopefully, someone will check in regarding them
***********************
January 10, 2011, Ian checked in with some additional infornation about #122's history based on discoveries in old Great South Bay Cruising Club yearbooks. To see Ian's full email go to Nalana Kai. Here are the excerpt's that apply to #122.
I have also confirmed the names and owners of my boat #122.

> 1970 through 1981 was James Heacock, the name was ''Jimel'' Smithtown N.Y.

>1981 through 1993 was Hugh Kelleher, the name was ''Lily Belle I''

>1993 through 2010 was John Kelleher, the boat had no name. North Babylon N.Y.

*******************
February 1, 2011. Ian sent in an email and the following pictures of #122 taken when he replaced her cover this past Fall - he must have foreseen that we would get record snow this winter!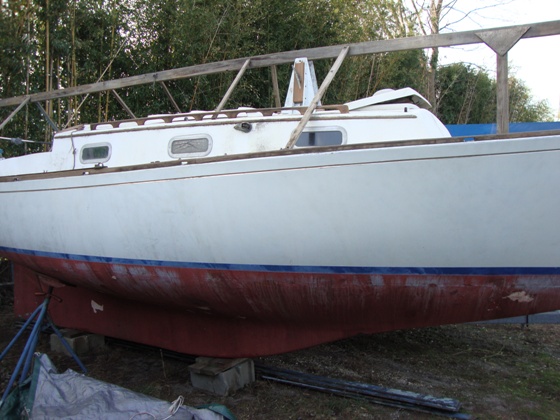 Hi Ron,
Thanks for adding the pictures. Hopefully this May or June I'll have some pictures of "Wanderlust" sailing. I've started to refinish pieces from the cabin and cockpit. In April I will scrap the paint off the bottom, repaint the bottom red and sand the topsides. The topsides will be painted sapphire blue with Interlux's topside polyurethane paint, with a white boot strip. The new cover is holding up well other than in the first blizzard the stern pulpit punched two small holes on each side of the cover, which I patched with duct tape. After each snow I go up and knock all of the snow off the cover. Next winter I'll try to get a better cover.

Thanks,
Ian Holzmacher

*****************************
August 7, 2011. Ian sent in the following update.
Hi Ron,

Wanderlust Is ready to go. After months of work she is now in the water, rigged, and ready to go. She was launched this past week. I haven't had time to take her out yet. Maybe tomorrow if the weather cooperates. I have attached several pictures of the process out painting and barrier coating her. Tomorrow I'll try and get some pictures of her in the water and maybe even sailing.

Thanks,
Ian Holzmacher

prepping

undercoated

*******************************
August 10, 2011. Final topcoat, launched and sailing!! Nice job - congratulations Ian!!

First Sail
**********************************************
August 11, 2011 - super sailing photos! Wanderlust is sailing on Great South Bay on the south shore of Long Island.
Hi Ron,
Today I went sailing again on "Wanderlust". It was the first time I had both the main, and genoa up. I had a great time, she attained hull speed very easily. I have also attached several pictures of Wanderlust sailing.
Thanks again,
Ian

****************************************
January 4, 2013. We got an update from Ian and a couple of seasonal pictures. And, in response to a question for local knowledge about the 'inside passage' on the south side of Long Island, provided some valuable info on the Babylon - East Rockaway Inlet leg (emails consolidated and edited)
Hi Ron,
Sorry it has been so long since I have last updated you on Wanderlust. At this time Wanderlust is on the hard at Yacht Service Ltd. in Amityville, New York, sporting her new winter cover, I have included a couple of pictures of her at that location. Fortunately she made it through Hurricane Sandy without even a scratch, riding it out in a wide slip behind my house with a lot of slack in her dock lines. The tide came up 4 feet above the average high tide. The house didn't fare quite as well, but we're now moving along on the road to recovery.

| | |
| --- | --- |

Regarding your question - it is possible to go all the way down Great South Bay, and continue all the way to Atlantic Beach also known as East Rockaway Inlet. There are approximately 6 draw bridges that you must go through to get all the way to East Rockaway Inlet. I actually made the trip this previous summer aboard a J-27 on the way to start of the Around Long Island Regatta, with no issues at all. I was pleasantly surprised on how quickly the draw bridge operators opened the bridges for us. If my memory is correct the trip which started about 5 miles East of Jones Beach to East Rockaway Inlet took about 6 hours while fighting the current. In my opinion it is a pretty manageable trip with deep water all the way through. Hope this helps,

Don't blame Ian for this map - it's a webmaster special - check out Google Earth for close ups

Hope you and your family enjoyed a wonderful holiday, have a happy and healthy New Year.


Ian Holzmacher
Webmaster Note: This may come as a surprise to the reader - it did to me. Ian is likely the youngest Dolphin 24 owner - 16, let me be clear, sixteen. And, he is also, probably, our youngest DFI, having discovered the Dolphin for sale at Weeks Yacht Yard in Patchogue
****************************