September 22, 2015. A moment of silence - Nalina has left us.........
We heard from Kim Granberry that he has had a change of plans and that a major project restoring Nalina was not in the cards this year. This led to a webmaster follow up call to the Guilford Boat Yard to check on Nalina's current status and they advised she has been cut up....
The boat yard has Nalina parts that they will sell. Here is their email and some photos:
Hi:

Dophin #216 has been cut up. The following equipment from this boat is for sale:

> sails - 7 bags. 2 main, 2 genoa, 2 jibs, 1 storm jib, 1 spinnaker
> S.S. bow and stern rails with ladder and stanchions for life lines
> Bronze centerboard
> 29' aluminum mast with boom, spinnaker pole and whisker pole
> rope winch - 8 to 1 ratio
> manual shift and throttle controls
> Deck hardware - 2 Lewmar single speed #8 winches, 2 - 10' bronze jib tracks with slide blocks, cleats and lights.

Attached are photos. More photos are available. Thank you;

Anne Duhaime
Guilford Boat Yards
203-453-5031
www.guilfordboatyards.com
Click on the photos above to get a larger view
Rest in Peace Nalina
***********************************************
*********************************************************************************
July 24, 2015. Your webmaster and Kim Granberry, a Savili crew, and son of former Savili owner Carleton Granberry, have exchanged emails. Kim is getting back into Dolphins with his planned purchase of Nalina (emails edited and consolidated). We'll set up a new page for Nalina once Kim officially has her under his care.
Dear Ron,

Your website is the best website I have ever visited, and I visit a lot. I have been following your's for years as a confirmed Dolphinaholic. On this year's cruise, which took us to Maine, I went further East to visit Savili in Jonesport. She is structurally and mechanically sound and the engine had been run the day before we arrived. She's ready to go anywhere and Gary has done numerous value added improvements, but she does need a cosmetic make over.

As a result of your comprehensive website work, I have been able to educate myself on trailers, the different manufacturers etc. etc. I have been able to locate and research Elizabeth and as a Lunn Laminate fan; find Nalina right in my back yard. I put a deposit on her from Maine with the miracle of the cel phone and will be taking stewardship when I get home August 1st.

A man with out a Dolphin is like a man without a country, and I feel like a mariner who has returned to homeport. This has all been due to your commitment and service to a beautiful and endearing little vessel.

My sincerest thanks, all my best and looking forward to seeing you afloat on sister ships.

Kim Granbery

postscript: Congratulations to Marionette this year, you're running with the Big Dogs now. More often then not the handicapping is usually not advantageous to the smaller boats on the longer courses.

Stanley Barnes and his Shamon (Marscot/O'Day #25) have a very special place in my heart. Stan was my sailing teacher at Sachem's Head YC as a kid and also my elementary school principal. He was an amazing and positive influence on my formative years. I think Shaman has (had?) wood shear clamps, which I sought to avoid by finding a Lunn Laminates built boat.

We are currently cruising up in Maine in a Young Brothers 38 Lobster Boat built in Corea, ME in 1981. (Picture right) She was fishing when we bought her 6 years ago and we have added a v-berth, a head and a camp stove and we're really cruisin' in style. We keep her on a mooring in Noank just north of the Ram Island Yacht Club when not cruising or kicking back in Great Salt Pond out on Block Island.

We usually stay south of the Cape for the swimming but saw a good weather window about 10 days ago and put in a few long days to get to Maine. I'd love to have you visit in Guilford anytime. We' will be having Nalina moved out to our house in September. I'm looking at her as a 3 to 5 year project, unless my time frees up a little. I may be able to get her in my shop but I'm not sure about the height.

********************************
October 17, 2014. Back on September 29, on a 'routine' follow up call to the Guilford Boat Yard to find out what's going on with Nalina, we found out that Jeff has moved away from the area and that Nalina was going to be put up FOR SALE. A detailed ad has arrived along with a couple of interior pictures to supplement our file photos, and one of the nameplate.
The ad follows:
Lunn Built Dolphin 24 - FOR SALE - $700
Reported as 1961 registered as 1963. Boat was hauled in 1986 and needs a major cleaning and rehab.

Mast with single speed Lewmar winch in good condition. Boom and spinnaker pole. 8 sails - 2 mains, 2 genoas, 3 jibs, 1 spinnaker. Sail # 2793.

S.S. bow and stern rails. Life lines, 2 Lewmar #8 winches.


1 cyl Palmer engine does not turn over. Photos below
Contact Ann at the Guilford Boat Yard, 230 Water St, Guilford, Connecticut. Phone 203 453 5031.
**************************************
***************************************************************
This boat was first reported in late 2007 by one of our field investigators. Your webmaster was in the area on January 28, 2008 and, never without camera, captured the following pictures. I tracked down and spoke to Jeff a couple of times. He told me that he bought Nalina in 1993 from a guy named Briggs (Rob Roy III ??) who had kept her in Clinton. Nalina is Sanskrit for "Waterlilly" and she has been out of the water at a small marina in Guilford since 2000. She was one of the Sachem's Head Dolphins and Jeff kept her on a mooring there.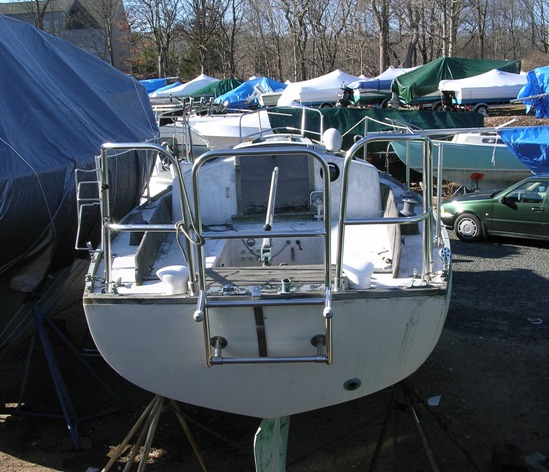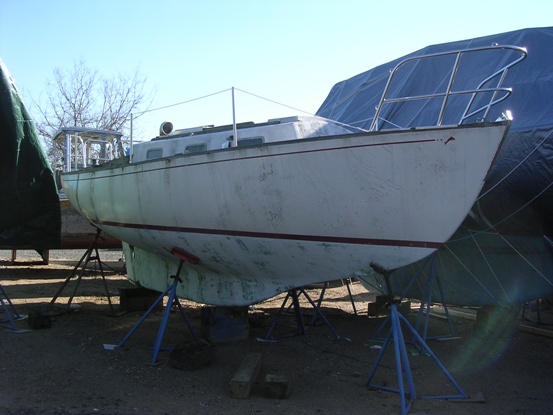 ***************
September 13, 2009 - Your webmaster was in Guilford, and decided to stop by this boatyard and check in on Nalina. As usual the camera was in the car and another picture resulted.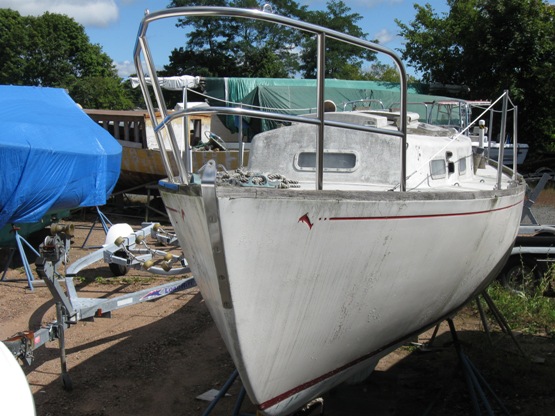 The ss bow and stern rails, and stern boarding ladder on this boat are a work of art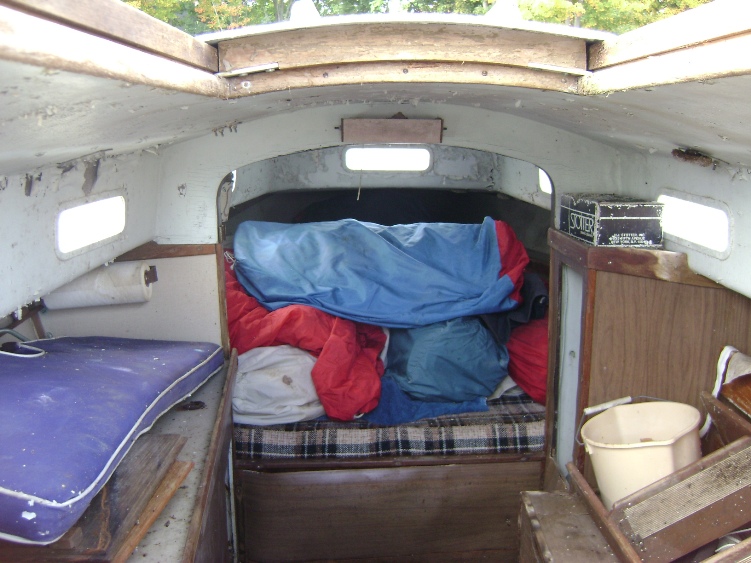 Picture taken October, 2014 - Click here for a larger view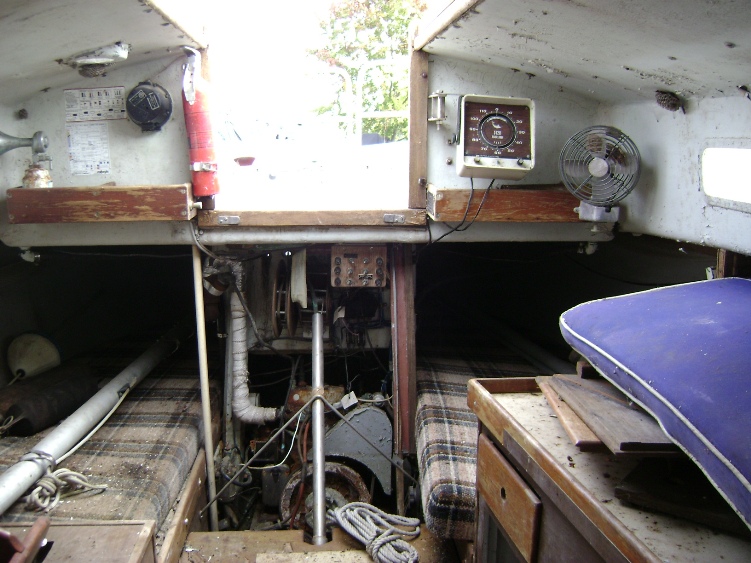 picture taken October, 2014 - Click here for a larger view
*********************