December 14, 2010. Jerry checked in with his Yankee #210. This is a 'newly found' Dolphin, our 172nd - click here to go to the updated list.
Here is his email (minor edits)
Aloha,

I would like to be added to your roster list. I have Yankee Dolphin 24 hull # 210 here on the Big Island of Hawaii. Thank You

Sincerely,

Gerald Horan

********************
January 7, 2011. Jerry has followed up with a couple of pictures and some history.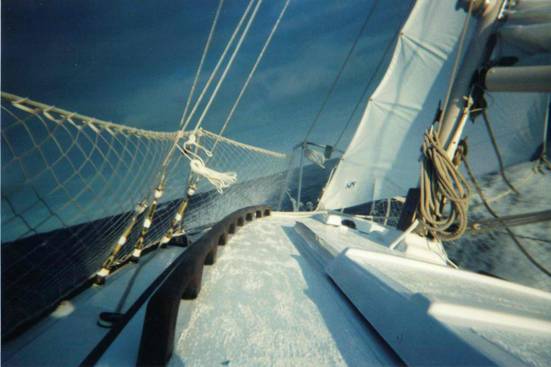 Aloha Ron,

Thank you for your email and adding Calmante to the roster. I bought her in Feb. 2005 from Bob and Lani Lovin and kept the name Calmante, a Portuguese name for tranquility and peacefulness. Her home port has been at Kona sailing club located at honokohau harbor on the big island of Hawaii, where she is on a trailer by the Kona sailing club, fully rigged and ready to launch and retrieve for sailing.

The previous owners sailed her since 1988. In 1988 she was owned by Carl Barlow and named Kua Koa. During this same year in November while visiting the Kona coast from Oahu she made the front page of the West Hawaii Today newspaper after being swept ashore and on the rocks by a passing winter storm. At this time new owners purchased her and changed her name to Calmante.

In Jan. 1991 she was swept ashore a second time from her mooring in Kailua Bay, Kona. After repairs, a trailer was built and kept at the Kona Sailing Club. At this time I don't have any other history except that she was sailed to Hawaii from California.

After buying Calmante in 2005 she went through a major rebuild for a year before sailing once again, turning her into a strong and comfortable compact cruiser. During the last couple years we've been cruising and exploring all 7 of the habitable islands of Hawaii, visiting many different areas and anchorages. Living the cruising life in a small way has been exciting and a life long dream.

Thanks again Ron for making this web site available to us. Aloha from Hawaii to all.

Jerry Horan
Stay tuned for more about this boat
January 10, 2011. That picture of Calmante going to weather, and the fuzzy detail on the closed off transom well photo prompted your webmaster to probe further. Here is Jerry's reply (minor edits)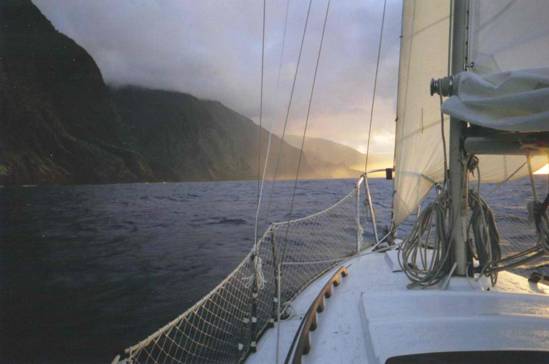 .
Aloha Ron,

The picture of Calmante in a strong breeze was sailing from Maui to Hawaii in the Alenuihaha channel, returning to the Big Island from a cruise to all the islands.The cruise was 33 days long, visiting 22 different areas and about 800 miles round trip, using the wind vane self steering most of the time. I have a 4 hp long shaft outboard in the motor well and I enclosed the shaft with half inch marine plywood, keeping the water out when in a rough sea.

Just recently I built a sea hood and hard dodger for the sliding companionway hatch to keep water from entering that area. I love sailing these islands not only for their beauty but also for the challenging conditions of trade wind sailing.

Jerry
A quick search for a map of the Hawaiin Islands and the channel surfaced this one - it does not do justice to the environment but until I find a better one...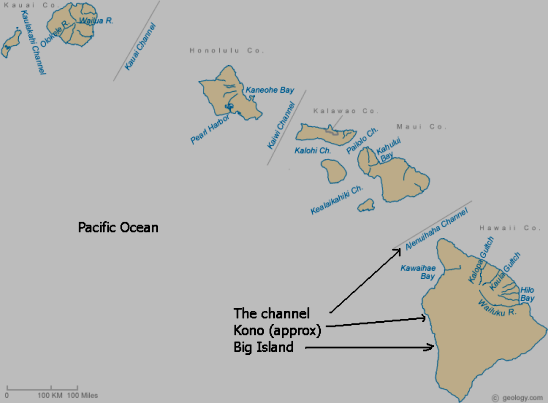 *****************************
January 16, 2011. Arnold sent in the following additional info - and a picture of Calmante at anchor (minor edits)
Hello Ron,

Calmante has a 4 hp, 4 stroke Yamaha ob and it exhausts in the interior of the well. So I crack the hatch open a few inches to give the motor a little more air to breeth when running. I do enjoy single handing most of the time but also like to share the sailing experience with others. The last picture sent was off the north east coast of Moloka'i, broad reaching with 80% working jib. The first picture, sailing from Maui to Big Island, a small storm jib and third reef in main works well.

The plywood used in the bottom of the motor well to keep the water out is in 2 pieces with a hole for the motor. Inside the well there's 3 pieces of plywood holding the wood around the motor in place. All the pieces fit together without using any fastners so all can be removed easily.

All the best you Ron.

Jerry




*********************
February 10, 2011. Jerry sent in an email and photos of Calmante's transom well set up that prevents water from surging up and into the well. We include these here and also in the Technical Section/Transom Plugs and Wells.
Hi Ron,
Here are the pictures of the bottom motor well enclosed by half inch marine ply, cut in half through the hole for the motor shaft. Inside the well are two pieces of ply on the sides and one piece just aft of the motor shaft held in place by line stuffed in between the inside stern and the center ply. On the top rail of the motor well, 1x2 is secured with screws and overlaps to the inside of the well by 3 quarter inch. The overlap holds the sides and center piece ply down on the ply, covering the motor well opening. Before installing this arrangement lots of water would splash up into the storage area and make it to the inside of the hull requireing lots of pumping to keep the bilge dry. All the plywood fits together without fastners and can be taken apart easily for motor removal. I'll close for now Ron.

All the best to you, Jerry
Super picture - the next one shows how tight this space is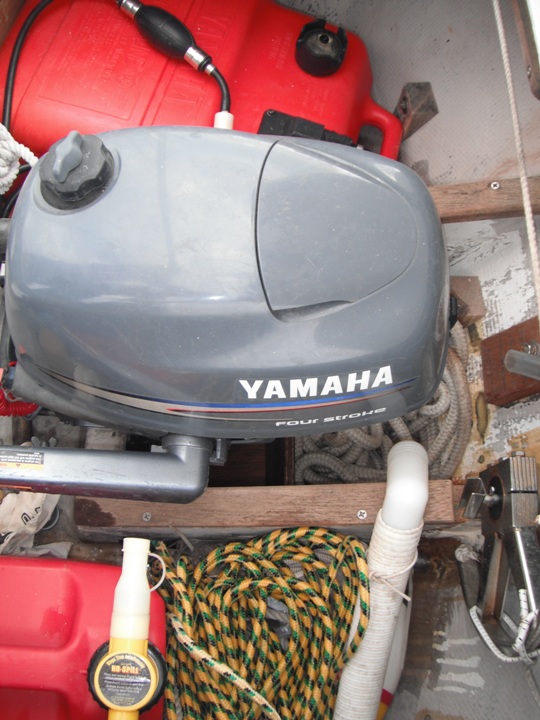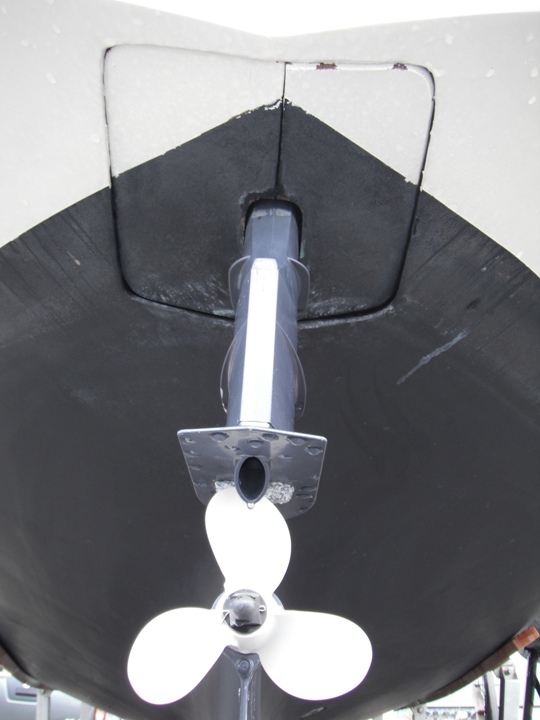 Exhausting through the lower makes a tight enclosure possible
****************************************
December 2, 2014. In recent days we have reconnected with Jerry. The following email exchange and pictures show he has been busy - edited.
Dear Ron,

Checking in with you after being off line for awhile without a computer. My Yankee Dolphin #210 here in Hawaii lost her centerboard while cruising the islands last summer. Researching on your website has been really helpful. I read about Scot Loset's project on Yankee 204, building and replacing his center board with 1" thick hdpe. (http://dolphin24.org/204s_new_centerboard.html)

I would like to have access to Forum for more information on his build and installation of his center board. Would also like to become a member of the Dolphin 24 website.

Sincerely, Gerry

*****************************

Hi Gerry

Cruising around in the Pacific in a Dolphin 24 without using the centerboard is old news - have you read about the adventures of Kiwi, Yankee #107? Click on this link to check her out http://dolphin24.org/kiwi_tahiti.html.

Membership in our 'group' is easy - owners/former owners/wannabe owners and website readers are automatically ''members'. Join the Forum by registering - here is the registration page

http://dolphin24.org/forum/registration_rules.asp?FID=0&SID=fa95c4476f6dfe87z325ae6da427eebb

Stay in touch - thanks, Ron

ps if you ever get over to Honokohau Harbour/Kona we need to find out whatever happened to http://www.dolphin24.org/blue_Kona.html . All our contact info has gone stale

************************


Aloha Ron,

Thank you for all the great links and sailing without the centerboard down. All very interesting reading. Also I was grateful to see that you used the stern picture of Calmante (above) to show the stern ladder. This ladder being compact in the stowed position also extends through a slide putting two steps into the water when folded down.

Since the taking of that picture I've added a hard dodger and 'garage' over the companionway and sliding hatch. Also added a boom gallows and a Bimini awning that can be tied in from pilot house to the boom gallows. The additions have greatly added to the comfort and safety in cruising these Islands in a small boat.

Click on the above photos for a larger image

Thanks again, Ron, for your return email and all the neat information on Dolphin 24.org


Sincerely, Jerry

ps That blue Dolphin 24 is still here in Kona and has a slip at Honokohau marina. I'll check it out and see what he's been up to.

*********************
December 14, 2016. Six years ago today Jerry checked in with Calmante, our 172nd found Dolphin. Its been a couple years since we have heard from Jerry but Calmante has been busy - showing off! Here's what she has been up to. John Cahill checked in as the new owner of Yankee #86, Dorado and sent in this email
Hi Ron,


I have recently purchase Dorado from Brent Lievsay and am going to ship it to Hawaii just after the first of the year. I want to thank you for all the information that I have gleaned from the website and hope to reciprocate in the future by contributing as I restore Dorado.

I was on the big island of Hawaii looking at another boat and came across Calmanti and instantly fell in love. To make a long story short, I found Dorado for sale on the Internet and closed the deal with just a series of photographs. I am hoping the restoration isn't too major but I built boats for a living back in the 1970's and 80's and am up to the task, I hope. More later.

Aloha, John Cahill

Well Done Calmante!!
December 15, 2016 Jerry responds
Aloha Ron,

Thank you for your email. Excited that John is new owner of Doredo. I can advise him on some of the upgrades he's interested in. Have John send me his email address.

I've been doing well here in Hawaii . My family and I going through some life changing experiences. Last cruised the islands in May and plan on a cruise this June 2017. Continue to love sailing these islands. Also continue to love Calmante, my Yankee Dolphin, and always making improvements. I'll send you some photos - see below.

Great to hear from you and also of John Cahill's purchase of a Dolphin 24.

Merry Christmas and Happy New Year to you and family.

Aloha

Click on the pictures below for a larger image - click the return arrow on your browser to get back here

************************************************
January 21, 2017. Jerry's been busy spreading his raised pilot house know how around - and its not all work!! (minor edits)

Ron

The beginnings of a small pilot house for a 27' Morgan sloop. My friend Joseph loves what I've done to Calmante and has been after me for awhile to rig his boat the same. Joseph at 74, I've come to learn, is like a teacher and mentor to me, and he and I are working together to fix up his Morgan 27. Also what I'm drinking today!! Awesome....

Aloha, Jerry

ps I love my Dolphin and will keep it always...

Click here for a larger image
********************************************
March 20, 2017. Jerry and your webmaster have exchanged emails in the past few days about an interesting subject - converting your Dolphin to cutter rig. Given Jerry's pretty short question this got pretty lengthy so we decided to set up a page in our Technical Section - Click here to go there
Aloha Ron,

Been thinking of rigging my Dolphin as a cutter. Would you have any information on this for a Dolphin 24?

Sincerely,

Gerald Horan. Dolphin 24 Calmante, Kona Hawaii.
**********************************
April 3, 2018. Responding to an update plea from website staff we got the following from Jerry
Aloha Ron,

Thank you for your email. Calmante is doing well. Last year installed a new compass which I can see a lot better. Also added a round port on the front side of the cabin house. I have a new ss centerboard that needs to be installed. I will do it myself but still need to make up the vertical lifts and strap, the system that you have shared with us to lift the Dolphin off the trailer (http://dolphin24.org/no_travel_lift.html).

Been sailing without a centerboard for 3 years and need to get the new one installed. My last Island Cruise was in June and will be going again soon around the same time. Will send some photos.


Aloha Ron. Thanks again for keeping in touch. All the best to you and the family.

Jerry
Click on the photos above for a larger image
Postscript #1: The following - Anchored out in Kane Ohe Bay, Oahu. Always enjoy anchoring close to pretty boats!
Click on the photos above for a larger image
So, where is Kane Ohe Bay, Oahu? Website staff asked Google Earth.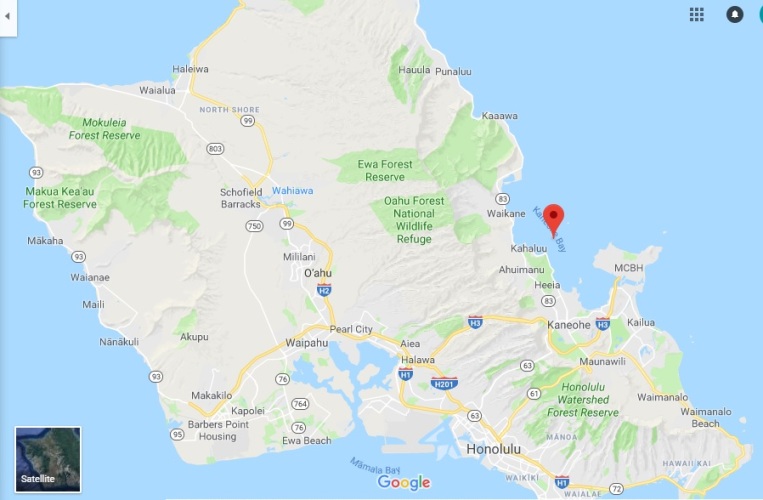 Postscript #2 - And, just before we went to press, this in from Jerry....
Click the above photos for a larger image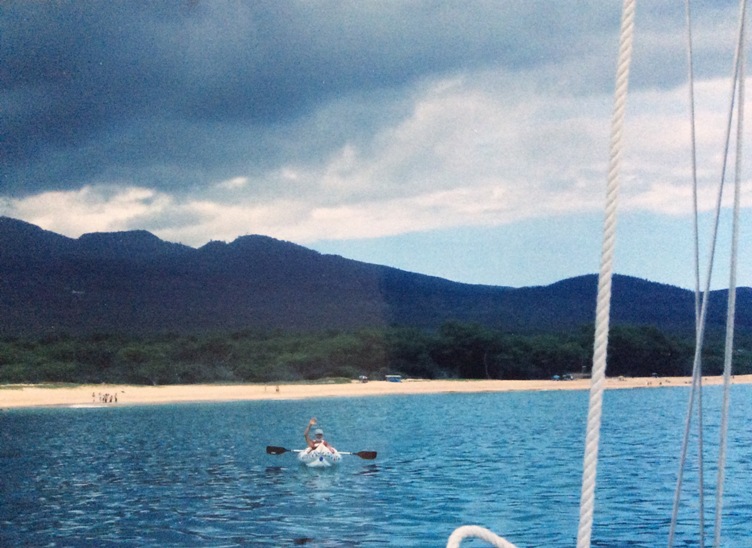 Anchored at Big Beach, SW Maui (Could this be Jerry?)

Again, Google Earth to the rescue.......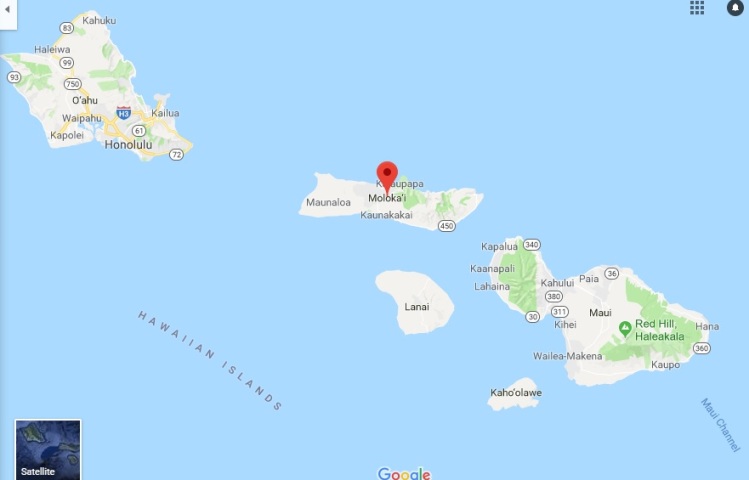 ************************************************