December 14, 2016. John Cahill is checking in as the new owner of Dorado. Here is his email
Hi Ron,

I have recently purchase Dorado from Brent Lievsay and am going to ship it to Hawaii just after the first of the year. I want to thank you for all the information that I have gleaned from the website and hope to reciprocate in the future by contributing as I restore Dorado.

I was on the big island of Hawaii looking at another boat and came across Calmanti and instantly fell in love. To make a long story short, I found Dorado for sale on the Internet and closed the deal with just a series of photographs. I am hoping the restoration isn't too major but I built boats for a living back in the 1970's and 80's and am up to the task, I hope. More later.

Aloha, John Cahill

Welcome aboard John

and

Fair Winds Brent

***************************************************
February 9, 2018 We got the following update from John. Patience here - he has a lot of catching up to do - and he is 6000 miles away......We'll put some of John's comments in the related parts of the Technical Section as soon as he sends in the promised photos. Readers are to be reminded that John is a former boat builder - many of us are still trying to distinguish between a chisel and a screwdriver.....
Hi Ron,

I have been taking some photos and soon I will put together a bit of a posting.

I lifted her up with my forklift and dropped the old centerboard out. It was strange I thought but there was some kind of reinforcing that ran from the bottom of the centerboard to a point just below where it entered the centerboard trunk. This resulted is stress fractures at this bearing point. I decided to replace it with a solid piece of 5/8" aluminum plate which I ground on for about eight hours to ease the leading edge and create some release on the trailing edge. The original board weighed 45 pounds and the new one weighed in at fifty three which I think will be beneficial if anything.

I rebuilt the mast top fitting to make it stronger and allow for the recommended split between the head stay and the halyard sheave for the new Schaefer roller furling 115% genoa that I had made. Additionally I now have a heavier duty main with two reef rows. My sails were made by Carol Hasse of Port Townsend Sails who made my first set of sails for a ketch I built with friends back in 1974. She is still building sails with a fair amount of hand work and I am confident they will stand up to our extreme channel winds here in the islands.

I have been working on the bright work as I wait for parts and have also build a new companionway hatch. The old hatch was built with teak planking over just one layer of ¼" marine plywood. The hatch was having trouble holding its shape and since I have a wood shop, and the skills, I decided to basically build it exactly the same way but with two layers of ¼" plywood epoxied together to create a much stiffer base for the teak. This is the only wood working that I feel was not up to standard on the boat and the rest of the work has been cosmetic other than a couple of Dutchman repairs on the toe rails.

I bought a new Selden Industries boom (http://www.seldenmast.com/en/products/Booms.html) with single line reefing along with a rod kicker vang as I will be channel sailing here between islands and at times single handed. I now have all my rigging parts and will soon stand the mast and work on fair leads, winch positions, etc..

Eventually I plan to build a carefully designed doghouse so I can sail while standing in the cabin with the companionway hatch slid open and still be protected. I am leading halyard and reef lines, etc., back to two self-tailing Lewmar #14 winches through cam cleats on either side of the companionway hatch. I continue my love affair with this design and really plan to do justice to the aesthetics when I build the doghouse. I have seen several renditions that look quite practical but have not seen one to date that I feel really matches the integrity of the vessel itself, so I think it may take a while with several cardboard mockups.

There are two functional aspects in my rebuilding/restoring plans that are still unresolved in my mind. The first is the chain plate application (or lack thereof). I am a little concerned about the tabs that are just bolted through the shear clamp to hold the mast up. It seems that oak was used in the area where the tabs bolt through but even the washer size is not large and I have considered drilling out some larger pieces of stainless steel to spread the load a bit. I am not sure that this will really improve upon the oak backing since it wouldn't increase the bond to the hull other than by perhaps spreading the uplift out to a slightly larger area.

My two previous ocean going sailboats were 47 feet and 44 feet so I am used to much more extreme anchoring for the rig. However, this rig is much smaller and the design is meant to be sailed with a lighter touch due to the righting nature of the hull section that combines with the shallow ballast to require less driving force. That being said, it does blow in excess of 25 knots on a regular basis here and this remains a concern for me.

The second issue is the auxiliary power. I bought a little used Tohatsu 6hp four stroke which I used to motor from the slip where I bought the boat to the haulout yard. It seems quite adequate but I have not yet figured out how, or if I will, stow the engine if I want to put the tight fitting insert into the engine well opening for longer passages. I think I will try to temper my desire to do everything at once and wait for further advances in the Torqueedo electric units. They now have a 35 pound drive unit but they are expensive and I am not sure they are deep enough. Just like with electric cars they will benefit from advances in battery technology but may eventually be the perfect solution for a craft such as the Dolphin 24. A small backup generator could perhaps be a backup that would basically turn the system into a hybrid.

This is perhaps a longer answer than you expected but I am releasing some guilt for benefitting so much from the website without reciprocating. (Thanks John!!)

I will update later with photos of the launch and first sail hopefully before the end of March. I continue to appreciate the website as a resource and thank you for your energy.

Aloha from Maui,

John
Webmaster Note: In our continuing effort to familiarize our readers with where our Dolphins sail here is Maui - Hawaii (the red marker) Where on Maui Dorado calls home in coming ...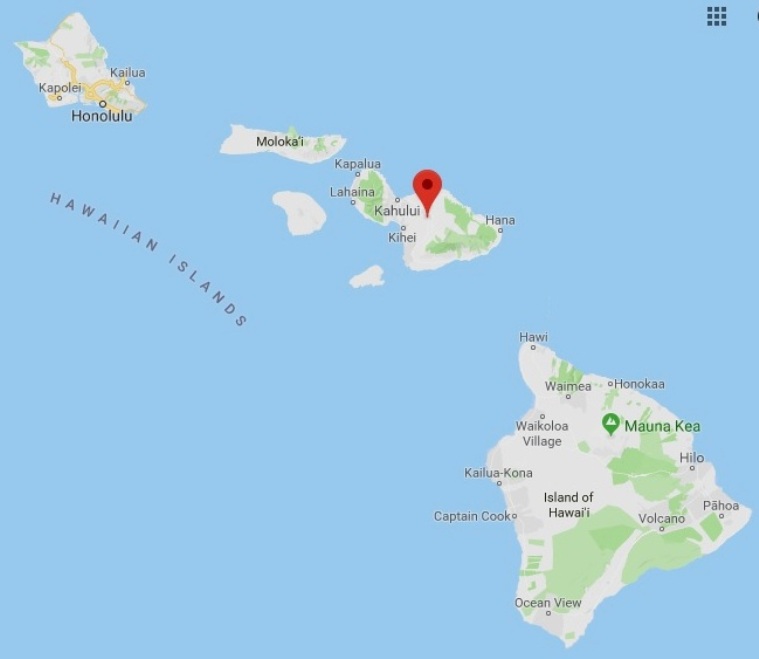 .
******************Standing by******************
***************************************

**************************************************

********************************

Here is the history we had on #86 to this point.
April 7, 2016. (updated September 5, 2016) Brent bought a boat in Greece! and is there sailing now!!. So he has not had the time to spend on Dorado. She is Still For Sale. Here is his Craigslist ad link http://sandiego.craigslist.org/csd/boa/5526712353.html, (expired). Below are highlights from the ad, and Brent's direct contact info is below.
Yankee Dolphin - $4500 Mission Bay, Sea World Marina
Sparkman & Stephens Design - Classic Sloop built by Yankee Yachts Built 1968.
Fiberglass hull, deck & house teak trim, gorgeous lines. Perfect bay and ocean sailor.

Dorado was built in the mid-sixties in Costa Mesa by Yankee Yachts. Called a Yankee dolphin and molded with a little blue dolphin at the top hull line near her bow, this little boat design was fashioned after classic, traditional New England boats that raced on Long Island Sound in the 1930's.

She is made out of fiberglass & polyester resin, and has a monolithic hull with a centerboard trunk, topsides and house molded together and joined at the top of the hull by a teak toe rail. She was made of top quality construction by the boat builder whose passion for her design integrity was a beacon of light on the darkest sea, even when in the end the Yankee Dolphin couldn't compete with the lighter, less well built fiberglass hulls that came after her. She moves through the water gracefully.

-- 8hp two stroke Evenrude
-- VHF Radio
-- Sails
-- Anchor
-- Rigging new in 2004. Great Condition
-- Life Vests
-- Safety Equipment

Would consider sharing the expenses with the right person.

Contact: brent@vividminds.com, by phone 619-261-7715

*********************************

******************************************************************
March 5, 2013. Brent Lievsay checked in on the Forum as the new owner of Dorado. Below are his emails - consolidated/minor edits. Pending receipt of new pictures from Brent we'll use a 'file photo". Click here to see Dorado's history and her remarkable story.
Hello there.

I just purchased Dorado #86. She is a beauty. I am now wanting to do a few improvements and was hoping that I could get some help from the Dolphin veterans here.

I need new sails (main and "yankee" jib). I would prefer to buy something used if possible. I want the yankee jib so I can see better under sail. I was also contemplating getting a roller furling system to make it a bit easier to sail single handed. I have never purchased sails before so I am not sure exactly what I should be asking for dimension-wise or any variables that I should consider with the Dolphins. Any advice or recommendations would be greatly appreciated.

I would really like to install a windlass for the anchor on the bow and was wondering if anyone here has any advise on whether or not that is a good idea or even doable. I am not sure how the chain might be stowed and was hoping that someone might have some experience in this?

Any advise would be greatly appreciated.

Best Regards,

Brent Lievsay, San Diego, CA

File photo