March 5, 3013. Brent Lievsay checked in on the Forum as the new owner of Dorado. We have set up a new page - click here to go there.
*********************************************
Oct 6, 2012. Updated Craigslist ad PRICE REDUCED to $4500
http://sandiego.craigslist.org/csd/boa/3304885228.html
********************************************
July 19, 2012. DFI David Williams (Yankee #184) first brought this to our attention. We then talked to Scott who advised the Davies are currently spreadout around the country and Dorado needs a new home. Below is his Craigslist ad posted July 14, 2012 - this is the direct link to the ad http://sandiego.craigslist.org/csd/boa/3139269299.html
24ft Sailboat - Yankee Dolphin - $7500 (SeaWorld Marina)
Date: 2012-07-14, 11:14AM PDT
Reply to: xzmkx-3139269299@sale.craigslist.org
Sparkman & Stephens design classic sloop built by Yankee Yachts
Built 1968, Fiberglass hull, Deck & House
Teak trim, gorgeous lines

8hp two stroke Evenrude, sails, anchor, No Trailer
Rigging new in 2004, great condition
Perfect bay and ocean sailor

Photos upon request. Asking $7,500

Call or email Scott - 858-602-8257
• Location: SeaWorld Marina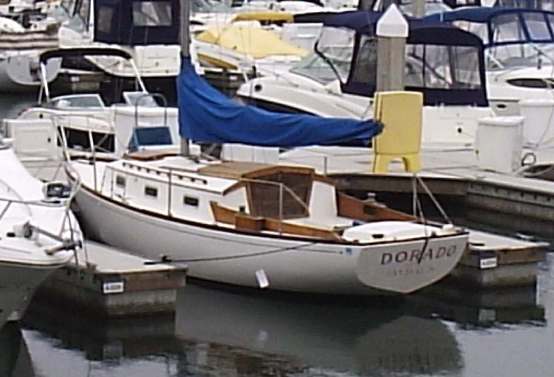 Scott owns Dorado with his brother and actually checked in last July, but this page did not get updated. Mom (Liz Davies) played a role in Dorado's story and it follows:
December 11, 2007
PREPARING TO COME ABOARD, SIR!

I am extremely involved in the acquisition of DORADO, the Yankee Dolphin in Marina Del Rey, #86. You see, I am the Mom of these two men, Scott and Jay Davies...who now own the boat.

I have some stories I'd love to share. Would it be possible to share them with you? Or would you kindly give me the email address of the person I would share my story with? Dorado has such a wonderful story, and I'd love to share it for the Holidays.

Very Best to all Dolphin owners,
Liz Davies
********************
Dorado's story gets fleshed out in the following email from Liz Davies received December 29, 2007.
DORADO GROWS UP!
Dorado was built in the mid-sixties in Costa Mesa by Yankee Yachts. Called a Yankee dolphin and molded with a little blue dolphin at the top hull line near her bow, this little boat design was fashioned after classic, traditional New England boats that raced on Long Island Sound in the 1930's.

She is made out of fiberglass & polyester resin, and has a monolithic hull with a centerboard trunk, topsides and house molded together and joined at the top of the hull by a teak toe rail. She was made of top quality construction by the boat builder whose passion for her design integrity was a beacon of light on the darkest sea, even when in the end the Yankee Dolphin couldn't compete with the lighter, less well built fiberglass hulls that came after her.

Sold to a man in San Francisco, Dorado beat to many brisk winds around the Golden Gate before being sold again, sight unseen, to a friend in Seattle. When she came off the truck in Seattle her new owner's heart flipped over. "I looked at her," the man said, "and when she came off the truck at Leschi Marina I realized she was the same boat design of a little boat I'd fallen in love with when I passed her in Southport Harbor, Connecticut." His name is Jim Clyne, and here's where Merritt, Scott and Jay come into Dorado's story.

Jim was living in Connecticut after Stanford University when he crewed on Atlantic sailing teams out of Southport Harbor. (For those of you that don't know about Atlantics your webmaster - whose Marionette, formerly Teal, was first launched at Southport - cannot resist this opportunity to send you off on a still another tangent - click here to find out why) One winter he spotted a beautiful little sailboat still in the water wrapped with an air hose all around her hull to prevent ice from forming on her hull. He fell in love with her lines, the look of her, and her overall beauty. She was a Sparkman & Stephens design, 24 feet long with a centerboard trunk for getting in and out of the shallow rocky inlets and harbors of the New England coast. He swore when he first saw her that he'd have a boat like her some day. And then, she came off the truck.

Her original name was GINGER, and as soon as she arrived in Seattle she was re-named DORADO in memory of a WW11, 90 foot air sea rescue vessel owned by Douglas Aircraft in Santa Monica; the boat that gave him his first love of sailing during his childhood growing up in Malibu.

Jim partnered with Doyl in the ownership of Dorado. She was tied off in slip # 4 at the Seattle Yacht Club for 25 years, where both families enjoyed sailing her around the San Juan Islands in the summer. She was chartered out, had crew changes in Anacortes and glided over the deep green waters of the San Juans until she became less important on her owner's TO DO lists.

And then, Jim's partner Doyl walked into my office!

He was a partner in the building I was leasing in La Quinta, and wanted to introduce himself to me before leaving the Desert for his family's summer months in Seattle. Six degrees of separation later, I realized why he'd come to say hello. In the magic of strange encounters I learned of a little boat in slip #4 at Seattle Yacht Club with sweet lines and existing in stage-4 neglect.

Our journeys form perfect circles when all the dots connect us to one another. Merritt, Scott, and Jay were raised throughout their middle and high school years, in Connecticut. Scott and Jay both sailed in Southport Harbor at the Pequot Yacht Club, and armed with their Launch Operator's Licenses during their college years they each skippered the Noroton Yacht Club ship-to-shore Launch in the summer months. The craggy rocked inlets of Noroton, Scott's and Ziegler Coves were their summer "hangs" and boating life of New England was their world. As I listened to Doyl talk about a neglected little boat in Seattle Yacht Club where my mother and father were now two of the oldest living members, my heart pounded like a Tom-Tom. He wanted to find her a nice home, one where she'd be fixed up and enjoyed.

Hmmmm! And hmmmmm.~!

And it was done! Three months later, without telling Merritt, Scott and Jay (who for sure would have wanted me committed for a lobotomy) I shipped Dorado to Wilmington, California and phoned them from my office in La Quinta. "Meet me in Wilmington," I implored. "Ma!" they barked back, "What have you done now?"

Two good sons and a good daughter should know how to fix up and care for a boat, I rationalized! Each good man/woman needs his/her memories behind the tiller of a small boat as she heads out to blue water at sunset. They need to have, as much as I have had in my young airline stewardess years, the feeling of bathed-in-sunlight joy on a westward helm with wind at their backs, when headed to Catalina's 4th of July Cove on a warm July day. When they first laid eyes upon Dorado, I wiped away tears in order to see the looks on their faces. After five silent minutes Scott spoke first, "Wow, sweet lines!" he said. Then, we all hugged a few moments more, before they climbed aboard. They'll never know how much their first climb aboard moment meant to me.

From her first Wilmington sanding, to the days of replaced rigging and backing plates, to the varnishing and painting days, to shopping at Minnie's looking for new sails, to her re-launch into Long Beach Harbor, memories abound for her new owners.

And so, Dorado has grown up! To Jim & Sandy, Doyl & Cathy, from Merritt, Scott & Adrian and Jay, (not to mention me, author of this little piece) current skippers and tenders for this little Sparkman & Stephens 24-foot boat out of Marina Del Rey, we thank you for passing Dorado along to us on her great little journey. She is a sweet boat, one that thrives on warm winds and following seas!

Respectfully Submitted by,

Liz Davies "The Ma"

December 29, 2007
****************************************
Our investigative reporter in LA, Erik Evens, sent in the above, and following, photo.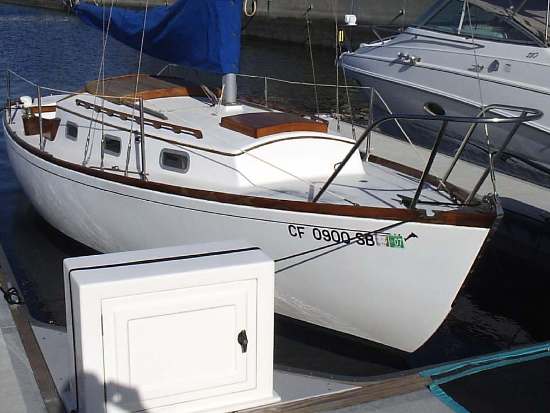 ************************************
December 8, 2008 - Liz Davis sent in the following update on Dorado (minor edits)
Hello Ron,
So glad you're keeping me up to date on Dolphin 24. Our DORADO has a continuing story.

It's 8:30am July 4th, 2008 when I stood on the point at the Marina Del Rey Jetty waving off Dorado, from Marina Del Rey. She was bound for San Diego Bay, loaded to the gills with Scott, Merritt, Jay, two other hearty sailors and all their "stuff."

Dorado had been in Marina Del Rey 4 years and three weeks, long enough to participate in three boat parades and various saturday afternoon sails from the Jetty toward Malibu and back, and three fall Brew Fests in Catalina, not to mention umpteen trips to 4th of July Cove Catalina for a weekend sail.

I would miss her. She was such a comfort to visit when she was moored at Bellport Marina, A Basin, Marina Del Rey. I would miss the visits the Davies Pirates would make to her because I knew they'd come to me next for a jacuzzi and BBQ.

Off she went, American Flag a-stern, heading out to blue water as proud as an old Dolphin could be. She would soon be berthed across from the MIDWAY AIRCRAFT CARRIER in San Diego Bay, one of the select few to make the trek as a classic in San Diego Bay. She'd be closer to her owners now, and closer to her original glory as a true legend, having been in San Francisco Bay, Seattle Bay, and now San Diego Bay. On to her glory she'd go, and out of Marina Del Rey on the crisp California 4th of July morning.

"Here's to the wind at your backs" I yelled above the hum of her outboard. They didn't hear me, as by then she was gone from view.

"How was the trip" I asked, when Scott called to say they'd made the trip from Marina Del Rey to Avalon to San Diego Bay in two nights and a misty morning? "We had the wind at our backs the whole sail. She was a pro," he answered.

Of course she was, I smiled. Newly varnished now, and sailing past the MIDWAY, someone yelled "what a great boat, is she for sale?" Scott shared that with me three months later.

Best Regards to Dolphin lovers,
Liz Davies
************************
December 12, 2011. Its been a awhile but Scott has sent in some new pictures of Dorado. He also advises he is looking for a Dolphin trailer.
Ron, Hope all is well. I'm looking to buy a trailer for Dorado, would you let me know if you hear of any on the west coast for sale? Also, I've attached a few photos for the website.
My dad built these new hatch covers for the boat after the originals fell apart after 40+ years of use. Worked out great!

Scott