July 11, 2012. David Williams has checked in as the new owner of Icelander, Yankee #184 with a couple of emails (consolidated and edited).
I completed my journey of 1,144 miles today with Icelander from Chassell, MI to Little Rock, AR . Although solid and structurally sound, she is now awaiting her cosmetic makeover after being out of the water for at least 6 years, including new teak toe rail and and paint, bottom and top.

As former owner Robb Waters noted, she looks a little naked without her teak trim, but that will soon be remedied. She was built the same year I finished high school, but has survived the last 42 years with fewer wrinkles than I have. Name is still under consideration.

I will send a couple of additional current "before" pics in separate emails.

David

ps The ownership trail - Duane Post, Bill Watson, James Andrick, Robb Waters, then me. Also Robb passed along that Duane said that he and a friend each bought a Dolphin 24 in 1970. From the Roster, I would guess that his friend owned #189, which was also at Lake Minnetonka.
Befores
Icelander may have been the fastest sold Dolphin ever - and David was on to her before the CraigsList ink was dry. On June 14, 2012 former owner Robb Waters posted the For Sale notice on our Forum, and on June 15 we got the following email from David.
I wanted to report a newly found Dolphin #263 in this CraigsList ad: http://sandiego.craigslist.org/csd/bod/3070984487.html. I have pics if the ad dissappears. It is currently owned by Jimmy Canale, who is a retired San Diego lifeguard. He told me that he has owned her for approximately 20 years. I could not quite make out the name on the transom and forgot to ask. It has a Vire 7 and, as you will see, also has wheel steering.

I almost bought it even though it's 1,600 miles away, but this morning the former Icelander popped up for sale, and I've reached an agreement with Robb Waters to purchase his boat from the UP of Michigan. After all, it's a mere 1,000+ miles away. What some men won't do for love when their head is turned! Hope to have her in Little Rock around the 4th of July and doing the cosmetic work needed. I'll have to give her a new name as Icelander doesn't sound right this far South of the Mason-Dixon line. Maybe Iced Tea? Naw, I doubt that will be the main libation onboard.

David Williams
Webmaster Note: Because of this email David joined the exclusive DFI ranks (Dolpin Field Investigator), having 'found' #263.
Click here to go to Robb's Icelander. Below is a picture from a still earlier owner Bill Watson.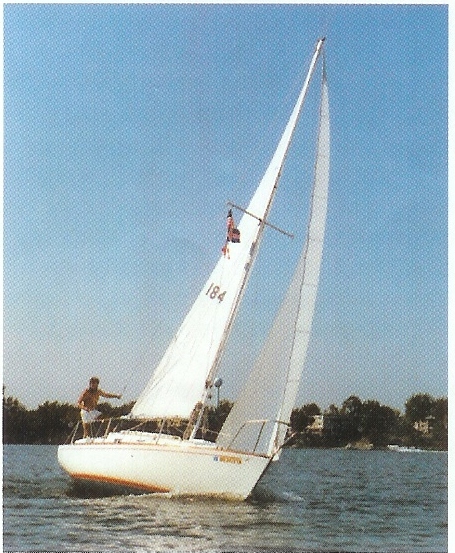 Icelander appeared in the 2004 Dolphins Galore article in Good Old Boat Magazine by Dyke Williams. Click here to go there.

***************************
************************************
****************
****************************************
This is the history we have on #184
July 15, 2012. Duane Post checked in as the original owner of #184. He bought her in 1970 and her name was SISU.
Hi,

I just recently discovered your excellent website, and thank you for all the work required to keep it going. It's very much appreciated by those of us who have enjoyed the design.

I've been following the purchase of #184 with interest, as I was the original owner. I have some material David Williams might enjoy having if you would provide me with a contact point. (We have advised David)

Thanks for your help.

Duane Post, owner of SISU, 1970 to 1987

************************************
July 22, 2012. Duane Post sent in a couple of pictures and some more background info. We have set up a page for SISU. Click here to go there.
****************************
July 23, 2012. Duane and David have been building up #184's record and trailers played a small, but important part. The following emails excerpted with minor edits
Robb Waters, the former owner and a good guy, before I traveled to MI, told me the tires were in good shape with lots of tread. Just to be sure I asked he send me the sidewall info with the DOT nos. to determine their age. The tire size he sent me revealed that tire -- very narrow -- had not been manufactured since the mid 60s, and must be originalsl Only place I could find that size is on EBay for1960's era Corvettes, which is only size tire fitting the spare compartment under molded trunk deck. Needless to say, I had four new ones put on before my trip. But trailer did fine.

David

Interesting story. Thanks for letting me know. I don't believe Bill Watson used the trailer much, and I don't know about the owner after that. I'm sure those were the original tires. To add to the story, Jim Anderson (#189) and I ordered the trailers a year after receiving our Dolphins from a Los Angeles manufacturer who shipped them stacked one on the other and towed behind a truck to MN. After they arrived we flipped a coin to see which trailer we got. I got the one without mileage on the tires.

Duane
Your webmaster had a related experience (the 'looks amost like new tire tread' issue) last summer when trailering Marionette to Maine. The trailer's 17 year old tires, at least that is when I bought them new, probably had at most 1000 miles on them, and the tread looked almost new. With 6 miles to go on a 250 or so mile trip, an accident ahead forced a detour, and eventually a full stop for 15-20 mintes - and opportunity to check the trailer. I noticed that a piece of the tire tread on the right trailer was missing ...missing?? You can read about this on Marionette's Log, Summer, 2011. Click here to go there.
************************************
November 13, 2017. Its been a while since we have heard from David Williams so website staff sent him an email to check out what's happening. Here is David's reply (edited)
Hi Ron,

I'm glad that I got your email. Has it been 5 years? I guess so. Life had some other plans for me....... Cycling has been my growing passion for the past 5 years and ate up many hours. I will reach 2,500 miles this year and probably in the best cardiovascular shape since 1985. I do feel bad that my Dolphin has been rested on the hard but my love for the boat design and for sailing in general hasn't waned. I've done some sailing on charters in the Gulf in the meantime. I didn't feel quite as bad about my delay after I read about a master woodworker's 40 years and counting of finishing out his Pacific Seacraft 25.

(Worth a read - here's the link .) https://www.facebook.com/Full-Sail-Design-Dragonfly-Boatworks-Ltd-107613396029270/?hc_ref=ARSWvkLnOewspqBMcpmxCxXDH3tZV1KIaLTm3wCUnfOIzPwddgGZh09kuzbYgJp-fr4&pnref=story

I actually do have plans now to work on refitting my Dolphin over our mild Arkansas winter and relaunching her next Spring. I've also decided on name of Delfino, Italian for Dolphin (which did not seem to be claimed based on a brief survey) Webmaster note - check out http://dolphin24.org/181.html and http://dolphin24.org/fanny_107.html)

Best regards,


David

standing by...............