August 8, 2014. First we have the set up. Four days ago your webmaster was at the dock at Journey's End Marina in Rockland, Maine setting up his Dolphin, Marionette which had just been launched after her 5 hour road trip up from Old Lyme, Connecticut. It was low tide and people were walking past on the boardwalk above watching the lifelines being installed, the mast tuning, boom fitted, etc., when I heard "Hey Ron, is that you?"

A woman I did not know, who was walking her dog, leaned over the edge, waiting for my answer. "Yes" that's me". This started our story of Touchstone. The woman was Dianne Davis, former owner of Kestrel, Yankee #110, with whom I had many exchanges of emails while she owned #110. Then, with the help of the website's FOR SALE Section she sold her boat.

Whle I had never met Dianne, when she told me her boat was Kestrel, I remembered she had had a special relationship with her Dolphin including membership in an exclusive club of Dolphin owners who listed their boats for sale, only to change their mind when having to face the reality of losing their boat. Kestrel was a particularly nice Dolphin - as a short visit to Kestrel's page http://dolphin24.org/kestrel.html will confirm.

Our exchange led to a meeting later that afternoon with her and Dave Baines, former owner of the Barlow Boat Yard in Pocasset, Massachusetts. Dave and Dianne were cruising the Maine Coast in a Cape Dory 28

- power :-(

The view from above at Journey's End Marina - Marionette's dinghy 'TEER got a few nice comments, too.
The set up is over - now Touchstone's story. At our later get together Dave told me that when Dianne was looking for a sailboat back 14-15 years ago he had told her to think about a Dolphin - he had one himself years earlier!
Webmaster Note: We knew Dianne was looking for a sailboat back in February, 2000. Her email to former Dolphin 24 webmaster Jim Huxford was in our files
Subject: Dolphin 24
Date: Sun, 13 Feb 2000 07:57:14 -0800 (PST)
From: Dianne Davis
To: jhuxford@apci.net

Hi!
I'm looking for a Dolphin 24 in the New England area. If you find any, please use my email! Thanks
Dianne Davis
Dave told me he thought his boat was a Lunn built boat and she had had wood coamings and an inboard Palmer engine. He bought it in the early 1980's through Sargeant Yacht Sales and she was located in East Falmouth, Massachusetts. He sold her around 5 yrs later to a woman who lived close to Boston. He thinks the boat might have been previously owned by a MIT professor (hey!! that rings a bell!!) who had drawings of the boat done, that came with the boat, and went with the boat. He said that the boat had a white hull with green cove stripes.
The name of the boat when he bought her was Leprechaun, and he changed it to Touchstone (a name associated with strong 'connections' to gold, standards, luck, etc.) Dave's 'connection' had an additional significance - he and his Dolphin had 'connected' with a large boulder underwater....He had no pictures, and not much else to add, except that he had told Dianne the Dolphin 24 was good sailing boat.
We don't know what happened to Touchstone after she moved up to the Boston area (Dolphin.org staff will work on this) - but we did have some stuff from the old S&S files about an MIT professor. Maybe we could find him - and we did! Click here to go to Leprechaun,
Webmaster Note: Since Dave has advised he has no pictures of Touchstone, we'll borrow one from Leprechaun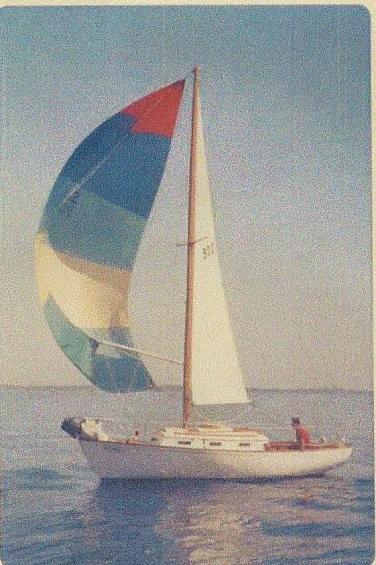 *****************************
August 12, 2014. Acting on a suggestion from Senior DFI Mark Steinhilber (Rascal) we have a tentitive assessment by Dolphin.org staff that Touchstone may be Steve Cassidy's Lady Grace, formerly Mark Gaudette's Stella Maris. Before Mark Gaudette, Jim Russell had her, and before Jim had her she was named Second Wind and owned by John Sciretta of Newton, Massachusetts.
Here is erily similar picture of Stella Maris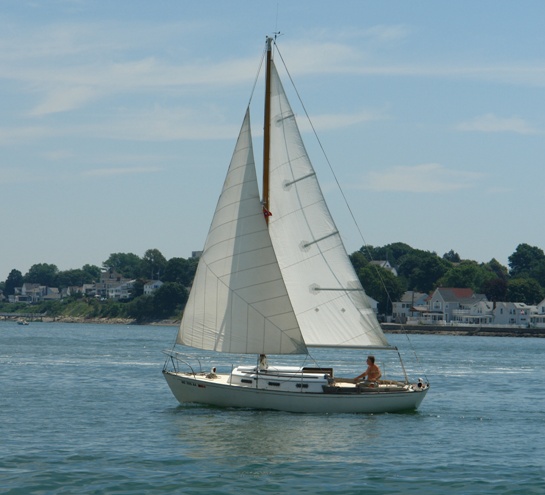 We got a note from Dianne Davis
Dave says it could be his old boat but he knows it had a teak grate in the cockpit floor and can not see it from the pics....or it was removed. All else looks like his Touchstone!
We are standing by to hear from Justin Kerwin, Leprechaun
********************
August 13, 2014. We heard from Justin - the full text of his email is on Leprechaun's page - the key excerpt is here
I looked at the pictures and feel reasonably sure that this is Leprechaun.
Justin also advised he took delivery of his boat as a bare hull directly from Lunn so he was the first owner. So, pending further developments we will proclaim Touchstone/Laprechaun eventually became Steve Cassidy's Lady Grace. We will try and contact Steve and fill him in.
*****************************
August 27, 2014 We heard from Dave and Dianne and Dave confirms Touchstone is Stella Maris
Hi Ron,
We have followed your website and latest entry. Dave thanks you for finding his Touchstone. He is remembering almost all details and agrees that Stella Maris is his boat.
God job!
Dianne and Dave

*******************************