June 26, 2020 Kathleen and Peter Connelly checking as the new owners of Kestrel
Good morning,

We bought the Kestel, Yankee #110, from Allison and Terry Canade in 2019. We will Keep her in Wilmette Harbor.

Thank for the Website!

Kathleen & Peter Connelly

Welcome aboad Kathleen and Peter!

Fair Winds Allison and Terry!

******************************

****************************************************

***********************************

This is the history we have on Kestrel up to this point
June 22, 2012. Kestrel arives in Wilmette!! Great photo!!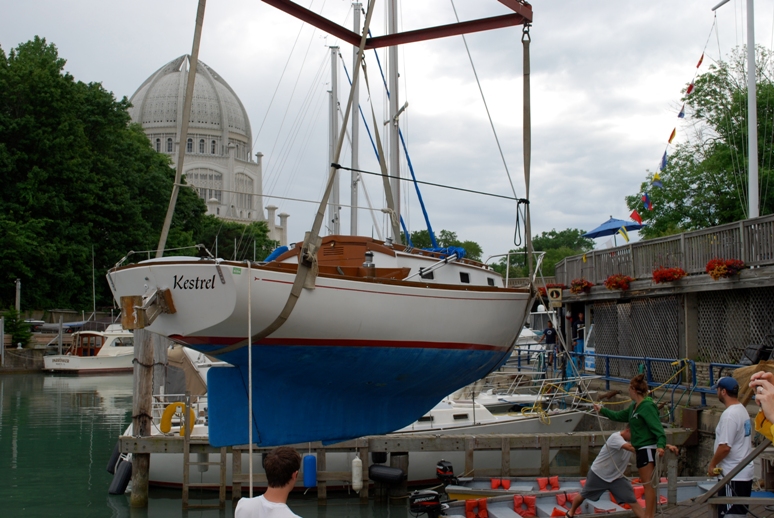 Photo thanks to Kristin Keenan, past Fleet Captain
*********************************************
June 19, 2012. Kestrel is SOLD and on her way from Pocasset, Massachusettes on Buzzards Bay to join the Wilmette Fleet in Wilmette, Illinois on Lake Michigan. The new owners, Allison and Terry Canade have checked in - they plan to keep her same name. Allison's 2 emails are consolidated/edited below, followed by previous owner Dianne Davis' email (minor edits)
Dear Ron

My name is Allison Canade and I live in Wilmette, Illinois. My husband (Terry) and I just purchased Kestrel (Yankee #110) from Dianne Davis in Cape Cod (Pocasset).


Tomorrow morning Kestrel is scheduled to be picked up in Pocasset and shipped here to join the fleet of Dolphins in Wilmette Harbor. Looking forward to her arrival.

I enjoy the Dolphin24 website and am grateful for it as that is how I found Kestrel!


Cheers!


Allison

ps

Thanks for such a prompt updating of the webpage! Kestrel is a July 4th birthday present from my husband. There will be much celebrating when she arrives safely in her new harbor! I hope someday my path will cross with Dianne Davis. She could not have been more helpful and kind. It is bittersweet because I have fallen in love with this boat before setting foot on her and realize for Dianne it is sad for her to let go. I know someday I will be in the same situation and hope I can be as helpful and kind to the next owner as Dianne has been to me. We plan to keep the name Kestrel (a red white and blue north american falcon). It seems to fit perfectly and honors her history.

**********************************

Hi Ron,

Deal went through and Kestrel has left my back yard to go to Barlow's Boat Yard. She will wait there for the buyer's truck to arrive tomorrow AM to take her to Wilimette, Illinois. Sad day for me but a day that had to be.

I'm sure the new owner, Allison Canade, will check in soon. She had been wonderful to work with throughout the whole long distance sale.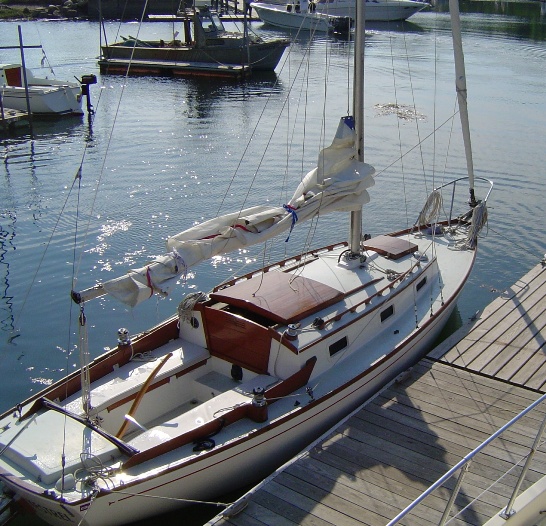 Kestrel, 1969 Yankee Dolphin, Hull # 110
Pending receipt of a photo of Kestrel in her new home we'll use one of her at Barlow's Dock
**************************************
July 29, 2012. We received the following "NOTICE" - Kestrel has lost her spinnaker while racing on Lake Michigan, off Wilmette, Illinois. It may be that it will turn up somewhere, and if so, please let us know so we can contact the Canade's. The record will note that this unfortunate incident did not prevent Kestrel from winning the race! Thanks to Aleca Sullivan (Halcyon) for telling us Contact: RonBreault@dolphin24.org
Quick request: We had 'race weekend' today and Kestrel lost their spinnaker in the lake (actually sacrificed it - they went on to get first place!). But can you post something on the site re: Kestrel lost their spinnaker - it may help in case someone finds it washed up to shore and Googles the name to find out where it belongs? The spinnaker says t111 kestrel on it, and is red and white. Thanks! Aleca

*****************************
September 23, 2015. Its been a while since we have had news from Kestrel. This morning, thanks to Bruce Stone, a crew on Marionette, the following washed in over the transom. It wasn't a red and white spinnaker but was pretty nice. It will be even nicer when we are enduring a cold hard winter and Kestrel's crew is sailing in British Virgin Islands
We registered and sent in our plans to race (on Marionette) that day in Off Soundings, but failed to send photos…..

Bruce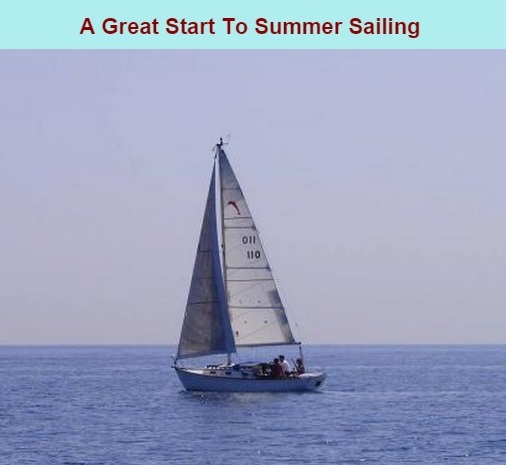 So, Dolphins are winners! Check out http://www.summersailstice.com/
**************************************
**********************************************************************
**********************************
At this point we start the history of Kestrel with prior owner Dianne Davis. Dianne originally checked into the website with the following (edited) emails and pictures, including the picture above. This particular one always impresses with how good looking Dolphins are!
August 6, 2007

Hi!

My wonderful Dolphin, Kestrel #110, 1969 is located in Pocasset, Ma. (Upper Buzzard's Bay). I have pic's that I can email in a few days. The boat is pristine, inside and out. Thanks for this website!

Dianne Davis, Kestrel
**********************
August 9, 2007
Hi Ron!

I've attached a few pic's of my boat. I've owned Kestrel for about 7 yrs. Bought her from a broker who said the man who owned her lived in NYC but kept the boat on Martha's Vineyard. Kestrel was the name at that time. Hadn't been in the water for a few years and was in need of some TLC but had new full-battened North main and dacron/myler radial furling genny (great! keeps it's shape even rolled up to almost a hankerchief), new harkin roller furler,all new standing rigging (not mast), custom galley and all new opening ports.

The Evinrude 8 hp. engine had been pulled out of the well and mounted on a transom bracket for better manueverability. but.... ug. I stripped all exterior and interior wood and revarnished/cetaled, added depthsounder, wind speed/direction, autotiller, new cushions -interior and cockpit, installed holding tank, stripped bottom and put on ablative paint, awlgripped the cabin sides and cockpit, added solar vent and bimini. Probably did a few more things but can't recall now.

Great boat!! I have all lines led back to the cockpit so I can easily sail single-handed

Dianne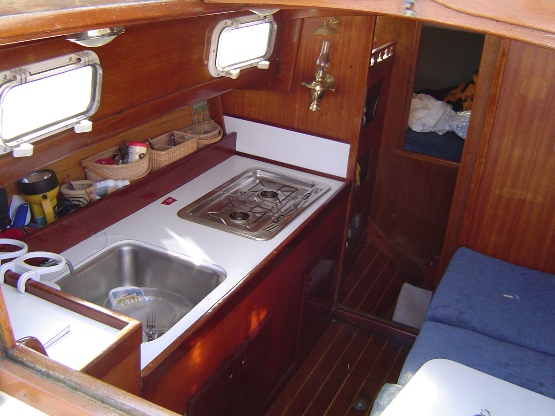 My favorite lamp...but dirty dishes in the sink? tsk, tsk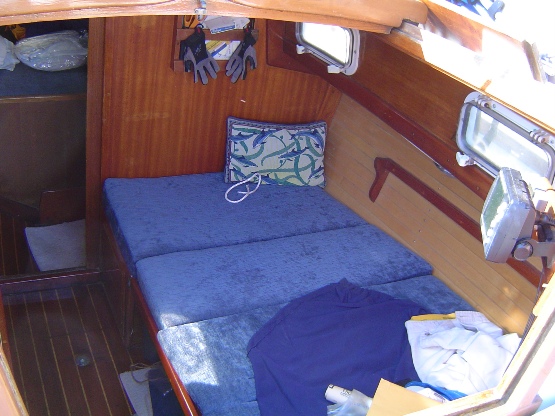 This is the 'convertible dinette"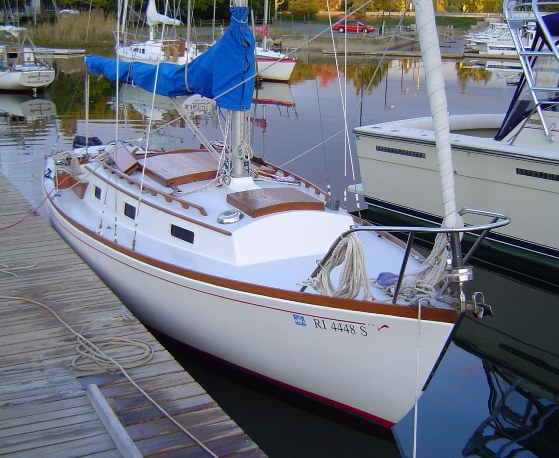 ************************
November 8, 2008. Dianne clearly has something going with her Dolphin, I wonder if she remembers how it all started? We found the following email in the archives of Jim Huxford's old website files.
Subject: Dolphin 24
Date: Sun, 13 Feb 2000 07:57:14 -0800 (PST)
From: Dianne Davis
To: jhuxford@apci.net

Hi!
I'm looking for a Dolphin 24 in the New England area. If you find any, please use my email! Thanks
Dianne Davis
********************
More Pictures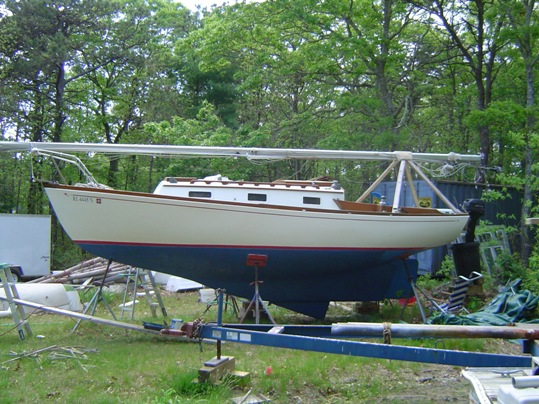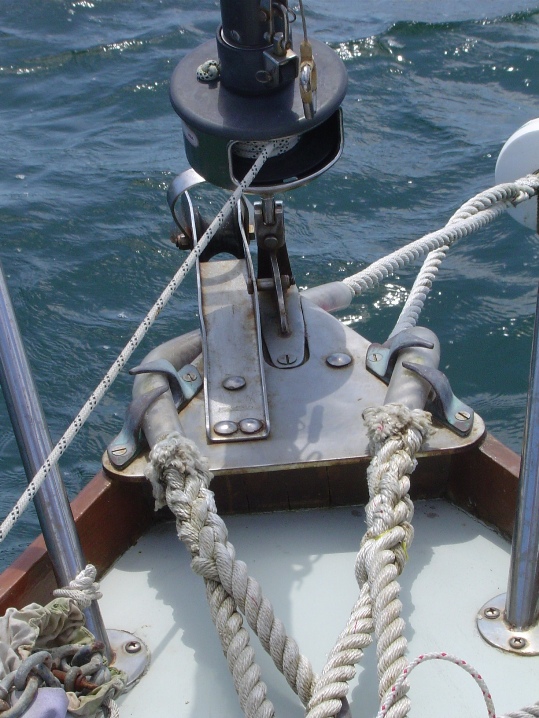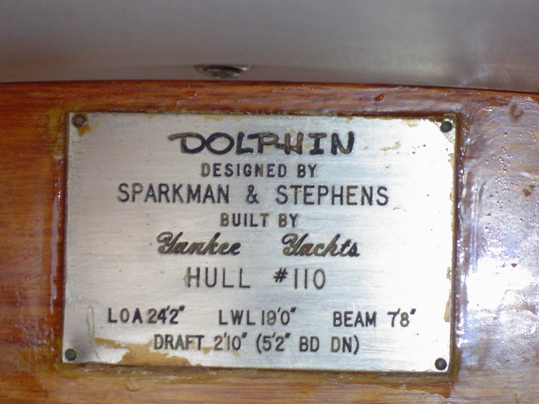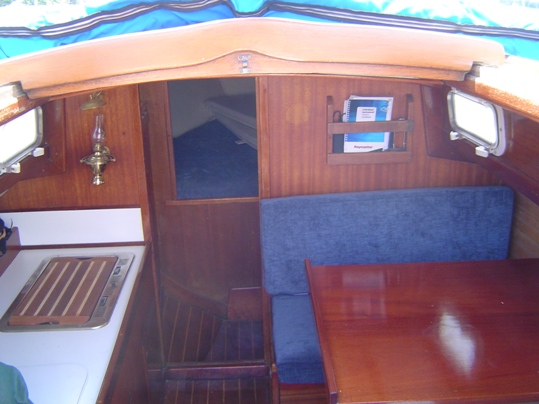 **************************
November 15, 2009 - Back in early October Dianne told us about mildew problems with her old laminated jib, and so now, Kestrel has a new 120% Dacron furling jib from Cruising Direct (North Sails) -minor edits
October 6, 2009

Hi Ron!

Great job with the website! Keep up the great work.

I'm thinking of buying a new genny. The one I have is a combination Myler/Dacron and, althought in perfect shape, it's almost impossible to keep/get the mildew out from between the layers. I send it to North Sails and they do the best they can to bleach it but it's now sooooo ug, especially after this damp year!

Dianne (Kestrel - #110)

*********************

November 14, 2009

Hi Ron,
I'm going ahead and purchasing a new genoa since mine was so mildewed - remember that Dacron/Mylar combination. I went to Noth Sails in RI (they are actually Cruising Direct as well). Since it's pretty windy on Buzzards Bay in the afternoon's, and I usually have to furl up my 140%, I went with a 120%. Also went with the Dacron instead of the Mylar. Hope the Dacron furls up / keeps the shape as well as my old sail...but hoping I won't have to furl it as much!! Not bad price - $678 total.

Dianne

*********************
These comments about Kestrel's new furling sail also appear in the Technical Section/sails. Dianne may be in a guilt complex mode as she also advises she is thinking of a new outboard for Kestrel. Stay tuned
*********************
September 14, 2011. Dianne sent in a few more pictures of Kestrel.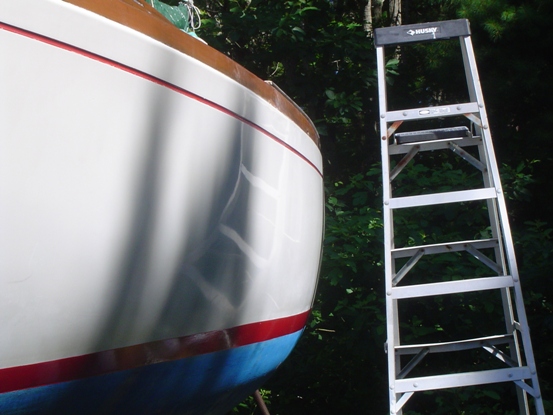 This photo, and the ladder shadow, showoff Kestrel's gelcoat finish
****************************************
September 14, 2011. Kestrel was For Sale for 4 days in the summer of 2009. After the announcement went up on July 14, 2009 Dianne advised there was a lot of interest in the boat, but on reflection, she advised us today she decided she really did not want to sell after all. She joins a distinguished select group of Dolphin owners who have gone through a similar "Oh my gosh? What have I done?" experience. The record is 2 days
This time Kestrel really is (going to be) For Sale, but there is a wrinkle. Dianne is taking off for a long cruise in the Carribbean on their 'big boat with headroom' and won't be around to show her before next Spring. Communications might be problematic. Seriously interested, and patient, buyers can contact the webmaster at RonBreault@Dolphin24.org and we'll try and patch you through. See below for a list of equipment and offering price.
Here is an updated equipment list:
Kestrel 1969 Yankee Dolphin, Hull#110 (excellent condition)

Sails:
North Full-battened Main w/2 reef points and lazy jacks (2000)
North 150% radial myler/dacron furling genny - great but ugly (2000)
North 130% dacron furling genny (2010)
Harken roller furler (2000)
Standing rigging replaced 2000 (not mast)
Barient self-tailing winchescabin top Barient winches
Harken traveler, Boom vang
All lines led to cockpit - easily singlehandedly sailed

Interior:
All Interior cushions by S&S of Portsmouth - 4" foam with topping- 4 yrs old
Cockpit cushions by S&S - 4yrs old
Origo 2 burner alcohol stove
Brass oil lamp
Custom galley and headliner
New mahogany dinette table - lowers to make berth
Raritan Head with 10 gal holding tank system (3yrs) and new seacock
Replacement ports with screens (2000)
Companionway screen (new)New scupper seacocks (2009)
Bilge drain plug; Bilge pumps - electric and manual
Cigarette lighter adaptor plug

Electronics:
Garmin depthsounder (4yrs)
Raytheon ST1000 autopilot (5yrs)
Raymarine windspeed/direction (2yrs) - direction doesn't work well - never did
Ritchie compass
Windex

Exterior:
Bimini (4yrs) Botton stripped and barrier coated (4yrs)
Ablative paint (2010) **bottom absolutely perfect
Custom SS bow chalk/anchor roller plate
Danforth and Fortress anchors with chain/rope; Solar vent (5yrs)
Varnished tiller
tiller extension
boarding ladder- not great but works and stores
Emergency/overboard boarding ladder
All exterior teak freshly cetaled
Main and forward hatch blue sunbrella snap-on covers (2010)
Cabin sides, cockpit and deck awlgripped (all but hull) 2009-2010

Motor: 1998 Johnson 8hp sailmaster long shaft - low hours - always dealer tuned/stored/winterized- water pump replaced last year as routine maintenance. Presently on transom for better manuverability but can be put back in well. New fuel hose -2011

Price: $8500 - reasonable offers considered

***************************
April 30, 2012. She's baaack!! Dianne checked in and will be in touch soon with the list of interested parties.
May 26, 2012. Dianne advised that Kestrel is Sale Pending! We'll stand by for Sale Completed, and for the new owners to check in.
June 19, 2012 Dianne advised sale was completed, and the new owners did check in - see top of page
****************************