This boat is one of the Wilmette, Illinois Dolphins. She was for sale in Waukegan, Illinois in 2008, and was purchased by the Sullivans. We found the CraigsList ad which is reproduced below. The following picture of Halcyon was taken in August 2008, before the decision to remove the toe rail and attack the hull/deck joint problems she had.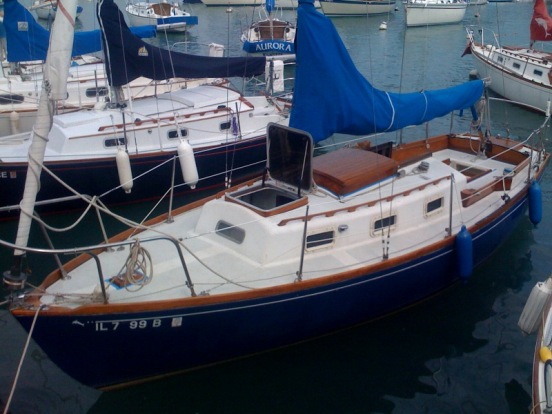 Pretty nice before picture - can't wait for the after picture!
June 14, 2010 Several weeks ago Aleca Sullivan was in touch with several questions regarding Halcyon's restoration, in particular, deck/hull joint issues and the toe rail, and we provided what information we could. This is a project in progress, and as Dolphin projects are apt to do, it grew. Aleca provided several interesting work in progress photos that appear below. This is her most recent email (edited)
My boat is stored at Larsen Marine, and the staff has helped me out a lot. The professionals seem to think the flap on the underside of the deck to hull joint has always been uneven as you see in one of the pictures below, so they aren't concerned about that as long as I'm ok with how it looks. But everyone did agree that the toe rail had to be removed to seal her back up.

The service guys at Larsen gave me a "tutorial" on how to take off the toe rail. While at it I decided to sand down the deck which was in bad shape. Current status: I ran out of time and decided to let Larsen spray the primer and paint once I finished a majority of the prep. They're doing that this week. (one picture shows Ed from Larsen giving a last once-over to my prep job before taking her off for priming.) Once this is done I'll work with Larsen to put the toe rail back on.

I'm knocking on wood that the worse of the work is over and a little more dedication will have us in the water by the end of June. If the project worked and the moist days under the toe rail are over, we can move on to the interior...or hull...or something else....there's always something else! But, I'm still having fun :-)

I will send more photos when she's done.

Thanks,

Aleca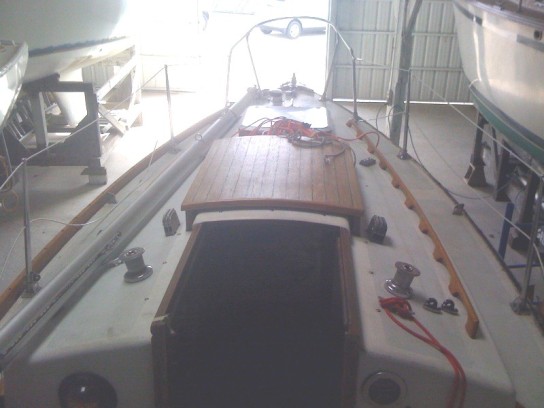 a custom hood for the main hatch?

Toe rail removed

a scary photo...
June 15, 2010 Postscript. Our staff marine architect and technical commentator, Mark Steinhilber, Rascal, noticed Aleca's photo and comments about this project. His comments and Aleca's reply are repeated here (minor edits). This challenging project and interesting interchange are probably required reading for readers contemplating a similiar project on their own Lunn built Dolphins. We will set up a link in the Technical Section referring to a Lunn built Dolphin toe rail hull/deck joint repair.
Ron

Now I know why Lunn made the toe rails beefier than Marscot. It appears they trimmed the deck to fit inside the hull onto the glass flange or tab. The Sullivans shouldn't worry about how uneven the flange looks, just so long as there's no cracks and it's sound. Dig out the loose stuff, apply ample 3M marine sealant (I'm not sure if 3000 is the permanent or the take-apart-able version), then re-bolt together. I'd try to re-use the same bolt holes as well as the same hole locations for the toe rail. The whole job looks like standard work I used to watch and perform at Niantic Boat yard in the spring. Halcyon looks to be in excellent shape!

Mark

***********

Ron

Thanks for forwarding this. This is the conclusion we came to, but I have to admit being a little nervous. Even as I saw original paint and sound fiberglass under the old sealant once I dug it out, whether the sealant was rotted in some places or not, I kept wondering if any of the Dolphin owners would shake their heads at my novice decision to fill her up with filler again and bolt her right back down. I do intend to use the same holes, with fresh screws. It really does appear that the deck sizing to the hull was just a little off on the one side. My plan is to fill with some hard epoxy in the very wide gap, but still leave enough space for the slight "L" that the toe rail has to fit into. We'll fill that joint all around with 5200, or something extremely solid, and let her go at that. The idea of filling with some real solid epoxy in that large gap is that water, if it gets in down the line, will not have as many places to hang out and sit. Hopefully we'll have her buttoned up and dry for a while.

I also think that all our crazing on the deck was the result of the "more flexible" Lunn fiberglass, and less flexible gel coat. I sanded down to fiberglass in many areas (focusing particularly on the smooth areas vs. the non-skid) then ground out the larger cracks and filled with West System 407 that I could fair. Once I'd gotten all the larger cracks and was still left with tiny crazing in the fiberglass on the bow, I hit her with two coats of epoxy as a base coat. We roughed that up, and then started with the primer, etc. Hopefully this paint job will last a few years!

I'll let you know how it turns out. Thanks again for calming my nerves a little more.

Aleca

Deck prep

Interior hull/deck joint
March 25, 2012. We followed up with Aleca looking for that 'after' photo. Here is her email (minor edites)
Hi Ron,

Thanks for the email. I hope this email finds you well. The weather has been so warm this winter in Chicago I'm hoping for a warm lake and early sailing season this year!

I'll take a look for some 'after' pictures. The biggest upshot of our toe rail project is the dry cabin! We were getting so much water inside it was pretty soggy down below. And we did refinish the deck while at it, which is very noticeable when you're on her, of course. We've taken a year off to just rest and enjoy. This winter I'm doing a small amount of work on the cabin, chipping away at replacing the wood that was damaged through the years of the leaking toe rail.

My industrious nephew had refinished the toe rail and other wood on the deck in 2008 for a bit of summer employment...then I went and removed the whole thing two years later!

I've attached one photo that pretty much sums up the work we've been doing on the boat for the last year :-)

Halcyon's crew

Thanks for all your work on the site.

Aleca

Postscript Note April 9, 2014 Found in email 'suspense' file in response to webmaster's inquiry on March 25, 2012

Nameplate, yes, we have a photo of it. Thought I sent it to u but will dig it up. It is not 226, but instead I think 204? I'll dbl check. I've always wondered who's sails we have.
Aleca

Stay tuned
April 17, 2018 We got the following update from Aleca
Hi Ron,

Thanks for checking in. Not much has happened with the hole in the floor. Things seem stable, and the problem doesn't seem to be structural. Now that she's dry I'm taking a good look at things around it.

I've decided that we need to focus on removing and re-caulking well - as I look around the boat there are way too many places the caulk was either worn to the point of failing, or gone. So right now i'm working on drying everything out and tightening everything up.

That's about it.

Aleca
Stay tuned
************************
*************************************************
This was the Craigslist ad
24' Sailboat, Dolphin Sloop - $9000 (Waukegan, IL)
---
Reply to: sale-659350149@craigslist.org
Date: 2008-04-28, 10:58AM CDT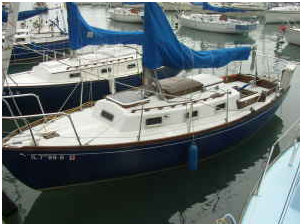 This picture is the same as the one in the ad. The boat is at Wilmette Harbor - on the starboard/port side is another Dolphin, and there are at least two in the background!.
Dolphin 24' sloop, built 1961, extensively refurbished 1989 [diesel engine, stainless steel shaft, propeller, fuel tank, fuel filters, engine room wiring, engine instruments, battery isolator switch and 12 volt interior lighting, Morse engine/transmission control, Harken jib roller reefing system, rigging, Beckson opening portholes, bilge pump, and blower].

Builder: U.S.Yachts [Lunn Laminates, Inc.], Sparkman & Stephens design.
Engine: Yanmar Diesel, 2cylinder, 20hp [new 1989].
Keel: lead ballasted w/ centerboard.
Displacement: 4,500 pounds.
Hull: solid hand laminated fiberglass reinforced plastic, Awl Grip, dark blue hull with white boot top.
Included:
--Two Enkes dual speed and two single speed winches.
--Teak gunwales, cockpit grating, companionway hatch, lazzerette cover.
--Autohelm 800 Autopilot.
--Uniden MCG10 VHF all-channel Radio.
--Harken roller furling jib; Harken main sheet traveler.
--Sails: Dacron, main, 150% genoa jib [new 2006]; main has two quick-reefing systems; all lines lead to cockpit for single handed sailing.
--Blue sail and tiller covers, blue and white cockpit cushion covers.
--Trailer for hauling and storage [Ideal tandem axel] with hitch jack.
--Electric and hand bilge pumps.
--Stainless steel sink; ice box; PortaPotty head.
--Interior cushions for V-Berth and aft quarter berth; cushions and wooden supports to make cockpit into sleeping area.
--Much extra equipment including: anchors; boom vang; Marinco shorepower and battery charging system; Dutchman sail handling system with boom adjusted topping lift.
--Stored indoors during winters; full maintenance records and sailing logs since 1994.
--Currently in storage at Larsen's in Waukegan.

*******************