August 8, 2014. Justin Kerwin is checking in as the former owner of Leprechaun, a Lunn built Dolphin. We are building Leprechaun's home page in pieces today, and over coming weeks. Just in :-) are some photos Justin sent in. So we'll take a look at her first and then get to her story. These are low resolution photos taken circa 1964 - better ones coming...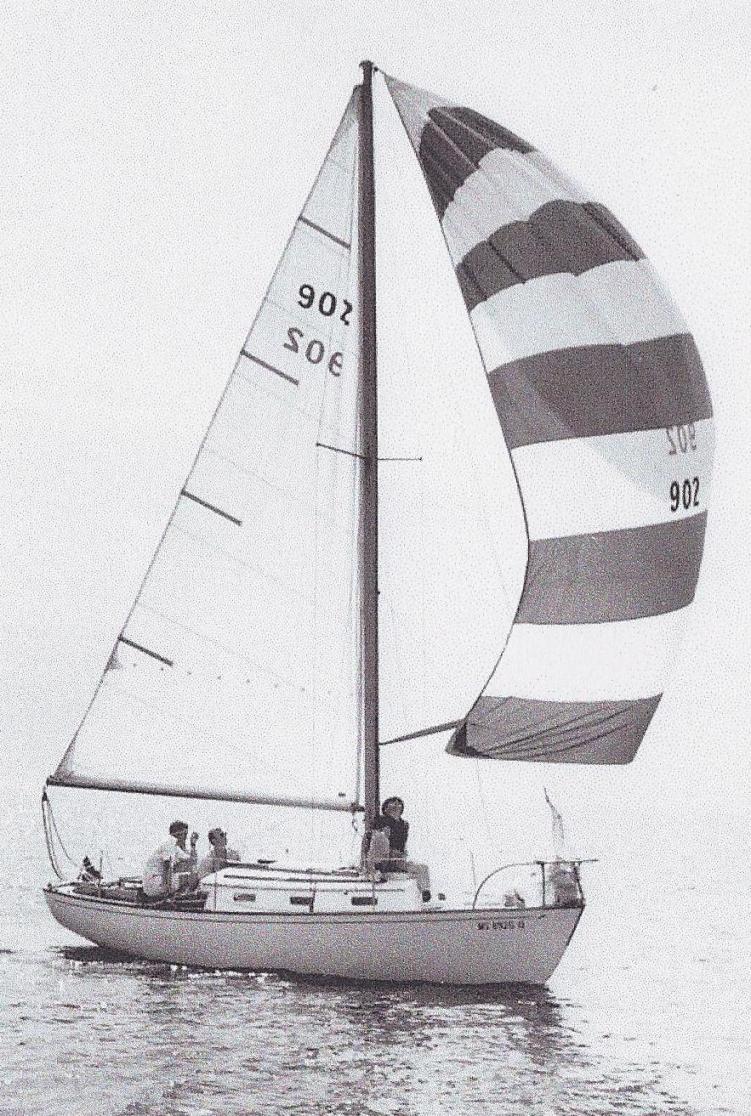 | | We're going to have to find out why he named her Leprechaun |
| --- | --- |
Justin Kerwin is a Professor Emeritus of Mechanical and Ocean Engineering at the Massachusetts Institute of Technology, and we first heard about him when, back in 2007 on a mission to research the Dolphin 24 in Sparkman & Stephens files in New York City, we unearthed a 1968 internal memo, excerpted below
8 November, 1968

TO: Rod Stephens

From: John P. Meade

Subject: Summary of Recomendations for Improving the Performance of the DOLPHIN

1) Professor Justin E Kerwin added 500# lead inside hull after tank testing at MIT. This increased 2-4% which he thought not unreasonable. His CCA? RM increased from 184.46 to 244.73. Windward performance in moderate air was certainly improved, and "seemed to just as well as before in light air to windward" (from 25 March '66 letter.)

Click here to see the full memo - poor quality reproduction...

Webmaster Note: Dolphin24.org staff discovered this interesting related tidbit on Amazon's book list

A Procedure for Sailing Performance Analysis Based on Full Scale Log Entries and Towing Tank Data

(Massachusetts Institute of Technology Dept. of Ocean Engineering Report)

published January 1, 1974 by Justin E Kerwin (Author)
The S&S internal memo was covered in our Technical Section on performance (above link). Dolphin 24 weight (http://dolphin24.org/weight.html) was covered in the Technical Section as well. Further developments waited several years until, on August 4, 2014, your webmaster, while setting up his Dolphin 24, Marionette at Journey's End Marina in Rockland, Maine, met Dianne Davis, the former owner of Kestrel, Yankee #110, and also met Dave Baines, with whom Dianne was cruising the Maine Coast. Later, over a glass of wine on the rear deck of their Cape Dory 28 (your webmaster politely refused as Dolphin24.org staff do not drink on duty....) we talked about Dolphins.
Dave told me that back 14-15 years ago when Dianne was considering buying a sailboat, he had recommended she consider a Dolphin 24. He knew about them as he had owned one back in the 1980's and named her Touchstone. he bought her from a man who he thought may have been a professor at MIT! Click here to go to Touchstone's page and her part of this story. Dave also said that the name of the boat when he bought her was Leprechaun.
With the help of a couple of MIT friends who provided contact information, your webmaster was able to connect with Justin by phone last night. Yes! Justin once owned a Dolphin 24 named Leprechaun - and he had never heard of the Dolphin24.org website. Your webmaster gave Justin a homework assignment to review the website and get back in touch with a report. He accepted gladly.
Stay Tuned
August 13, 2014. Its been a busy few days. Based on an initial suggestion from Senior DFI Mark Steinhilber (Rascal), and help from Dave Baines (Touchstone) and Justin, we have come to the determination that Leprechaun has become Steve Cassidy's Lady Grace
.
Key to this conclusion are the pictures of Lady Grace when she was Stella Maris and belonged to Jim Russel and Mark Gaudett
Justin also gave us some really interesting history of his boat in his latest email
Hi Ron,

I looked at the pictures and feel reasonably sure that this is Leprechaun. The mast is wood, but the boom is aluminum, with roller furling. I designed a wood mast and boom and had them built at the old Pigeon Hollow Spar company in East Boston (that built masts for 1900's vintage America's cup yachts).

A few years later, I replaced the boom with a standard aluminum one because I felt the need for roller furling. (Jiffy reefing hadn't been invented). Another unique feature (not evident in the photos) is a welded aluminum box beam under the cabin top at the forward bulkhead to support the mast step. It turned out that there was a large gap between the cabin top and the plywood bulkhead that Lunn had simply filled with un-reinforced polyester resin. The first season, large chunks of resin fell out and bad things were soon to happen to the cabin top!

The interior looks like I remembered it. I bought the bare hull from Lunn, and prefabricated the interior in the MIT Naval Architecture wood shop (long replaced by lab space), and drove it down to a boatyard in Common Fence Point, RI and fiberglassed it in place.

It is great that you have tracked it down! Right now I am in Woods Hole, where Leprechaun's successor is moored. It is Sparkman Stevens 34 built in England. We have owned it since August, 1969, when we sold Leprechaun.

Best regards,

Justin

*************************