May 12, 2009. Your webmaster has wanted to weigh Marionette,Marscot/O'Day #12, ever since I got her. All these years I have been too cheap to go to a commercial weigh station. Our town has a recycling center and has recently installed a truck scale. A few days ago I asked the town guys if I could weigh my boat on their scale and they said sure. This took place today, after which she was launched. These scales are highly accurate and this one is brand new and just calibrated. It weighed me accurately.

Stripped out, Marionette weighs 4236 lbs.

This boat weighing opportunity led to a consideration of weight other than the boat itself. I had to get all this stuff ready anyway so I catalogued Marionette's sailing inventory by weight and it surprised me. Nearly 800 lbs without crew, food, ice, beer, clothes, teddy bears, etc. And I bet I missed some stuff.
The designed displacement for the Marscot/O'Day Dolphin was 4544 lbs. December 12, 2106. Bruce Johnson, former chief designer at S&S advised that, re the 1960 Dolphin, "Design displacement is generally lightship, no fluids or personal effects".
Here is my list. After we go through this tedious but weighty matter, we will try to develop a rough guide for how much additional weight/displacement affects the waterline, and theoretical performance.
Item (revision 5/19/2009) A Work in Progress

Weight

sub total

Racing

Marionette)

stripped ( inc 59lb battery, 3 lb charger/cables, + lifelines/bow pulpit- weight?)
4236
4236
4236
My trailer (a Triad weighs about 2000lbs)
1060
Stuff (no estimates - all weighed on a scale!)
13 lb Danforth anchor primary working anchor (on deck cruising, below when racing)
13
13
150' 1/2 nylon rode plus 10' 3/16" chain (in bow anchor locker - should be below when racing
26
26
22 lb Danforth heavy weather/poor holding ground anchor (carried when cruising)
22
13 lb Danforth anchor - spare anchor (carried when cruising)
13
120' 1/2 " nylon rode with 10' 3/16 in chain (carried when cruising)
22
mooring system 50' 1/2 nylon rode, 10 ' 3/16 chain, foam ball w/pickup (carried cruising, sometimes)
18
3 20" fenders
6
6
6 ft fender board
9
9
3 extendable aluminum tent poles (2 lbs ea)
6
line bag - dock lines, spring lines, misc lines
14
14
sub total (anchoring/fastening to shore systems)
149
68
aluminum mast with standing rigging
104
aluminum tapered spreaders (2@ 1.5 lbs ea)
3
aluminum boom
20
running rigging bag, all halyards, vang system, sheets, winch handles, blocks
44
sub total rig with running rigging
171
171
aluminum spinnaker pole
9
extendable aluminum whisker pole
7
masthead pig stick
2
masthead light/staff
2
subtotal rig related
191
191
main sail
16
16
170% genoa
14
14
140% genoa
12
12
working jib (rarely used and then only reaching)
7
7
'Atlantic' jib (heavy cloth battened blade jib)
14
14
primary spinnaker inc hoop launch bag
7
7
back up spinnaker - tri radial
5
5
small spinnaker
5
sub total sails
80
75
cloth covers, fenders, 2 hatches, tiller, tent fly
12
12
3 extendable tent poles (2 lbs ea)
6
lifejacket bag, 4 lifejackets, Lifesling MOB w/harness, 2 safety harness/tethers
20
20
tool box
12
12
spare parts box
18
18
cabin box - fire ext, safety kit/flares, signal gun, etc, flashlights, 50' collapsible hose, first aid kit,
83
83
signal flags, swim ladder, inverter, radar reflector, vhf radio, boom box, searchlight, binoculars,
autohelm, ships clock, anchor lantern, battle flag!, tiller ext, hand vhf radio, air/manual horns
gps, hand bearing compass, ; MOB throw line; fuses/battery spares; shower water bag, etc;
50' electrical extension cord w/15/30 amp adapter for shore power
15
15
books - guides, log, notes, heavy weather sailing, Chapman's, chart books, navigation stuff, etc
31
15
cleaning/wax/oil bag - motor oil, repair paint/varnish kit, polish, lamp oil, gear lube, water pure tabs
18
18
Galley Box - cooler, stove, dishes, pots, pans, glasses, silverware, etc
41
41
deck brush
1
1
2 plastic pails, sponges, scrub brush
4
4
wood folding swim ladder
5
5
2 throwable seat cushions
3
3
bosun's chair (board)
3
3
flag staff and US flag
2
2
"Golf umbrella" with vents (a kind of dodger)
3
beautiful (heavy) home built varnished wood boat hook with bronze end
5
5
sub total Cabin and Misc Stuff
282
257
Outboard engine (4 hp Johnson)
32
x
32
fuel hose with inline filter
2
x
2
portable plastic gas tanks - use depends on float plan - day sail, short race, take one 3 gal
20
20
longer day sail, overnight, longer race; take two 3 gal tanks
40
cruise only - take one 6 gal and one 3 gal tanks (assume full - sail out of slip….)
60
x
subtotal engine/fuel max cruising weight
94
54
Total Stuff - hard to believe
796
645
Other Stuff
Dahon folding bike (rarely carried)
36
inflatable dinghy/with bag, floor boards,transom bracket, tow line, etc (if carried)
75
30! pak Bud Lite
30
30
10 lb bag of ice
10
10
one typical carry bag (foul weather gear, boots, shaving kit, towel, change of clothes, etc)
25
25
2 sleeping bags, pillows
10
10
32 pak, 16 oz bottled water
36
36
food?
25
10
water tank (original design capacity 20 gal/Marionette has 10 gal flex tank) empty when racing
90
0
holding tank (capacity 10 gal) assume 1 gal of stuff ugh cruising, empty when racing
9
0
sub total other
346
121
Total stuff
1142
766
Grand total base boat and all the stuff ex crew
5378
5002
Crew (1 single handed cruising; 3 racing - spinnakers
200
500
Total Total Total ex trailer
5578
5502
Total with trailer ex crew w/stuff = tow load?/tire rating?/plus safety factor?
6438
na
***********************
Related to this weight issue is the fact that some early very competitive Dolphin racers would add several hundred lbs of ballast to their boats. Loading the boat up with all this weight lowers the boat in the water increasing its waterline length, and its stability but also increases its drag. In the Technical Section/Misc there are 2 interesting memos that are reproduced in full or in part below. Of course, keeping whatever weight a boat has low in the boat is paramount but still....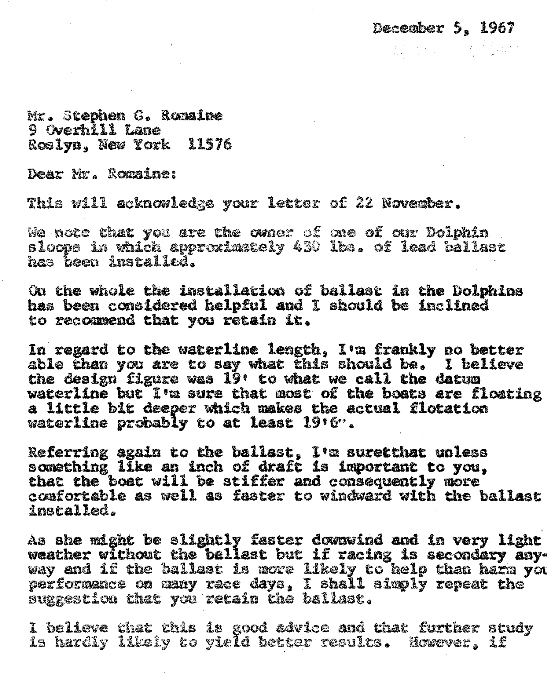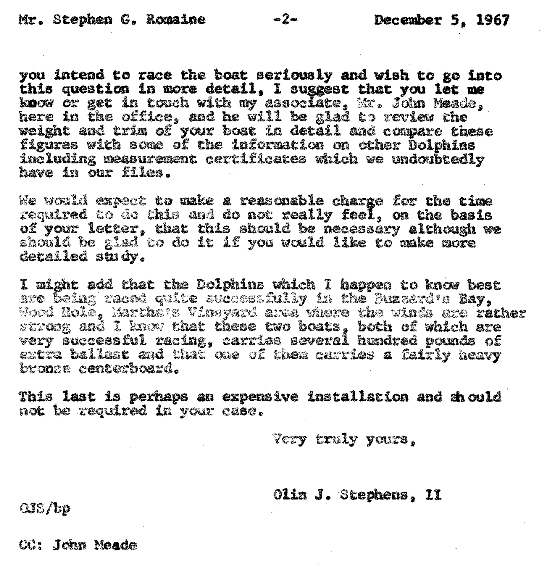 Your attention is drawn to Olin's comments where he says that the additional lead ballast (430 lbs) would cause something like 1" additional draft.
******************
The following is excerpted from an S&S internal memo from John Meade to Rod Stephens. To see the full memo, click here. The copy quality is very poor so the excerpted text content is repeated below the scanned copy on the memo.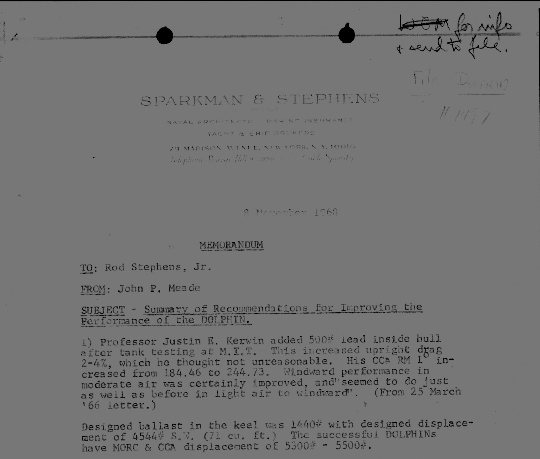 8 November, 1968

TO: Rod Stephens

From: John P. Meade

Subject: Summary of Recomendations for Improving the Performance of the DOLPHIN

1) Professor Justin E Kerwin added 500# lead inside hull after tank testing at MIT. This increased 2-4% which he thought not unreasonable. His CCA? RM increased from 184.46 to 244.73. Winward performance in moderate air was certainly improved, and "seemed to just as well as before in light air to windward" (from 25 March '66 letter.)

Designed ballast in the keel was 1440# with a designed displacement of 4544# (71cu ft). The successful DOLPHINS have MORC & CCA displacement of 5300 - 5500#
*****************************
The S&S design displacement of the Marscot/Lunn/O'Day built Dolphins was supposed to be 4544 lbs - we do not know what items are to be on the boat to reach this number - we are working on this. The Yankee and Pacific Dolphins were supposed to be 4250 #. Every Dolphin has its own actual displacement depending on the various weight components of that boat; ie an inboard, type of head and holding tank, water and fuel tank capacities, interior details and options, etc.
The following formula - max beam at waterline x length at waterline x a waterplane coefficient x 64.2 (weight of 1 cubic foot of salt water - fresh water 62) divided by 12 = weight in lbs of a 1 inch change. As an example a typical coefficient of say .67 would produce a theoretical 439 lb change on a boat that had a 6' 3" max beam on the waterline and a 19' 6" length. If the max beam at the waterline were 6' 9" the weight increase would be 472 lbs.
That waterplane coefficient increases as the hull gets deeper in the water because its waterplane increases. The waterplane is a rectangle at the waterline of the beam x the length. The waterplane coefficient is the % of that rectangle that the area of the waterplane that the boat occupies. A rectangular barge, square sided barge, for example would have a waterplane coefficient of 1.0
All Dolphin builders advertised the same waterline length 19'0" - the same as the DWL (Datum Waterline Length) that appears in the S&S design drawings. But typically most Dolphins actual waterlines are longer by a few inches. There is an international standard on this stuff, ISO 8666. Of course ISO did not exist in those days so the designers and builders had their own practices. Finding out exactly what they were in 1959/60 will be a challenge.
*******************
Marionette's and Passage's hulls have 2 scribed lines in the hull - they are 2 inches apart. One would like to think that the lower one is in the same location as S&S's Datum Waterline Length (DWL). It is close but it is not, I don't think. Apparently, builders put these lines in the molds once they are sure that is where the waterline actually is.

I paint Marionette's boot stripe ON TOP of the top scribe line on the hull, not beween the 2 scribed lines where she historically had her boot stripe. When loaded but without crew aboard I think she floats about 1/2 to 1 inch below the bottom of the boot stripe. I have convinced myself that when other racers see her floating above her apparent waterline they will think she is light and this will psych them out!
In the above photo, Marionette was just launched and has 194 lbs of stuff aboard needed to get her to her slip - motor, 3 gal fuel tank, tool and spare parts boxes, anchor and rode, fenders, dock lines. If the above table of stuff is to be believed, and I step aboard, this will add close to 800 more lbs, and give or take another 2 inches of immersion.
I will wait for a super quiet day and try and measure her waterline length and the height of her freeboard at the max beam in this current state, when she is totally stripped, and when she has her rig and is 'fully' loaded, more or less - and then take these same pictures. Stay tuned.
Note: Special thanks to Mark Steinhilber (Rascal) who is a marine architect and has provided valuable guidance.
****************************
May 16, 2009

A quiet day and I measured Marionette's length and beam at the waterline - stripped. Her waterline length is 19' 2 " and her beam is 6' 8". Click here to see how it was done. In the next few days I'll measure her waterline length with at least her engine and rig, plus the other equipment may have been specified in her original Datum Water Line (DWL) specifications (provided I can find out what that was)
May 30, 2009 Finally, we had a good day to take our next set of controlled weight and waterline measurements. Click here to see the detail of those measurements.
To the base boat we added the rig and other stuff to approximately simulate what the early Dolphins displaced with the standard Palmer 8hp inboard engine. This is a 'husky' engine with some weighty accessories - solid bronze control levers for the transmission, prop shaft, 10 gallon copper tinned gas tank and presumably a battery, engine controls. plus a 20 gal water tank, and perhaps some other 'standard' items.
We added 447 lbs of weight to the stripped boat which added 3' of waterline length and made the boat float 1" deeper in the water. This brought the float line to approximately the bottom line scribed in the hull in the sketch above.
Using the measurements obtained, a Dolphin's waterplane coefficient at a freeboard height of 25.75" is .67. Kudos to Mark Steinhilber (Rascal) who called this one spot on.
Responding to popular demand, someday, we will repeat these measurements with the additional weight/displacement for a fully race equipped boat, and a fully cruised equipped boat.
****************