June 24, 2014 Kristin Keenen (Habor Rat, Yankee Dolphin #239) brought this to our attention. The April, 2014 issue of Cruising World had an article about cruising in the North Channel, Lake Huron in the Great Lakes, and the owners of Ensemble were the authors. This may be a newly found Dolphin! It is - our 220th! We'll try and get intouch with Ralph and Pixie.
Here is the title page of the article followed by pictures of Ensemble on her trailer, and Ralph and Pixie, and a caption from the article.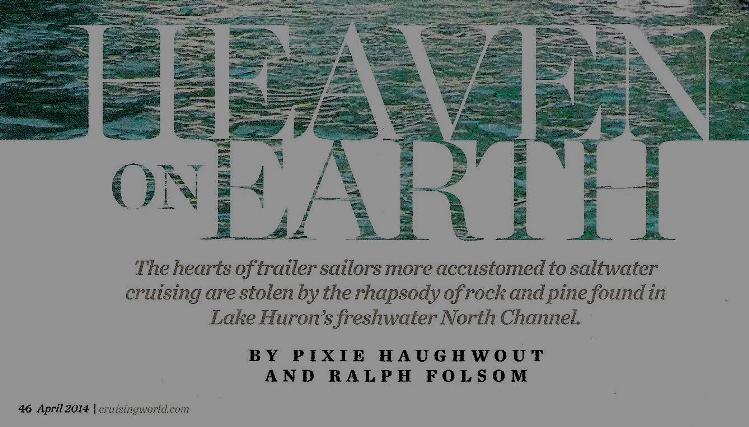 Ralph Folsom and Pixie Haughwout (above right) hauled Ensemble (above left), their Sparkman Stephens sloop (below, right), from Cape Cod, Massachusetts,to Traverse City, Michigan, where they launched her. Then they drove the truck and trailer to Penetanguishene, Ontario, rented a car back to the boat, and gave themselves eight weeks to explore, though they're the first to admit they could take the rest of their lives cruising this magical destination. Along the way they visited the Canadian Yacht Charter base at Gore Bay and they made plenty of new friends.

Click here to go to a PDF of the full article
July 15, 2014. We connected with Ralph. Here's his email.
Hi Ron,

Ralph Folsom responding to your email on behalf of Captain Pixie. Thank you for finding us and the website links. Ensemble is a Pacific Dolphin, built in Oceanside CA. I will work on the hull #.

We have lived in San Diego since 1975. Pixie's business with her sister Penny from Cape Cod is Sea Fever Gear. They recycle sails into about 60 hand-crafted products: check out www.SeaFeverGear.com. We have owned Ensemble since 1980, trailering her all over North America (entire Sea of Cortez, NW from Anacortes up to Desolation Sound, the East Coast from Cape Cod to the Dry Tortugas, the Erie Canal/St Lawrence Seaway/Lake Champlain loop and more).

She has been kept at various times in San Diego, the Florida Keys, Connecticut and Cape Cod. Then, as the CW article indicates, we fell in love with Lake Huron's North Channel….the rest is history and we don't plan to leave that magical destination. At last she has a permanent home….the barn in De Tour Village MI copied in your email.

Dolphin 24 owners may enjoy our North Channel cruising guide, Well-Favored Passage: The Magic of Lake Huron's North Channel. We inherited this "bible" from Marjorie Cahn Brazer, who wrote the first edition in 1975. We have been thrilled to carry the torch with major updates, GPS and expanded coverage. Details can be found on Captain Pixie's website above. FYI, we also wrote from scratch a guide titled Canal Cruising in the South of France, now in its 15th edition, and also on Pixie's website.

Pixie and I will be doing slide shows at the 2014 Annapolis Sailboat Show and would love to connect with other Dolphin owners. The North Channel presentation is Thursday, Oct 9 at 4pm, with Canal Cruising Friday the 10th at 4pm. Please spread the word.

Our best wishes to all the lucky Dolphin owners,

Captain Pixie Haughwout and First Mate Ralph Folsom
While some of us might know about Lake Huron's North Channel, many of us have no clew :-) about De Tour Village, Michigan. Back in high school geography we found out that Michigan has an upper penninsula that borders Lake Superior but De Tour Village, population 328, right on the passage to Lake Superior may have escaped notice. With the help of Google Earth we're going to take another look.
De Tour Village of the Upper Peninsula of Michigan is located NE of the Mackinac Bridge at the Straits of De Tour Passage where the magnificent St. Mary's River joins beautiful Lake Huron. It is known as the "Gateway to the North Channel,"

During the early days, commerce was by water and all traffic came past De Tour going to and from Mackinac Island and Detroit to the Sault, Lake Superior and Canada. Since ships and canoes made a turn to go west to Mackinac or southeast to Detroit, the name De Tour was given which means, in French, "the turn".

For more on De Tour Village, click here