June 22, 2017. Marnie Read at Lyman Morse needed a 'Class Flag' for the Camden Classic Cup regatta July 27-29 in Camden, Maine.

An exhaustive search of our files failed to surface our 'Class Flag', so, thanks to the efforts of our website staff, technical touch up skills of regatta staff, and baring the unforseen, here is the draft form of our Class Flag - no doubt to be flown on the Race Committee boat signalling the start of the Dolphin 24 New England Championships.

Click here for a larger image
These matters always have some historical components - the flag is basically the leading edge of our cove stripe, the arcing Dolphin is pretty obvious. But why include the 2 dots?

John Shumaker, the man who founded Yankee Yachts, told your webmaster the following little story. At the New York Boat Show in 1967 - Yankee's first show exhibiting the Dolphin - George O'Day walked up to the Yankee booth to congratulate him on the boat and wish him luck. Then he said to John pointing to the cove stripe "See those two dots up there behind the Dolphin? They are not dots - in the original molds they are the initials O and D"!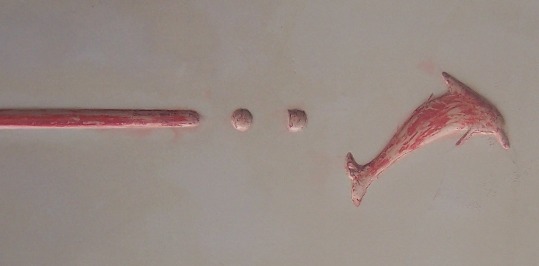 This is a photo of the cove stripe, Dolphin and "O D" on Jim Oppy's WISP
**************************************
November 21, 2017 Its taken a while to get this photo up on the website. All Dolphin 24 competitors at the Camden Classic Cup/Dolphin 24 New England Championshipswere presented with their own flag. Marionette's was buried in her flag bundle and put away for the winter....Here it is modified to correctly show the O and the D.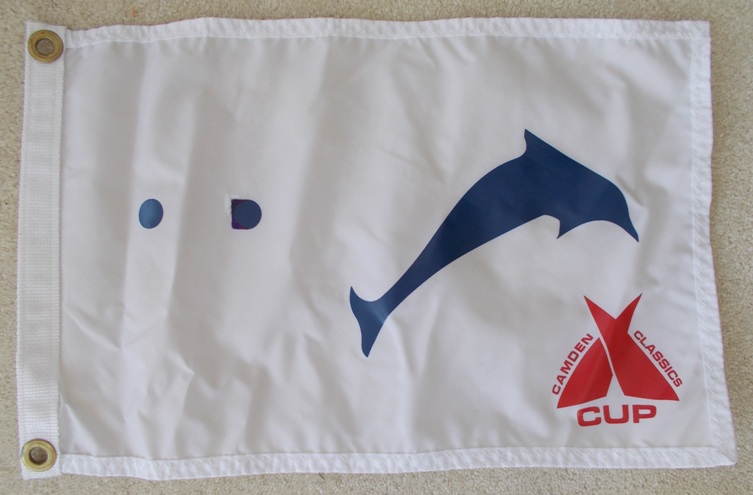 ***********************