One of the most important pieces of equipment in our game is our trailer. This page is an attempt to gather and organize the inputs of several Dolphin owners and their trailer experiences. We have the full range - a brand new Triad custom fitted for the Dolphin, to retro fitted used boat trailers, converted flat beds and converted cradles.
Reading the stories of the individual contributors, in sum total, will give the reader a pretty good feel for what to look for, what can be done, and things to watch out for. Here, we are not offering designs for a trailer - merely providing information that can be used to help decide which approach to take to fit the needs and wallets of the individual.
You will need a trailer that has a rating of at least 6000 lbs GVW (trailer plus boat). Single axles work, tandem axles are better. Hydraulic brakes are probably better than electric if the trailer is going in the water. The tongue weight on the hitch should be something like 600-700 lbs
Having a 12-14' 'tongue extender' that allows you to back the trailer further down the ramp is very useful. There are 2 types - a separate unit, ideally with a tongue wheel that locates under the tongue at the connection when the jack is up allows the extender to work. A sleeve type is also used - be sure its strong enough so it does not bend. A spare tire can be very useful. Some way to block the aft end of the trailer so it does not tilt back when you go up into the cockpit is useful. More on the subjects of a removable tongue wheel, extender, spare tire and jacks can be found at Marionette's trailer. Click to go there
Another key piece of information is knowing the exact center of gravity formula for the Dolphin 24. Here is the design formula provided by S&S:
50.55% of the waterline length measured from the bow.
Following is a rough sketch used when we built Marionette's trailer.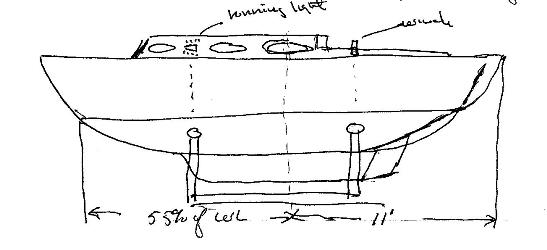 The measurement formula placed the center of gravity inline with the center of Marionette's aft portlight, which is a point 11' from the end of the transom. Of course, this is approximate for our individual boats - ie., inboard removed?, 75lb outboard hanging off the transom, a retro fitted 15 gallon full water tank under the v-berth, a 25 lb CQR anchor hanging off the bow, etc., etc. Within reason, I think the CoG of most of our boats is located pretty close to the middle of the aft portlight. You can see more about this subject, key dimensions, etc., on Marionette's trailer page Here is a picture of Marionette's trailer.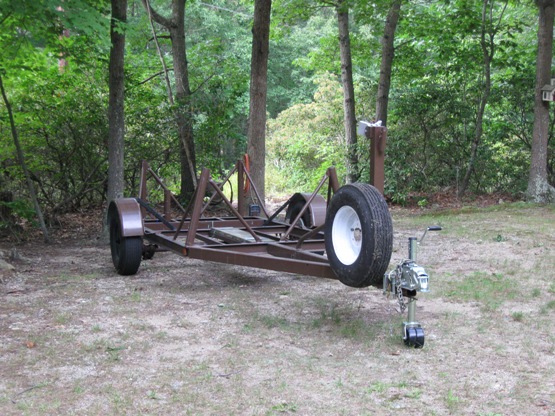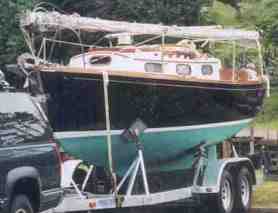 One way to solve a trailer problem is you can just go to Triad, Loadmaster or other reputable sailboat trailer company. They will ask you a few questions, like do you intend to launch on a ramp and need a float off trailer? Immersing your trailer in water, fresh or salt, makes a big difference (better galvanized than painted). A couple of weeks later you have a new trailer custom built to your needs, and our envy. Anyway, this is the most expensive, safest way to go - brand new, well designed, professional advice, experience. Bob Hancock, Pippin, Yankee #198 has one - click here to go his trailer (no picture yet) The picture at left is Jay Picotte's custom Triad built for Recovery.
Buying a Dolphin that already has a trailer can be the easy way. But you still should check for things like capacity ratings, structural integrity due to any rusting, bearings, brakes, etc. Jim Oppy recently acquired Cynosure, now Wisp, and had 'an incident" 12 miles from home on the delivery trip. You can read about this by clicking here.
Buying a used boat trailer or a general purpose flat bed trailer and modifying it to fit the Dolphin is an approach used by many. Sometimes these trailers, in decent condition, can be bought for a $1000 plus or minus, and if you are handy, know how to weld, or have a friend who can, a trailer that works can be put together for maybe $1500 plus or minus.
| | |
| --- | --- |
| Working on Tiki's trailer | Canopache's trailer |
Jim Homet, Tiki, Marscot/O'Day #28, had a great report on his trailer conversion. Click here to read it. Eric Varty, Canapache, Yankee # 188 recently acquired a used trailer and to read about it, click here.
Back in 2007, 3 of our Dolphin/Triad owners and a 4th Triad owner got into a Sailnet Forum discussion regarding their Triads and issues related to float on/float off and ramp launching. To see that thread, click here. To get back here click the back arrow on your browser.
Bill Thomas has modified a trailer for Ruby, nee Clover and had provided a lot of dimensional information. Click here to go there. Here is a picture of his trailer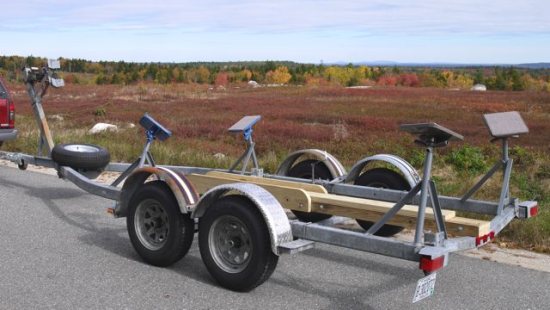 July 26, 2011 Mike advises that Grand Finale has an EZ Loader Roller Bunk trailer. 5890# capacity, tandem axles with drum surge brakes on the front axle.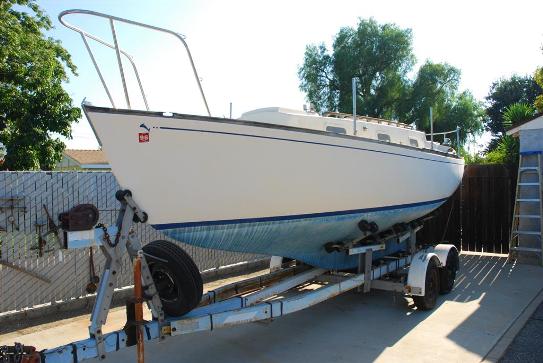 ***********************
| | |
| --- | --- |
| | November 7, 2011. Scot Ioset, Prodigal, Yankee #204 just picked up his new Loadmaster trailer. Click here to go there. |
************************
As we get more input on individual trailers we'll list them in our Technical Section/Trailers. Here are some popular trailer websites that are worth checking out
http://www.triadtrailers.com/index.htm
http://www.loadmastertrailerco.com/sailboat-trailers/
http://www.customsailboattrailers.com/
Don't forget to check the Forum for the latest trailer related posts made there
Additional input, comments, corrections to this page are welcome.
**********************
July 23, 2012. We had an interesting exchange regarding trailer tires as a consequence of David Williams buying Yankee #184 and trailering her from the upper Michigan penninsula to Little Rock, Arkansas. It's retold here as a cautionary tale. Duane Post, first owner of Yankee #184, SISU, and David, have been building up #184's historical record and trailers played a small, but important part. The following emails excerpted with minor edits
Robb Waters, the former owner and a good guy, before I traveled to MI, told me the tires were in good shape with lots of tread. Just to be sure I asked he send me the sidewall info with the DOT nos. to determine their age. The tire size he sent me revealed that tire -- very narrow -- had not been manufactured since the mid 60s, and must be originalsl Only place I could find that size is on EBay for1960's era Corvettes, which is only size tire fitting the spare compartment under molded trunk deck. Needless to say, I had four new ones put on before my trip. But trailer did fine.

David

Interesting story. Thanks for letting me know. I don't believe Bill Watson used the trailer much, and I don't know about the owner after that. I'm sure those were the original tires. To add to the story, Jim Anderson (#189) and I ordered the trailers a year after receiving our Dolphins from a Los Angeles manufacturer who shipped them stacked one on the other and towed behind a truck to MN. After they arrived we flipped a coin to see which trailer we got. I got the one without mileage on the tires.

Duane
Your webmaster had a related experience (the 'looks amost like new tire tread' issue) last summer when trailering Marionette to Maine. The trailer's 17 year old tires, at least that is when I bought them new, probably had at most 1000 miles on them, and the tread looked almost new. With 6 miles to go on a 250 or so mile trip, an accident ahead forced a detour, and eventually a full stop for 15-20 minutes - and opportunity to check the trailer. I noticed that a piece of the tire tread on the right trailer was missing ...missing?? You can read about this on Marionette's Log, Summer, 2011. Click here to go there.
*******************************
November 23, 2013 - check out ROWDY's trailer - click here
**************************************
February 29, 2016 - Click here to check out a discussion regarding Windswept's tralier modifications
********************************
March 4, 2016 - Click here for a DIY system for calculation the tongue weight on your trailer
************************************
March 20, 2016 - We got some comments and interesting sketch from Mark Wagner, the new owner of DOL FYN, regarding placement and bow support location (edited).
Ron

I have been preparing my trailer to pick up Dol Fyn. Replaced a bent axle and moving the axles back to accomodate the dolphin.

Here is a quick request to confirm my calculations with you.

I have been studying yours and others' sketches and photos of placement on trailers. I attached a quick to scale drawing of my trailer which helped me see that I have to shift my axles back 30 inches from their former position --luckily they're on a sliding beam, so it's easy to adjust (and it gives me a chance to rust proof the joint that wasn't done previously.)

Click here for a larger image - click the return arrow on your browser to get back here

The critical distance, I think, is placement above the center of axles -- I have a tandem axle trailer. So I have been measuring from bow support to center of axle: "a" in drawing. Yours is 150.5 inches. When I tried to measure a few others from photos, I came up with similar figures: Windswept 151" and Prodigal 142" (but from a less accurate photo).

So I plan to make mine 148 inches, given I have a heavy trailer with lots of weight before axles. Does this sound right to you?

Obviously I need to see how it rests on the hitch when I load it up, and I suspect I can move it forward by lifting the bow up a bit, or straight back. I would like to let it rest flat on its keel while transporting. The other poppet measurements I'm not sure about yet, but you can see that they are about 54", 120" and at rear of trailer. Again, sound ok? or should I weld new ones in place before I head to MD?

Thanks,

Mark
Your Webmaster responds:
Hi Mark

An expert on this subject I am not (this statement required by website legal staff).

You will want to get your tongue weight around 7-10% of gross weight (trailer and boat). Here's away to measure it if you don't have one of those neat weight measurement systems incorporated into the hitch. http://dolphin24.org/tongue_weight.html Hard to tell until the boat is actually on the trailer. It doesn't take much movement of the boat to get the desired tongue weight - something like 500lbs.

The yard? where you pick up DOL FYN might have a scale. Just looking at your sketch, if the boat's CoG is as indicated (variables are whats loaded where in the boat) then the trailer structure looks like more of its weight is forward of the center between the axles. Whether this is enough to achieve 500 or so tongue weight I can't tell.

If anything, my guess is that the boat will have to be loaded a bit forward of the indicated location At some point please send in a photo of your trailer, and bring your camera to MD If I had another glass of wine I could be more definitive.....

Good luck - safe journey

Ron

***********************************