August 12, 2016 The new owner, Justin Flagg, has checked in. His email is below. We have set up a new page for #207. Click here to go there.
Hi Ron,

Just wanted to give you an update on Yankee #207. I bought the boat from Graham Coates last August, and have been doing extensive work on her over the winter and spring. Have removed and re-sealed all the deck fittings, refinished the brightwork, replaced the plumbing, repaired and reorganized the electricals, replaced the cabin cushions, and made various other small repairs.

She finally hit the water last week and took her first sail in the Great South Bay on Long Island's South Shore to her new home off of Bellport, NY. Attached is a picture of her at her new mooring.

Looking forward to some great sailing for the rest of this season. Will probably move to some interior work over the coming winter, and possibly a new paint job for the bottom and top sides.

Best,

Justin Flagg
***********************************
*********************************************************
August 10, 2015. Graham advises Onward has been sold. We'll standby for the new owner to check in.
Hi Ron,

Sorry for the delay. Just getting back from vacation. The boat is sold to a gentleman named Justin Flagg in New York. Unsure where he plans to keep her.

Graham

Fair Winds Graham!

*******************************************************************
March 27, 2015 We got the following email from Graham
Hi Ron

it's with a heavy heart I write to say that #207 is for sale! She's been on the move, having weathered hurricane/tropical storm Arthur last 4th of July at anchor on Block Island, enduring a week long-cruise to Nantucket in heavy weather, and running into Recovery (Tripp built? YES click here to see her) in Cuttyhunk along the way. Here is a link to the add: http://www.sailboatlistings.com/view/49009.

Also, here's a video of her sailing herself off Bartlett Reef! https://vimeo.com/58249785

She's currently at Pine Island Marina in Groton on her trailer. And she's been renamed: Onward.

Graham

1971 Yankee Dolphin 24

Length 24.2'; Beam 7.7' Draft 2.8' Location Groton, Connecticut Price $6995

Description: Yankee Dolphin 24 #207. Sparkmans Stevens design. Capable, sturdy full-keel design with swing keel (5.1' draft keel/cb down). Great sailing boat with a solid pedigree. Sailed extensively from homeport in Groton to points east. Nantucket, MV, Block Island.Upgraded to bigger boat, sad to see it go.

Material fiberglass; Hull monohull; Type cruiser ;Rigging masthead sloop; Condition good

Custom trailer included. Equipment: 2012 Tohatsu sail pro 6hp with alternator wired to house battery. Autopilot, pressure freshwater, Garmin gps unit. Full battened mainsail, 110 jib, 140 genoa, 170 drifter. Lazy jacks. Oversized hydrobubble anchor. Other extras.



Ad Link http://www.sailboatlistings.com/view/49009.Contact Seller 860 305 3912



**************************
June 17, 2012. Graham Coates has checked in as the new owner of Yankee #207.
Hello,

I have been following your site, and I wanted to check in and let you know I recently purchased Dolphin #207 posted on craigslist in Rochester NY. My family still lives in the Rochester area, but I just graduated from law school and will be working in Hartford, so the boat will be coming to Connecticut! I currently live in Avon.

The boat was a graduation gift. I sailed J/24's and lightnings as a kid, but this is my first larger boat, and I am very excited about her lineage.

The plan as of now is to make her ready for salt, then sail/motor her sometime in August from Rochester to CT, through the Erie Canal, Hudson, and LI Sound. After that, not quite sure where she will end up, as I am still exploring my slip/mooring options in eastern CT to keep her long-term.

Hopefully we can meet along the way and share tips to keep her in good form. These are really neat boats!

Kind regards,

Graham T. Coates

Photo from the Rochester Craigslist ad
We didn't know anything about this boat, except she was recently listed on CraigsList/Rochester, and we had a mysterious Oregon connection and a picture from a Sailboatowners.com ad, submitted by a Larry Wilson, back on May 9, 2007. That picture was the same as the photo above. This wesite was then 6 weeks old so anything was possible - still is. Maybe with Graham's help we can figure what happened. Click the following link to go the old Yankee #207 page and the Craigslist ad. http://dolphin24.org/207_oregonx.html. Note the old #207 webpage title....
Pending new pictures from Graham these are the photos of #207 from the ad
We'll work on getting her name - June 21, 2012 Patty J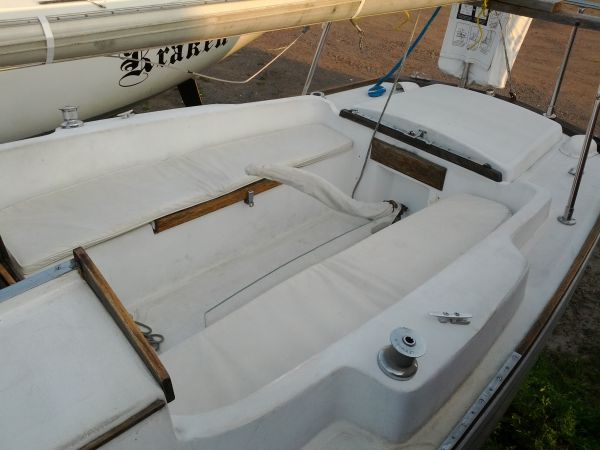 Stay tuned
June 21, 2012. Part of our mystery is solved. This email came over in over the transom this morning
Hi! I'm the former owner of Yankee Dolphin hull #207, the Patty J. We owned it from 1981 until last week. The new owner told me about your site. I never knew there was such interest in this great little sailboat. We sail out of the Genesee Yacht Club in Rochester, NY. We're very happy to know that it will still be used and not end up as one of those poor, sad abandoned boats left rotting on the shore.
Pat Cushman

***************************************
June 23, 2012. Things are moving fast for #207. Halsey McGowan, Elizabeth, sailed his boat from Kingston, New York down the Hudson River, through Manhattan's Hell's Gate, down Long Island Sound, and eventually to Maine. A summary log of this voyage seemed like it could probably be helpful, so on short notice Halsey sent us one! which we forwarded to Graham. This log has become one of our Stories - click here to go to it). In the meantime Graham and his dad have been checking out the website and found out that a Dolphin cradle could be converted to a trailer (ie Marionette's trailer).
So with this background, Graham has sent in the following update (minor edits)
Hi Ron,

Plans are changing. Encouraged by your website, my father wants to attempt to build a trailer out of the cradle that came with the boat. If this is the case, I will be skipping the Erie Canal altogether and will launch from Kingston just like Halsey. Considering his quick time frame, I might now try to make Nantucket before returning to CT. Lots of good information contained in his trip, so again thank you. I'll be sure to take pictures, video and do some sort of log.

Out of fears of an outboard giving up the ghost in the Hudson or East River, we just ordered a new Tohatsu Sail Pro 6HP (the extra long shaft with alternator and high thrust prop). Should be good in the rough stuff, but somewhat concerned about prop drag. Might rig up some sort of system to get the prop out of the water while sailing, but we'll see how that goes.

I also see the previous owner has checked in. As you now know, the boat was named Patty J (new name pending) but here is the rest of the information we have about the boat. I'm sure Pat can clarify anything further, but here is the information given to us:

Yankee #207 was purchased from a dealer - Geo W. Mercier, Inc. Mercier's Shipyard Clayton NY back in 1971; the previous owners have had it since 1981 and said the boat has always been on Lake Ontario. They believe they were the second owners but can't remember details from 30 years ago. The name of the boat when the previous owners bought it was Sunrise. The stripes on the hull were originally red. The previous owners changed them to green when they repainted the boat. The original cushions were the plaid ones like in the v-berth.

Attached is a photocopy of the 1971 Yankee Yachts sales brochure that came with the boat (click to go to it), and an interior picture (above). I will be sure to keep you updated and send along more pictures when #207 is named, painted, polished and in the water.

Best,

Graham

*****************************************
August 31, 2012. Yankee #207 is now in Old Saybrook having sailed from Kingston, New York down the Hudson River, through Manhattan and down Long island Sound to the Connecticut River. Quite a trip! We'll stand by for details - here is Graham's email and a Google Earth chart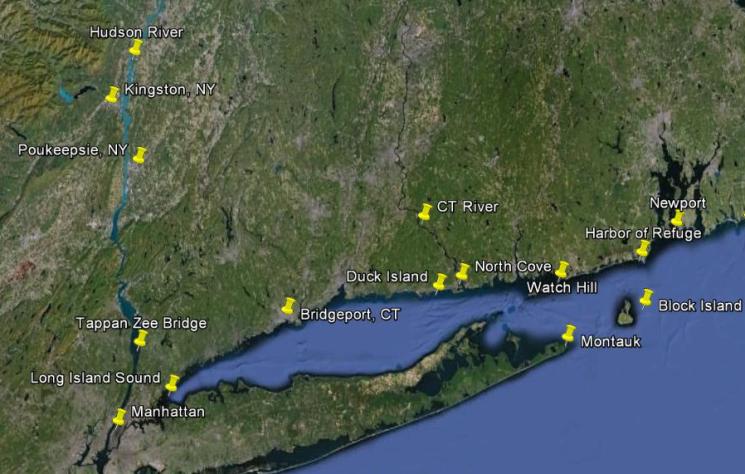 Hi Ron,

Just wanted to let you know that #207 has safely landed in Connecticut. The journey was shorter than I would have hoped, but constructing a trailer proved to be more difficult than expected.

I was not able to set sail until late August. Still #207 had a great trip from Kingston, NY around Manhattan and is now in North Cove, Old Saybrook on a town mooring while I try an find her a permanent home.

Pictures and a more detailed log to follow.

Best,

Graham

********************************
September 1, 2012. Senior DFI report. As your webmaster lives across the river from Old Saybrook, and the early morning Airdale walk options include the school grounds near North Cove, the DFI badge was pinned on, the bridge crossing made and the following report and sighting made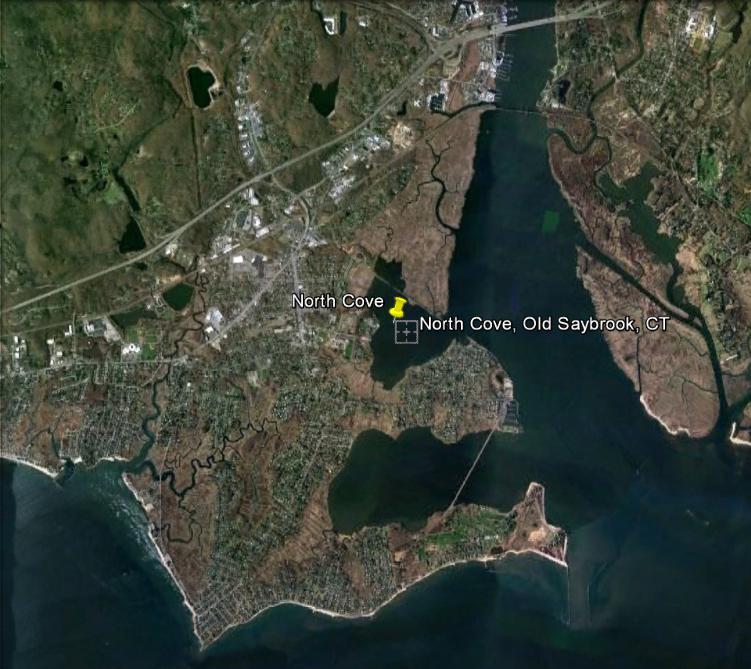 Mouth of the Connecticut River

Yankee #207 in North Cove

Local Knowledge - Despite recent dredging North Cove is known for its shallow spots - even in the mooring field.

We are in the full moon period - exceptionally high, and low tides. Of course, a Dolphin has certain attributes that make this less of a hazzard. ...

Graham sets sail this morning for Noank, Connecticut. Safe trip.

*****************************
September 4, 2012. So, on a rainy, squally, Tuesday your webmaster, on his way back from a short trip stopped in Noank. Clearly visible from the docks at Noank Ship Yard and Abbott's Lobsters were two Dolpins on their moorings in the Mystic River - Graham Coates' Patty J, Yankee #207, and Gordon Kyle's Windsong, O'Day #66.They were only a couple of hundred yards apart, but though I tried mightly I could not get them in the same picture. Interesting, both had green main sail covers...
Click here to go to Windsong. Below are a couple of photos of #207 taken between rain squalls.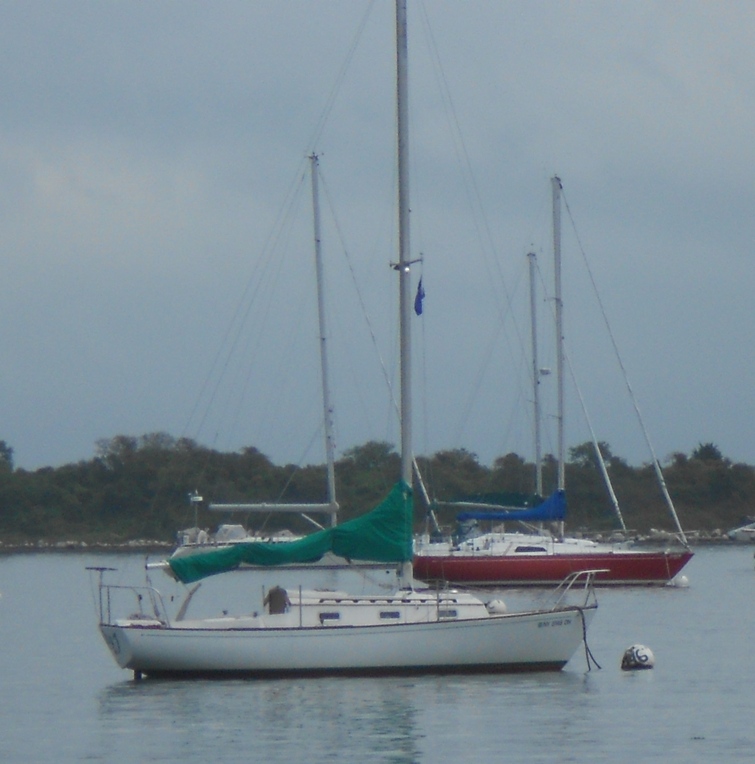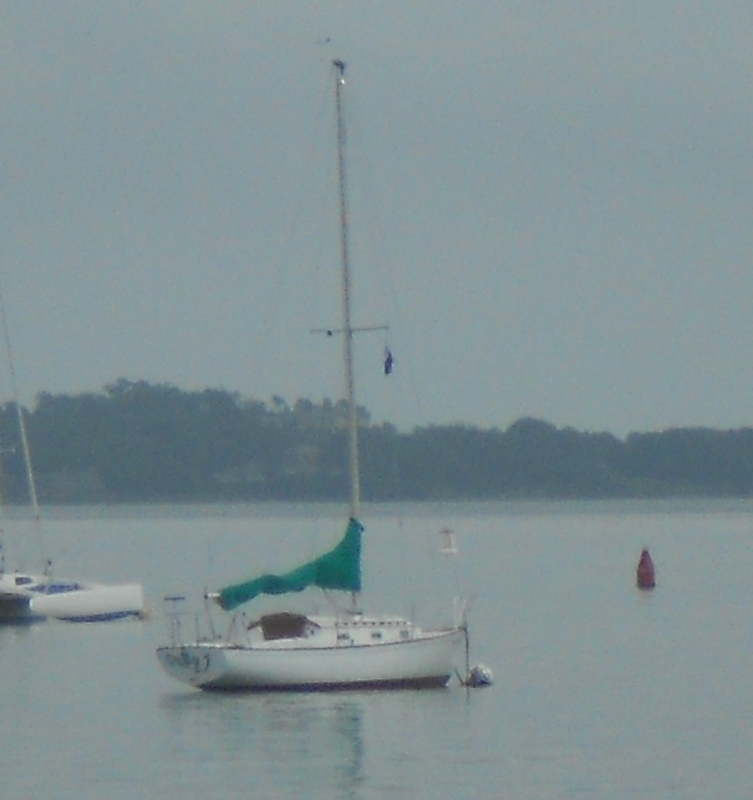 Your webmaster is not the only one keeping an eye on #207's movements. Former owner Pat Cushman sent in this email and a couple of pictures.
Ron,


Very happy to see that #207 made it to Conn. I'm attaching a couple of pictures of it when it left Rochester, NY earlier this summer. Graham's dad, Tom is piloting it. My husband John is the man on the dock watching the boat leave shore without him for the first time since 1981!

Is it still the Patty J or has it been renamed? (Webmaster Note: No decision at this time)

Pat Cushman

**************************
February 5, 2013. We got the following update from Graham.
Ron, I apologize for not getting back to you sooner (I also owe you pictures and a trip report from the summer). I plan on keeping the boat at Noank Shipyard again this season. Her mast is currently at Pine Island Marina, where we made a last minute escape from Sandy (pic attached, she's currently back in NY, where she started!). Still no final decision on a new name, but the decision will be made by Spring, in time for a fresh new paint job. (Any hints on where to go locally to get her new name placed on the stern welcome). Webmaster Note: will advise after contacting the Noank/Mystic Dolphin alumni

I look forward to running across you and Marionette sometime this season.

Graham

********************************
.