June 17, 2012. Graham Coates has checked in as the new owner of Yankee #207. Click here to go to #207's new webpage.
June 16, 2012. DFI David Williams (Icelander, Yankee #184) advised us of this ad on Craigslist. We are taking a flyer here - that this is Hull #207. This boat is our 205th Found Dolphin. This is the photo from the Craigslist ad.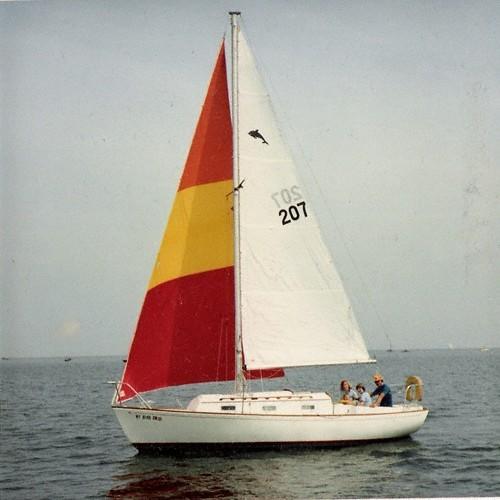 Sail Boat! - $2000 (Rochester, New York)
Date: 2012-06-11, 7:21PM EDT
Reply to: xxnbx-3071886154@sale.craigslist.org
1971 Yankee Dolphin, 24'. Perfect for beginning sailors, couples, young families, or those looking to downgrade from large yacht. Beautiful, classic look, emphasized by teak trim.
Cradle included. Owner can launch at GYC (Genesse Yacht Club) if desired.
Sails included:
• Fully battened main with Lazy Jack
• 110% Jib
• 150% Genoa
• 170% Nylon Drifter.
Specs:
• 24' Long
• 19' LWL
• 7'8'' Beam
• 2'10'' Draft
Displaces 4,250 lbs with 1,750 lbs in keel
Boat includes:
• Contrasting non-skid
• Interior and cockpit cushions
• Electrical system: Cabin light (3), running lights, battery fused switch panel
• Charter dinette table, teak trim
• Working sink and under table drawer
• Sliding panel head door
• Head cabinet
• Folding afromosia door closing off toward compartment
• Sheet winches
• Jib halyard winch
• Bilge pump
• Bow pulpit, stern rails, stantions and lifelines
• Pulpit and lifeline
• Boom vang
Boat sold without an outboard engine.
Boat sold as is.
Price negotiable. $2,000 or best offer. Contact for more information or to set up showing.
We are working on getting her name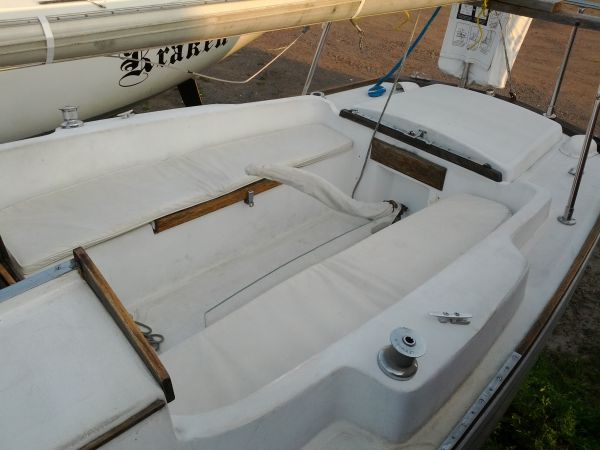 ***************************
Back on May 9, 2007 we created a page for this boat and posted the following photo from a Sailboat Owners Association Internet ad. Besides this photo we had no information that we can find in our files about this boat other than a notation that there was an Oregon connection, and the name Larry Wilson. hmmmm....Was this just an error in data entry?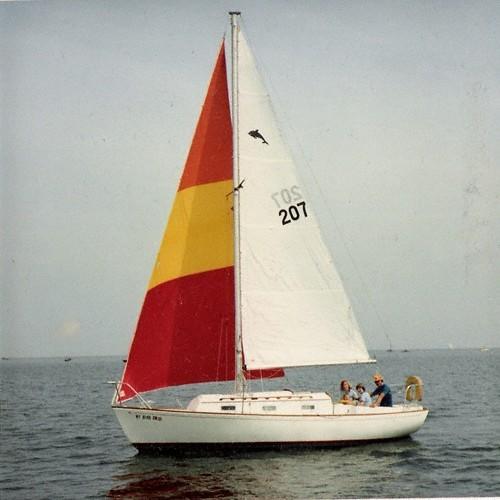 photo submitted by Larry Wilson to Sailboatowners.com, May 9, 2007 - look familiar?
***********************************
June 21, 2012. And look what came over the transom this morning (minor edits)
Hi! I'm the former owner of Yankee Dolphin hull #207, the Patty J. We owned it from 1981 until last week. The new owner told me about your site. I never knew there was such interest in this great little sailboat. We sail out of the Genesee Yacht Club in Rochester, NY. We're very happy to know that it will still be used and not end up as one of those poor, sad abandoned boats left rotting on the shore.
Pat Cushman
It's beginning to look like this mystery was just poor data entry by the webmaster. Another reference to the Patty J was found - "www.NavyPointMarine.com ad". This is a Rochester, New York broker. And a just received followup email from Pat confirms it
Yes it is hull 207. We listed with Navypoint back in 2005, not in 2007, we thought we'd have to move. But things changed and we kept the boat. I think her previous name was Sunrise.

Pat
Suspicions confirmed? - most likely a webmaster screw up. My excuse - the website was only 6 weeks old at the time. Maybe Larry Wilson will turn up and ....or maybe we can just let it sit....
***************************
September 4, 2012. Pat has been keeping an eye on #207's movements. Here is her recent email and a couple of pictures.
Ron,


Very happy to see that #207 made it to Conn. I'm attaching a couple of pictures of it when it left Rochester, NY earlier this summer. Graham's dad, Tom is piloting it. My husband John is the man on the dock watching the boat leave shore without him for the first time since 1981!

Is it still the Patty J or has it been renamed? (Webmaster Note: No decision at this time)

Pat Cushman

**************************