June 23, 2018. On the way back from the Wooden Boat Show in Mystic, Connecticut yesterday your webmaster met with Bruce Avery - busy times for a boatyard but he plans to get the info together for an ad soon. If you can't wait here is Bruce's contact info - Noank Marine Service | 55 Spicer Ave, Noank, CT 06340 | (860) 536-0221
***********************
March 2, 2018. Your webmaster met with Bruce Avery, the new owner of SKUA. Bruce owns the Noank Marine Service Boatyard which has been the home to SKUA over the past several years. Previous owners were Dennis Barthal and Rick Singer. Bruce is in the middle of organizing to get her ready to be sold and, as we have known each other from racing in Atlantics, and racing in other area regattas over the years, he invited the Dolphin webmaster over to have a closer look at SKUA. Below are a few pictures, click on them for a larger image - and stay tuned for more news on SKUA.
Stay Tuned
***************************************
**************************************************************
**********************************
This is the history we had on SKUA up to this point in time
SKUA was a Yankee show boat and her first owner was Lochlin Syme of Essex, Connecticut. He bought her in the late 1960's, picking her up in Anaheim, CA and trailering her across the country to Essex.
Her first set of sails were made by Sandy van Zandt (Hound). She had a Palmer PW27 inboard that Loch installed as the original boat had an outboard-in-well set up. She was extensively modified down below. Loch raced and sailed her for about 10 years and sold her to someone in Stonington, Connecticut. She was the subject of a Rosenfeld photo that will surface someday. All of her records have been lost but little by little we are picking up tidbits of info. Stay tuned
*****************
October 24, 2009 - Your webmaster dusted off his DFI cap and ventured out on a rainy Saturday morning to tour the back lots of the Mystic, CT boats yards. I was actually looking for a black hull Dolphin rumored to be at one of these yards. I drove into Bruce and Dana Avery's Mystic River BoatHouse in Noank, and looked around - no black hull Dolphin. But, the hairs on the back of my neck were standing straight out! I started to drive out, saw a light on in the office, stopped and went in. Nope, no black hull Dolphin there, but they did have a white hull one under a tarp hiding out behind a shed! SKUA has been found!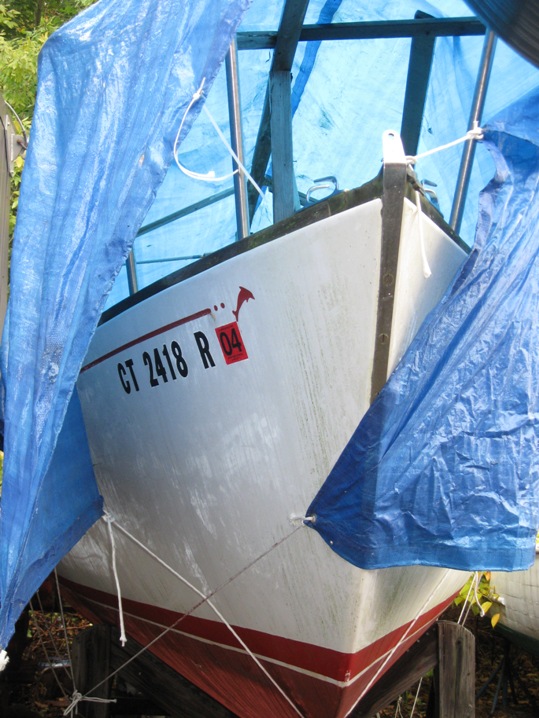 Bruce and Dana Avery were very knowledgeable of local Dolphin lore having hauled, stored and moved 9 or more over the years. SKUA was reluctant, but here is a teaser picture of her peaking out from under her blue tarp.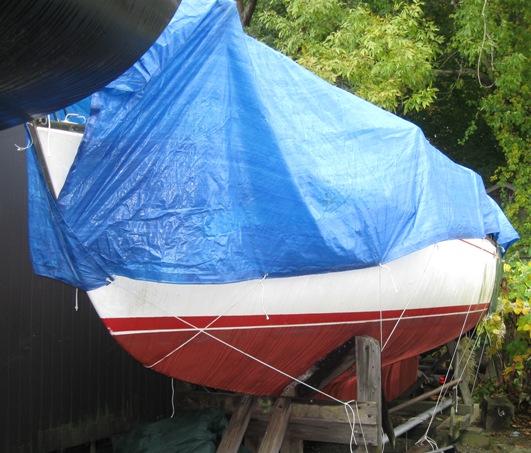 We are trying to make contact with Dennis Barthal and hope to talk to him soon. Stay tuned
****************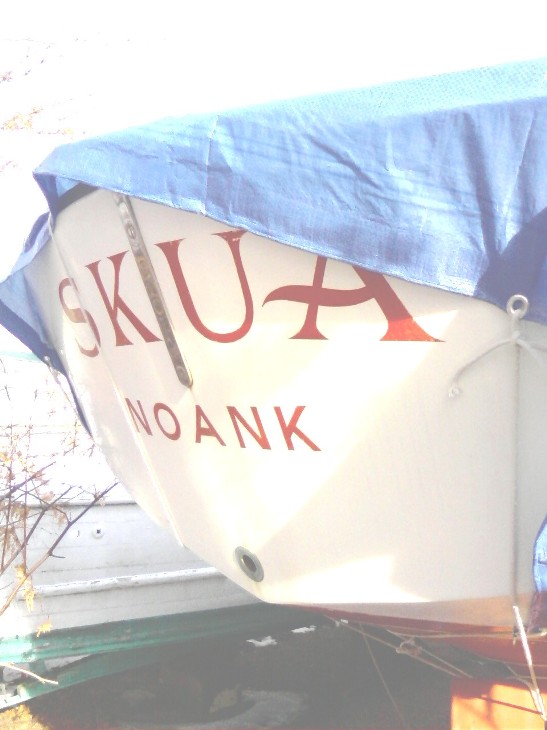 December 31, 2010. A drive thru the village of Noank, CT is always good for Dolphin sightings. Checking in at Avery's Boat Yard I was able to get a photo of SKUA's transom as the usually crowding in vegetation was in winter mode.
************************

Bruce had told me in the fall that he has a Dolphin steel cradle in his inland storage lot that he'd let go cheap. Here is a picture. Anyone wanting to convert this to a trailer should check out Marionette's Trailer. Click here to see it. Contact Bruce at 860 536 6930
************************
October 14, 2015. A field trip to Noank, CT for your webmaster to check out Larry Taylor's Black Dolphin, Lunn #219 required a slight detour to check out SKUA. I just missed Bruce Avery, the owner of Noank Marine Service. But things aren't looking too good for SKUA.
***********************