Sandy van Zandt was a sailmaker and active racer, and was one of the early Dolphin owners your webmaster spoke to about starting a Dolphin 24 website. Hound had a dark blue hull and he bought her in the mid/late 1960's from Albert Fuller who lived in Watch Hill, RI, and who bought this boat new. She was rough and pretty much stripped out down below. Sandy raced her for a couple of years - she was 1st overall in the 1964 Off Soundings Club Fall Series. Sandy sold her to Edward Maxwell of Noank, CT, who named her Peerless.
Stay tuned - a picture of Hound is on the way.
***************************
December 17, 2008
This is a 1973 picture of Peerless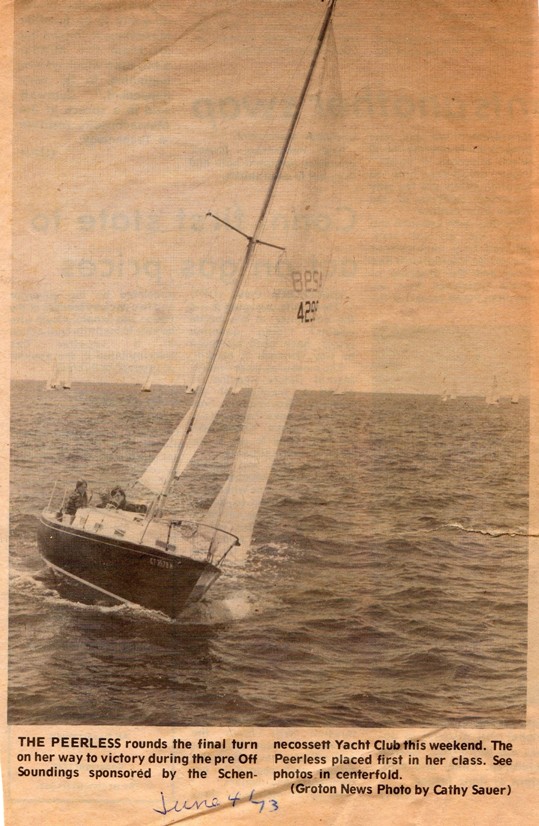 ******************
Match 6, 2009 - Stan Secora (Jato #7) told us that he talked to Albert Fuller who told him his boat "sweated" on the inside of the hull. They discussed that this boat was 'leaker', a condition than comes about when the builder, often in a effort to reduce weight but sometimes through poor craftsmanship, lowers the resin to glass ratio in the layup, resulting in a resin starved laminate that is microscopically porus and will slowly leak water.
Possibly related to this is a discussion your webmaster had with Bob Larson, an original investor in both O'Day Corporation and US Yachts, the marketing/sales agent for Dolphins starting with the Lunn Laminates production. Bob told me that he personally delivered the first Lunn built boat to a customer in New Jersey and that it 'sank' over night, leaking badly from the centerboard area. This led to a reconfiguration of the glass layup with a goal to maximize weight distribution. This effort was led by Warren Dellenbach, an engineer and also one of the early investors in both O'Day and US Yachts. There is no mention of this effort in the S&S technical files.
******************