April 20, 2018. Chris Young has checked in. We stand by for his first report and pictures, and will set up a new 'page' for Spectra when we get them.
Update September 21, 2018 - Click here to go to Spectra's new page
******************************
July 17, 2018. We got the following update from Chris
Hi Ron,

"Spectra" is still coming along. Like all boat purchases, I now have a much better idea of all the neglect, triage of work to be done, some rough estimates of additional expense, and I am trying to keep a postive spirit and continued forward momentum.....One side project I'm working on is looking for a suitable and less expensive winter season trailer - slip fees are expensive out here ($260/mo), and I'd also like to get Spectra out of the water to attend to some of the more important bottom cleaning, swing keel inspection, and thru-hull inspection/work sooner than later.

A basic hull-out is about $400 for a Dolphin 24 and $60 in yard fees/day. So, a trailer purchase would be a better investment and perhaps allow for some local lake sailing if I can find something in decent shape and reasonably priced. Would you please let me know if something on the west coast surfaces! Thank you!! Will Do

I ran across this listing on ebay (below) while looking for some new Perko Door Button Latches (one of the more easly accomplished and lesser expensive projects! I find it's really important to cross one off every so often and get that WIN feeling of accomplishment! (Webmaster Note: for more on this door latch Click Here to go to the Technical Section - Hardware)

If anyone is feeling flush and needs that extra edge or at least the look of it - here's a full set of Carbon Race Sails that apparently fit a Dolphin 24 with furlers:

https://www.ebay.com/itm/Full-Set-RF-Carbon-Race-Sails-Like-New-/323349772483?oid=323301674720


Thanks Again! Your website is helping immensely to keep the dream alive and of course as a VERY USEFUL reference!

Cheers,


Chris Young

***********************

**************************************

*************************
This is the history we had on Spectra up until this point in time
April 17, 2018. We just heard from Phoebe - Spectra is sold. We'll stand by for the new owner to check in
Hi Ron -

Can you please update the Dolphin website so that it says that Spectra sold this month? A wonderful man named Chris bought her from me. He is working hard to bring her back to her wonderful, fully beautiful self, and I'm sure will be sending you update photos for the website.

At this point, Spectra is still docked at the Alameda Marina in Oakland. Chris is copied on this email.

Warm wishes and happy sailing,


Phoebe

Fair Winds Phoebe!

and

Welcome Aboard Chris!

****************************************
March 23, 2018. Just heard from Phoebe and she is reducing the price again - Now $850 as is. Here's the new Craigslist ad and link
https://sfbay.craigslist.org/eby/boa/d/classic-24-sparkman-and/6541191610.html
Classic 24' Sparkman and Stephen's Yankee Dolphin - $850 (alameda)
condition: fair; length overall (LOA)24'; ; make / manufacturer: Sparkman & Stephens for the new ownermodel name / number: Yankee Dolphin; propulsion type:sail; year manufactured:1967


If you know Yankee Dolphins, then you might be interested in my 1967 Yankee Dolphin, Spectra.
She is a very sound boat with years of sailing life ahead of her.
Price includes many extras - sails, anchors, etc.

Price is firm and selling the boat as is. Please don't waste my time. If you want to take a look at the boat and THEN ask me questions, let me know. This is an amazing deal for a "Classic Plastic" boat. If you get Yankee Dolphins, you will understand. If not, then this is probably not the sailboat for you.
email: phoebemcki@aol.com
************************************************************
November 17, 2017. PRICE REDUCED!
$2000
email: phoebemcki@aol.com
***************************************
August 11, 2017 We got the following email and ad update from Phoebe
Hi Ron -

Thanks so much, as always! I have created updated for sale information and photos. Can you kindly post this for me? It is attached.
Thanks again,


Phoebe
Fiberglass centerboard sloop "Spectra" -- Yankee Dolphin 24, Hull No. 78
Some Specifics

> Draft of 2'10" with the centerboard up, can go where most sailboats can't go. Draft with centerboard down is 5'2".

> Engine: 4-stroke 6 HP Nissan outboard -- fewer than 50 hours; Automatic bilge pump AC/DC power and wiring -- new in 2012

> Rigged for single-handed sailing - lifelines, etc. included Boat can be trailered as it has a mast that can be lowered,

> Needs some cosmetic work in the cabin on the deck. Outboard engine probably needs a tune-up.

> CA DMV registration is current

Sails:

> 1 mainsail, 1 110% jib, 2 80% jibs, 1 storm jib, 1 genoa, 1 drifter, 1 spare mainsail

Other details:

> Teak and Mahogany britewood and interior, water tank, electric for cabin lights

> bronze gimbal kerosene cabin light, West Marine heater, Microwave oven

> Safety equipment: numerous life jackets, ring buoy, fire extinguisher, up-to-date flares

> Danforth, fluke and slip-ring fluke anchors, Centerboard completely overhauled and re-coated

Relatively new:

> toggle on centerboard pennant, rudder stuffing box, transom motor mount backing block and motor mount

> lower shroud cover and chain plates, through hull fittings, toggle at masthead for the head stay

> November 2015 - New bottom paint, AC/DC electrical system

> aft transom hatch (wood) and rudder - 2014
************************************
August 4, 2017. We got the following email from Phoebe
After investing a lot in Spectra's infrastructure and maintaining her well, I have unfortunately for the past two years neglected her. She is still a sound, wonderful boat, but needs some TLC.

I am asking $1,000 for her. She comes loaded with extra sails and gears, and again, has had a lot of work done on her. She does need some TLC, but it's mostly superficial.

Please contact me for details, or if you are seriously interested. My email is: phoebemcki@aol.com

Phoebe
Webmaster note: This is a rare early Yankee likely built on one of the O'Day supplied hulls, before Yankee built their own molds - check out http://dolphin24.org/history_yankee_yachts.html
*********************************
***********************************************
February 14, 2016. Phoebe has reduced the price to $2500.
Contact Phoebe at: pmckinney@fhi360.org (See above)
***********************************
January 5, 2016 Yankee #78 is FOR SALE. This is the link to the Craigslist ad which is reproduced below http://sfbay.craigslist.org/eby/boa/5387947112.html (expired)
24' Cruising Sailboat Yankee Dolphin - $4500 (Alameda)
condition: good
engine hours (total): 60
length overall (LOA): 24
Built by Yankee Yachts/Designed by Sparkman&Stephens


24' Cruising Sailboat Yankee Dolphin "Spectra" - $4500 (Alameda, Northern California) 24' SAILBOAT, Yankee Dolphin "Spectra." Fully equipped ready to enjoy. Located in Alameda, CA. Beautiful Sparkman & Stevens, Yankee Dolphin Sailboat in good condition, heavy hand laid fiberglass built by Yankee Yachts, ocean capable, built in 1966 and features classic bronze and teak trim, toe rail, and interior. Cruising full keel, draws only 3'. Condition good.

Mast and spars in good condition. Numerous sails, including main with reef points and working jib all in good condition. Standing and running rigging are in good condition.


Electronics were upgraded several years ago, with new panel, battery, and automatic bilge pump.


Full cruising gear package included, including life jackets, sailing harness and lifeline, extra lines and mooring gear, extra fenders and anchors, and too much other gear to list here.

The outboard 4 stroke engine has low hours and has been kept out of the water. Low maintenance fiberglass hull, with a classic Teak interior, dinette and bunks to sleep 4 people. Boat does need some interior and deck work.

This is a very enjoyable boat to own, in the water she feels very solid, and is easy to sail.

For more information please contact me at Reply (see link above). Serious inquiries ONLY.
$4,500 or best reasonable offer.
***********************************
July 7, 2007. Phoebe McKinney has purchased Spectra and sent in some great pictures. This boat is 40+ years old and looks like she just came out of the box!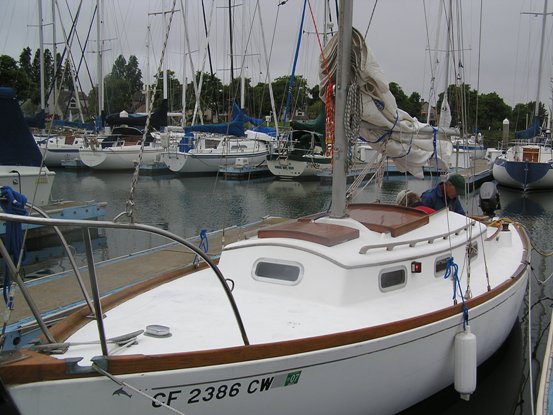 Look carefully at the combing. It is a glass coaming with a teak cap. We'll talk about this later.
Among Phoebe's various challenges with Spectra is consideration of a name change - a daunting affair. And while Spectra certainly is a pretty boat and hides her few problems well, she came with a few surprises that need attention. Phoebe had a post on the Forum and an email exchange with the webmaster. Spectra's "list" on needs are excerpted here.
Hi Ron

"Yes, Hull #78 is called Spectra, although I really hate that name and am planning a proper (pleas to Poseidan and all) renaming ceremony in the next several months.

I was planning to do a major haul-out/overhaul, but began to get cold feet when I saw that just the priority to do items would add up to around $5,000 - if I had a marine yard do most of the work.

So, I am going to try my luck and do all that I can as a true, knuckle-headed novice - this is what she needs -- any advice out there?

1) The rudder stuffing box is leaking and the bolt is stuck -- here's a dumb question - is it possible to replace the rudder stuffing packing when the boat is in the water, or am I asking for a big mess (in the form of a flood!

2) The chainplates are looking pretty sketchy and need to be re-glued, at least. Any experience on this or advice?

3) The centerboard is being eaten alive by rust - probably will have to be done by a yard -- has anyone else had problems with voracious rust eating entire (like the movie Jaws) chunks out of the centerboard?

4) The (OB) engine mounting block is apparently straining and weakening the transom -- think I'll try to tackle this one on my own -- again, any advice?

5) Oh yeah - the teak wood on my forward cabin hatch just split entirely in two - any tips for fixing it? I hate the thought of removing it (must o' been cuz I weigh a bit more than I used to???)

6) One final question (I know, I know -you can see that I am a real newbie) - I want to rig the boat for single-handed sailing - has anyone done this with their Dolphin?

Ok, what the heck, since I've asked you all for advice (and I'm sure there will be more cries for help coming your way), here's some pics of her -- just so you can see that she's awfully pretty and in pretty good shape overall -- and worth the TLC and effort ..."

Thanks!

Phoebe
Phoebe's questions were answered on the Forum - click here to go there
************************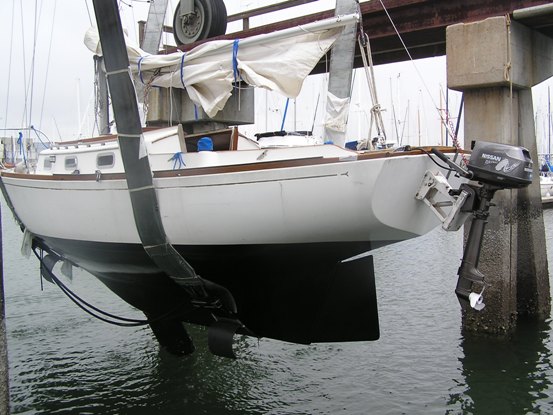 A transom hung outboard complicates the name game...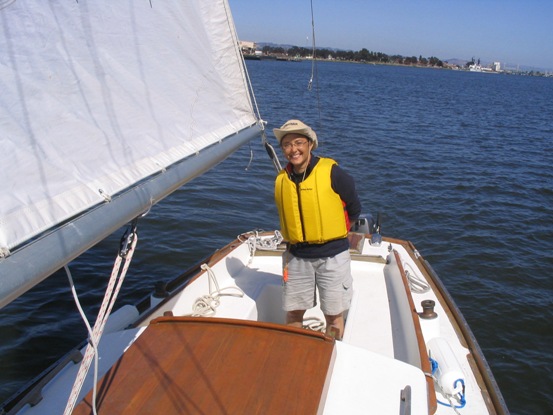 Good Luck Phoebe. She may have a few problems but she sure is pretty! Notice the bronze winches, and a better view of the coaming.
***********************
The following pictures came from the on line photo album of previous owner Brent Adams. They give a good look at an early Yankee interior.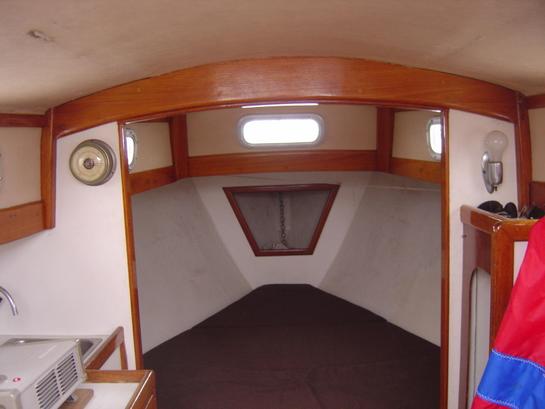 The arch makes the interior of the boat more open and look much bigger.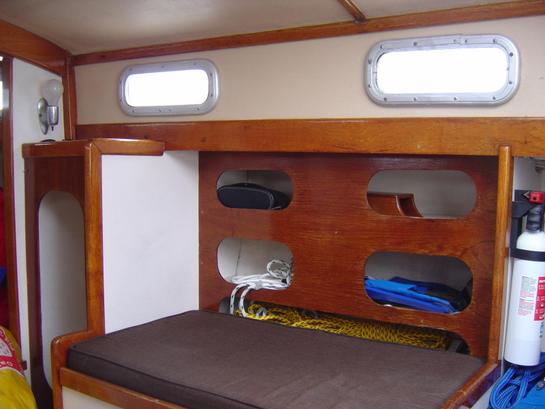 Main cabin - starboard side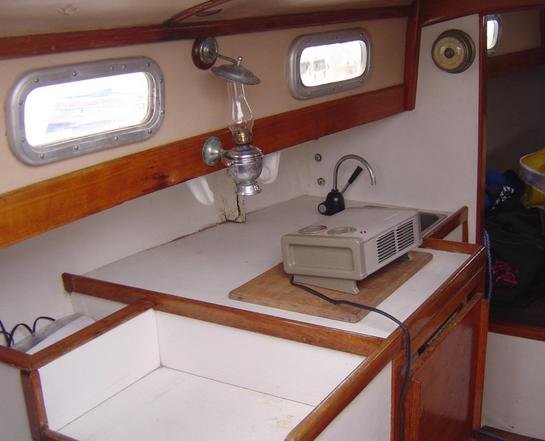 There's that little Weems and Plath "Atlantic" oil lamp again. Standard Dolphin equipment
**************************
Let's take another look at Spectra's coaming

If one looks at the Roster - the hull numbers for Yankee boats that we have starting with #71 - Yankee had all wood coamings and did not introduce its fiberglass coaming until hull # 117, Velero. Erik Evans' Robin Lee, # 118, was Yankee's cover photo boat on their 1969 brochure. So, what's with this this boat?
Theory: Take a look at Don Barnett's Casandra Rose, O'Day # 56. Unlike the first Yankee built boats which were all wood on an O'Day supplied bare hull, Phoebe was probably the 3rd or 4th boat built by Yankee - in 1965/66, probably on an O'Day supplied hull, and probably with an O'Day supplied glass deck and cockpit? The last O'Day boats had fiberglass coamings with wood caps that look exactly like this.
*********************
November 16, 2011. Well, its happened again! A routine follow up with Phoebe produced the following:
Hi Ron
It's good to hear from you, as always!

After putting Spectra up for sale, I had some time to reflect, and realized that I actually could not bear to sell her! So what did I do instead? I spent way too much money getting her fixed up! She is almost ready, and I will send pics of her with her new makeover as soon as the Marine Repair folks are finally done working on her. Something about these Dolphins - you just can't quit them!

Warm wishes,
Phoebe
As constant reminders can be painful, we have removed most of the For Sale evidence from Spectra's page and buried it in a link.
Welcome back, Phoebe!
January 2, 2014. Phoebe is a travellin' lady and Spectra needs some companionship when she is away. Phoebe tells about about a neat arrangement with Spectra's former owner, and a move to a new marina with another Dolphin as a slipmate! Google Earth helps us follow her track (minor edits). We put this up in our short Stories Section as well.
Hi Ron -

A very Happy New Year to you! I have a kind of neat story to share with you and our fellow Dolphin 24 owners. To make a very long story short, Brent Adams - from whom I bought Spectra seven or so years ago - and I have kept in touch off and on during the years, bonded and connected as we are to Spectra. For the past year or so, Spectra has been at the Martinez Marina in Martinez, CA, but it was not a very good situation for her (run-down marina and the Delta over-run with power boats).

As insane as it is for me to even have a boat due to the fact that I work overseas in Africa for up to a year at a time, something unexplainable prevents me from just up and putting Spectra up for sale. To paraphrase the line in the movie, "I just can't quit her." Anyway, recently Brent and I have been back in touch, and because I am leaving for Liberia in early January, Brent agreed to look after Spectra and give her the ample sailing time that she so deserves.

December 31st, Brent and his son sailed Spectra all the way (some 36 miles, I believe) from the Martinez marina to Spectra's new (and much improved) home at Fortman Marina in Alameda.

Click on the above pictures for larger views

While they were sailing Spectra down to Alameda, I drove over to Fortman Marina to sign Spectra up for a slip there. While looking at various docks for a suitable slip, I was somehow drawn to "Dock D." Low and behold, as I moved along Fortman Marina Dock D,

I spotted ANOTHER Yankee Dolphin, Vallhala!

One choice is no choice, so Spectra (thanks to Brent and son) is now tied up across from Valhalla. So there are now 2 Yankee Dolphins at Fortman Marina in Alameda.I see from the Rosters that Valhala went to Southern California a few years ago, but now she is obviously back in the San Francisco Bay area. Perhaps Brent and Valhala's owner will meet someday soon!

All the best from yet another nutso Dolphin 24 lover,

Phoebe McKinney, Owner of Spectra, Yankee Dolphin # 78

ps January 5, 2014 click here for more pictures in the Stories Section

******************************
November 25, 2014 - Spectra was for sale over the past 2 months but Phoebe has decided to take her off the market. As is our practice the ad and related emails have been removed to a special link so owners can avoid constantly reliving this painful process...
*********************************