This page, and story, got its start on January 2, 2014 when Phoebe McKinney needed to find a new home for her Spectra, Yankee #78. Phoebe is a travellin' lady and her Spectra needed some companionship while she was away. Phoebe tells about a neat arrangement with Spectra's former owner, and a move to a new marina - with another Dolphin as a slipmate! Google Earth helps us follow her track (minor edits).
Hi Ron -

A very Happy New Year to you! I have a kind of neat story to share with you and our fellow Dolphin 24 owners. To make a very long story short, Brent Adams - from whom I bought Spectra seven or so years ago - and I have kept in touch off and on during the years, bonded and connected as we are to Spectra. For the past year or so, Spectra has been at the Martinez Marina in Martinez, CA, but it was not a very good situation for her (run-down marina and the Delta over-run with power boats).

As insane as it is for me to even have a boat due to the fact that I work overseas in Africa for up to a year at a time, something unexplainable prevents me from just up and putting Spectra up for sale. To paraphrase the line in the movie, "I just can't quit her." Anyway, recently Brent and I have been back in touch, and because I am leaving for Liberia in early January, Brent agreed to look after Spectra and give her the ample sailing time that she so deserves.

December 31st, Brent and his son sailed Spectra all the way (some 36 miles, I believe) from the Martinez marina to Spectra's new (and much improved) home at Fortman Marina in Alameda.

Click on the above pictures for larger views

While they were sailing Spectra down to Alameda, I drove over to Fortman Marina to sign Spectra up for a slip there. While looking at various docks for a suitable slip, I was somehow drawn to "Dock D." Low and behold, as I moved along Fortman Marina Dock D,

I spotted ANOTHER Yankee Dolphin, Vallhala!

One choice is no choice, so Spectra (thanks to Brent and son) is now tied up across from Valhalla. So there are now 2 Yankee Dolphins at Fortman Marina in Alameda.I see from the Rosters that Valhala went to Southern California a few years ago, but now she is obviously back in the San Francisco Bay area. Perhaps Brent and Valhala's owner will meet someday soon!

All the best from yet another nutso Dolphin 24 lover,

Phoebe McKinney, Owner of Spectra, Yankee Dolphin # 78

Happy New Year Spectra!
January 5, 2014. Phoebe sent in some photos of Spectra leaving on her trip. Here they are and her email edited)
Dear Ron

Thank you so very much for taking the time to re-create my little story in such a wonderful way, with maps and everything! I'l get some photos of Valhala - in the meantime, here are some photos from Spectra's pre-journey prep and starting out from Martinez to Alameda.

Happy New Year to you. Warm wishes,

Phoebe and Spectra

Bye Spectra

*****************************************
On August 7, 2014, Scott Henry has checked is as the new owner of Yankee #95 and he advises that her new home will be at Fortman's Marina. Here is his email and her picture.
Hi Ron,

I just bought Will Kruse's YY #95 Dolphin. It is now living in Alameda, CA (on the San Francisco Bay) Less than a week in the water so far, one time sailing. No name yet.


There's another Dolphin in the same marina (Fortman's Marina), Valhalla, #113. I haven't met the owner yet.

It's hard to get a good shot with the other boats in the way, but I've attached one anyway.--


Scott
******************************
On August 16, 2014 Ron Campbell, Vallhala, spotted a Dolphin in his marina (Fortman Marina) and reported it to Dolphin Central, with photos, and went to work getting us more info. We suspected at the time this was a newly found Dolphin. And she was - our 222nd 'Found Dolphin"! Then on On September 2, 2014 Stephanie Lucas checked in Adelante, Yankee #127. Welcome Aboard, Stephanie!! Here is her email.
Re: Dolphin at Fortman is mine :-)

Hi,

I'm the new owner of the former "Solar Max" - Hull #127, now named "Adelante". She's in very good shape, and I'm in the process of applying TLC as time and money permits. Please let me know if you need any additional information – my neighbor Ron (Valhalla) has sent photos already. I can send updated photos of the work as I get it done.

Cheers,


Stephanie
For his effort Ron now joins the exhalted ranks of the DFI corps. Click on the following imags for a larger view.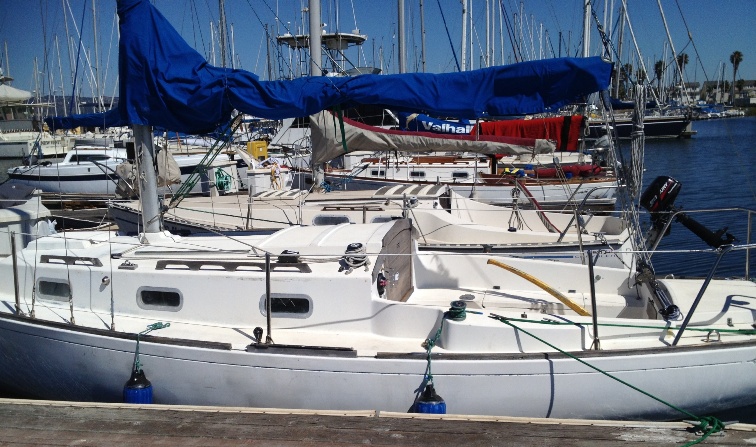 Adelante in the foreground - look carefully you can just see Valhalla's blue boom cover in the distance
That's 4 Dolphins at Fortman's, so far - stay tuned