September 2, 2014. Stephanie Lucas checked in Adelante, Yankee #127. She is our 222nd 'Found Dolphin"! Welcome Aboard, Stephanie!! Here is her email.
Re: Dolphin at Fortman is mine :-)

Hi,

I'm the new owner of the former "Solar Max" - Hull #127, now named "Adelante". She's in very good shape, and I'm in the process of applying TLC as time and money permits. Please let me know if you need any additional information – my neighbor Ron (Valhalla) has sent photos already. I can send updated photos of the work as I get it done.

Cheers,


Stephanie
This is how we found out about this boat - on August 16, 2014 Ron Campbell, Vallhala, spotted the boat in his marina (Fortman Marina), reported it to Dolphin Central, and went to work getting us more info. We suspected at the time this was a newly found Dolphin. For his effort Ron now joins the exhalted ranks of the DFI corps.
Click on the following images for a larger view.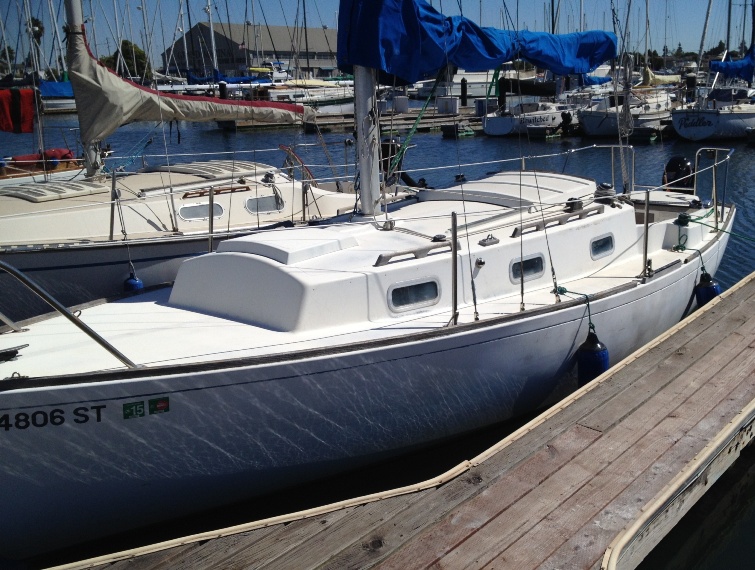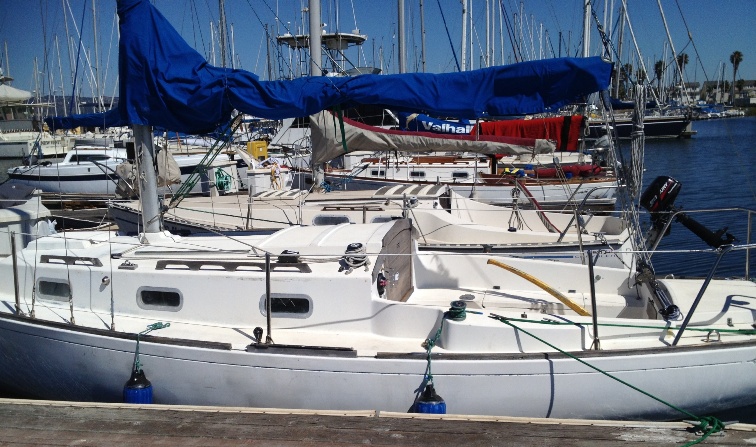 If you look carefully you can just see Valhalla's blue boom cover in the distance
************************************
Hi Ron,

Sending a photo from my visit today with Adam Peck (he gave me permission to send it to you). He's the previous owner of my boat, Adelante (his Solar Max).

Adam and I met in person today for the first time and he and his wife and I had a great visit with a chance to exchange stories about the boat. We both love the little boat and are going to stay in close touch.

Cheers,

Stephanie
***************************
April 4, 2015. Your webmaster, on an unannounced inspection trip to Fortman's Marina on March 31, got this picture of #127. All is well.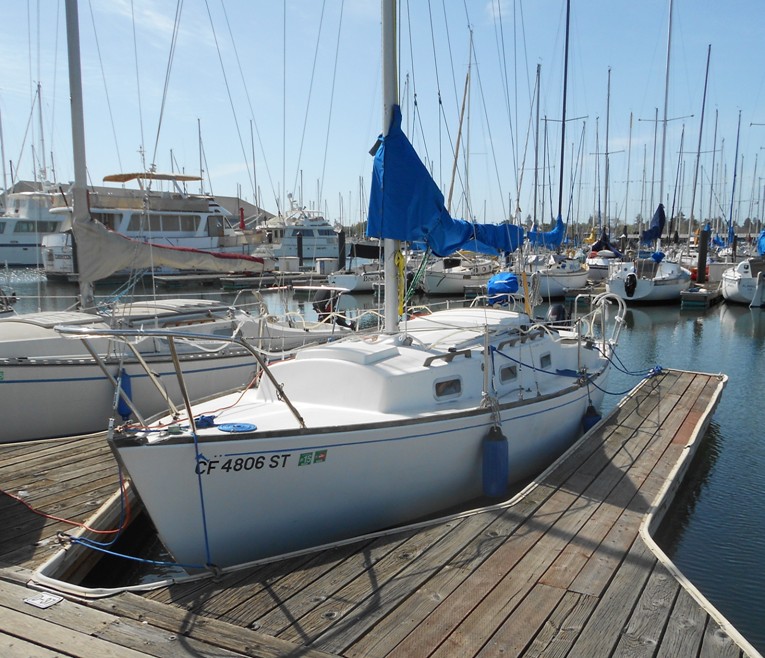 Click here for a larger image
********************************************
January 9, 2018 We got the following Adelante update from Stephanie, and a heads up note about Aviva, a Yankee Dolphin in the same marina.
Hi Ron,

I hope you had a great holiday. My boat Adelante is at Fortman. Over this past weekend I walked over to Aviva's slip and notice her cockpit drains are clogged and she's got roughly 3 inches of water collected (so far) in her cockpit. And it's currently raining. :-( I notified our harbor master and he said he'd let the owner know, but I'm also sending the word to you after reading up about Aviva's past year and that the group had been in touch with the owner. She's such a beautiful craft and I hope the owner will be able to get her back to health soon. Webmaster Note: Thanks Stephanie! We have emailed Aviva's owner Craig Burkhead - click here to go to Aviva's page

Re: Adelante

My boyfriend and I spent all day this past Saturday on general cleaning and she's looking great (need to deal with some surface black marks on hull but otherwise sparkling). We're both very excited about committing time and effort this year to getting Adelante to an even better state and we've put together a to do list which includes completing interior electrical work, getting both manual and electric bilge pumps in shape, checking through hull fittings, rebuilding head pump, and last but not least, rigging her for spinnaker sailing.

Cheers,
Stephanie Lucas
Yankee Dolphin 24 Adelante at Fortman Marina

POSTSCRIPTS

> Thanks, I'll come by tomorrow and get her cleaned and drained. Much thanks! Craig

> Hi Ron - glad you were able to reach Craig. Aviva is such a pretty boat!! Stephanie

> Webmaster Note. The Board met last nite and awarded Stephanie the DFI badge http://dolphin24.org/dfi.html

**********************************
May 7, 2018. We got the following update from Stephanie - and website staff did some research on the subject Great Vallejo Race. Here's a link to the regatta history https://www.vallejoyc.org/great-vallejo-race - typically over 200 boats racing in 20+ classes. This year there were 165 boats. Results for Adelante's Class in the 2018 regatta appear below, along with a 'chart' of the racing area on San Francisco Bay.
Hi Ron,

Here's some news about Adelante. My boyfriend Nick and I actually raced her in the Great Vallejo Race last weekend.

We had hoped to be able to rig her for a spinnaker in time for the race, but our rigger couldn't work it into his schedule so we used what we had, including the 125 jib. We were just racing for fun and practice, but we ended up placing 5th out of 8 on Saturday and 3rd out of 8 on Sunday!

We plan to race her again but the modified rig (shortened, raised boom and too-small sail) is just not powerful enough and we're going to address that before any more racing. We're extending the track, lowering the boom, and getting a new main.

Cheers, Stephanie

Here's a photo from our Saturday race :-)




Webmaster Note
:
In reviewing the results Staff noted that Rob Maclean's Anne Bonny, Yankee #97 had a 4th in Race 1, racing in a different class. Anne Bonny did not compete in Race 2. We are standing by for Bob's report AND! just got it! Click here to go there.
**********************************