September 26, 2008. We first learned about Craig Burkhead and his 1967 Yankee from the archived posts he made on the Sailnet Forum in 2006. It being a rainy day here in the Northeast (website maintenance day) your webmaster called the phone number given and ...Contact!
Aviva is going through one of those restoration phases we all know about but, hopefully, Craig will be in touch soon and let us know what's going on.
Stay tuned
************************
Here is what Craig had to say on the Sailnet Forum about his Nissan 6hp outboard.
I purchased a Nissan 6 hp long shaft for my Dolphin (no alternator, though), and have been very pleased with the results. While I initially fitted an 8 hp Nissan (smallest two cylinder Nissan makes, which I would have preferred), the 8 hp wouldn't turn in the transom very well.

I find that steering in the marina by rudder alone too difficult at low speeds. In contrast, with the 6 hp, the motor rotates easily. The only catch with both motors is that the fuel connector, which is at the front of the motor (i.e. towards bow), gives very little room for the fuel line and it will occasionally kink. I haven't been able to find a right-angle compatible Nissan fuel line connector (feedback welcome).

BTW, I also have a backup 2 Hp Honda. While noisy (air cooled), it moves my Dolphin along fairly nicely so long as I'm not fighting current. I was surprised, but I can get four knots at full(?) throttle. Not recommended for regular use, but as a backup, works nicely and is light weight (35, maybe 40 lb?).

Cheers,

Craig Burkhead

*********************************
January 25, 2017. DFI's are always working - we got the following email from DFI Scott Henry, Amaya, (http://www.dolphin24.org/Amaya.html) who keeps his Dolphin in the same marina as Aviva.
This matter is of high interest to owners of 40-50+ year old Dolphins.....
Hi Ron

If you have contact info for Aviva (Fortman slip E24), they need to go check their boat, it is lying very low in the water. The cockpit is full of water (up to the CB pennant hole, so some has gotten into the boat).


I asked the Harbormaster to contact them but I thought I would try multiple paths...

-- Scott
Dolphin staff sprang into action from 3000 miles away, and located contact information for Craig Burkhead, Aviva's owner, and forwarded Scott's email to Craig.
Hi Craig
I hope this reaches you. Its 4:30AM East Coast time and I just picked up this email from Scott Henry - Amaya http://www.dolphin24.org/95.html
Ron
Craig and your webmaster exchanged the following resulting emails (reorganized and edited)
All is well. I just re-read the initial email and it brought back fears of her sinking a couple of years ago, and leapt in the car from work to head to the marina without another thought. Due to severe storms we've recently experienced in northern California, both cockpit drains had some detritus covering the drains and perhaps ten centimeters of rainwater had accumulated in the cockpit, plus some water in the cabin, which I pumped most of it out. I'll get the rest during the weekend.

Craig
More on Aviva's sinking from Craig
I hired a salvage diver, who attached inflatable bags around midsection and aft, and inflated with compressed air. Took several hours to raise, mostly due to difficulty in getting a strap under the keel in the soft marina berth mud. Maybe six of water above the deck.

The boat was converted to electric drive, so Torqueedo trolling and main propulsion motors, plus batteries, SSB/VHF radio, instrumentation, all shot.

The root cause was the starboard cockpit drain. The plastic hose had become brittle over the years and I didn't inspect closely enough. The cause was confirmed by the diver when she was raised. All he had to do was put a slight finger pressure on the hose, and a stream of water sprayed out. No pressure, no stream.

I have been neglecting her since she sank, saving up some money for a more complete rehabilitation. Hopefully this coming year, but we shall see.

The salvage diver (Delta Divers) recorded the 'Raising of the Dolphin' and we have some youtube video - 3.5 hours of 1 picture every 60 seconds. Battery gave out otherwise I would have had more - but it shows the process.

Click here to see it

Thanks again for the interest and concern, always appreciated!

--Craig

Postscript - follow up on timing - with Scott's and your email, I was at the marina within the hour, driving as fast as my Prius would permit. En route, I called the harbormaster, who checked on the boat, and we talked for awhile when we returned to the harbor office. I've always had exceptional service working with the team at Fortman Marina (I have been there maybe 15 years).

re: Scott -- much thanks again for noticing the water in the cockpit before this became 'raise the Aviva, part two'. *very* appreciated.
Here's a couple of pictures from the video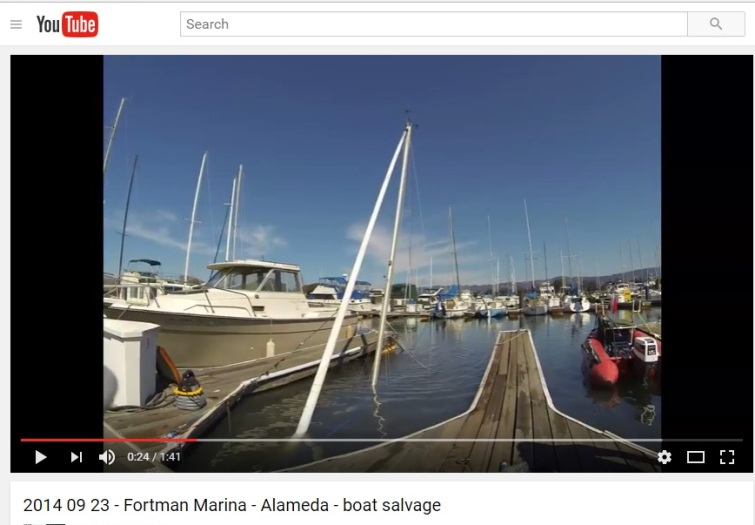 Moral to this story - check your hoses!!
Thanks Craig for sharing
And thanks Scott for the heads up
We wrap up this segment with an email just in from the guy who started it - DFI Scott Henry
Hi Craig,

I'm glad that I went the extra mile. I asked the harbormaster's office to contact you that your boat was riding low in the water, apparently they didn't. I had the same thing happen to me after the first big rain this season. Since I explicitly asked the liveaboard near Amaya to look out for her, he cleared the drains when he saw it.

The electric bilge pump kept the water level down as best it could. The standard location for the bilge pump seems to be well
forward in the flat bilge, so there was still a lot for me to pump out manually when I got there. The cocpit drain hoses on Amaya are that black rubber exhaust hose. They are in good shape, the P.O. must have replaced them not too long before I bought her. Webmaster Note Marionette's cockpit drain hoses are the same - heavy black rubber exhaust hoses that clamp over the thru hull fitting - I check the hoses regularly - they seem fine - I worry about the thru hulls as I have never removed the hoses from the thru hull fittings. I have removed the ss hose clamps but I can't get the hoses off the fittings - they seem 'bonded'. The base of the fitting in the hull seems ok but I wonder about how the 'metal' tube part I can't see is holding up.......

Last summer I had to replace one of the cocpit drain fittings. A lot more water would have gotten in the boat if I hadn't fixed it... I'll try to head over there Saturday.

\-- scott

Webmaster Note: As this subject can only add to our list of sleepless nights issues we have added this Aviva segment to our Technical Section on hoses. Click here to go there.
***************************************
January 9, 2018. Having received a report from Stephanie Lucas (Adelante) about water in Aviva's cockpit, and emailed Craig, we are standing by.......
Postscript

Thanks, I'll come by tomorrow and get her cleaned and drained.

Much thanks!

-_Craig

*****************************************
July 12, 2021 A lot of water has passed under our transoms since we last heard from Craig. But the phrase 'no news is good news' applys here.
Hello Ron,

I've been lurking on dolphin24.org for years -- but as a fairly private person, never wanted to stand up.You and I chatted a few years ago, when my Dolphin (Hull #82) sank at Alameda Marina. I promised I'd rebuild her, and finally, after a more than a few years work -- she's essentially done. In fact, she goes back in the water this Tuesday (July 13), but now in Everett, Washington.

I took a photo log of the trails and tribulations on getting her (via trailer) from California to Washington at the start of the pandemic, and then the last year being rebuilt. Anyways, over the coming week, I'll try to get you a presentable photo log, so others can see some of the many hard choice to be made when refurbishing a 50+ year old beauty.

I'll reduce the size of some current images and send as a separate email.

BTW, just to warn you -- I got a _bit_ gadget obsessed when rebuilding, but hey, this is my first and forever boat. She deserves some bling.

-Craig

Whew!!!!

*************************************