April 20, 2018. Chris Young has checked in as the new owner of Spectra, Yankee #78. We stand by for his first report and pictures, and pending a new photo we will use this 'file' photo.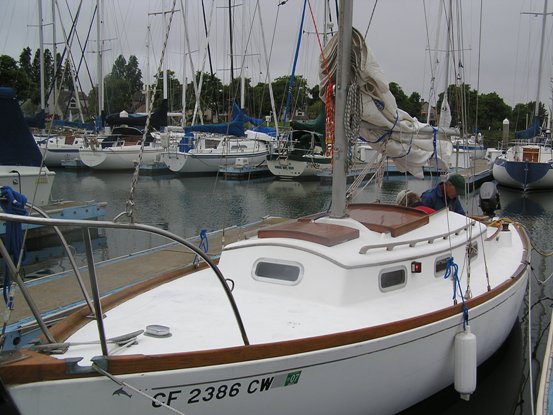 Click here for the history we have on Spectra up until this point in time
******************************
July 17, 2018. Responding to a webmaster followup we got the following update from Chris. BTW - Chris is a kayaker - this is his website San Francisco Kayak and Adventures - https://www.sfkayak.com/
Hi Ron,

"Spectra" is still coming along. Like all boat purchases, I now have a much better idea of all the neglect, triage of work to be done, some rough estimates of additional expense, and I am trying to keep a postive spirit and continued forward momentum.....One side project I'm working on is looking for a suitable and less expensive winter season trailer - slip fees are expensive out here ($260/mo), and I'd also like to get Spectra out of the water to attend to some of the more important bottom cleaning, swing keel inspection, and thru-hull inspection/work sooner than later.

A basic hull-out is about $400 for a Dolphin 24 and $60 in yard fees/day. So, a trailer purchase would be a better investment and perhaps allow for some local lake sailing if I can find something in decent shape and reasonably priced. Would you please let me know if something on the west coast surfaces! Thank you!! Will Do

I ran across this listing on ebay (below) while looking for some new Perko Door Button Latches (one of the more easly accomplished and lesser expensive projects! I find it's really important to cross one off every so often and get that WIN feeling of accomplishment! (Webmaster Note: for more on this door latch Click Here to go to the Technical Section - Hardware)

If anyone is feeling flush and needs that extra edge or at least the look of it - here's a full set of Carbon Race Sails that apparently fit a Dolphin 24 with furlers:

https://www.ebay.com/itm/Full-Set-RF-Carbon-Race-Sails-Like-New-/323349772483?oid=323301674720


Thanks Again! Your website is helping immensely to keep the dream alive and of course as a VERY USEFUL reference!

Cheers,


Chris Young

*********************
September 21, 2018. We got the following (detailed, and lengthy!) report from Chris - no pictures yet. POSTSCRIPT - Here are the Pictures!!!
Hi Ron,

Thank you for the check-in and your interest!! I wish I had more to report regarding a trailer but no progress there. I've looked at just a few locally but I haven't yet found that right match... fit, condition, and cost being the main balancing points within the consideration. Spectra will likely stay in the water for now (perhaps through winter season and her underside maintenance and thru hulls will continue to be a postponed maintenance project...) Perhaps, if my finances allow and the boat yard's day rates and hauling-out fees improve over winter season, I might get her out for at least a bottom scrape, quick clean up, and some roll-on ablative paint... we'll have to see how it goes...

I was hoping to do all this myself on a trailer at a more leisurely and incremental costing pace (especially for replacing the seacock valves) but no luck yet finding the right match with the trailer so far...Summer is for sailing, and that is what we mostly tried to do and did!! Although there was plenty of clean-up projects, some minor repairs and aethetic considerations- mostly toe rail stripping, sandings and stainings and some interior paint strippings and paint-touch ups, the focus from June on has been to get out often, enjoy the sun, wind, and to feel the joy of a full sail!!

It's been a pleasure to get to know my Dolphin 24, to receive all the hand waves and nods of approval from the salts that appreciate a fine line and classic, and to explore places on the SF Bay that my previous deeper draft sailboats did not allow for. The Dolphin's shallower draft and nearly full keel really is a lovely design feature on this pocket-cruiser!

I do so much Sea Kayaking Guiding for work on the SF Bay, and I've owned other small sailboat that were moored in different locations than Spectra. She is currently at Lock Lomond Marina (http://www.lochlomondmarina.com) in San Rafael.

Click here for a larger image

I've tried to make this summer about sailing mostly within areas that were unfamiliar. We did a good amount of sailing on/within the San Pablo Bay, and into the Delta region of the SF Bay, and out-to and along many of the North-Eastern parts of the SF Bay (near Napa, Sonoma, Vallejo, and up some of the rivers via motor- the Petaluma and Napa).

#78 Sails Again!

Sailing with First Mate Tai

Webmaster Note: Staff thought we should insert here a 'file chart' showing Spectra's home/cruising area. When time permits we'll update.

Red symbol marks San Rafael and the Loch Lomand Marina

I really tried to stay within areas that I've never explored via a sea kayak or another sailboat. It's been a fun, interesting, and educational addition to my knowledge and understanding of the greater SF Bay, its shorelines, and depth chartings... We only ran aground softly once even though we don't have a depth guage and the SF Tidal swing is close to 6 feet and we were exploring a good deal of time along shorelines and up/down the river areas...

Some fun updates:

- I bought a new red and white striped used spinnaker! The rigging layout is still in an experimental phase but I've mostly followed the advice given within the forum and will refine with more time and budget.

Summer time is usually too windy to set a spinnacker single-handed so I hope to play with it a bit more over the less windy fall and winter months!

Click here for a larger image

Click here for more info on this spinnaker

- first purchase for Spectra after she was purchased- early 1960s dealer Dolphin 24 brochure from ebay- cool find!

| | |
| --- | --- |
| - a bit of free advice presented in the way of an old life ring I found floating on the water way while in Alameda - "Live Free" | - $400 worth of outboard tuning, a new prop, and a NEW FOUND confidence in my outboard which is priceless! (prior to the tune, I had all sorts of problems with the outboard...) |

Click on the above photos for a larger image

- I also recently bought a pair of nicely dove-tailed jointed and varnished teak dorade boxes off ebay. They seem to fit well as imagined, yet I have yet to commit to drilling /cutting through the deck to install the vent tubes. I plan to measure many more times than once for the right fitting and brfore commiting to cutting through the deck. I'm also still looking for the proper interior to exterior vent tube and interior vent luvier products.

I plan to first gather all the parts and then do the first phase of securing the dorade box rails (how the box will attach to the deck) without making any major deck cuts until the dryer spring period... will see).

I'm anxious to get them on as they look so good but I also don't want to create a leak and water intrution problem leading into winter rains.....

Click here for a larger image

- Speaking of such, in preparation for winter and rains, I need to pull Spectra's sliding companion way hatch off for a repair as it has a nickle width 2 foot crack from someone (I think Phoebe!!) stepping directly on it. I've avoided further damage in this manner by purchasing and installing a used stainless steel companion way hatch arch.

Additionally this doubles as a jack line anchor point (I dont have stanchions and life lines on my girl so I use a harness and jack line to move about when out solo) and potentially this stainless arch will also act as a secondary companion hatch hasp locking point.

I'll let you know how goes... I found this arch at our local used boat chanderly (Dukes in Sausalito) it's basically a piece of 4 inch wide, 1/8th inch think, stainless steel bent to the rough contors of the companion way hatch with another 3 inch bend on each side for feet that allow for direct bolting to the deck with a 2 inch stainless bolt and rubber washer & nut combo...

Click here for a larger image

Specta has sailed well this summer! She has called Loch Lomond Marina in San Rafael home for the past 4 few months... I think she likes it much better than her former home at Fortman Marina in Alameda as she is admired often... yet it's a little too pricey for me to keep her there over the winter season when I'm making less money leading Sea Kayaking Tour...

I may end up moving her to an anchor-out mooring on Sausalito's Richardson Bay (just north of the Golden Gate Bridge) soon for the fall-winter season to reduce the slip fees.

Right - Spectra at her slip in Loch Lomond Marina

If I do this, I'll attach a simple solar battery tender to keep the battery charged for the bilge pump and I'll get much more practical use out of the 2, used, 35 lb CQR anchors I purchased for her this summer...I'm sure there is more to report on as it seems that, even though the balance was to favor sailing over dock-work, I Iikely spent nearly as much time aboard tied to the deck cleat...but she was certainly no dock queen or a never-sailed project boat this summer.....

That's all for now! Thanks again for your interest Ron!! I truly appreciate all your gatherings of information, interesting and useful sharings, and all the added joy, camaraderie, and pleasure you bring to being a Dolphin 24 owner and custodian!!

All the best,


Chris Young

| | |
| --- | --- |
| | This is what its all about |

Click on the photos above for larger images
********************************