July 25, 2019 - This season got off to a slow start - medical issues on the home front..... But here we are, now in Camden, Maine for the 4th running of Camden Classic Cup regatta - Marionette has been to all 4!
We'll start this with getting her ready for the Camden road trip leaving Old Lyme, Connecticut 6:30AM Sunday morning, July 21. This effort is referred to as my 'Garmin' project, a consequence of my failure to use my Garmin hand held navigation device while sailing in heavy fog on east Penobscot Bay - covered in some detail at the end of Marionette's 2018 log - click here to go there.
Click on the photos for a larger image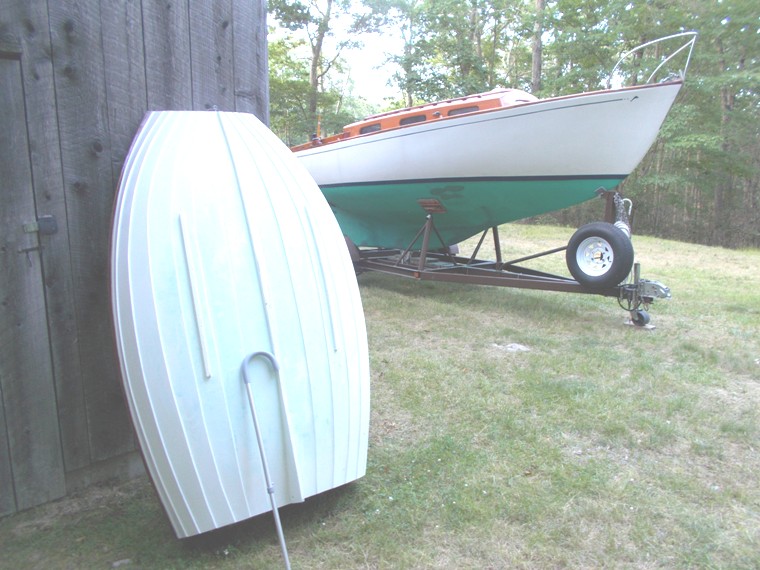 After the 'Garmin' repair, some bottom touch up, plus a few small projects including some attention to 'her dinghy, 'TEER, and TLC for her mast, and loading the sails, cushions, tools, galley supplies, dock lines, etc., etc., we're almost ready.

That cane leaning against the dinghy above is supportive of a webmaster left knee that also needs attention.

Anyway, we got it done and here she is (photo below)on her way down the driveway, webmaster following her all the way up into Maine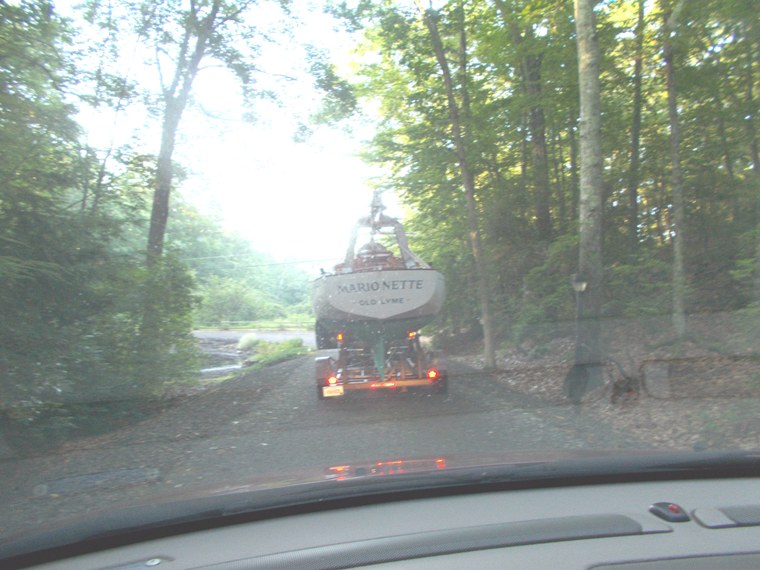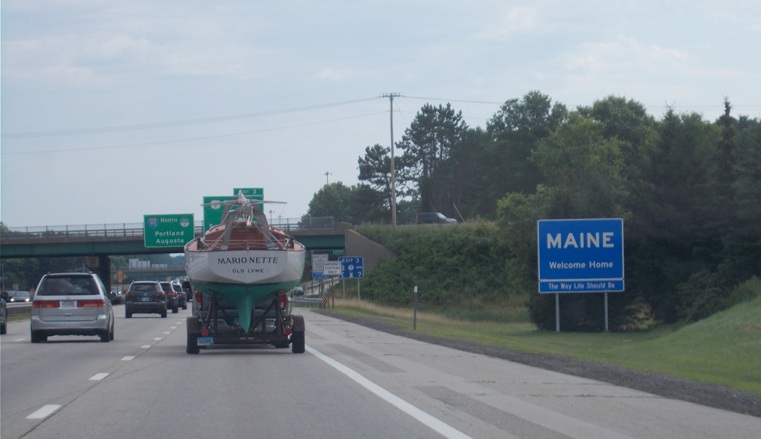 | | |
| --- | --- |
| | Arrived in Camden 12:30 on Sunday, placed her neatly under the crane at the Lyman Morse boatyard, then got her ready for launching and mast stepping |
Then lunch (Damariscotta Oysters) at the Rhumb Line Restaurant right there on the dock. Lots of work to get the mast ready, sails, lifelines - I could go on.....Got a neat, walking distance, room at the Inn on Camden Place - asleep by 8PM, up at 5AM Monday morning and launched by 9:30AM.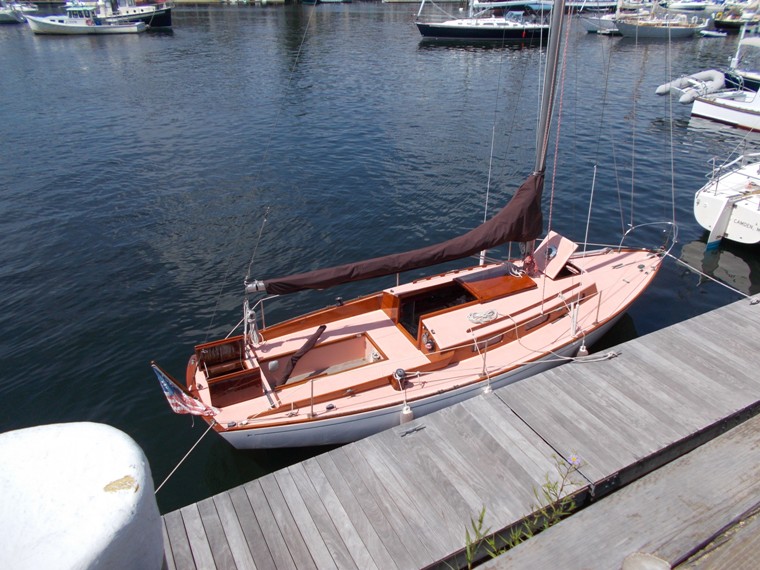 The deck color IS NOT PINK! - Its RED OCHRE!!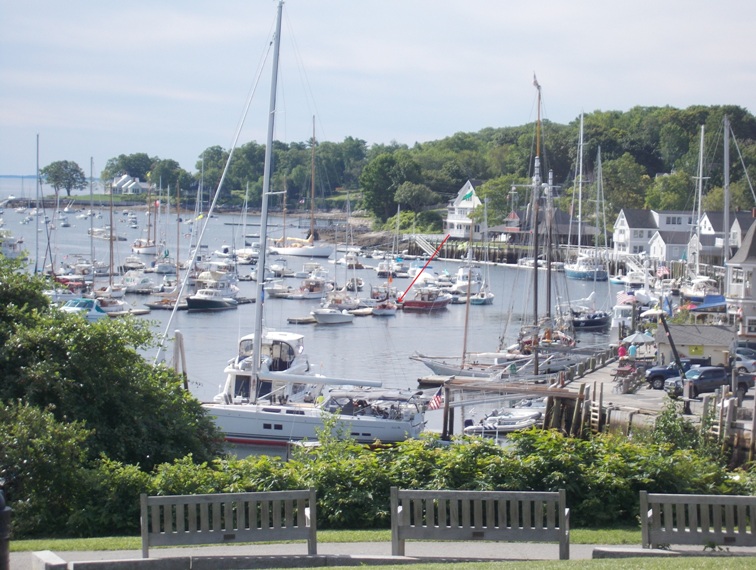 Above, the view of the inner harbor from the Camden Library lawn. Marionette? - follow the thin red line.....
Click on the photo for a larger image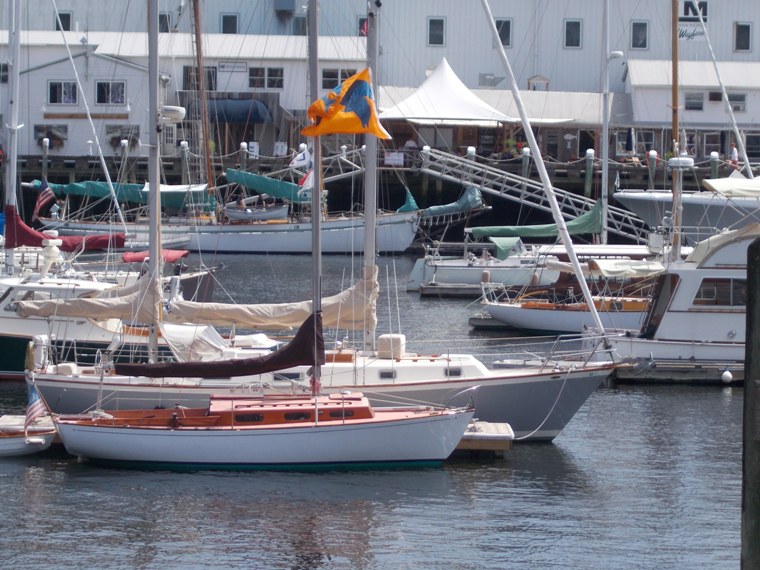 And here she is on that same harbor float flying her Dolphins Battle Flag - click here for a larger image
to be continued
August 3, 2019. Well, its over! Racing, parade, Incredible party at the Camden Yacht Club, awards presentation and fireworks to end the regatta, Marionette and DOLPHIN battled each other in 2 days of close racing in strong breezes with Marionette finishing 6th overall in their racing class and DOLPHIN finishing 7th. This gives Marionette bragging rights and the 2019 Dolphin 24 New England Championship trophy, Click here to go to our webpage about this regatta and Click here for a link to the overall results on the regatta website,
Below a photo of the Dolphin 24 trophies on display at the Camden YC.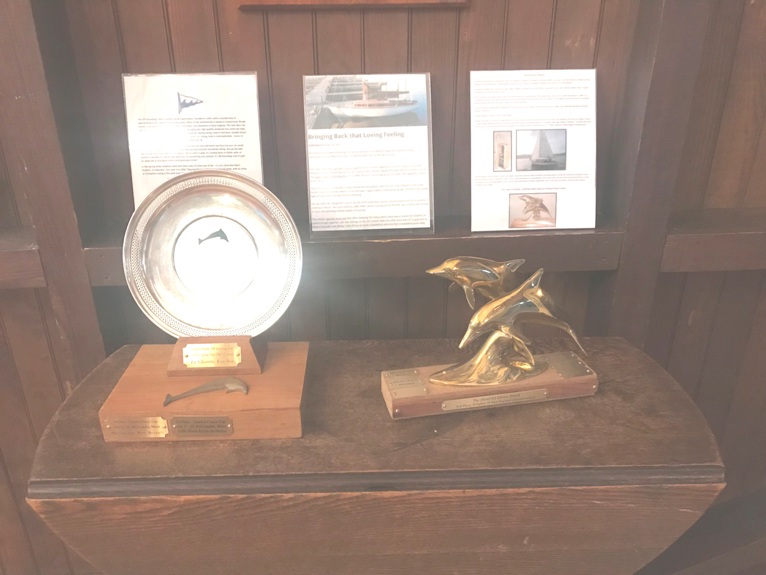 We would be remiss if we failed to include a few regatta photos. Here are some.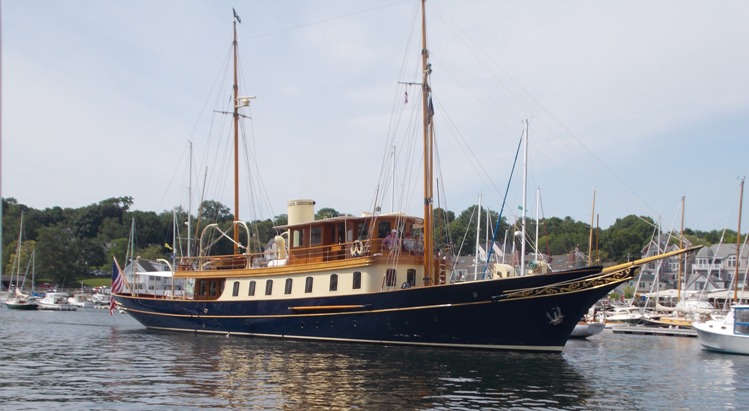 The Race Committee Boat
The parade - 70+ boats - lots of crew...click on the above photos for a larger image
to be continued
August 6, 2019 Allison Langley's video of the regatta got a neat shot of Marionette, double reefed with her blade sail set on a pole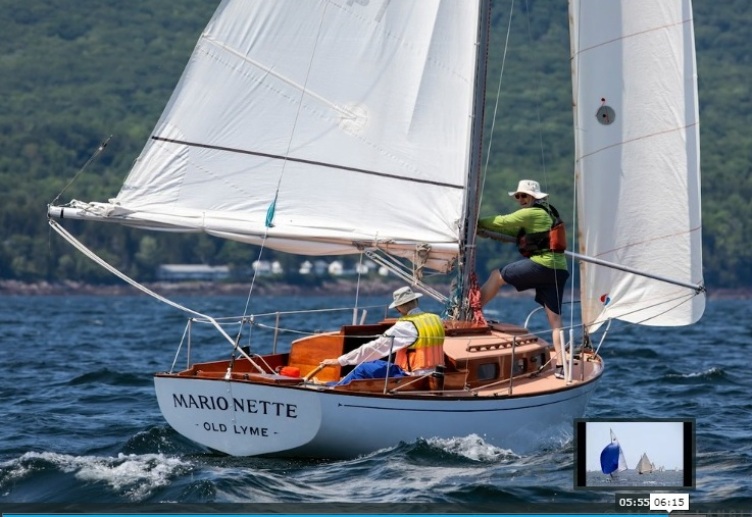 **************************