July 25, 2019 - This season got off to a slow start - medical issues on the home front..... But here we are, now in Camden, Maine for the 4th running of Camden Classic Cup regatta - Marionette has been to all 4!
We'll start this with getting her ready for the Camden road trip leaving Old Lyme, Connecticut 6:30AM Sunday morning, July 21. This effort is referred to as my 'Garmin' project, a consequence of my failure to use my Garmin hand held navigation device while sailing in heavy fog on east Penobscot Bay - covered in some detail at the end of Marionette's 2018 log - click here to go there.
Click on the photos for a larger image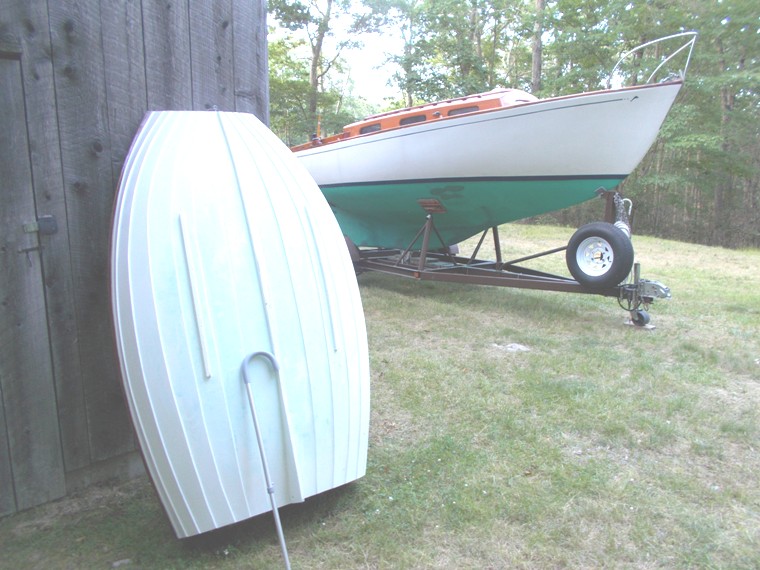 After the 'Garmin' repair, some bottom touch up, plus a few small projects including some attention to her dinghy, 'TEER, and TLC for her mast, and loading the sails, cushions, tools, galley supplies, dock lines, etc., etc., we're almost ready.

That cane leaning against the dinghy above is supportive of a webmaster left knee that also needs attention.

Anyway, we got it done and here she is (photo below) on her way down the driveway, webmaster following her all the way up into Maine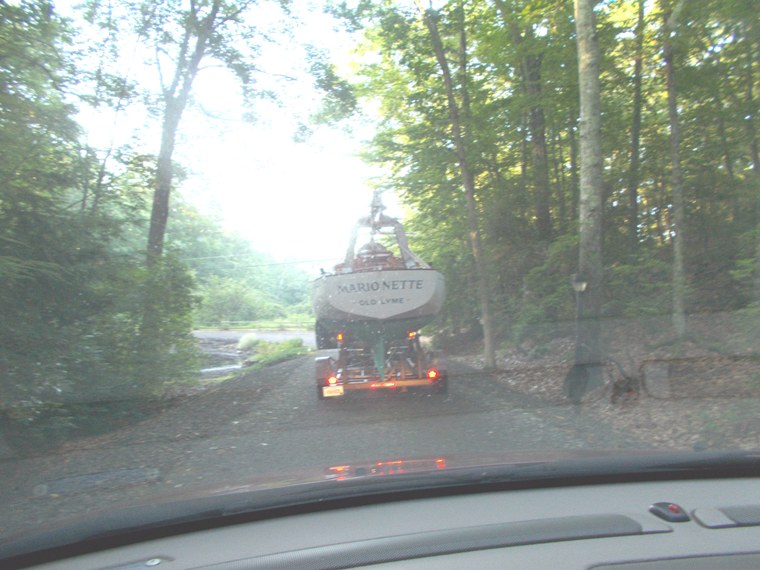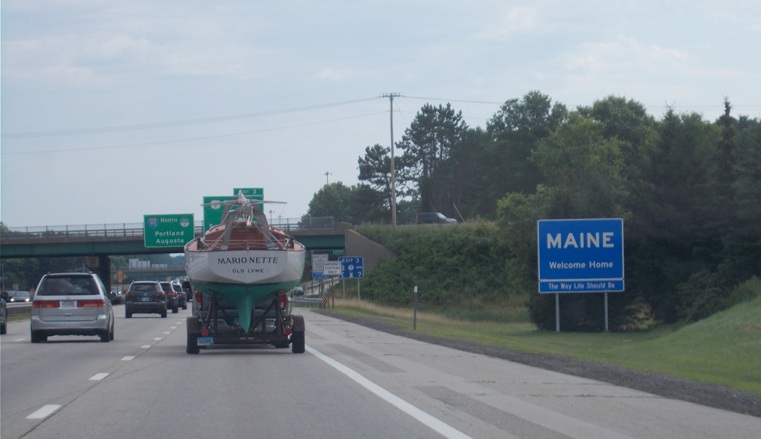 | | |
| --- | --- |
| | Arrived in Camden 12:30 on Sunday, placed her neatly under the crane at the Lyman Morse boatyard, then got her ready for launching and mast stepping |
Then lunch (Damariscotta Oysters) at the Rhumb Line Restaurant right there on the dock. Lots of work to get the mast ready, sails, lifelines - I could go on.....Got a neat, walking distance, room at the Inn on Camden Place - asleep by 8PM, up at 5AM Monday morning and launched by 9:30AM.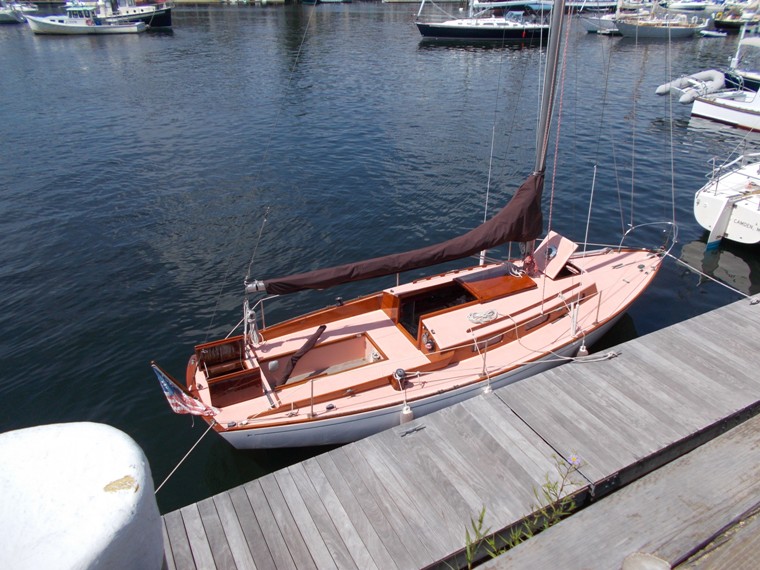 The deck color IS NOT PINK! - Its RED OCHRE!!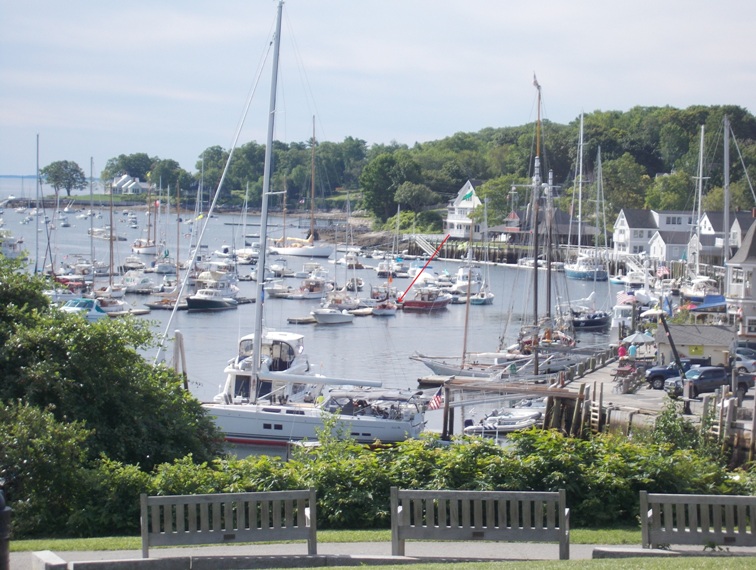 Above, the view of the inner harbor from the Camden Library lawn. Marionette? - follow the thin red line.....
Click on the photo for a larger image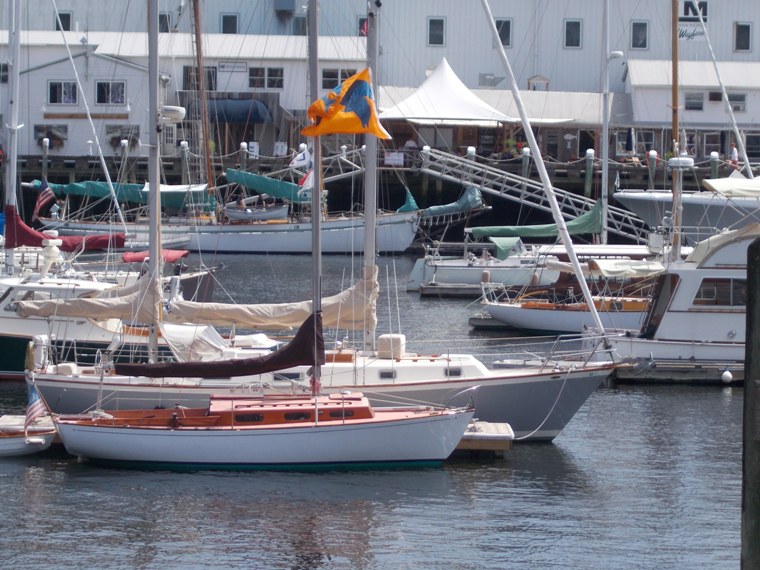 And here she is on that same harbor float flying her Dolphins Battle Flag - click here for a larger image
to be continued
August 3, 2019. Well, its over! Racing, parade, Incredible party at the Camden Yacht Club, awards presentation and fireworks to end the regatta, Marionette and DOLPHIN battled each other in 2 days of close racing in strong breezes with Marionette finishing 6th overall in their racing class and DOLPHIN finishing 7th. This gives Marionette bragging rights and the 2019 Dolphin 24 New England Championship trophy, Click here to go to our webpage about this regatta and Click here for a link to the overall results on the regatta website,
Below a photo of the Dolphin 24 trophies on display at the Camden YC (Photographer in training.....).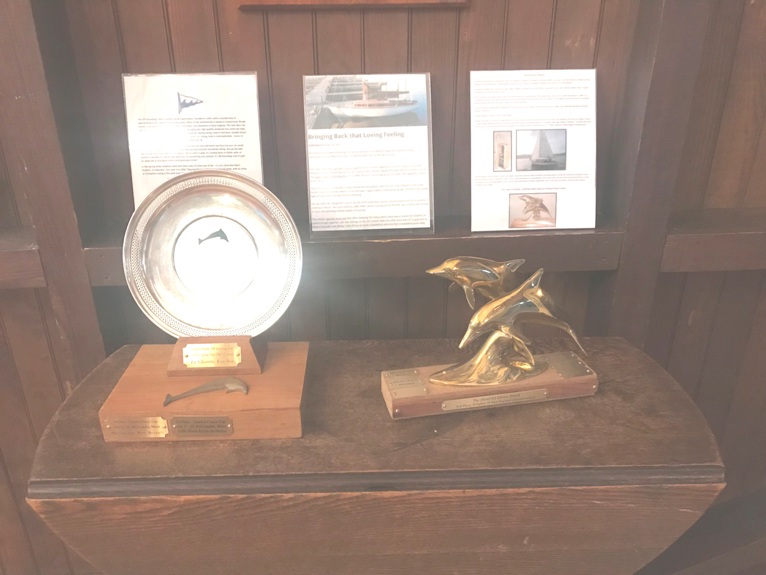 We would be remiss if we failed to include a few regatta photos. Here are some.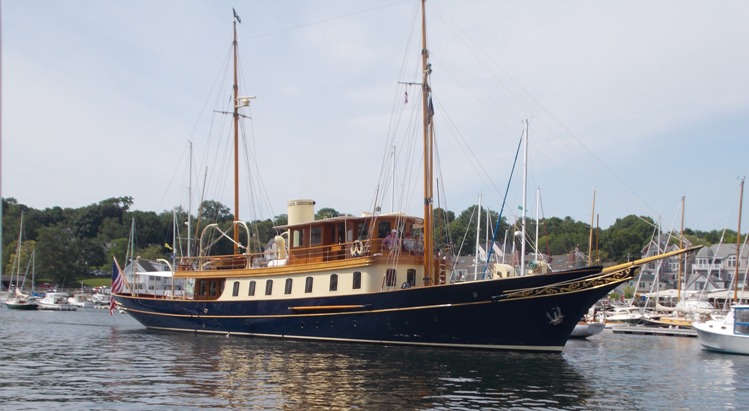 The Race Committee Boat
The parade - 70+ boats - lots of crew...click on the above photos for a larger image
to be continued
August 6, 2019 Allison Langley's video of the regatta got a neat shot of Marionette, double reefed with her blade sail set on a pole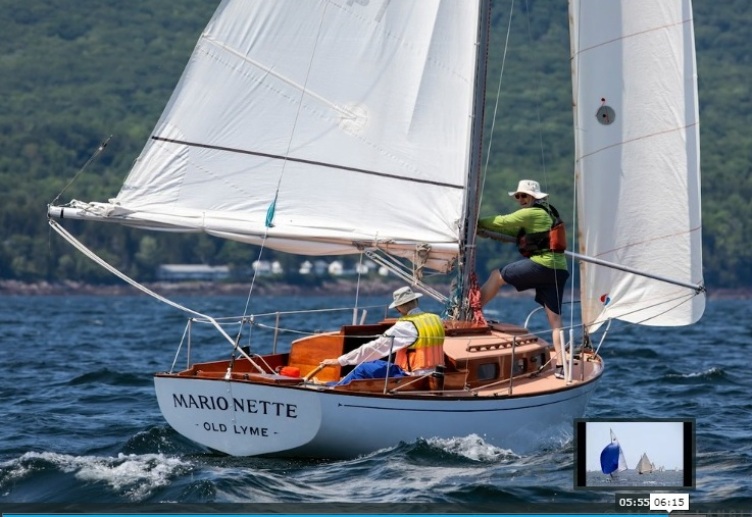 **************************
| | |
| --- | --- |
| September 3, 2019. You never know where, or how, Marionette will insert herself in your life. Here's one. So, last Wednesday, August 28, your webmaster was doing his routine (over 10 years and counting) setting up for the Wednesday Bridge Club at the Old Saybrook Pavillion at the mouth of the Connecticut River - typically 10-13 tables with cards, bidding boxes, etc. for the usual 40-50 players. Marionette dips her rail when passing by every Spring (launch) and Fall (haul) on her way to/from Hamburg Cove further up the river. and Niantic Bay YC, her home port. | |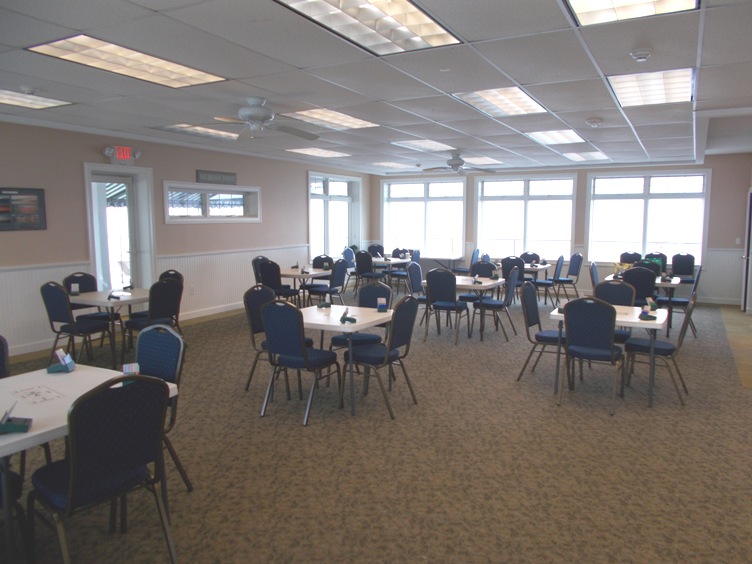 Looking out the window of the Pavillion (above) overlooking the CT River at 8:30AM what did I see at the dock next door?
Above - The transom of a 'classic' wood boat with a main mast reaching up into the stars.

A quick walk to check her out and what did I see?

Above - BOLERO, the classic S&S design #711 built by Nevins Boatyard.
The picture, above right, was from a 2004 file taken at the S&S 75th Anniversary at Mystic Seaport where BOLERO won top prize for Best Restored Yacht. Marionette was in this competition representing the Dolphin 24 Class.
Above - John Rousmaniere inspecting Marionette at the S&S 75th Anniversary reunion

How did Marionette do?

Your Majesty, "there is no second". This four-word phrase on an August day in 1851, 168 years ago, still exemplifies the America's Cup and its winner-takes-all pursuit of excellence.

The reply came in response to Queen Victoria's question from the Royal Yacht about which boat was following in second place as a schooner named 'America' suddenly broke through the mist to sail swiftly past her majesty and onlookers alike.
BOLERO S&S Design No. 711 - launched in 1949, built by Nevins Boatyard, the 73-foot BOLERO achieved dominance on the offshore racing circuit, winning the Newport Bermuda Race in 1950, 1954 and 1956—and setting a course record that lasted nearly two decades.

BOLERO was designed and constructed for John Nicholas Brown, then undersecretary of the U.S. Navy and vice commodore of the New York Yacht Club. Brown's passion for excellence in craftsmanship and seaworthiness, combined with the Sparkman & Stephens approach to innovation and excellence, made BOLERO one of the most renowned yachts in sailing history.
Above left is a Billy Black photo of BOLERO from Cruising World magazine; above text from the S&S website
Postscript Webmaster Note: Marionette's season is over. Hurricane Dorian is not going to push her around. She is safely in her barn.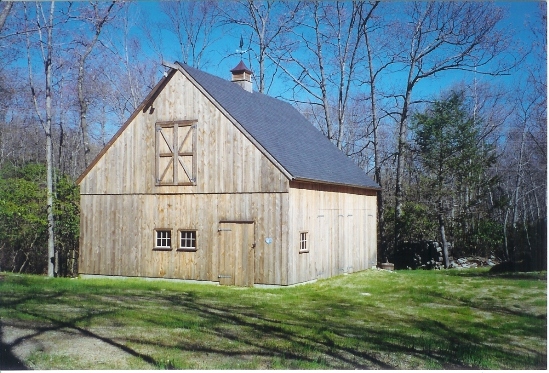 **************************************
.