Hello Ron,

My brother, Dick Goff, found the Dolphin 24 website. It is very interesting. Our father, Adelbert Anthony Goff, bought a Dolphin 24 from O'Day in Fall River in 1960 (maybe 1959). He bought hull number 5, both the hull and deck. He finished the interior. The boat was sold in 1973, the year my father died. We don't recall who our mother sold her to. The boat was named Marango, after my mother (Marion) and father (Anthony) and then Go for Goff. She was sailed out of Coles River in Mount Hope Bay/Narragansett Bay.

She was raced in the NBYA regattas and the 2000 club races. She was often top of her class and sometimes top in all classes. (These links shows she placed first over all in the

1960 Sheldon Trohphy, http://twentyhundredclub.org/sheldon-trophy/,

1966 Newport to Cuttyhunk, http://twentyhundredclub.org/cuttyhunk-trophy/,

1970 Brenton Trophy http://twentyhundredclub.org/brenton-trophy/

I am sorry to say that I can not find history on the NBYA racing results back to the years 1960 - 1973. But we have many trophies from that period from NBYA participating yacht clubs. I am confused about hull number 5. There seems to be more than one. I am attaching a picture of Marango from 1963. She was a blue hull from the factory. I love your web site. Thank you for the nice trip down memory lane.

Nancy Goff Duell

Click here for a larger image

Postscript

Thank you for the very nice reply, Ron. I have included my brothers on this email and they may be able to fill in some details.

My dad originally had a motor in the well but later installed a Palmer inboard. Heaven knows if there would still be signs of the hole in the well. Also, I believe all of Marango's sails were made by Thurston of Warren RI. It seems unlikely any original sails would remain, though. Thank you again. We look forward to solving this mystery and possible learning about Marango. We all loved her and sailed/cruised/ raced her as a family

pps (edited)

That picture (below right) of Greyling with spinnaker) looked just like Marango. I had to get a picture of Marango with spinnaker to prove it was not her!
Above - Marango's 5 is in the blue section

Right - Greyling's 5 is below the blue section
Dolphin24.org staff conducted some research on the Hull #5 question. Greyling/ROWDY was given #5 because Greyling had a mainsail and spinnaker with the #5 on it. There was no nameplate so it was a leap of faith that she was hull #5. Back in those days control of sail numbers was non existent, and owners had all kinds of numbering systems....Sometimes owners sold their old sails when they got a new one, and that next boat carrried that old number.
We have spoken today with Jim Caukins who restored Greyling and he advised me that he never bought any used sails for Greyling - Jim is a young 93 and believes the sails with the #5 were on the boat when he got her off the rocks in Marblehead, MA in 1962. I have not yet been able to find the person who owned her before Jim - but I think its safe to assume he/she was the original owner, and probably these sails were the first set of sails for this boat.
The current owner, Jerry Slaughter (ROWDY) is doing a major restoration on this boat and has not found a builder's nameplate, so this boat became #5.
There is some question about Hull #4 as well.
Then there is the question of boats sold as completely finished boats, their hull #s clearly identified, usually with a nameplate, sometimes missing - and those unfinished boats bought as 'kit boats' - hulls/decks/cabins like Marango and finished by the owner. Marionette, this webmaster's boat, was originally a kit boat, no nameplate, and has carried Hull #12 for 55 years... so far, no questions raised....
We'll keep working on this, but in the meantime we need to find Marango - any leads much appreciated.
Stay Tuned
July 30, 2015 Nancy's brother Bert sent in the following picture and comments.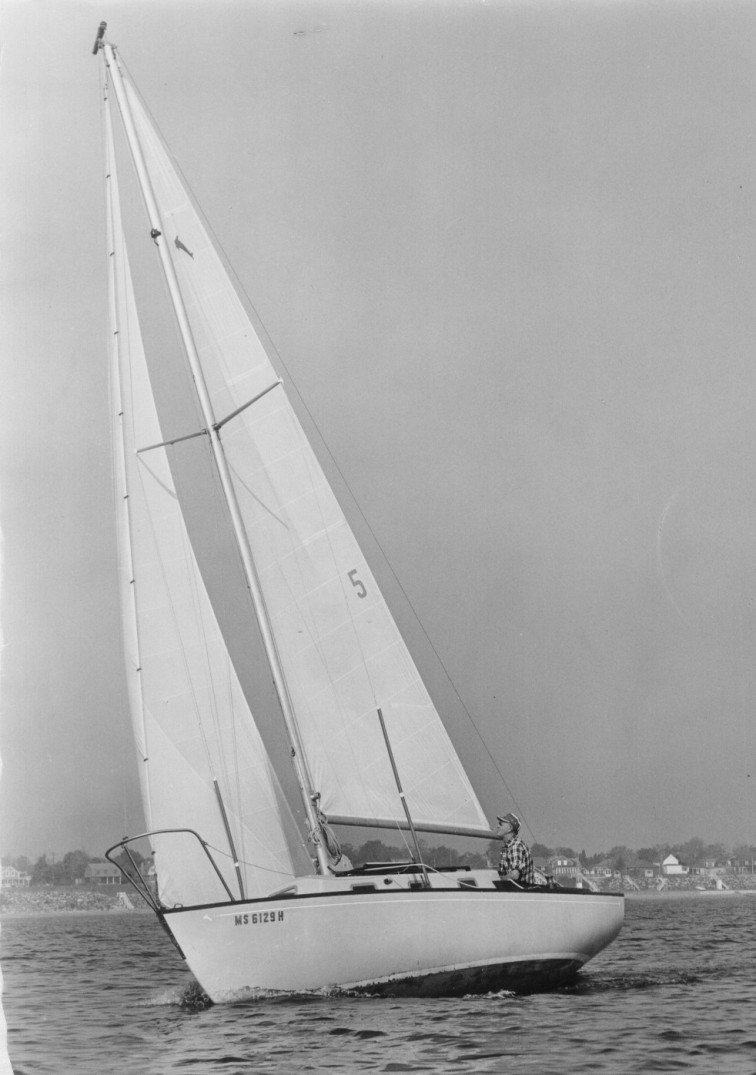 Ron,

I am one of Nancy Duell's brothers (the oldest one). I have attached a scan of another picture of Marango with my Father, Adelbert ("Tony") Goff at the helm. Ed Thurston, the owner of Thurston Sails in Warren, RI had a professional photographer take some pictures of Marango, including this one. The genoa in the picture was brand new.

Thurston had made the sail from a new sailcloth that he was experimenting with. The sailcloth was a synthetic, very similar to Dacron, but made by a Dupont competitor; sadly, I do not remember the name. Anyway, that is what lead to the photo being taken. The photo was taken in Mount Hope Bay and the Touisset, RI highlands (part of Warren, RI and bordering Swansea, MA) are in the background.

That genoa worked extremely well for us as it was always used in our family based racing. The most common crew in the early 60's was our Father as Skipper and Dick, Nancy, and myself as crew. Our Mother loved to sail, but preferred to avoid racing. You mentioned the cabin top rails. Yes, our Father designed and constructed them. He was a mechanical/manufacturing engineer and very talented as the finished Marango showed.

Thank you so much for a great web site.


I find it interesting that Marscot is listed as in Fall River, MA. I am almost positive that we took delivery of Marango on Riverside Ave in Somerset, MA (which looks across the Taunton River at Fall River) and I thought it was molded there also. The boat yard was located pretty much where Google maps shows Fortier Boats, 34 Riverside Ave. Interesting that Google labels the river as "Three Mile River"; I had never heard it called that but then I moved away in 1967. Maybe Marscot had their office in Fall River.

Bert Goff
Webmaster Note: Check out http://dolphin24.org/oday_plant.html Things were pretty 'fluid' in those days....
**************************