June 8, 2013. Today, we talked to Jim Caulkins, 91 years young, and living in Morristown, New Jersey. We had a great conversation and expect to talk again. Jim will look through his papers and photos, and will send in what he can find. Up to today, this is what we have on the still developing story of Greyling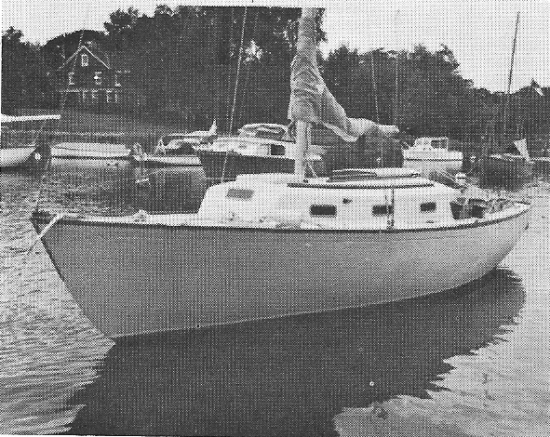 Greyling - note the high front portlight, no pulpit or lifelines
We originally found Greyling in the early days of this website when we were doing our research at S&s offices in New York City late in 2006. A later owner of Greyling, Stephen Romaine then of Roslyn, New York, had an exchange of correspondence with Olin Stephens in December, 1967 about the several hundred lbs of extra ballast she carried. A copy of this letter was found in S&S's files. Click here to see the letter.
*******************************
December 29, 2007. Thanks to Doug Berg, crew on his father Roy Berg's Black Dolphin, we have a part of Greyling's story. Doug sent me a book from his father's library, stamped on the inside cover Lunn Laminates where Roy was an engineer, and was to become its chief engineer. Lunn built 25 Dolphins in 1961 under sub contract from O'Day. The book is Fiberglass Boats, Construction and Maintenance, a Yachting book by Boughton Cobb, Jr, published in 1965. The author dedicates all of Chapter 12 (Chapter 13 in later editions) to a case study of fiberglass repair and rebuilding systems, and a restoration project successfully carried out by an amateur. The amateur was a Jim Caulkins from Darien, Connecticut, and the boat was Greyling. This story is summarized below.
| | |
| --- | --- |
| | In the summer of 1962 Jim was looking for a second hand fiberglass auxiliary and decided that this should be a Dolphin 24 which was establishing its reputation on Long island Sound and southern New England. He found Greyling up in Marblehead, MA but, before negotiations were completed, she became the victim of a September gale. Jim was discouraged but after careful consideration he decided it was a worthwhile repair project, and made an offer which was accepted. |
Greyling's mooring line had chafed through during the night and she was cast ashore on sharp rocks. Her damage was largely below the waterline with a large puncture, deep gouges and her rudder was torn away. The salt water had made a mess below and the Palmer engine had been completely immersed. She is shown here with the major damage area cut away.

While the damaged area was much smaller than the size of the cutaway it was necessary to cutaway a large area because the Dolphin hull was built with layer upon layer of heavy woven roving fiberglass fabric.
This construction has very high impact resistance but when it does yield failure is usually in the interlaminar plane which spreads out from the impact area. By contrast a solid chopped strand mat fabric will tend to shear perpendicularly without interlaminar delamination - but at a lower specific impact level. Later molded glass hulls were built of alternate plies of mat and woven roving which, among other advantages, tend to combine the best features of both lay ups.
| | |
| --- | --- |
| | The hull repair required making an interior mold against which the new hull laminates could laid. As the Caulkins' cellar was too small for the job this mold was made in Mrs Caulkins' dining room - which has to earn her nomination for the outstanding spouse award in Dolphin history. |
Jim carried out several improvements to Greyling, some necessitated by damage to the interior joinery, but others new to the boat. These are covered in substantial detail in the book and include an integral fiberglass water tank in the bow below the forward part of the v-berth, a new wood cored fiberglass rudder to replace the original aluminum one destroyed in the gale, a new lazerette hatch, a lightning grounding system and a new epoxy paint job. In a later project, one many of us know well, he removed the toe rail completely, rebedded the hull/deck joint with a thiokol based bedding compound and refastened the toe rail. Click here to go to excerpts covering these changes.
| | |
| --- | --- |
| | When she went back into the water Greyling was better than new. In fact, Jim, in an un-intentional attempt to prove the integrity of the hull repair, promptly went aground on a mud gravel bank on an out going tide. Greyling came to rest on her starboard side taking some sharp bumps from the wash of passing boats - and she passed her test. |
At this point we were still looking for this boat
April 23, 2012. We have made contact with Steve Romaine, who bought Greyling from Jim Caukins, and we have set up a new page for her - click here to go there. We also have been in touch with the Marblehead Harbormaster and all the yacht clubs in Marblehead looking for Greyling's owner while she was there - trying to find out more about this boat.
DFI Doug Berg, recognizing the need to have the webmaster's library include a copy of Boughton Cobb, Jr's Fiberglass Boats, Construction and Maintenance, sent in a copy. This book, originally published in 1965, was a one of the first to address the unique, at that time, construction and maintenance issues involving fiberglass in boats. This particular copy was the 3rd edition, published in 1969. All of Chapter 13, titled A large Hole in a Small Boat dealt with the restoration of Greyling.
| | |
| --- | --- |
| Book Cover | 1st Page (of 15 pages), Chapter 13 |
This book (used, good condition, paperback) was available for $3, plus postage, on Amazon.com
************************************
The Abbot Public Library in Marblehead, responding to our plea for information, advised us this morning that the October 11, 1962 edition of the Marblehead Messenger, a weekly newspaper, had a photo caption that read
"Hundreds of boats in Marblehead Harbor were swept from their moorings during the Northeast storm of September 21 causing thousands of dollars in damage. The first major storm of the season with hurricane force winds and heavy seas pounded and battered small craft and large yachts against the shore and rocks. Seen here several boats at Riverhead Beach and along the Causeway wall during the height of the storm, Friday morning." (Photo missing)

*******************
May 29, 2013. With the help of Boughton Cobb Jr's book we think we have found Greyling. Click here to go to ROWDY, San Antonio, Texas
************************
June 8, 2013. This story is going to come in bits and pieces. During your webmaster's conversation with Jim Caulkins yesterday he said that Boughton (Tony) Cobb, Jr was a good friend and neighbor living down the street. Tony, who has passed away, worked as a product manager for Owens Corning, a major supplier of fiberglass. He was concerned that fiberglass boats that were damaged were not being repaired as owners did not have the know how to repair them. Jim said that Tony was instrumental in convincing him to buy Greyling, and in fact, helped with the restoration effort.
The 'large hole', according to Jim required a new molded section, about 2' x 12', which was supplied by O'Day. Jim worked for American Cyanamid, a producer of resins used in fiberglass production, so he himself had some know how to bring to the project. Jim advised that a magazine called US Plastics did a story at the time on the restoration, also written by Boughton Cobb. If Jim can find his copy he'll send it in.
**************************
November 22, 2013. Today has been a busy, and coincidently interesting day for #5. Your webmaster received a phone call from Jim Caulkins. He had not been in touch as his wife was ill and passed away four months ago, and he was just getting around to follow up on some loose items - like his note to himself to call me about Greyling. We reviewed where we were with ROWDY and have started to try and get the name of that guy who owned Greyling up in Marblehead. He mentioned that Tony Cobb actually went up with him to see the boat which was still laying on her side on the rocky beach when they got there.
To Be Continued