We have been holding this spot for a picture of Steve Romaine's Greyling, and on May 31, 2031 we got this one. Worth waiting for!! Steve says it was taken during a single handed race in the middle of Long Island Sound. He believes the race was run by the Seawanaka Corinthian Yacht Club in 1969 or 1970 off Center Island, Oyster Bay, Long Island, New York. One of the turning marks was about half way to Connecticut.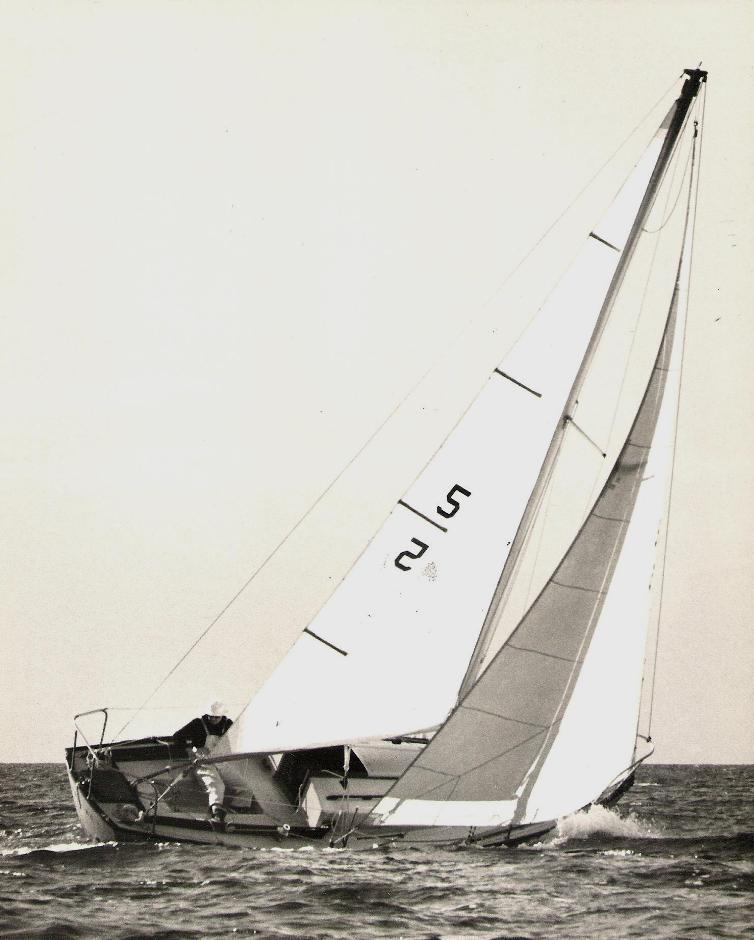 During a review of Sparkman & Stephen's files in New York City in March, 2007 your webmaster found that a former Greyling owner Stephen Romaine of Roslyn, New York, had an exchange of correspondence with Olin Stephens in December, 1967. It was about the several hundred lbs of extra ballast she carried. A copy of this letter was found in S&S's files Click here to see the letter.
Thanks to Doug Berg, crew on his father Roy Berg's Black Dolphin, we have a part of Greyling's story. Doug sent me a book from his father's library, stamped on the inside cover Lunn Laminates where Roy was an engineer, and where he was to become its chief engineer. Lunn built 25 Dolphins in 1961 under sub contract from O'Day. The book is Fiberglass Boats, Construction and Maintenance, a book by Boughton Cobb, Jr, published by Yachting in 1965. The author dedicates all of Chapter 12 to a case study of fiberglass repair and rebuilding systems, and a restoration project successfully carried out by an amateur. The amateur was a Jim Caulkins from Darien, Connecticut, and the boat was Greyling. Webmaster Note: This book is now on our Recommended Reading List.
In the summer of 1962 Jim was looking for a second hand fiberglass auxiliary and decided that this should be a Dolphin 24 which was establishing its reputation on Long island Sound and southern New England. He found Greyling up in Marblehead, Massachusetts but, before negotiations were completed, she became the victim of a September gale. Jim was discouraged but after careful consideration he decided it was a worthwhile repair project, and made an offer which was accepted.

That story is summarized on Jim Caulkins Greyling page - click here to go there
We have been looking for Graying with our classical, on and off effort, and on April 12, 2012 made contact with Stephen Romaine who is now in Florida. He was unaware of the Dolphin24.org website and is looking forward to telling us about his boat. He mentioned that he raced Greyling successfully, and single handed her as well. She had a beautiful custom interior which was a major reason he bought the boat. He bought her in 1967, and sold her in 1971, to a couple of guys who kept her out at Shelter Island in New York.
We will stand by for more information and photos from Steve. We also have been in touch with the Marblehead Harbormaster and all the yacht clubs on Marblehead looking for Greyling's owner while she was there.
**************************
May 29, 2013. These things take a while but we believe we have found Greyling - we think she is now Jerry Slaughter's Rowdy in San Antonio, Texas. We have been in touch with Steve who has added a few details, and is sending in some pictures.
*****************
May 31, 2013. Steve sent in the following emails (consolidated, excerpted and edited) followed by the pictures below taken in the late 1960's. We'll try and get Steve to get us the proper captions. The first picture, a winner, is the one at the top on this page. Steve has been helping us determine if ROWDY is, in fact, Greyling. Hopefully, these pictures will help us confirm this.
Hi Ron,

Greyling had a retrofit metal support in the cabin, inside below the deck step plate for the mast. Jim Caukins customized the interior with lots of brightwork , etc making her special.The most noteable thing from the photo you sent me was that Greyling had a blue fiberglass deck and cabintop - this boat does not. She also had a bronze centerboard. Does this boat?

That main could be my old main that I had Sandy VanZant build - does it have a zipper along the foot? Sandy likely did not put the Dolphin on the sail. Does the spinnaker have some paint spots? The aft lazerette hatch was brightwork and looked great in those days. She was always #5, as far as I knew , and she was always Greyling. I owned her from 1967 to 1971.

Hope this is a little helpful. I will try remember more and get you photos of when I had her.

Steve

ps Yes, I put the pulpits and lifelines on Greyling. Jim Caulkins, as I remember it, was a member of American YC in Rye, N.Y. I picked up the boat in Rye and sailed her to Manhasset Bay. Hope this is helpful. Thanks for returning my photos.


Webmaster Note: Many of Steve's questions/comments are addressed on ROWDY's page.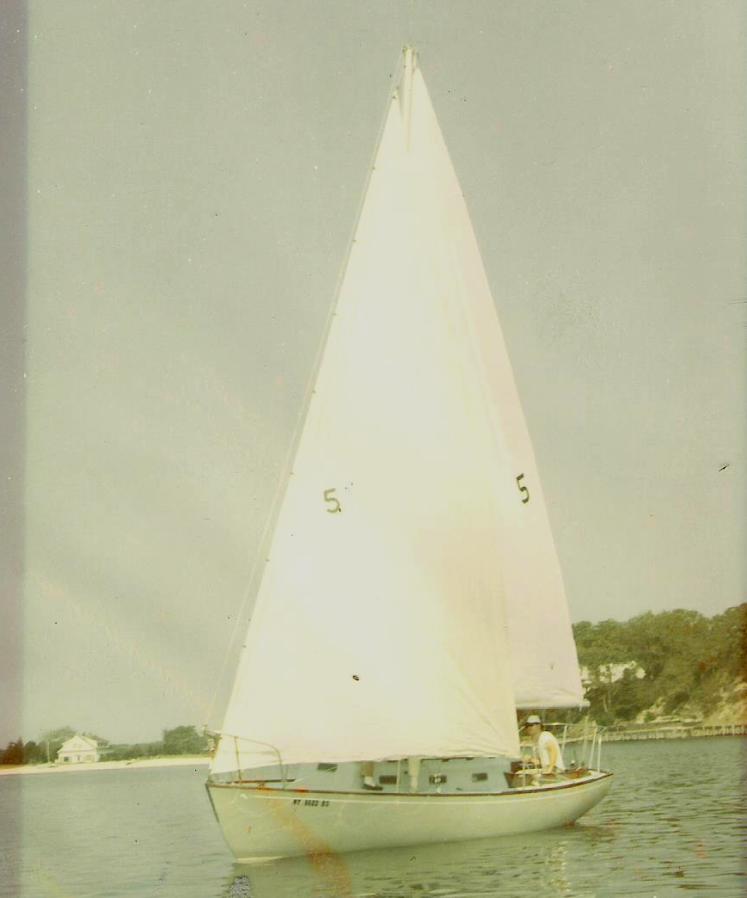 Old Cove, Nassau Point, New York, 1969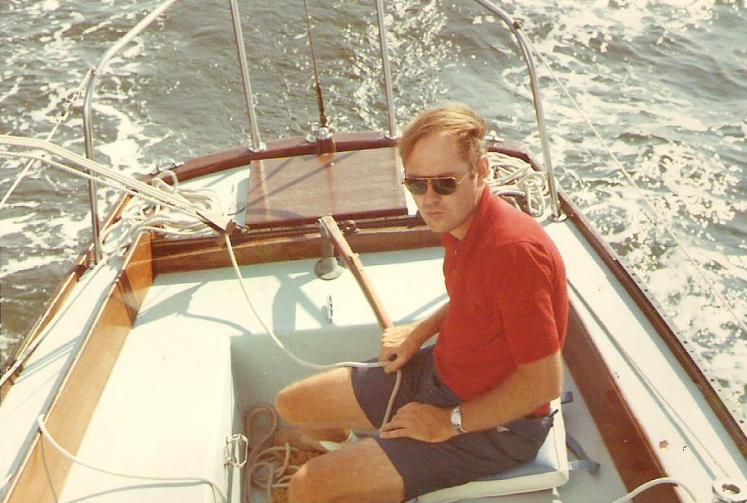 hmmm....wonder who this is

Stay Tuned