November 15, 2016

.

So, in June this year your webmaster got an email from a woman named Sue who lived in Maryland

.

Seems like she had found this black and white photo in an antique store, decided she liked it, decided to do some research, found our website and...
I have a vintage photo ref below and am wondering if there is any interest for something like this. I am visiting Newport this week ...don't know your location but if nearby could show it to you. If interested, please call me.

Thank you

Sue
So, your webmaster could not make it to Newport, and a few weeks later the above 11" x14" black and white photo arrived by mail. What's a Dolphin webmaster to do?
We sent an email copy out to a few old salts in the New London (Connecticut) area, and to the local marinas and historical societies. Nope. Then, with the photo propped up on the desk as a dailly reminder, early this month an email was sent to Chip Angell, owner of the Brooklin Inn and Pub up in Brooklin, Maine where your webmaster has been a regular on Marionette cruises to Maine. Chip is the former captain of the schooner/brigantine Yankee and an important source for material used in our story on Irv and Exy Johnson adventures in their Yankees.
Chip came up with the following photo and a 1949 Life Magazine story of a guy named Frank Morgan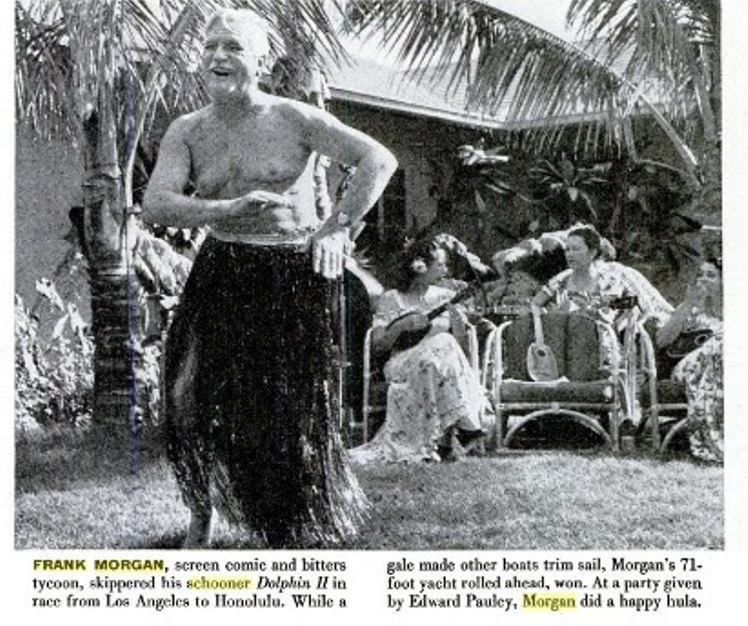 That guy look familiar?
So, a quick Wikipedia search produced the following biography of a screen comic named Frank Morgan.
Morgan was born Francis Phillip Wuppermann in New York City, the youngest of eleven children (six boys and five girls) born to Josephine Wright (née Hancox) and George Diogracia Wuppermann. His father was born in Venezuela, of German and Spanish ancestry, and was raised in Hamburg, Germany.[2][3][4] His mother was born in the U.S. of English ancestry. The family earned its wealth distributing Angostura bitters, allowing Wuppermann to attend Cornell University where he joined Phi Kappa Psi Fraternity.[5] He then followed his older brother Ralph Morgan into show business, first on the Broadway stage and into motion pictures.

After his film debut in The Suspect (1916), he provided support to his friend John Barrymore in Raffles, the Amateur Cracksman (1917), an independent film produced in and about New York City. Morgan's career expanded when talkies began, his most stereotypical role being that of a befuddled but good hearted middle-aged man.

Metro-Goldwyn-Mayer had been so impressed by Morgan that they signed him to a lifetime contract. Morgan's best remembered film performance, playing five roles, is in The Wizard of Oz (1939), where he played the carnival huckster "Professor Marvel", the Gatekeeper at the Emerald City, the coachman of the carriage drawn by "The Horse of a Different Color", the Guard who initially refuses to let Dorothy and her friends in to see the Wizard, and the Wizard himself.

The Wizard of Oz (1890-1949)
According to Wikipedia Frank was widely known to have had a drinking problem, according to several who worked with him. He sometimes carried a black briefcase to work fully equipped with a small mini-bar.
He was also a very active, and successful sailboat racer in his 71 ft schooner, Dolphin II, winning the Trans Pac race from Los Angelus to Honololu in 1947.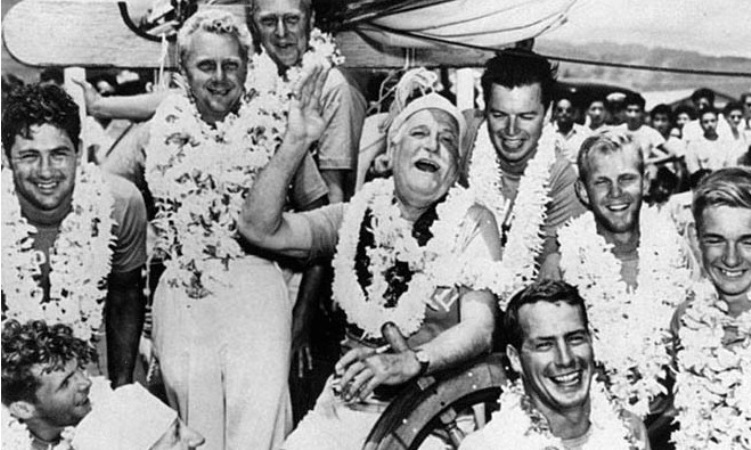 Frank Morgan and his Dolphin II crew celebrating their win, 1947 Trans Pac
The clincher came in yesterday morning when a webmaster friend, a 'local', saw these pictures and confirmed our research (minor edit).
I was a teenager during the war and was working part time summers with a local sail maker making canvas covers for radar domes. The sail maker took me to a marina in Essex on the Connecticut River where he had a customer who had a big schooner tied up, and who had ordered a canvas cover for his dinghy.

The boat was normally kept on the west coast but wartime intervened, and New London was a war time restricted area. The dinghy was on the schooner deck and we fit the cover on the dinghy with the guy who owned the boat helping - the guy was an actor in the 'Wizard of Oz" movie!

There were empty bottles of booze laying around.....then this other guy came up from down below - he was James Cagney!
So, we have another example of life aboard schooners!!! We have great pictures of Frank Morgan partying, and one day we are going to check out from the library The Wizard of Oz film. And, a call to website readers - we are still looking for a picture of Dolphin II sailing!
So, this is all Terry Glenn's (Porpoise, Marscot/O'Day #15) fault. She got us on this schooner stuff.
Stay tuned