August 7, 2014. Scott Henry has checked in as the new owner of Yankee #95. Here is his email and her picture.
Hi Ron,

I just bought Will Kruse's YY #95 Dolphin. It is now living in Alameda, CA (on the San Francisco Bay) Less than a week in the water so far, one time sailing. No name yet.


There's another Dolphin in the same marina (Fortman's Marina), Valhalla, #113. I haven't met the owner yet. It's hard to get a good shot with the other boats in the way, but I've attached one anyway.--


Scott
********************************
April 5, 2015. Your webmaster, on an unannounced inspection trip to Fortman's Marina on March 30, got these pictures of #95.

Click on the pictures for a larger image
********************************
June 15, 2015 Yankee #95 has a new name, Amaya. And now, Amaya has her own page. And, with his report on Aviva, Scott has earned his DFI badge!
I found the 4th Dolphin in Fortman Marina. On 'A' Dock, named Aviva. Sorry, no pictures this time.

Also, my Dolphin #95 has a name! "Amaya", named after a bottle nosed dolphin at a "Swim with the Dolphins" Event..

Scott

*********************
February 18, 2016. We got the following update from Scott (minor edits).
Been sailing a lot, almost every weekend. Only day sailing so far. I've been meaning to send some pictures about some improvements that I've done, so I'll attach a couple. The traveller & jib track/blocks from Garhauer Marine and some new LED running lights.

Click on the photos for a larger image


Note that Garhauer will custom drill the traveller for no extra money, to match the existing holes. I just copied the hole spacing on the original, which long ago (before I got it) ceased to slide smoothly, if it ever did. The old one was just a piece of Mariner jib track and slide. I followed your example and have a continuous line for the traveller control.This is their smallest size.

I also put a small solar panel with controller that I got for free. Keeps the battery up during the week for sailing on the weekends.

I've been looking off-n-on for an auxiliary without so much drag. The one that came with the boat is a Yamaha 8T (high thrust) long shaft electric start with alternator -- the prop is ~11.5" diameter low-pitch 3-blade. I feel like I'm dragging a motor-sailor prop. Takes 2 people and the vang tackle from the boom end to get it in-n-out of the well. Its pretty powerful though, she does 5 knots at less than 1/2 throttle (in flat water) and hull speed+ at wide open throttle (even against the wind). Even with the extra drag, she still sails well with the newer boats - I almost caught a J-24 to windward in light air once, but I blew too many tacks when the genoa caught on the shrouds.

The only problem with where I keep her is that it is 4 miles of short tacking (or motoring) to get to the bay, and more windward work to get anywhere. But I've hit 7.5 knots on the way back!

I got a new working jib (no pictures yet) from Rolly Tasker. Built like I'm going around the world, but don't make any mistakes on the design you give them :-(

Scott

Webmaster Note: When time permits we'll get Scott's comments into the applicable Technical Sections

************************
March 6, 2016 . Amaya was 'captured' sailing on San Francisco Bay by Ron Campbell and Valhalla. Here's the photo and probable confirmation. Click on the photo for a larger image.
Hi Scott


Is this you? Photo taken from Ron Campbell's Valhalla

Webmaster

**********************



Very likely. The jib looks right, the lifelines look right, and you can sorta see the "95" on the mainsail. If it was taken in the last few months, there should be a small solar panel on the stern pushpit. It's hard to tell from the graininess of the picture.

And you can see the helmsman wearing an inflatable life jacket, which I do.

Actually, that looks like the old jib (which tore), so pre-solar panel. (the old jib tore between the time I ordered the new jib and when it came. talk about timing!)

Scott
****************************
September 19, 2016. We got the following update from Scott
Hi Ron,

It's been a while since I updated you. Amaya is still in the same place. I haven't seen any new Dolphins around. West Marine
had a "buy one get one free" sale a few months ago on Lewmar winches, so I bought a pair of 14STs.

I've been sailing her almost every weekend. I've spent a couple of anchor-outs on her (definitely need better anchor
handling...).

I took this short video of beating towards the Golden Gate bridge in "lighter than usual" summer afternoon conditions (still was "small craft advisories"). I was single-handing, and during a lull I took a chance to take this one-handed video from my camera. I had 1 (deep) reef in the main plus my new "summer" jib (~90%, ~100 sq ft). It looks like it would be a good time to try sailing with the reef in the jib, too. In those conditions I usually spend a lot of time with the rail under. (I found - and fixed - a leak in the rail doing that).

https://www.youtube.com/watch?v=TevwgQkafyE&feature=youtu.be

It's a long way (upwind) from Fortman Marina in the Alameda Estuary to the GG Bridge. Once under the Bay bridge, it is basically one long port tack to where the video was shot.

Once winter comes, the biggest problem sailing in the main bay is when the ebb current is faster than the wind... That is when the over-sized OB comes into it's own!

Feel free to copy the video (preferred), or I can continue to host it.

Scott
Webmaster Note: We initially had some technical difficulties downloading Scott's video. Technical assistance arrived and we set it up on youtube. Click the above link to see the video - its only 28 seconds. Here is a print screen shot lifted from the video - the Golden Gate Bridge on the port bow and a 'bay breeze".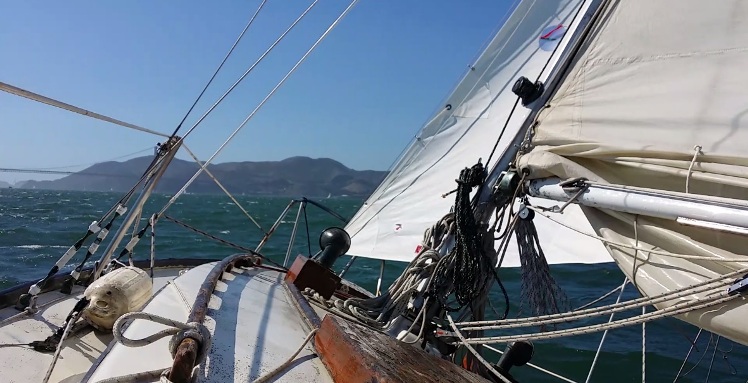 *************************
January 15, 2017 We got the following update from Scott (minor edit)
Happy New Year to you

Nothing especially new. I haven't seen any change in the number of Dolphin's in the marina.

Amaya's port cockpit locker lid leaks some in the rain. The front 2 ports have "sliding" windows that have never opened, but leak a little in the rain. We've had a LOT of (needed!) rain so far this season. Otherwise she been a very dry boat.

Been sailing about every other weekend, though a couple of times "sailing" has been drifting along with the tide until I turn on the "iron genny"... Even with the old sails and towing that big sea-anchor of an outboard prop she sails well against most of the other boats in the really light stuff. The forecast is for "not rain" this weekend, so I plan to take her out.

For the occasional anchoring that I do, an anchor roller would be useful...Trying to decide which one would be best. Since I
can't really make an anchor rode locker, it doesn't have to store it...

I guess you are in the "barn" mode this time of year? Webmaster reply - YEP!!

-- Scot
*************************
January 25, 2017. DFI's are always working - we got the following email from Scott
Hi Ron

If you have contact info for Aviva (Fortman slip E24), they need to go check their boat, it is lying very low in the water.

The cockpit is full of water (up to the CB pennant hole, so some has gotten into the boat).


I asked the harbor master to contact them but I thought I would try multiple paths...

-- Scott
Dolphin staff sprang into action from 3000 miles away, and located contact information for Craig Burkhead, Aviva's owner. The rest of this story is carried on Aviva's page. Click here to go there. And, this subject is so 'interesting' that we have added it to our Technical Section - Hoses. Click here to go there.
*********************************
April 5, 2017. Scott sent in the following comments (minor edits) about pulling his heavy outboard motor from the well using his boom. Alas, we have no pictures....This matter has come up before and is scattered around the Technical and Roster sections. Time permitting, staff will try and consolidate 'boom lift' comments into a single page. This a start as we will add Scott's comments to the referenced Technical Section page.
Hi Ron,

I just the article about #245 , a question about using the boom to raise the outboard. When I bought Amaya, that is what the P.O. said he used to raise the outboard (click here to go to Technical Section/Outboards Motor Comments/December 20, 2016). Since my OB is >100lbs weight, I attach the vang tackle to the end of the boom, raise the boom with the topping lift. The mainsheet limits the movement of the boom athwartships.


A greater than 4-part tackle would be an improvement, as would a longer boom (though it would then hit the backstay more...). One time I picked up a trash bag with the prop (it may have been two) when motoring in a nearby channel. With a deck brush I managed to get enough of it off that I could limp back to the slip, where I lifted the engine to finish cleaning it off. I've been mentally designing a boom extension for the purpose of removing and replacing that big OB a little more easily.

About 1x/year I take it out and put anti-fouling paint on it. I just put it back in a couple of weeks ago, though I didn't think to take pictures (I can *just* handle the job single-handed with the boom crane.). The old prop was so beat up that I determined that the price of a new one was worth it (the last 2 times I spent more time trying to fair the prop than all of the other work).

Down-side of the new prop: my minimum speed is higher! In the SF bay we can sail year-round, though sometimes the currents are stronger than the wind.

Scott
*****************
August 1, 2017. We got the following email from Scott re bronze winches. We have added his comments to the Technical Section on winches - click here to go there.
Hi Ron,

I was searching through the site for info about anchor rollers (there isn't much...), and I ran across the winches page.

My Yankee #95 also had the RC #2 bronze winches on it. I was always worried about losing the winch handle (or my crew
dropping it overboard), as they are hard to find.

When West Marine had a "buy one get one free" deal on Lewmar winches, I bought a pair of Lewmar 14ST winches. They are a
little harder to short-tack (you can't just pull the sheet straight up off the top, but have to actually unwrap them; and you can't "pop" them from the other side), they are so much better in all other respects for a short/single-hander like me.

The 8" floating winch handles fit the coaming pockets, too.

I put my old winches up at the "Blue Pelican" marine consignment store in Alameda, CA. They separated the handle from the winches, as apparently the RC #2 and Merriman #2 winch handles are interchangeable. Not true for the RC #1 on the mast for the jib halyard -- the boat was missing the jib halyard handle when I got it. I found a Merriman #1 handle at Blue Pelican that was just a tad too big, it took a little filing to get it to fit.

I ran across a floating winch handle in the bay, but it was toomrough for a single-hander to pick up (I made 2 passes to try).

fair winds -- Scott

***************************
February 12, 2018. Following a 'what's up' with Amaya from the webmaster we got the following update from Scott.
Not much. Sailing most every weekend (though some days it's more like "drifting"...). I did phase 1 of adding some more ventilation (I added a solar vent).

Time to think about a bottom job, though. I spent the last 3+ weeks helping a friend deliver her boat (Valkyrie) from Mazatlan to Ensenada. Timed for minimum contrary wind & current to motor against. Minimum wind was a problem when we had some engine problems: more like bobbing around than sailing...

Scott

May 19, 2018 Postscript Note: Scott sent in the above 'map' to replace the previous course lacking version

Hi Ron,

I finally got around to getting a screenshot of the route I took when delivering Valkyrie in Jan/Feb this year. This shot can replace the one you put up.

Other than that, just sailing as much as I can!

Scott

******************************************
July 4, 2018. We got two reports from Scott. Click on these links and see them in the Technical Section - #1 lifting her outboard, and #2 Raising/lowering her mast.
****************************************
*****************************************

*****************************************************
Things get a bit complcated time wise, but this is some of the history we have had on #95
August 25, 2014 Ron Akin, former owner of #95, Francis E, checked in and we set up a page for her - click here to go there
****************************
May 16, 2014. DFI John Cotton brought this Craigslist ad to our attention. Here is the link http://mendocino.craigslist.org/boa/4455376451.html, and below is the ad.
24' Cruising Sailboat Yankee Dolphin - $9500 (Mendocino County/Northern California)

24' SAILBOAT, Yankee Dolphin, with trailer, nearly NEW auxiliary motor, fully equipped ready to enjoy. Located in Northern CA, Albion, near Mendocino, on tandem custom trailer.

Beautiful Sparkman & Stevens, Yankee Dolphin Sailboat in very good condition, heavy hand laid fiberglass built by Yankee Yachts, ocean capable, built in 1968 and features classic bronze and teak trim, toe rail, and interior. Cruising full keel, draws only 3'.

Condition very good. Mast and spars in very good condition. 3 sails, main with reef points, genoa, working jib all in good condition. Standing rigging is very good condition all upgraded with heavy stainless. Running rigging in very good condition new and upgraded.

Electronics are upgraded, with new panel, dual batteries, amp meter, depth meter, knot meter, water temp, vhf radio, dual compasses, dual bilge pumps are upgraded and all in very good condition. Full wash decks, coast guard approved permanent porcelain head with holding tank.

Full cruising gear package if interested: Life jackets, sailing harnesses, extra vhf, lifelines, foul weather gear for two, extra ropes and mooring gear, extra fenders, dual anchors and extra ground tackle, two sets of anchor chain, and more. . ..

Trailer included, custom trailer in good condition, dual axles. 2 5/16" ball. Round trailer electric connector, electric brakes on rear axle.

The auxiliary is almost NEW, low hours and kept OUT of the water, indoors, and more than enough power, 8 hp 4 stroke, electric start, alternator, long shaft high torque sail model. It fits in a built in motor well and feels like an inboard.

Low maintenance fiberglass hull, with a classic Teak interior, dinette and bunks to sleep 4 people, cockpit and interior cushions are recently reupholstered.

For more information on Yankee Dolphin sailboats, the website below is really full of great information http://www.dolphin24.org

$9,500 price is negotiable. You can buy just the sailboat, or the package of boat, motor, trailer, fully equipped with lots of gear as listed above. This is a very enjoyable boat to own, in the water it feels very solid, and easy to sail.

**********************************
June 4, 2008. Will Kruse checked in his 1968 Yankee with the following email. We knew about this boat from a 1999 archives email Steve Barnes sent in to Jim Huxford's old Dolphin 24 website, which follows at the end of this page. We await pictures of "Francis" and more info from Will.
Hello Ron.


I am checking in for the first time. I own Yankee Dolphin hull #95, 1968 model. I purchased this in 2000, boat was located in San Diego, CA area, formerly named "Francis". Now the boat is mostly restored, located in Albion, CA, cruises open Pacific Ocean from Albion to Little River and Mendocino area.

Glad the site is up, I'll keep in touch.

Will Kruse
***********************************
January 2 and 3, 2014. Responding to an end of year webmaster appeal for updates from those we had not heard from in a while, Will sent in the following (minor edit)
Hi Ron.

Happy New Year to you. I will try to send a photo, Yankee is on my trailer, and has been for a year plus, life got complicated and several adventures have superseded any hope at sailing. I will make an effort to locate a photo, and forward sometime soon. Thanks for your email.

Will
Website staff followed up with Will re his comment "Yankee is on my trailer" His reply - No, not a name change. Actually, it's a no name sailboat. I hail "Yankee Dolphin" when on VHS offshore. No name on transom
January 6, 2014. We got our photo.
Yankee #95, at dock in Albion River, CA, 300 yards upstream from the entrance to the Pacific Ocean
**************************

********************************

*********************************************************
The following from the old Dolphin 24/Jim Huxford website archives - Oct 29, 1999!!!
Yankee Dolphin #95, San Diego, CA, Subject:: new Dolphin owner
Date: Fri, 29 Oct 1999
From: Steve Barnes
To: Jhuxford@apci.net

Yo, Dudes! I just bought Yankee Dolphin #95, year 1968. It was a"donation" boat, needing cleaning, paint and varnish, but otherwise very sound. I am in San Diego, CA, and am keeping the boat in the Chula Vista Marina. Are there any other Dolphin owners in San Diego? I may have lots of questions over the next few months as I refurbish it.

I was going to build a traditional looking wooden sailboat in the same size range, but this will save me a lot of time and money. This Dolphin has very traditional lines and lots of wood, like coamings and hatch covers, etc, and lots of bronze fittings. The cabin walls, ceiling, cupboards, etc, are some kind of wood, too.

Is there any chance of someone emailing me the color brochure? No documentation came with the boat, but then I haven't finished searching it either. So long for now.

OLDSURFDUDE

*********************