July 4, 2018. Owner Scott Henry sent this report (webmaster edited) on his outboard hauling system - one thing leading to another, his topping lift broke, and he then had to lower his mast using the system Amaya's prior owner developed
Literally right after I installed the outboard back on Amaya, the topping lift fell down from the top of the mast as I raised the main to go sailing! So I tried the mechanism the prior owner used to raise & lower the mast (he trailered the boat every winter), and took some pictures. The topping lift ran through a block at the top of the mast and back down to a cleat on the mast. I put it on the jib halyard winch when I wanted to raise/lower the motor. I forgot to take a picture of the bent & broken shackle, though...I made a new topping lift that is a length of 1/8in dyneema with spliced ends. Currently just a lashing to the end of the boom, I will eventually make a more adjustable mechanism, and plan to use the main halyard to support the boom end for future.....
- so we got 2 reports (click here to go to the mast raising/lowering report) We'll start with this pic - Amaya's transom, and the outboard stand at the ready, followed by Scott's email (minor edits) describing the various pictures.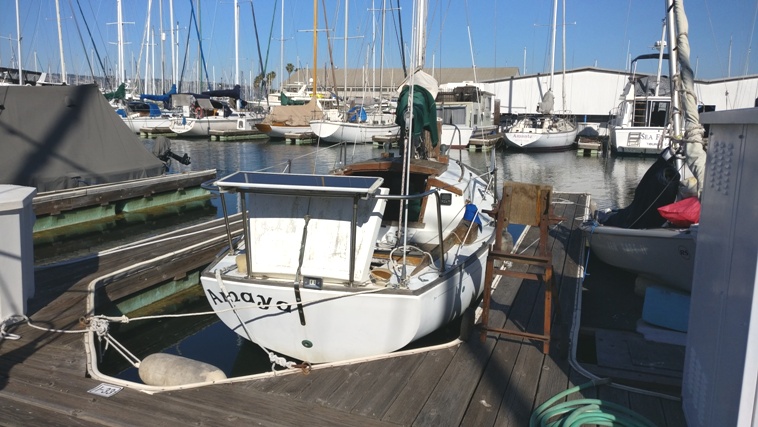 Note the solar panel
I took a bunch of pictures when removing the outboard from Amaya in the slip using the boom. Because it is a high-thrust outboard, the lower unit won't fit through the well bottom without some twisting and turning both removing and replacing. The cavitation plate barely fits diagonally, and the prop needs a slightly different diagonal.

I really should be pulling and painting the OB 2x/year, you can see how dirty it got even with some every-other-month cleaning.

The OB cart was home-made by the prior owner. The photo below shows why you use plywood for the mount board and not just lumber...

Click on the above photos for a larger image
*************************************