Good afternoon Ron.
I see on your Dolphin site that Scott Henry is the new owner of Yankee Dolphin Hull #95.I was the owner of the Yankee Dolphin Hull No 95 which was formerly named "Francis E" not "Francis". I purchased the sloop in Costa Mesa, CA in approximately 1972. The sloop was berthed at a marina on Shelter Island in San Diego for many years. I sold it to a partnership in approximately 1990.
In approximately 1995 one of the partners (a San Diego resident) sold their interest to the other partner who resided in Phoenix, AZ. The Phoenix partner ultimately decided escalating maintenance costs no longer justified ownership and for tax reasons, donated the boat to the Sea Scouts in 1999
During the years I owned Francis E, we sailed in the Sea of Cortez out of San Carlos, Mexico where she was berthed for some months as well as coastal sailing out of San Diego. We made several trips to Catalina and sailed San Diego Harbor during week-day afternoons and offshore San Diego most weekends. The Dolphin was one of the best balanced sloops I ever sailed. I went from the Dolphin to a Cheoy Lee Offshore 27 and later to a Michelson 50 Cutter on which my wife, daughter and I lived.
Of the attached photos, the first is of the Dolphin at berth on Shelter Island in San Diego (circa 1997) and the second is off San Carlos, Mexico (circa 1973). Please feel free to share this message with the Dolphin's current owner (Done)
I still own the original tandem-axle trailer for the Dolphin and am contemplating the purchase of another Dolphin.
Ron Akin, Albuquerque, New Mexico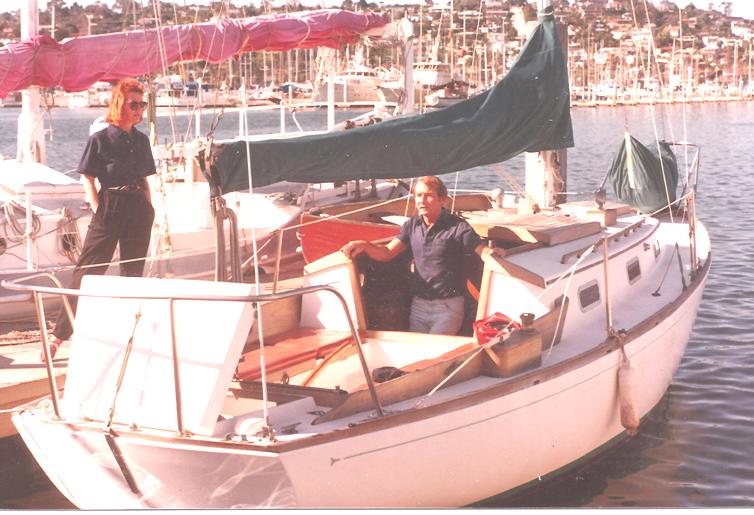 Click on the photo for a larger view