August 3, 2020
Tom Charpentier checking is as co-owner of Yankee #186 (minor edits).
Hi Ron,

Ok, now that it's paid for and home in Wisconsin, I can officially check in as the excited new co-owner of Yankee #186.

I am based in Madison, but the boat will live on a mooring in Neenah next door to Max Sheppard's Sea Fox, O'Day #35. She will be named Sisu. I am aware that coincidentally Yankee #184 was also named Sisu at one point, but my partner and co-owner (Lilja Amundson) is a Minnesotan Finn so the name fits well. Max and I are looking forward to some Dolphin one-design racing in our handicap fleet. Between the two Dolphins, a Pearson Electra, and a Ranger 22, we have quite a nice fleet of legacy MORC racers.

The first order of business will be to finish the previous owner's bottom job. The boat lived in the water for long stretches in salt water, so we'll take everything off and start with a new barrier layer and a few coats of VC17. The rudder is in decent shape and the centerboard is present and moving freely (will inspect further once the boat is lifted off the trailer). There are a few gratuitous thru-hulls, including a baffling angled mount for a depth transducer, that can hopefully be plugged with blanks for now pending a more permanent fix later.

I'm hoping to accomplish the bottom job in the next few weeks so that I can enjoy a little shakedown sailing in the Fall before the real work begins this winter.The deck layout is extremely original and seemingly bone-stock. The original bronze winches are still installed and there is no spinnaker rigging at all. There are no lifelines and no evidence that they were ever installed. The traveler is simple and non-adjustable.

The interior needs some work. A previous owner tore out the stock galley and installed a custom setup that included a small mini-fridge.

The finish on the wood was inadequate and it's starting to rot from rainwater ingress after a few years of storage with some unplugged chainplate holes.

I also suspect that the portlights may be leaking......

Oh well, it's certainly an excuse to build a new galley that suits my needs better at some point.

Click on the photo right for a larger image

The boat came with a nice Tohatsu 6hp 4 stroke outboard, but I'm looking to trade down for a 4hp 2 stroke like yours so that it's easier to wrestle in and out of the outboard bay on race nights

Regarding the road trip to get the boat, I highly recommend the services of Enterprise Truck Rental. I was able to rent a full ton diesel pickup at a very reasonable rate, and they allow towing for a modest daily charge and their supplemental insurance covers towing-related accidents. The full ton was overkill but offered great peace of mind, and had all the latest features such as a towing mode that automatically activates engine and exhaust braking when the pedal is depressed, taking the load off the wheel brakes.

More updates as they come in!

Tom

Postscript: Thanks Ron! You can list Lilja Amundson as the other co-owner

Welcome Aboard Tom and Lilja!!.

**************************************
August 21, 2020 Posted on the Dolphin 24 Facebook page https://www.facebook.com/groups/dolphin24sailboats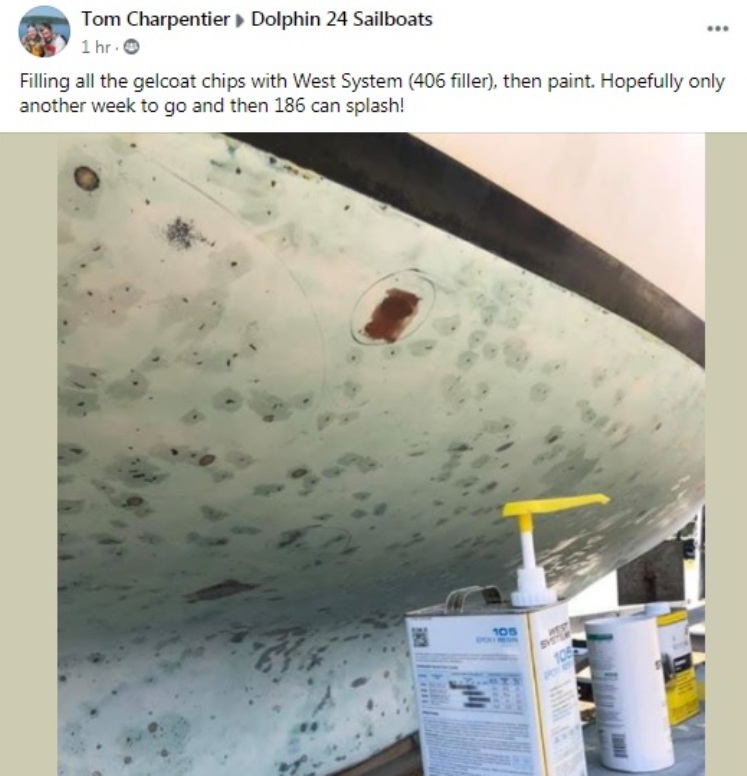 **************************
August 31, 2020
Tom's post from the Dolphin24 Facebook page https://www.facebook.com/groups/dolphin24sailboats
We also posted this in our Technical Section - Hardware/Rigging Section -http://dolphin24.org/reeving_halyards.html
Hint for reeving halyards - use a powerful magnet and a magnetic (not stainless) clevis pin to route your pilot line. Aluminum and stainless steel are both minimally magnetic, so the only thing the magnet will grab will be your pin. It was actually sort of fun once we figured it out!
August 31, 2020 Postscript - One more Dolphin24 Facebook post today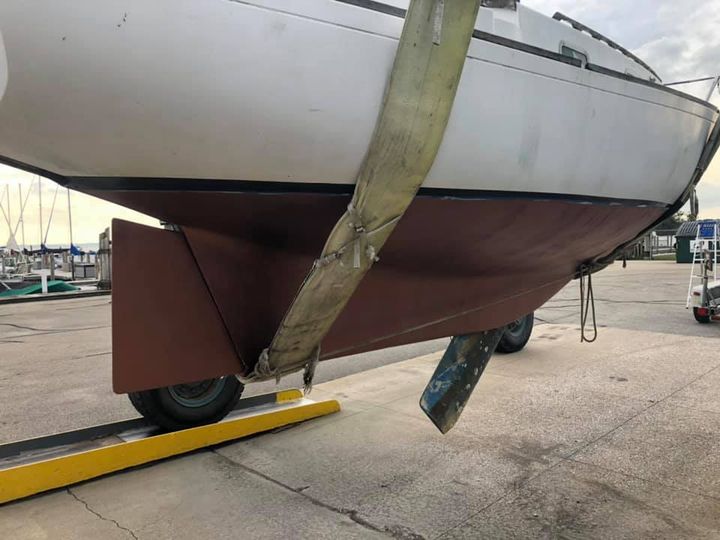 Splashing tomorrow! Just have to sand and paint the board.
*********************************************************
September 3, 2020 Still one more Dolphin24 Facebook post....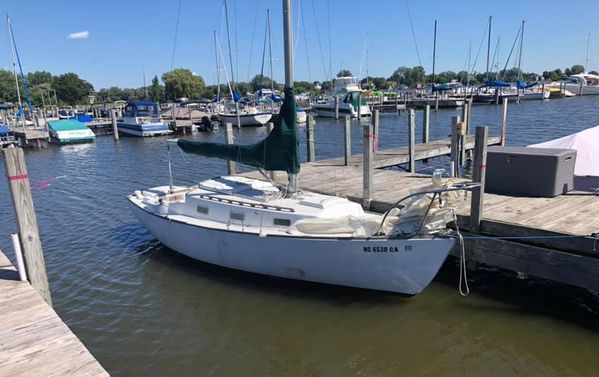 Sisu is in the water!

Did a quick shakedown sail last night with no major issues, looking forward to learning the boat more!

**********************
September 3, 2020 continued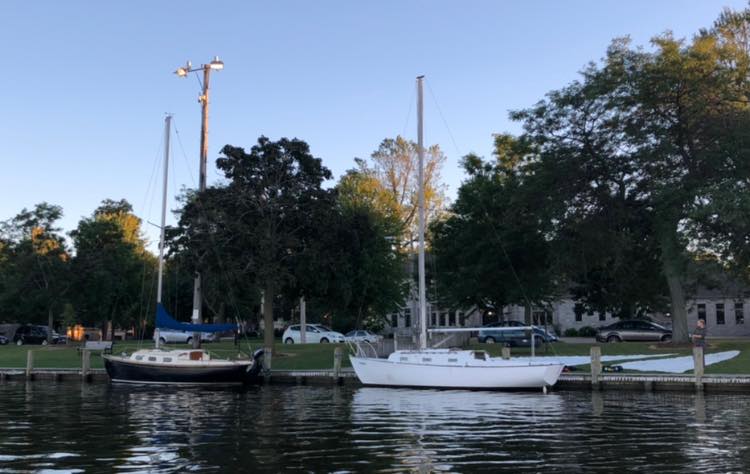 Sea Fox (http://dolphin24.org/sea_fox.html) and Sisu together in Neenah, WI. We tore the clew of the main today, hope to fix that before the Labor Day Race this weekend.

****************************
September 7, 2020 - Dolphin24 Facebook post by Tom....
We sailed Sisu in the Labor Day race in Neenah on Saturday with an all-family crew. It was a tight back-and-forth against Sea Fox (http://dolphin24.org/sea_fox.html) with Sisu winning by just a few boat lengths. We were behind most of the race but got lucky on a nice lefty when we split on the second upwind leg.

Unfortunately, we both lost to a well-sailed J/22 by less than a minute on corrected time. Still, great result for our first outing and we're looking forward to some tight Dolphin racing for years to come!

***********************************
September 22, 2020

- Dolphin24 Facebook post by Tom

....
This week's Sisu update is a bit of a bummer - in Saturday's race we were again closely battling Sea Fox at the top of the fleet, about to cross just ahead as we approached the top mark, when I trimmed in and .. rrrrip! The leech tape failed and the main tore on the next seam above where it tore last time.

Old sails often hold up fine, but ours is definitely made of a lighter fabric that's gotten threadbare. Oh well, guess it's time to call the sailmaker!

Stay tuned
October 12, 2020 - Another Dolphin24 Sailboats Facebook post by Tom along with photos and a short video
A bittersweet ride on Sisu Saturday, relocating from Neenah to Oshkosh where we'll have the boat hauled next
week. Breeze freshened up nicely right at sunset. We love how sure-footed this boat is in breeze and waves.

***************************
November 4, 2020 Another Dolphin24 Sailboats Facebook post by Tom, this time about his trailer. We added this to our Technical Section - Trailers - Click here to go there
Now that I know it worked I feel confident sharing my new keel channel. The trailer is well-built but modified by the previous owner from a powerboat trailer (originally built by Cox, a North Carolina company that's since defunct).

The boat was originally sitting on a single 2x10 (above) that was sagging so much that some of the boat weight was on the axle. We're lucky it didn't break on the way home!

The new keel channel (right) is similar to Ruby's, found on the website - http://dolphin24.org/clover_trailer.html Six 2x4s and two 2x8s form a solid u-channel and are bolted together with 5x5/8" threaded rods (couldn't find bolts big enough)

I then u-bolted on an additional crossmember to the trailer with some 3/16 angle iron, so there are now 4 evenly-spaced members taking the load. The keel channel is then bolted to the crossmembers with additional angle iron to prevent slippage.

Still to do for the trailer is to patch some rot in the rear of the frame rails (it was clearly used for many ramp launches in salt water), and add a third set of stands. The forward stands are splayed out a little too much, so I may adjust those at some point as well. Overall, though, it's a solid trailer.

Big thanks to Jeff Greenwood Aspara Yankee #153) ( http://www.dolphin24.org/aspara.html ) for answering some questions and taking some photos of his own trailer build, definitely helped me make a few important decisions quickly!

*********************************
June 17, 2021 - Posted on the Dolphin24 Facebook page - https://www.facebook.com/groups/dolphin24sailboats
Here's the Neenah dolphins rafted up. We are currently the top two boats in our division on the season, with Sea Fox winning all but one so far but Sisu not far behind.

Nice comparison of a 1961 O'Day to a 1970 Yankee.The black hull is O'Day #35, Sea Fox. The white is Yankee #186 Sisu

**************************
November 15, 2021 Another Dophin24 Facebook page post.....here's the link https://www.facebook.com/groups/dolphin24sailboats
Painting Sisu's cove stripe
click on the photos for a larger image
November 25, 2021 Postscript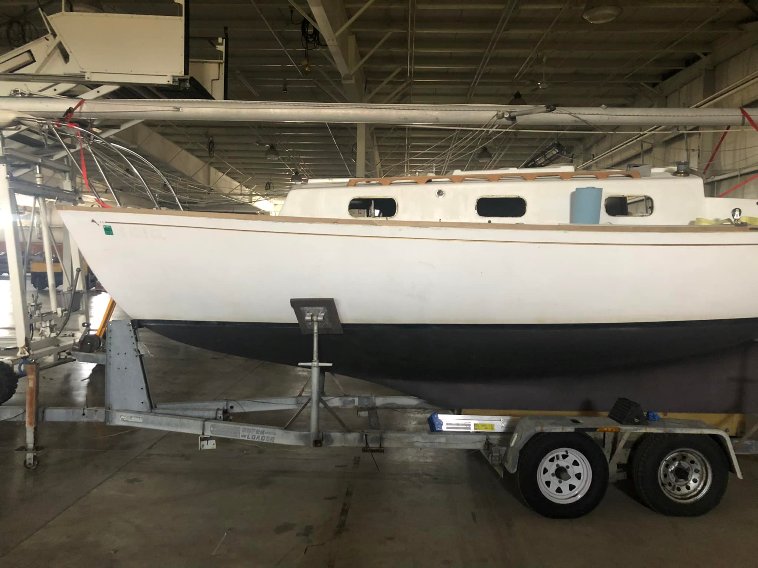 DONE!!
*************************************
May 16, 2022. Tom's been working on replacing Sisu's portlights and has been reporting progress on the Dolphin 24 Facebook page https://www.facebook.com/groups/dolphin24sailboats. Its DONE! Here's his report and photo
Here's the end result of Sisu's window project. These are the original frames.

The exterior halves were sandblasted and powdercoated, the interior frames were sandblasted, sanded, and polished.

New tinted glass purchased from a local supplier - slightly thicker than the originals.
*********************************
***********************************************

**********************************************************************

************************************

This is the history we have on Yankee #186 up until this point in time
June 26, 2020 John Gish (Savili, Lunn #200) reported this Craigslist ad. Thanks John
1970 Yankee Dolphin sailboat designed by famous naval architects Sparkman and Stephen's.
Sloop rigged with a jib and 150 Genoa in good condition and a main sail that could use repair. Also includes a 6hp long shaft Tohatsu.

Laid up in solid glass, no core material to rot. Has new teak toe rails. Interior is messy but fine for storage and day sailing needs. It has ac and dc panels, an electric and alcohol stove, mini fridge, and a 12 volt water pump.

Mast and standing rigging in good condition. Running rigging in usable shape. All original bronze hardware and winches. Shoal keel with swing down center board.

https://eastnc.craigslist.org/boa/d/grimesland-24-ft-yankee-dolphin/7141701376.html

**************************************

Its been a while - this is what we had on #186
March 22, 2016. It took a team effort but we have finally tracked down #186. Kelly Bryant and Tony Franklin sold her to A. J. Harris, a student at the Cape Fear Community College in Wilmington, North Carolina. We are standing by for AJ to check in. Email addresses change all the time and we had lost contact with Kelly but with the help of former owner Kathy Tucker, and the librarians at Randell Library at the University of North Carolina, Wilmington, we tracked her down. Emails excerpted/edited/consolidated but are shown here to show readers what goes on behind the scene in our collective efforts to find and keep track of these beautiful boats.
February 20, 2016 - from your webmaster to former owner Kathy Tucker

Hi Kathy

I hope all is well. We have been trying to reach Kelly Bryant and Tony Franklin who bought your boat, #186. It was listed for sale back in December, 2013 but the Craigslist ads expired and there has been no response to my emails. Do you have contact info for them?

Ron

February 25, 2016 - From Kathy Tucker

Hi Ron

Kelly and her boyfriend were in college at UNCW (University of North Carolina/Wilmington) at the time they bought her, which I think was 2011. They were going to restore her as a class project and were quite thrilled as they sailed away, down the Neuse River and outside to Wrightsville Beach. The Dolphin was a great sailer - I loved her as my first boat, I now have a Tartan 27, another great S&S design

Kathy

Webmaster Note: The Tartan 27 - Bill Shaw was the project designer at S&S who designed the Tartan 27. And, of course, he was also the project designer for the Dolphin 24. The story is that the Dolphin 24 inspired the Tartan 27 (the no headroom!!! issue - similar lines, sometimes referred to as a big Dolphin). Anyway, it's all recorded here http://dolphin24.org/history_bill_shaw.html

March 20, 2016 - From Webmaster to Randell Library at UNCW

I am the webmaster for a website devoted to a class of sailboat, the Dolphin 24. We are looking for a particular boat, #186, which may have been indirectly associated with UNCW based on what a previous owner told us.

"Kelly Bryant and her boyfriend Tony Franklin were in college at UNCW at the time they bought her, which I think was 2011. They were going to restore her as a class project and were quite thrilled as they sailed away, down the Neuse River and outside to Wrightsville Beach"

The boat was offered for sale in 2013 but the ad expired and the email contact info we had is no longer in service. This is the webpage we have for the boat and its history http://dolphin24.org/186.html

I do a fair amount of research as webmaster, much of which is aided by librarian staff, literally around the world - and so I turn to you. Thanks in advance for any leads

Ron Breault, webmaster Old Lyme, CT

March 20, 2016 (Sunday at 4:19PM) Reply from Reference Librarian Beth at UNCW's Randell Library

Hi Ron

I heard back from one of my colleagues. He could not think of a class where a boat was restored here at UNCW. He suggested that it might have been a project at another school here in town – Cape Fear Community College (CFCC). They have a boat building program. You may want to contact them to see if the boat was there. Here is their contact information: http://cfcc.edu/martech/boat-building-school/.

I hope this helps! If you have any questions, please do not hesitate to contact us again, by responding to this email, calling us at 962-3760, or stopping by the Research Help Desk.

Best,
Beth

March 20, 2016 (Sunday, 5:16PM) From Webmaster to Mark Bayne, Staff Boat Building Instructor, CFCC - with email file attached

Hi Mark
I am contacting you at the suggestion of Beth at the UNCW Randell Library. Does this (the attched file) ring a bell? Thanks for any leads to finding this boat
Ron Breault
Old Lyme, CT

March 21, 7:46AM From Kelly (Bryant) Franklin!! cc Mark Bayne

Ha! Well, would ya look at that!

She's a great little boat too. We sold her last year to A. J. Harris, another Marine Tech student. He has already made some pretty good upgrades. I believe he is looking to hold on to her for a while, but I will get in touch with him and tell him about dolphin24.org. I can't remember if I mentioned it to him before.

Hope that helps, and let me know if I can do anything else for you!


Kelly Franklin
Marine Technology Department
Cape Fear Community College
Office: 910.362.7411

March 21, 2016 4:51PM From Webmaster to Kelly (Bryant) Franklin, cc Mark Bayne, Beth at Randell Library, Kathy Tucker

Hi Kelly

Thanks a lot for getting back to me. We are trying hard to keep track of these ladies. And thanks to all who have helped in this effort.

We are Standing By for AJ to check in

Ron

*******************************************

Thanks, readers, for your patience
**************************************
This is where we were back on November 20, 2013 and December 4, 2013. Updated Craigslist ad http://wilmington.craigslist.org/boa/4195230030.html Price Reduced - $3000; Reply 4mht5-4195230030@sale.craigslist.org
September 17, 2013. Well, its happened again. #186 is For Sale again. DFI David Blakey brought this to our attention. Here is the Craiglist link http://wilmington.craigslist.org/boa/4049910683.html and below is the ad
1970 S&S Yankee Dolphin 24 sailboat - $3200 (Wilmington NC)
Reply rtdhg-4049910683@sale.craigslist.org
This Sparkman & Stevens design has performed amazingly for us, but unfortunately the time has come to sell her. This Dolphin was built in 1970, so the fiberglass hull is laid really thick and solid. She has a full keel that draws just under 3 feet with the centerboard up, and just over 5 feet with it down. The boat is a basic day sailor or weekend cruiser with a comfortable V-berth, sink, port-a-potty style head, and a dinette that folds down to make another berth. There is an engine well tucked into the stern. All of the sails are in good condition. There is a main, a storm jib, a 110 genoa, and a 160 genoa. The only electronics are a depthsouder/ fishfinder and a mounted VHF. We have a battery powered, handheld VHF that we'll be willing to throw in as well. The anchor is a 14 lb. delta with 5 feet of chain and roughly 150+ of line.

The boat does not come with an outboard, but any long shaft between 3 and 9 hp will work great. The deck needs a fresh coat of paint and the toe rails could be replaced, but we have new ones that we didn't have time to put on and will throw those in. The work that needs to be done is mostly cosmetic and won't take long on a boat this small. She's ready to go sailing! Email me with any questions.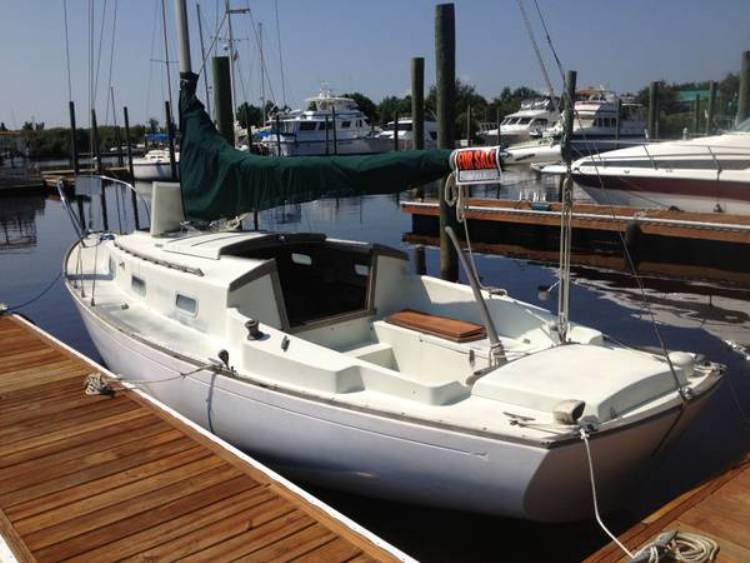 | | |
| --- | --- |
Additional pictures on the Craigslist link above
**********************************************************
Back on June 17, 2011, we received the following email from Kelly Bryant and Tony Franklin.
Hi Ron,

We just wanted to check in and let you know we are the new owners of hull #186! We purchased her from Kathy this past Monday and sailed her from New Bern NC to Wrightsville Beach NC. We went offshore so as to avoid a long trip down the waterway, and she is just loveliest little boat! We would love to post some pictures, especially once we spruce her up a bit.

Kelly Bryant and Tony Franklin
We are standing by for some addditional information, and maybe a picture or 2, and then we'll open up a new page for #186.
**********************************

************************************************************
This is the history of #186 as we had it up until this point.
May 19, 2011. DFI Jonnie Walker (Yankee #227) brought this boat to our attention. The Craigslist ad and the link are below.
May 20, 2011. Kathy Tucker checked in with the following email and pictures after we contacted her about this boat. As suspected this is a newly found Dolphin, our 180th - click here to go there. Kathy promises more pictures soon.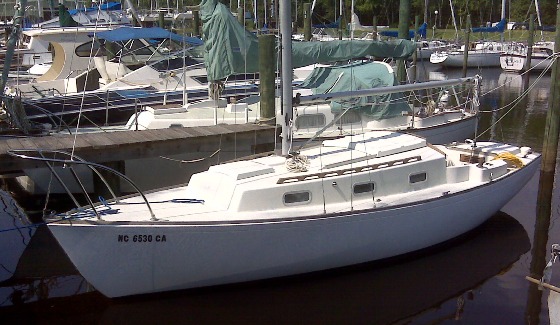 Hi Ron!

How very nice of you. Thank you! I should have thought to get in touch with you guys because when I first bought the Dolphin, I got a lot of good info from your site and was more convinced than ever she was the boat I wanted.

I really almost feel guilty to sell her, because I did not get as far fixing up as I wanted and I think she could have a respectable racing career ahead of her around here. But a 1968 Tartan 27 that my dad has been hot for me to get became available much sooner than I had expected and we bit. As much as I love the Dolphin, the Tartan will get my dad sailing with me more often, being more commodious below and on deck for a 90 year-old to move about.

My Dolphin is Yankee built hull #186. I got her from a local gentleman who says he bought her from Dale and Suzanne Roberts in Westcliffe Colorado. She came with her original brochure, which I am guarding carefully.

The cabin layout on the port side was altered a little bit before I got her to accommodate a new sink and stove arrangement, her hand rails were replaced with well made locust rails, but otherwise I believe she is her old self. The prior owner had a replacement toe rail made locally, which I have not yet put on. Bronze cleats, winches and chocks (except one missing forward) are still there. Standing rigging was replaced several years ago and I put on new halyards when I bought her. Her bottom is in very good shape.

As you well know, she's surprisingly quick, even with her old sails, and we proved it last September by beating the pants off a bunch of puzzled looking contenders (including a couple of experienced San Juan 21 skippers who are used to winning everything!) in a local two-day race event last September. Oh boy, that was fun!

I plan to take a bunch more pictures this weekend and will send them to you. Attached are two mug shots.

Again, thanks so much for contacting me. I would just love it if someone who really appreciates this wonderful sailboat would give her a good home. Actually, I won't sell her to anyone who doesn't convince me they will!

Kathy Tucker

ps I forgot to mention she has a brand new sail cover.
Sailboat: 24' Yankee Dolphin Sloop - $3500 (New Bern)
http://eastnc.craigslist.org/boa/2389880282.html
---
Classic Sparkman Stephens design ocean racing pocket cruiser with shallow draft keel/centerboard configuration. Built 1970 - Hull #186. Has main, three headsails, 2001 Nissan 8hp outboard, two-burner propane stove, and more. She's lovely and quick! Email for photos and more details.