March 22, 2016. It took a team effort but we have finally tracked down #186. Kelly Bryant and Tony Franklin sold her to A. J. Harris, a student at the Cape Fear Community College in Wilmington, North Carolina. We are standing by for AJ to check in. Email addresses change all the time and we had lost contact with Kelly but with the help of former owner Kathy Tucker, and the librarians at Randell Library at the University of North Carolina, Wilmington, we tracked her down. Emails excerpted/edited/consolidated but are shown here to show readers what goes on behind the scene in our collective efforts to find and keep track of these beautiful boats.
February 20, 2016 - from your webmaster to former owner Kathy Tucker

Hi Kathy

I hope all is well. We have been trying to reach Kelly Bryant and Tony Franklin who bought your boat, #186. It was listed for sale back in December, 2013 but the Craigslist ads expired and there has been no response to my emails. Do you have contact info for them?

Ron

February 25, 2016 - From Kathy Tucker

Hi Ron

Kelly and her boyfriend were in college at UNCW (University of North Carolina/Wilmington) at the time they bought her, which I think was 2011. They were going to restore her as a class project and were quite thrilled as they sailed away, down the Neuse River and outside to Wrightsville Beach. The Dolphin was a great sailer - I loved her as my first boat, I now have a Tartan 27, another great S&S design

Kathy

Webmaster Note: The Tartan 27 - Bill Shaw was the project designer at S&S who designed the Tartan 27. And, of course, he was also the project designer for the Dolphin 24. The story is that the Dolphin 24 inspired the Tartan 27 (the no headroom!!! issue - similar lines, sometimes referred to as a big Dolphin). Anyway, it's all recorded here http://dolphin24.org/history_bill_shaw.html

March 20, 2016 - From Webmaster to Randell Library at UNCW

I am the webmaster for a website devoted to a class of sailboat, the Dolphin 24. We are looking for a particular boat, #186, which may have been indirectly associated with UNCW based on what a previous owner told us.

"Kelly Bryant and her boyfriend Tony Franklin were in college at UNCW at the time they bought her, which I think was 2011. They were going to restore her as a class project and were quite thrilled as they sailed away, down the Neuse River and outside to Wrightsville Beach"

The boat was offered for sale in 2013 but the ad expired and the email contact info we had is no longer in service. This is the webpage we have for the boat and its history http://dolphin24.org/186.html

I do a fair amount of research as webmaster, much of which is aided by librarian staff, literally around the world - and so I turn to you. Thanks in advance for any leads

Ron Breault, webmaster Old Lyme, CT

March 20, 2016 (Sunday at 4:19PM) Reply from Reference Librarian Beth at UNCW's Randell Library

Hi Ron

I heard back from one of my colleagues. He could not think of a class where a boat was restored here at UNCW. He suggested that it might have been a project at another school here in town – Cape Fear Community College (CFCC). They have a boat building program. You may want to contact them to see if the boat was there. Here is their contact information: http://cfcc.edu/martech/boat-building-school/.

I hope this helps! If you have any questions, please do not hesitate to contact us again, by responding to this email, calling us at 962-3760, or stopping by the Research Help Desk.

Best,
Beth

March 20, 2016 (Sunday, 5:16PM) From Webmaster to Mark Bayne, Staff Boat Building Instructor, CFCC - with email file attached

Hi Mark
I am contacting you at the suggestion of Beth at the UNCW Randell Library. Does this (the attched file) ring a bell? Thanks for any leads to finding this boat
Ron Breault
Old Lyme, CT

March 21, 7:46AM From Kelly (Bryant) Franklin!! cc Mark Bayne

Ha! Well, would ya look at that!

She's a great little boat too. We sold her last year to A. J. Harris, another Marine Tech student. He has already made some pretty good upgrades. I believe he is looking to hold on to her for a while, but I will get in touch with him and tell him about dolphin24.org. I can't remember if I mentioned it to him before.

Hope that helps, and let me know if I can do anything else for you!


Kelly Franklin
Marine Technology Department
Cape Fear Community College
Office: 910.362.7411

March 21, 2016 4:51PM From Webmaster to Kelly (Bryant) Franklin, cc Mark Bayne, Beth at Randell Library, Kathy Tucker

Hi Kelly

Thanks a lot for getting back to me. We are trying hard to keep track of these ladies. And thanks to all who have helped in this effort.

We are Standing By for AJ to check in

Ron

*******************************************

Thanks, readers, for your patience
**************************************
This is where we were back on November 20, 2013 and December 4, 2013. Updated Craigslist ad http://wilmington.craigslist.org/boa/4195230030.html Price Reduced - $3000; Reply 4mht5-4195230030@sale.craigslist.org
September 17, 2013. Well, its happened again. #186 is For Sale again. DFI David Blakey brought this to our attention. Here is the Craiglist link http://wilmington.craigslist.org/boa/4049910683.html and below is the ad
1970 S&S Yankee Dolphin 24 sailboat - $3200 (Wilmington NC)
Reply rtdhg-4049910683@sale.craigslist.org
This Sparkman & Stevens design has performed amazingly for us, but unfortunately the time has come to sell her. This Dolphin was built in 1970, so the fiberglass hull is laid really thick and solid. She has a full keel that draws just under 3 feet with the centerboard up, and just over 5 feet with it down. The boat is a basic day sailor or weekend cruiser with a comfortable V-berth, sink, port-a-potty style head, and a dinette that folds down to make another berth. There is an engine well tucked into the stern. All of the sails are in good condition. There is a main, a storm jib, a 110 genoa, and a 160 genoa. The only electronics are a depthsouder/ fishfinder and a mounted VHF. We have a battery powered, handheld VHF that we'll be willing to throw in as well. The anchor is a 14 lb. delta with 5 feet of chain and roughly 150+ of line.

The boat does not come with an outboard, but any long shaft between 3 and 9 hp will work great. The deck needs a fresh coat of paint and the toe rails could be replaced, but we have new ones that we didn't have time to put on and will throw those in. The work that needs to be done is mostly cosmetic and won't take long on a boat this small. She's ready to go sailing! Email me with any questions.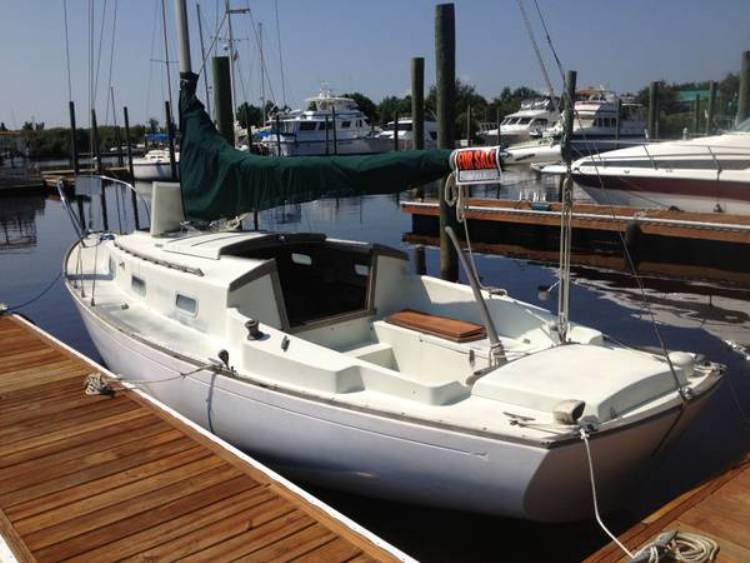 | | |
| --- | --- |
Additional pictures on the Craigslist link above
**********************************************************
Back on June 17, 2011, we received the following email from Kelly Bryant and Tony Franklin.
Hi Ron,

We just wanted to check in and let you know we are the new owners of hull #186! We purchased her from Kathy this past Monday and sailed her from New Bern NC to Wrightsville Beach NC. We went offshore so as to avoid a long trip down the waterway, and she is just loveliest little boat! We would love to post some pictures, especially once we spruce her up a bit.

Kelly Bryant and Tony Franklin
We are standing by for some addditional information, and maybe a picture or 2, and then we'll open up a new page for #186.
**********************************

************************************************************
This is the history of #186 as we had it up until this point.
May 19, 2011. DFI Jonnie Walker (Yankee #227) brought this boat to our attention. The Craigslist ad and the link are below.
May 20, 2011. Kathy Tucker checked in with the following email and pictures after we contacted her about this boat. As suspected this is a newly found Dolphin, our 180th - click here to go there. Kathy promises more pictures soon.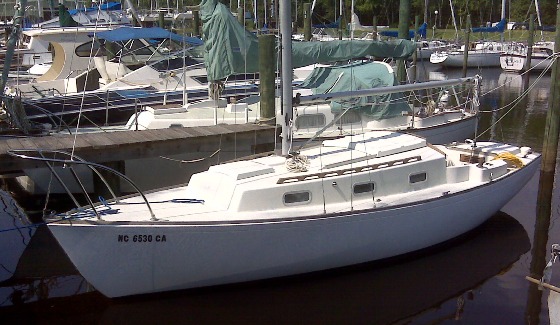 Hi Ron!

How very nice of you. Thank you! I should have thought to get in touch with you guys because when I first bought the Dolphin, I got a lot of good info from your site and was more convinced than ever she was the boat I wanted.

I really almost feel guilty to sell her, because I did not get as far fixing up as I wanted and I think she could have a respectable racing career ahead of her around here. But a 1968 Tartan 27 that my dad has been hot for me to get became available much sooner than I had expected and we bit. As much as I love the Dolphin, the Tartan will get my dad sailing with me more often, being more commodious below and on deck for a 90 year-old to move about.

My Dolphin is Yankee built hull #186. I got her from a local gentleman who says he bought her from Dale and Suzanne Roberts in Westcliffe Colorado. She came with her original brochure, which I am guarding carefully.

The cabin layout on the port side was altered a little bit before I got her to accommodate a new sink and stove arrangement, her hand rails were replaced with well made locust rails, but otherwise I believe she is her old self. The prior owner had a replacement toe rail made locally, which I have not yet put on. Bronze cleats, winches and chocks (except one missing forward) are still there. Standing rigging was replaced several years ago and I put on new halyards when I bought her. Her bottom is in very good shape.

As you well know, she's surprisingly quick, even with her old sails, and we proved it last September by beating the pants off a bunch of puzzled looking contenders (including a couple of experienced San Juan 21 skippers who are used to winning everything!) in a local two-day race event last September. Oh boy, that was fun!

I plan to take a bunch more pictures this weekend and will send them to you. Attached are two mug shots.

Again, thanks so much for contacting me. I would just love it if someone who really appreciates this wonderful sailboat would give her a good home. Actually, I won't sell her to anyone who doesn't convince me they will!

Kathy Tucker

ps I forgot to mention she has a brand new sail cover.
Sailboat: 24' Yankee Dolphin Sloop - $3500 (New Bern)
http://eastnc.craigslist.org/boa/2389880282.html
---
Classic Sparkman Stephens design ocean racing pocket cruiser with shallow draft keel/centerboard configuration. Built 1970 - Hull #186. Has main, three headsails, 2001 Nissan 8hp outboard, two-burner propane stove, and more. She's lovely and quick! Email for photos and more details.