June 11, 2009. Greg checked in with the following email and photo. Stay tuned for more about Unda Maris III. And click here to go to Unda Maris II.
Hi,

Thanks for the wealth of information on your site! I have been a proud owner of a Yankee Dolphin since last summer, when I found Dolphin #125 near Sacramento, CA. I spent the summer restoring her, and she's now berthed in San Francisco. Her name is the "Unda Maris III". I've attached a photo.

This isn't my first Dolphin encounter, my dad owned Yankee Dolphin #231 (then Unda Maris II) in Marina Del Rey, but sold her around 1996.

Thanks and keep up the fine work!

Greg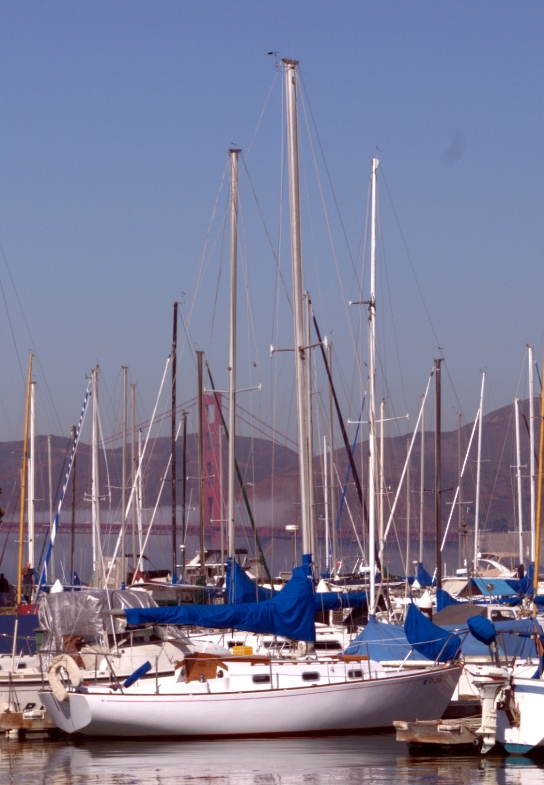 *********************
August 29, 2009 Greg sent in some additional info about Unda Maris III and a couple of super photos of their main and fore hatch rebuilding project.
Unda Maris III lives at the San Francisco Marina, where you can occasionally see the golden gate bridge in the background! It's a choppy marina, but a great location. I don't have much history for either vessel; I found the current vessel up in the Sacramento Delta and sailed her down to the Bay. Interestingly enough, there was another Dolphin in that marina as well!

I've attached a couple more photos of the work we did on the boat, reworking the hatches out of hardwood. It's my dad's handiwork here, he took the original teak framing and redid the wood slats with an aluminum backing to keep them waterproof. This was apparently a problem, as the original condition we found the hatches had several extra layers of tar paper, caulking, and Boat Board over the original hatches!

Why "Unda Maris"? Well, that's the name we inherited for the original boat, and the whole time we owned her, never thought to look up what it meant. Many years later, I discovered it's a lever on a pipe organ, meaning "waves of the ocean" which is exactly what you feel when you're out on this boat, and decided to continue the tradition!

Cheers,

Greg
| | |
| --- | --- |
****************************
October 20, 2011. Greg sent in some more pictures of the hatch rebuilding project. We have set up a page in the Technical Section/Repairs for this project. Click here to go there
***********************************
September 15, 2013. Senior DFI Nicole Breault caught these two photos of an unidentied Dolphin out on the America's Cup course on Saturday, September 14..
Click on photos for a larger view
Dolphin24.org Technical Staff back at headquarters reviewed the data base and sent an email to a likely suspect.
Hi Greg

It's been a while. I trust all is well with you and Unda Maris III.




My daughter, Nicole,

a senior DFI

, living in SF got these photos. Is this Unda Maris III? The white life preserver is my clue but the boat has a furler - new?




Ron

Reply

Yes!! The furler is a few season old and has been a godsend on the bay, especially when its gusting up to 27 kts like it was yesterday. You're making me wish I had some sails up for the photo though :) Thanks for passing these along!

***********************************
May 17, 2016. Senior DFI Nicole Breault is always looking. Here's a few photos she got of Unda Maris (we notice the name newly painted on the quarter is missing the III. We'll check on this)
Webmaster Note: These referenced photos seem to have been misplaced - staff is working on this matter....
*****************************
June 3, 2018. We got the following update from Greg.
Hi Ron!


Time really flies! Not much to report on the Dolphin, who is still berthed in San Francisco and sailing as well as ever! Just some bottom paint and new canvas for now.

I'm glad to see the Dolphin community continues to thrive :)


Cheers,


Greg
June 4, 2018 Webmaster Note: Finally got those May 17, 2016 DFI pics up (just over 2 years....)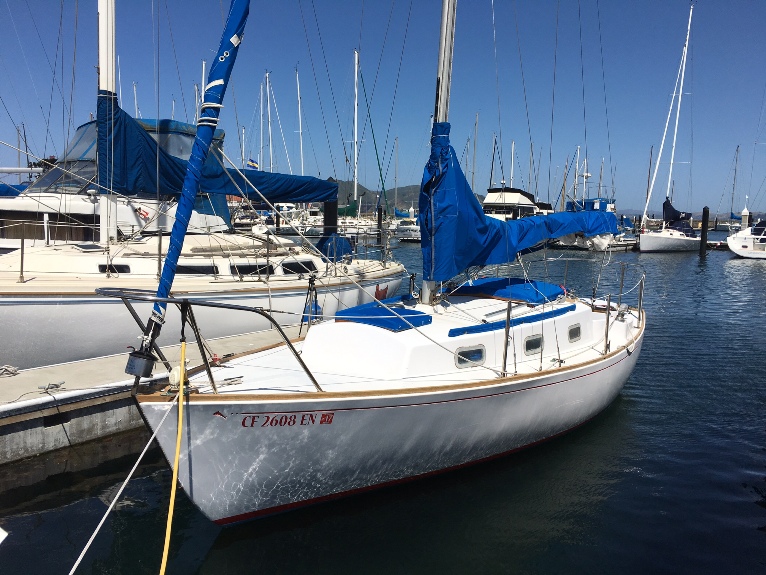 Webmaste Note: In our continuing effort to familiarize readers with the sailing areas of our Dolphins the following are Google Maps of Unda Maris' waters

***********************************************************
May 6, 2019. We got the following email from Greg Marsden, Unda Maris III. He is working hard to get his DFI badge.....
Hi Ron,


We have a new Dolphin sighting on the SF Bay! Yankee Dolphin #130 Gandalf pulled up next to me while watching the Sail GP races today, and is in great condition. Was very surprised to see another Dolphin next to me!
Cheers,
Greg
Unda Maris #125

Click here for a larger image. Click here to go to Galdalf's page.
****************************
July 13, 2020 - Senior DFI Nicole Breault sent in this photo of Unda Maris coming into her harbor.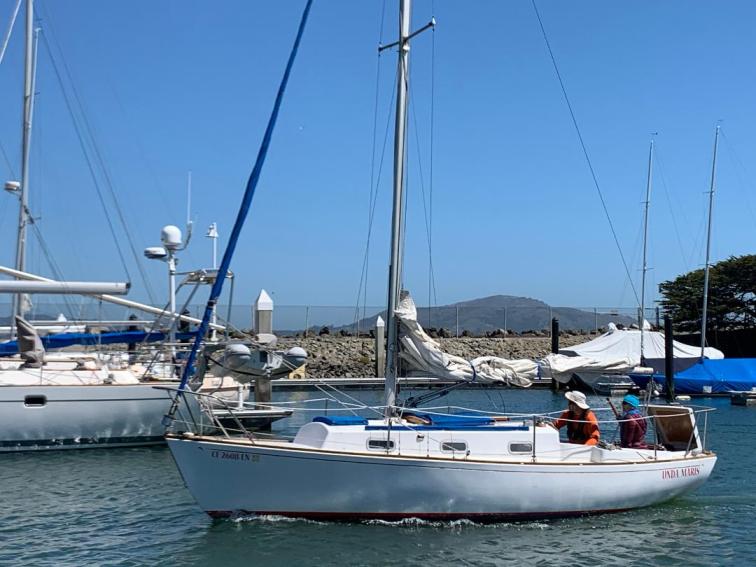 *************************
July 31, 2020. In over the transom this morning.
Hi Ron,


Nicole has a sharp eye! And good on her for wearing a mask while dolphin spotting.

Unda Maris has been well. We did a little "50th birthday" photo shoot at the end of 2019 and came up with this photo here, which I thought you might appreciate.

All the best,


Greg
******************************************************
November 13, 2020. Unda Maris III was spotted by a Senior DFI (my well trained daughter Nicole) prompting the following check in from Greg.
Hi Ron,


Nicole said hello today from the shore (she sure can spot a dolphin!) and suggested I reach out about a talk you'll be giving at the St Francis Yacht Club. I'd be keen to hear about the details!

#125 is doing well, just touched up the toe rails today.

Cheers,


Greg
Webmaster Note - Greg is referring to the St Francis YC Yachting Luncheon on December 2. Click here for details.
************************