November 10, 2011. On June 18, 2011. DFI Chuck Daut told us he found 2 Dolphins at the Marlinship Park Marina in Sausalito, California, Anne Bonny and Gandolf. We have known about these boats for nearly 3 years!! but had no information about them. (click here to go to Anne Bonny)
This Gandalf contact has been iin our pending files ever since Nate checked in to the Forum on March 8, 2008 with a sail specification request. Below is his post, and the link to the Forum exchange, We were waiting on more info from Nate. Somehow this never got followed up. Now that Chuck has actually found her she becomes our 184th Found Dolphin.
Yesterday, DFI Nicole Breault, on special assignment, got us a 2fer - pictures of both Anne Bonny and Gandalf!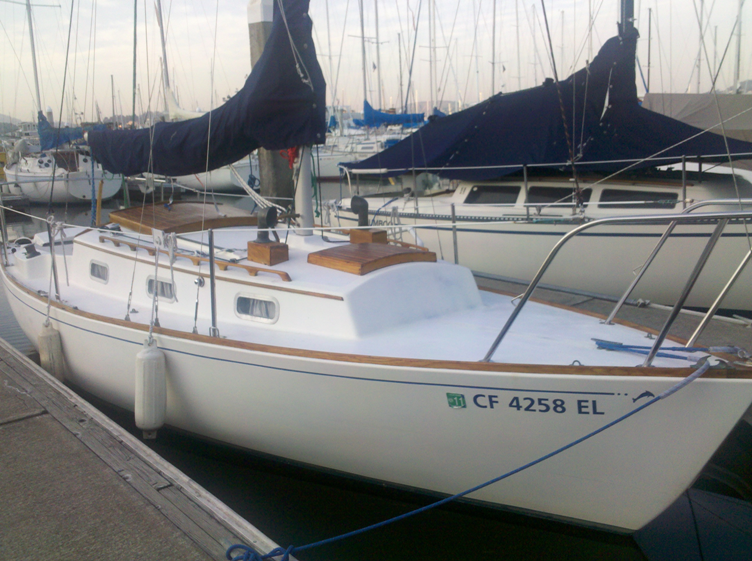 | | |
| --- | --- |
| | It seems that this marina in Sausalito has a special attraction for pirates (Anne Bonny), and the wizards that occupy Middle Earth. As many of our website readers are generationally removed from intimate knowledge of Gandalf, here is a Wiki link http://lotr.wikia.com/wiki/Gandalf |
Here are our previous 'contacts' with Gandalf.
Posted: 13 Mar 2008 at 10:13pm

Hi Guys,

We're sailing Gandalf out of Sausalito, a 1969 Yankee Dolphin 24. I'll post the hull number later-- I don't have it with me. Anyway, two part question:

+ Does anyone know the proper sail dimensions? (yes, I know I can go measure them, but thought this might be listed somewhere)

+ And, is there a reliable online source for buying new ones?

Opening day is just a few weeks away...!

Thanks Nate

**************************
This is the link to the Form exchange. http://dolphin24.org/forum/forum_posts.asp?TID=65.
************************
October 31, 2011. We have another 'on file' contact. On September 28, 2008 Dick Loomis, Yankee #212 sent in an email - excerpted -
Gentlemen

Hope that all is well with the both of you. I was sailing on the Bay today aboard a friends boat and witnessed Maltese Falcon up close and personal.....WOW! (picture from the web - 289 ft long, 191 ft masts!!!)

But the really cool part was sailing along side a Yankee Dolphin. Beautifully restored....uncertain of the number as it wasn't on the sail. Damn good looking boat. (later determined to be Gandalf - unfortunately no picture on file)
We will stand by and hope Nate checks in
***************************