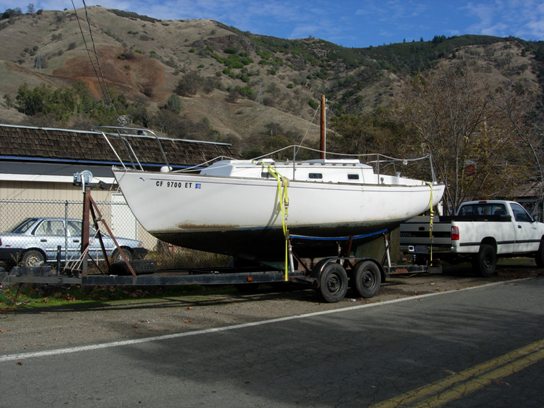 On Jim Sutro's (Duckling # 84) trailer
******************
What's in a name? Dick has had this boat for a couple of years and has been struggling with naming her. The following short exchange of emails on October 9, 2008 is illuminating.
October 9, 2008

Ron,
It's official....my Yankee Dolphin has a name - "The Babe". The most famous Yankee of all time and certainly a double entendre. Now I have to get you a photo.
Dick Loomis

********

Congratulations Dick!


Good name! Even works if you are a Red Sox fan since he played there too! When I read your email immediately a variation came to mind - How about "Hey Babe". Introduces still additional entendres.....

If you don't have second thoughts and take it, I may copyright it and try to sell it to some other Yankee - like Terry Bullock # 109!

Ron

*********

Ron

I'll just stick with The Babe. But I could go to Say Hey Babe....as I'm a Willie Mays / Giants fan.

Dick
*****************
We first found out about Dick's boat from the following post he made in August, 2006 on the old Dolphin 24 Sailnet Forum - found in their archives - welcoming Todd Wheaton (Karana, # 205) to the Dolphin club:
Todd,

No stuffiness in this fleet. I bought my Dolphin about a year ago and have received nothing but kind words and helpful hints ever since. Jim Sutro even loaned me his trailer until I get my boat seaworthy. I think you're gonna like it here. Welcome Aboard!

Dick Loomis
Yankee Dolphin 212
Calistoga, CA
****************
Fast forward to September 28, 2008 and we received the following email from Dick:
Gentlemen

Hope that all is well with the both of you. I was sailing on the Bay today aboard a friends boat and witnessed Maltese Falcon up close and personal.....WOW! (picture from the web - 289 ft long, 191 ft masts!!!)

But the really cool part was sailing along side a Yankee Dolphin. Beautifully restored....uncertain of the number as it wasn't on the sail. Damn good looking boat. (later determined to be Gandalf.)

The reason you do not have a name for my boat is because there isn't one....yet. (yes there is - on October 9th Dick announced the name - The Babe) My boat is sitting on Jim's trailer. Looks a little lonely at the moment as I haven't put much work into her lately. But after seeing the other Dolphin today, I'm more motivated to get the thing done and sailing....finally.

Dick Loomis
*******************
October 11, 2008. We got the following email from Dick and pictures of The Babe in her work tent.
I've actually done some work on The Babe.. I removed the old Groco head that came originally and filled in the hull holes left behind. Took awhile to build up the laters of glass but those two spots could possibly now be the strongest points in the hull. My next project is to refasten and seal the deck and hull joint. Then paint. . Then the bow and stern pulpits. Then lifelines. Then rigging. Then sails. Etc. You get the picture.....

Thanks for your wonderful work on the website.

Dick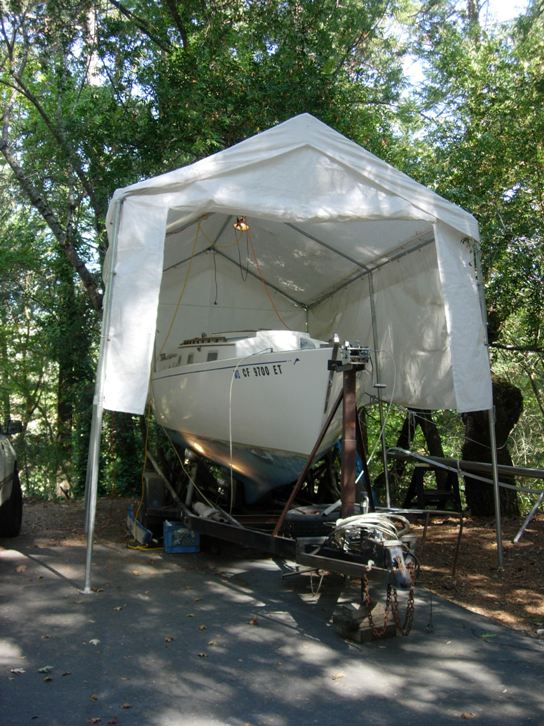 October 17, 2007 - The Babe in her new work tent
*********************
November 21, 2013 - Update from Dick
Ron -

After about 10 years, my Yankee Dolphin 212 "Old School" (formerly "Babe") is finally in the water. New sails are due next month.

This photo is at Richmond YC, San Francisco Bay.

Dick

***************************************************************
January 25, 2014. New sails!!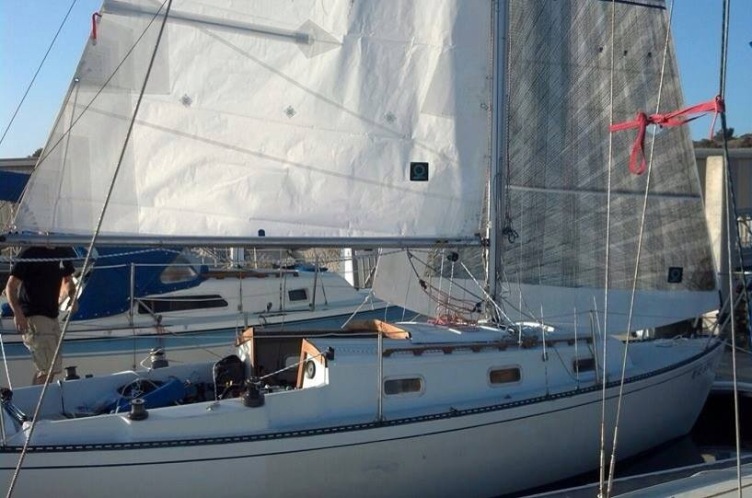 Ron,
Got new Quantum sails for my Dolphin "Old School". New standing and running rigging. Small issue with the headstay and mast rake. Sailing soon!
Dick

*************************************
June 12, 2014. Old School is in the water and looking for her old school mates. Here Dick's email - and address
Ron,

My boat, Old School, is up and running. Getting a lot of compliments :) Still lots of work to do but, hey, it's a boat!

I'd like to put together a list of all the Dolphins in the SF Bay Area. An occasional gathering of Dolphins on the Bay seems like it'd be a lot of fun! Perhaps you could post the idea. It's ok to use my email address as a point of contact. Thanks!

Dick Loomis, Old School #212 Email sailmrfun@sbcglobal.net

**********************
November 20, 2015. We got a senior DFI report from Nicole Breault hanging out at St Francis YC. Here's the set up:
Seems like there is an annual joust on San Francisco Bay called the Big Sail - now in its 12th year. The Big Sail takes place each November on the Tuesday before "The Big Game", Cal and Stanford's 123-year old college football rivalry game. It came down to the last race. Stanford and Cal were tied 1-1 in a best of three competition. As both teams prepared to start, the spectators went wild. The marching bands roared, the cheerleaders flew and the live commentary rang out.
No, this was not at the football game; it was at the Big Sail, an intercollegiate regatta between Stanford and UC Berkeley, ("Cal").The Big Sail features four divisions: Varsity, Young Alum, Masters and Grandmasters, and is raced in a fleet of one-design J/22s provided by St. Francis Yacht Club. Each division match-races on short courses (300 yards long) for the best two out of three. We won't tell you who won - here's the link to the St Francis YC article https://www.stfyc.com/default.aspx?p=ViewArticleFlyer&ssid=&itemID=314774
What this report is about is the appearance of a Dolphin 24 in the middle of this event. It was reported that they were friends of some of the Stanford and Cal alumni sailors who were participating in the Big Sail. They came through under spinnaker much to the delight of some, with their Oregon Ducks spinnaker flying, right past the SFYC race deck where many spectators were enjoying the battle of the marching bands. You see, the Ducks are mighty in the game of football and they defeated Stanford last weekend in their much anticipated match up. This weekend is the Cal-Stanford game.
The #212 on the mainsail was our clue. There's more to this story we are sure. We thought if we posted it on Old School's page maybe we'll get the rest of the story. Great pictures, Nicole - I'll bet this crew will like them!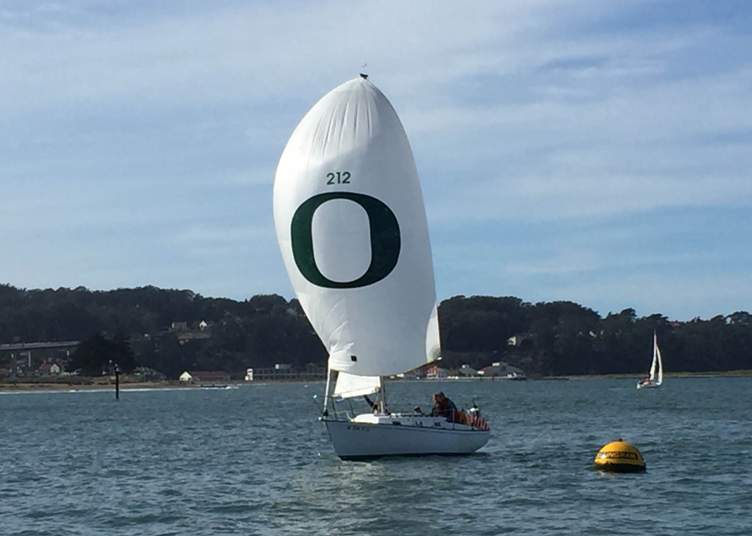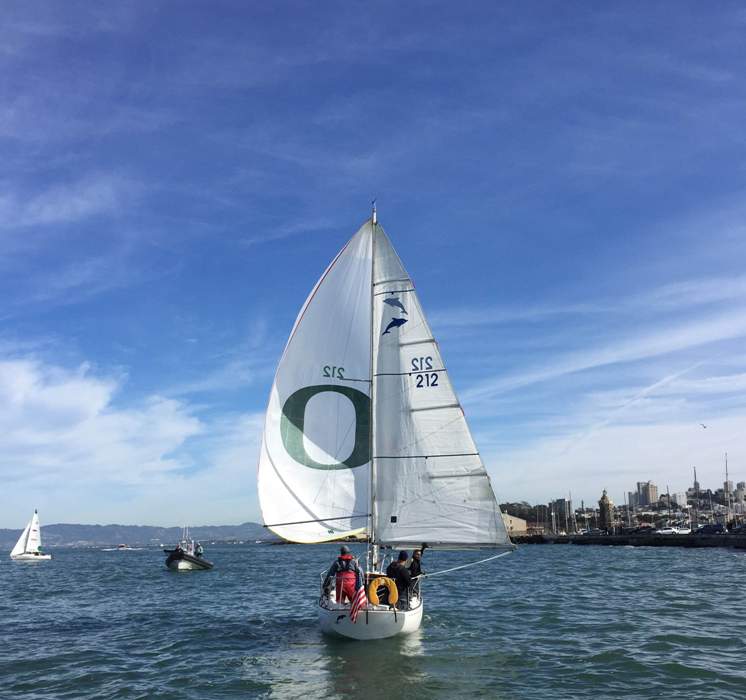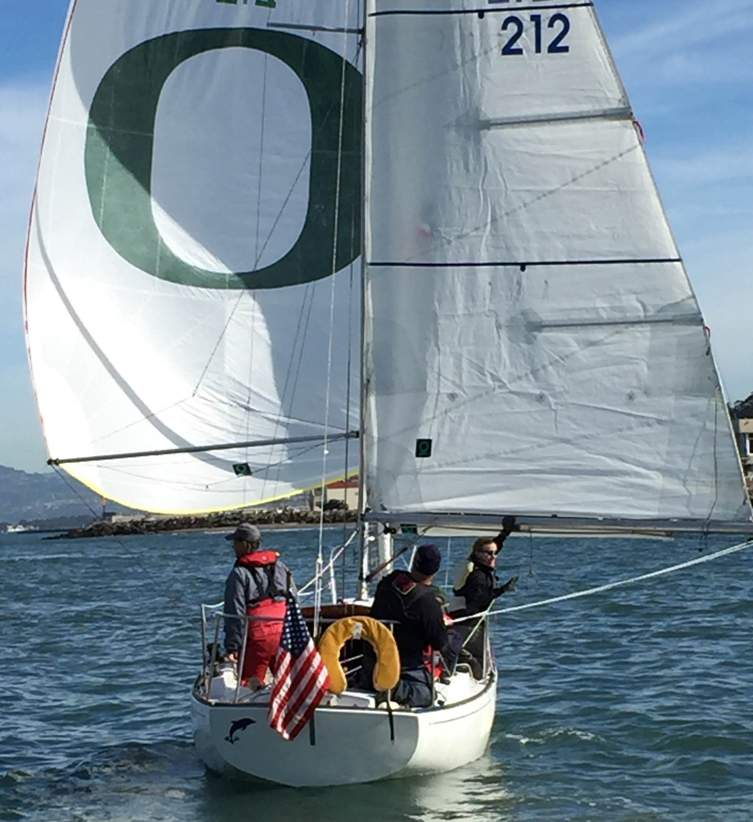 Standing by - click on the pictures above for larger images
Suspicions confirmed -

Ron -

Spies everywhere!! We had some fun!

Dick

ps Here's another one for you. Last Spring on San Francisco Bay.
******************************
February 2, 2016. Senior DFI Mike Zindt (Grand Finale) keeps an eye on what's happening on the west coast. He picked up Dick Loomis' Old School doing her thing on San Francisco Bay.
Ron

Todays Lectronic Latitude has a photo and mention of Dick Loomis' Dolphin #212 at the start of this weekend's San Francisco's 3 Bridges Fiasco race ( yes that's the actual name of the race).

It's a race around 3 of the bay bridges and participants may start or finish in any direction as long as all three marks are rounded. Over 300 boats participated.

Mike

Webmaster Note: Dick knows we are watching for him and Old School - here he is trying to hide behind that Cal 20 but we got him....Click here for a a fuzzy but larger image.

Postscript: Old School was racing in a Double handed Class with PHRF ratings over 163. 32 boats registered, 29 started, 24 finished; Old School finished 3rd! 1st was a Wyllie Hawkfarm 28; 2nd, a Cal 34. For Complete Class results - click here - scroll down to group 16.
**************************************
**********************************
May 6, 2017 - Senior DFI Nicole Breault forwarded us this really neat photo of Old School doing her thing at Richmond Yacht Club's weekly series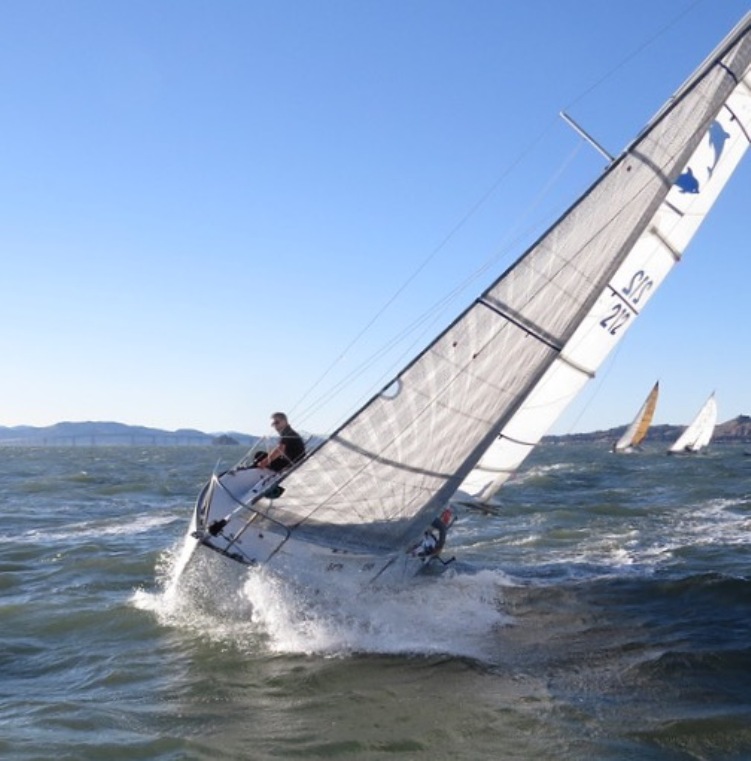 ****************************
April 18, 2018 - Old School is 'alive and well'. Here's Dick's update.
Old School is alive and well!!

Finally met your champion daughter Nicole and your son-in-law a couple weeks ago at St Francis YC.

My work on Old School consists mostly of "putting the pretty on"....paint, varnish, non-skid, etc.

Been enjoying the 273 rating. Sailing PHRF in various events around the Bay...and doing well

I was Commodore at Richmond YC last year which really cut into the sailing time!

Dick

Postscript: Photo right - Old School on the Bay. Been racing and doing well.
***********************
January 29, 2019 DFI Carl Harrington (Yankee Girl Esther, Yankee # 89) gave us the heads up on this. Latitude 38 Magazine's 'Lectronic Latitudes' caught Old School at the starting line for their class at the 2019 Three Bridges Fiasco regatta held on San Francisco Bay, Sunday, January 26.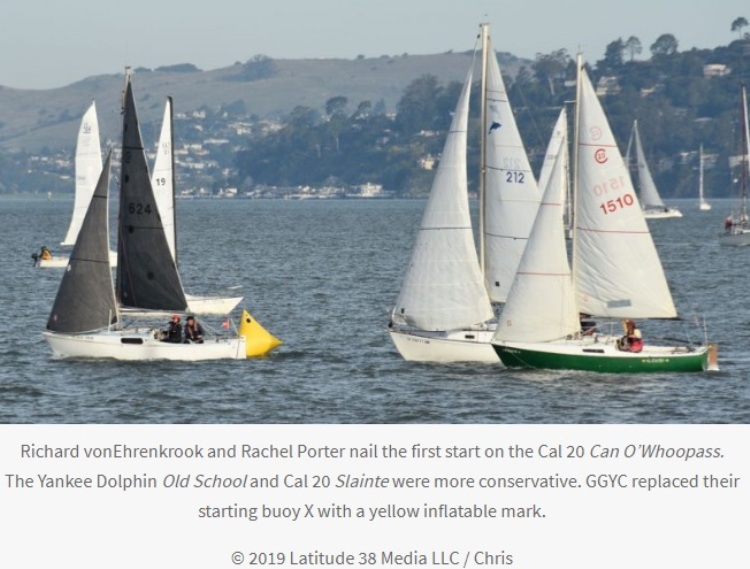 This is an annual regatta on San Francisco Bay with over 300 entries. Website staff would be remiss if we did not mention here that Marionette crew Nicole, who lives in San Francisco, was first in her class of double handed J-22s.
We'll standby for Dick's report ....... -Here it is!
Nothin' slips by you! We are the first start as we rate the highest / slowest at PHRF 273 out of ~340 boats. Did well up to the weather mark (aka Blackaller buoy) - first around - then down to Treasure Island and under the Bay Bridge.

Huge wind hole behind Treasure Island and a big flood current. Battled it for about 2 hours. Ended up going backwards vs the flood. At that point we did the math and realized the chances of finishing before the time limit was slim and none.

We retired at that point, put the outboard in, and headed for home (Richmond YC).

Bottom line? Great day!!

Dick
The 3 Bridges Bay
Sailing Scuttlebutt Newsletter has an in depth report on the Three Bridges Fiasco Race - click here to go there
****************************
***************************
February 23, 2021 Senior DFI, Nicole Breault advised us last night that Dick had passed away. Here's a link to Facebook comments. He will be missed.
https://www.facebook.com/photo?fbid=10225418084301428&set=a.10224996095431970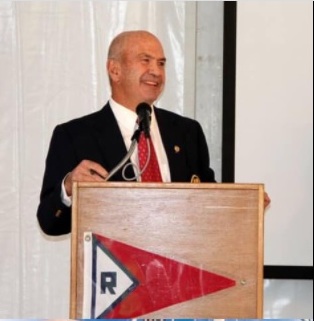 RIP Dick
***************************