October 29, 2016. We have again heard from Guillermo Gonzalez Ruiz regarding this boat. He responded to a webmaster call for help regarding identifying and contacting Gandul's new owner. Guillermo advises hei name is Marcus, and gave us his email address. We are standing by for a response to our email. Guillermo sent in the pictures below
And we did hear from Mark! He is formally checking in as the owner of Gandul. We have his reply to my email (sent in english and spanish) - Here is his reply in spanish, translated to english with the help of "Goggle translate", and with some editing from your webmaster.
Buenas tardes.


Me llamo Marcos Delgado.


Efectivamente soy el nuebo propietario del Gandul, velero que llevo 2 años con el y estoy encantado.


Siempre he tenido barcos de recreo con motor intraborda, y me propuse en cambiar a la vela y la verdad es otro mundo, el cual estoy encantado de haber hecho el cambio, ya que disfruto mucho mas los ratitos que estoy en el.
No conocia su pagina wett y me parece muy bien.


Le mandare fotos del barco en cuanto pueda.
Sin más, solo comentarle que en la paguina que a creado para mi barco aparezco con el nombre de Marcus y el correcto es Marcos.


Un saludo

Good afternoon.


My name is Marcos Delgado.


I am indeed the owner of Gandul, sailboat two years afor nearly nd I am delighted with her.
I've always had pleasure boats with an inboard engine, and I decided to switch to an outboard. I am happy to have made the change.

I did not know of your website and I think it is done very well. I will send photos of the boat as soon as possible.


Without further ado, please change my name from Marcus to Mark.


Greetings

Welcome aboard, Mark! - Bienvenido a bordo, Mark!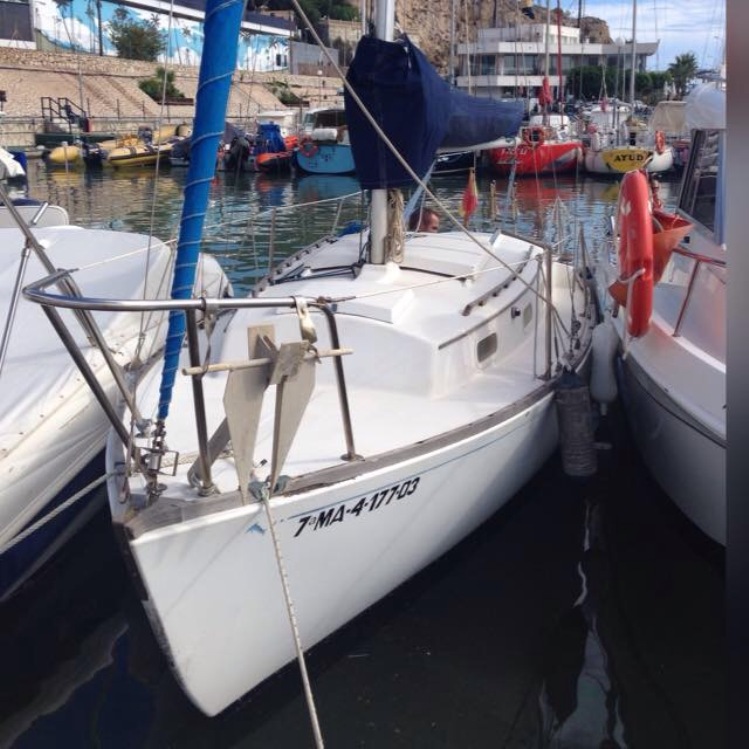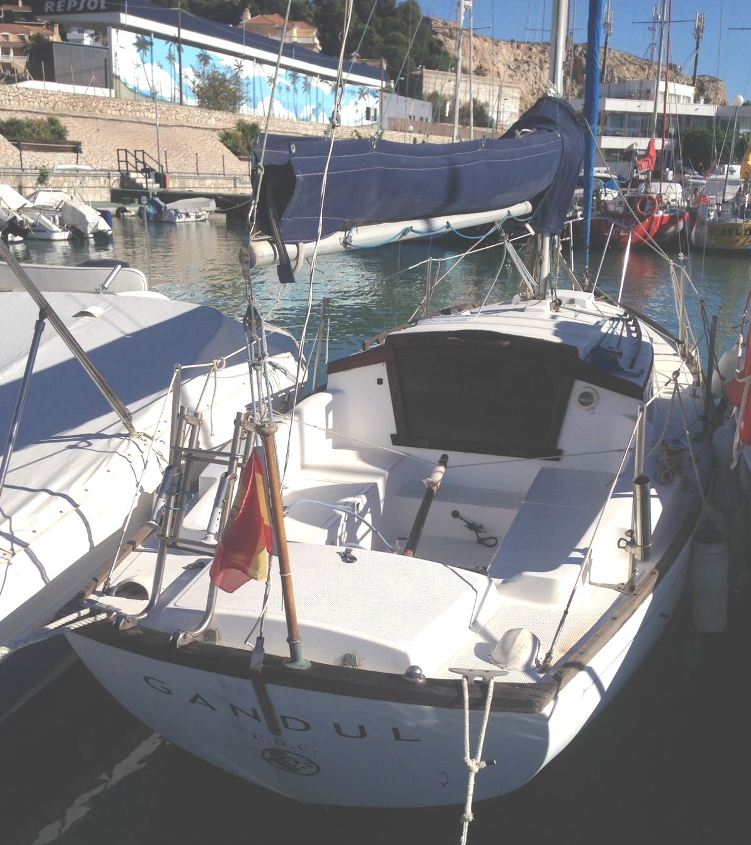 *****************************************
Fair Winds prior owner Francisco Arcos
**************************************************************
******************************************************************************
This is the history we had on this boat up until October 29, 2016.
April 4, 2016 We heard from Guillermo Gonzalez Ruiz that Grandul was sold to someone from Malaga in the Costa del Sol region of southern Spain, presumably sailing in the western Mediterranean. We standby for the new owner to check in. Maybe we can organize a Dolphin rendevous there?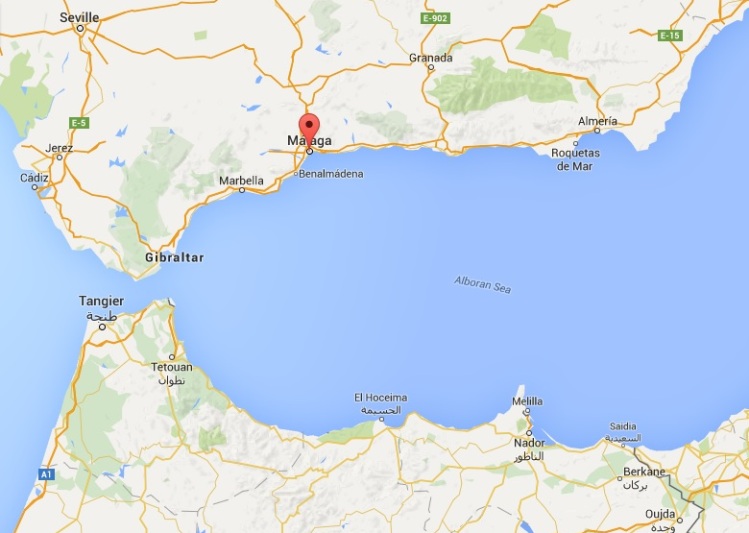 The western Mediterranean
***************************************
July 20, 2015. We received an email from Guillermo Gonzalez Ruiz in Santander, Spain, telling us about Gandul being for sale. Here is his email and the ad and pictures (minor edits)
Hello, greetings from Santander, northern Spain,

The reason for my email is I'm pondering the purchase of a Dolphin 24 in Spain. My plan is navigation on weekends and go slowly preparing the boat for ocean adventures. From your experience you think a Dolphin 24 this navigation is possible? YES - check out the following as good examples; This webmaster's experience with Marionette (#12) is with many coastal cruises with open ocean, up into the islands off Cape Cod, and to Maine.

http://dolphin24.org/kiwi_tahiti.html;

http://dolphin24.org/rob_paige%20article.html;

http://dolphin24.org/stories_big_dot.html

How much headroom is there within the cabin? SEE http://dolphin24.org/1497_3_Arrangements_Plan.html - About 140 centimeters

This is the link to the boat that I am interested in. http://www.cosasdebarcos.com/barco_74567040152848495354664848514557.html

Any information will be welcome, greetings, and congratulations on your website

Barco de ocasión Sparkman & Stephens - 24
Velero del año 1977 de 7,32m de eslora en Club Náutico El Candado, Málaga (España)
11.000 €

Equipamiento:

Electrónica: vhf con dcs y, gps, piloto st 1000 raymarine
Equipo de cubierta: 4 winches Lewmar
Velas: Mayor nueva, foque , genova enrollables
Documentación: Al dia listo para navegar, ITB hasta 2019 y permiso de navegacion 2019
Equipo de seguridad completo
Mantenimiento: ccuidado y mantenido al dia
Motor fuera borda en cofre cerrado de 4 tiempos Yamaha nuevo
Observaciones: Barco de quilla corrida muy especial
posibilidad de atraque en el club el Candado


Rough tranlaation

Equipment:


Electronics: with DCS and vhf, gps, Autopilot Raymarine st 1000
Deck equipment: 4 Lewmar winches Candles: More new, approach , Genoa roll-down shutters
Documentation:: ready to sail, ITB until 2019 and permission of navigation 2019
Full safety equipment maintenance: kept up to date
Engine outboard hood closed, Yamaha new
Comments: full keel boat; very special ability to berth at the club

| | |
| --- | --- |
| | |
| | |
| | |

****************************************
February 24, 2008. We received the following email and photos from owner Francisco Arcos in Malaga, Spain
Felicidades por esta pagina dedicada ha los delfines. Soy propietario junto con mi hermano de un delfin el nº 255 de 1977,

os adjunto una foto de nuestro delfin se llama GANDUL esta atracado en EL Club El Candado en Málaga ( España)lamento el no hablar Ingles solo Español

Muchas Gracias
Francisco Arcos
Málaga
España

Congratulations for this website dedicated to Dolphins. I am the owner along with my brother of a Dolphin nº 255 built in 1977. I enclose a photo of our Dolphin GANDUL. She is berthed in the Club Candado in Malaga (Spain) Sadly, I do not speak English, only Spanish


Muchas Gracias
Francisco Arcos
Malaga
Spain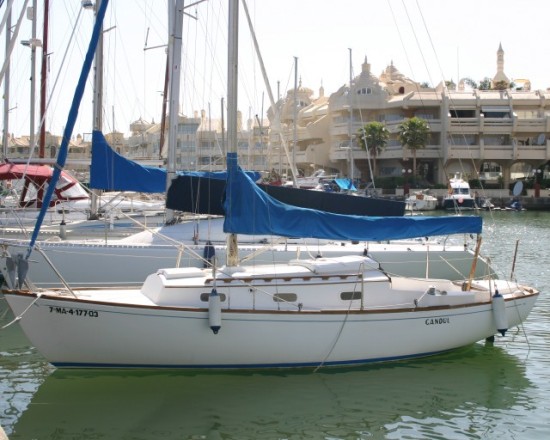 *******************************