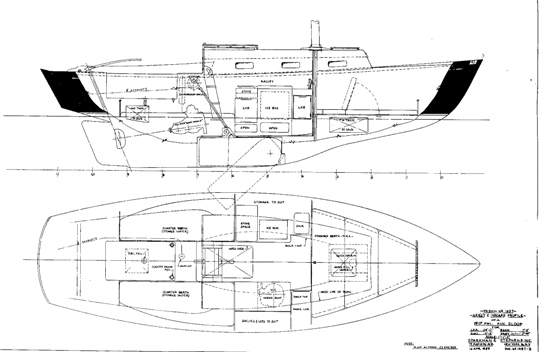 *******************
April 20, 2010 We needed a place to put headroom info and this seemd a good place. Dolphin 24 headroom is a love/hate relationship - those really nice lines relate to a hunched over posture, and for many, ends up with a move up to a larger boat. A recent exchange of emails with Jim Oppy (Wisp) prompted this reply from your webmaster, edited.
I have 2 Dolphins - Marionette, which was built on a Dolphin 24 bare FG Hull #12 from O'Day, otherwise all wood (decks, house, cockpit). It was finished to the Mermaid 24 plans which is an all wood Dolphin 24. My other boat Passage (really my son's that I work on when I have time) is O'Day #10 - a classic all fiberglass O'Day boat. I agree that the look of my boat is a slightly lower profile.

The inside headroom measurements are very close. Taken in the center of the boat 1 inch forward of the leading edge of the main hatch opening:

- Marionette 56 1/2 inches

- Passage 57 inches

When measured to the underneath surface of the closed main hatch the headroom on both boats increases about 2 inches. Later O'Days and Yankees/Pacifics have larger outward tapering companionways and wider hatches so the 'useable' headroom under the hatch increases. Someday, I'll get one of those guys to measure their boats.
The S&S drawing # 1497 shows this particular interior measurement as 57 inches.
The 1962 and later O'Day, Yankee and Pacific Dolphin headroom measurement will go right below here when we get them. Webmaster note: There's plenty of headroom to stand if you leave your main hatch open.......
*******************
January 22, 2013. Bruce Evans, Yankee #236 took some measurements of headroom on SoniMarg
Hi Ron,

In response to the question of head room measurements in later and F/G Dolphins raised in "Dick Galland's Kestrel O'Day hull #67 . . . " and in "O'Day Arrangements Plans S&S Drawing 1497-3 . . . " and maybe other Dolphin site entries, I measured 55 1/4 +1/8 -1/8 inch on Yankee Dolphin hull #236. This was taken 1" to 2" forward of the main hatch opening. This site continues to be a valuable and interesting resource; keep up the good work.

Thanks, Bruce Evans.