October 21, 2009 Senior Dolphin Field Investigator (SDFI) Bruce Evans first told us of this boat back on January 14, 2008. Without going into the classified and gory details of Dolphin sleuthing, coincidences, false assumptions, etc., suffice to say that our initial efforts to identify this particular boat resulted in identifying another one (Emily Jones' Riant, Yankee # 151), temporarily losing this one because we did not realize there were 2 boats at this location. It will not surprise the reader that Riant is laughter and merriment in French.
The following is a compilation of several emails from Bruce edited to make some sense of this rediscovery
Hello Ron

Yes, there must be at least one other Dolphin 24 on or near Hayden Island! Hull # 151 shows Oregon registration number OR 36ABJ (from the photo on the link to Riant http://www.dolphin24.org/portland151.html) while hull # 236 displays Oregon registration number OR 843LB. As in any good mystery, characters go by similar names, found in similar places, with little to do with each other, with alternative agendas, and presented with fragmented and incomplete descriptions.

She is moored on the Columbia River near Portland, Oregon at Columbia Crossings' Hayden Bay moorage. Unfortunately, her owner has gotten involved with another, larger boat, requiring more maintenance time, so the poor Dolphin is not getting the attention she deserves. It was purchased from Don Angel of Washington, D.C. about 1979. The #236 number comes from a number penciled on the original sales literature, and numbers on the original mainsail. There does not appear to be a metal identification plate mounted inside at the normal position as depicted in many pictures on the Dolphin 24 site.

Regards,
Bruce Evans
We are working on getting a picture and more details on this boat. Stay tuned.
***************************
November 1, 2009. Bruce sent in the following picture of # 236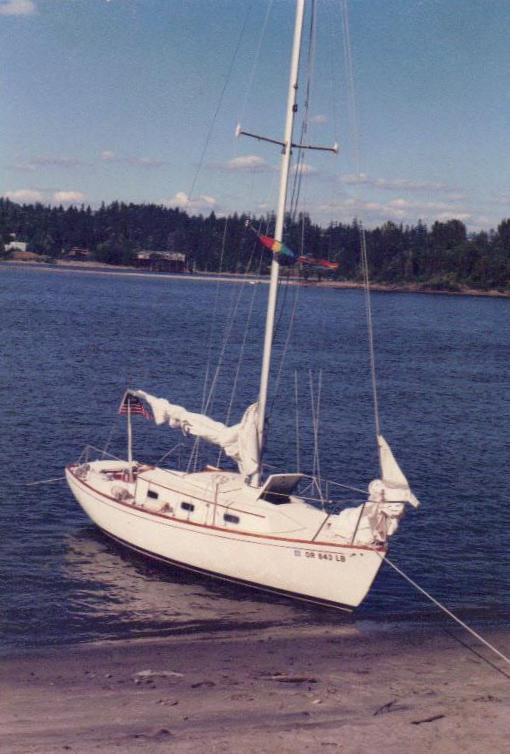 **************
November 30, 2010. While we were engaging in a collique on the matter of portlight gaskets Bruce has provided the following additional info on his #236 (minor edits).
Hello Ron

I purchased #236, I believe, in was March or April 1979, from a Don Angel, an avid sailor in the Washington DC area (we both worked at the Naval Research Laboratory in DC at the time). He had and I continued to moor the boat in an area called Back Bay, Maryland, south of Annapolis. Don purchased the boat from its original owner, a fellow he referred to as "Captain Blackie." I sailed with my two young daughters on the Chesapeake Bay. About July 1980 I relocated to a new position on the west coast and the boat was towed to near Portland, OR by a third party. It has been in and around Portland on the Columbia River since then. The picture above was taken while we were visiting one of the many islands in the Columbia - nice sandy beaches, reliable W and NW winds, sun in summer, rain in winter and current all the time.

Regarding portlight gaskets: Yankee seems to have used a gray molded, rubber-like material. Maybe I should give up trying to find an identical or similar molded shape and replace with flat gaskets made from sheet material. I suspected I was not alone on this one, and felt foolish reinventing something that has been previously solved, and by some pretty good craftsmen it appears from the site, hence my original inquiry.

Thanks for your interest, Bruce.

*****************
Webmaster Note: Anyone with information regarding a source for those Yankee grey molded portlight gaskets, and/or a leakproof and easy system for replacing these gaskets please email ronbreault@dolphin24.org
*******************
December 26, 2010. Bruce sent in the following info regarding #236 (minor edits)
Hello Ron,
The previous owner, Don Angel, from whom I purchased the boat in 1979, used the name "Precis", with the accent aigu over the 'e' - my keyboard does not have one. Unfortunately, I can not take the next step back in time; I do not remember Don ever mentioning the name that Captain Blackie used.
Happy Holidays,
Bruce, #236 "SoniMarg"

*********************************
January 22, 2013. Bruce took some measurements of headroom on SoniMarg. We put this info also on the Technical page dealing with head room.
Hi Ron,

In response to the question of head room measurements in later and F/G Dolphins raised in "Dick Galland's Kestrel O'Day hull #67 . . . " and in "O'Day Arrangements Plans S&S Drawing 1497-3 . . . " and maybe other Dolphin site entries, I measured 55 1/4 +1/8 -1/8 inch on Yankee Dolphin hull #236. This was taken 1" to 2" forward of the main hatch opening. This site continues to be a valuable and interesting resource; keep up the good work.

Thanks, Bruce Evans.