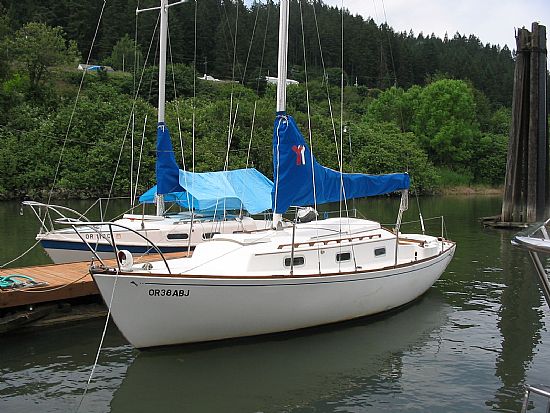 We first came across photos of this boat on June 7, 2007 from an ad placed on Ableboats.com. There was no ad date, the asking price was $9500 and the ad was marked "boat sold". We dutifully placed the boat on our Roster identified only as "Yankee #151, Portland, OR", based on info in the ad, and sat back and waited.
************************
On January 14, 2008 we had the following email from DFI (Dolphin Field Investigator) Bruce Evans advising of a new Dolphin sighting on the Columbia River near Portland, Oregon.
A quick note to let you know the whereabouts of hull # 271. She is moored on the Columbia River near Portland, Oregon at Columbia Crossings' Hayden Bay moorage. Unfortunately, her owner has gotten involved with another, larger boat, requiring more maintenance time, so the poor Dolphin is not getting the attention she deserves.

Have enjoyed reading your site.

Regards,

Bruce Evans
Following our customary practice we placed this boat on our Roster identified only as Pacific Dolphin #271, Columbia Crossing, Haydon Bay, near Portland, Oregon" - the hull number given placing it as a Pacific Dolphin built boat. And we sat back and waited.
**************************
On March 29 2008 Emily Jones checked in with the following email, and a later response to our follow up email and request for pictures.
Dear Ron,

I'm in the market for a Dolphin 24 and came across your site. I live in Vermont, recently moved from Portland, Oregon. I used to own the boat you have listed on your site as

"271 ??? Portland, OR Pacific owner unknown"

We bought her at a yard on Hayden Island in about 2004, and sold her when we moved away in 2007. I can find you the name of the new owner if you're interested. The papers we had said she was built in 1976. She was in pretty bad shape when we bought her, better but not great shape when we sold her. We were told that she had previously been on a lake in Montana! I don't know what her name was before we bought her. We named her Riant. Don't know if that's been changed.

Emily Jones
********************
Ron,

Amazing what I found, when I looked. Here are some pictures. We both had the hull number wrong. I even found the name of the man we sold her to: Nicholas Gideonse, Portland, Oregon

I confess I'm not looking for a restoration job. I would barely have time to sail, must less do a lot of work. But I do miss my boat! Thanks for your tips. I'll keep looking until the right one shows up.

Emily
So, thanks to Emily - we wish her luck on her search - sailaway ready Dolphins on the east coast are an endangered species. Now, we will sit and wait for Nicholas.....For you AIG burned up readers, DFI Bruce Evens will not be required to return his 7 figure bonus. It was a retention bonus - we need all the DFIs we can get, and nobody's perfect!
And saving most of you a google search Riant is laughter and merriment in French.
***************************
These are more pictures - sourced originally from Emily's ad, and again from Emily's email 2+ years later.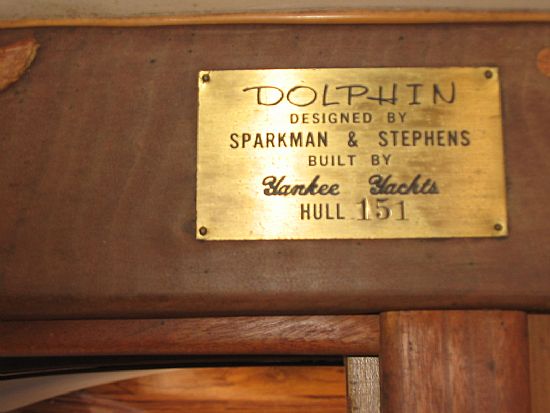 151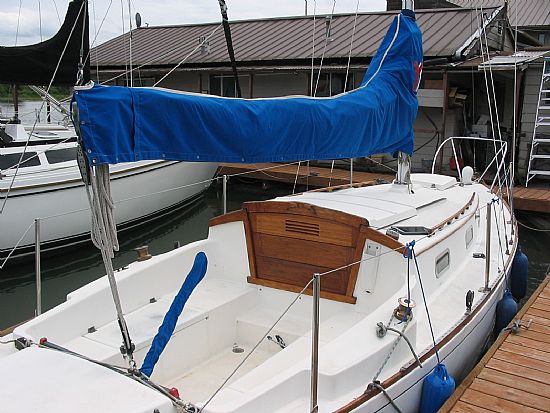 Note the arcing dolphins on the aft edge of the main hatch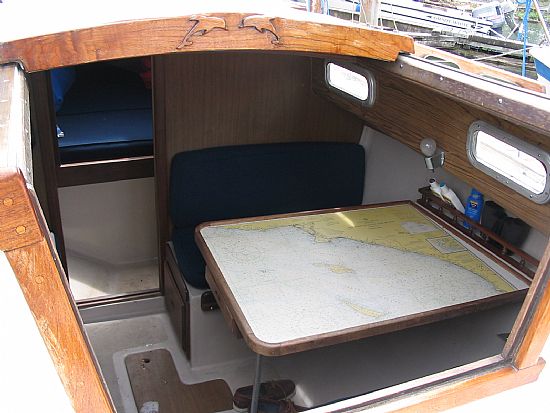 Great idea for a chart table - what coast is this? (West - Catalina Island, thanks Nicholas) Think about how those dolphins were placed on the hatch...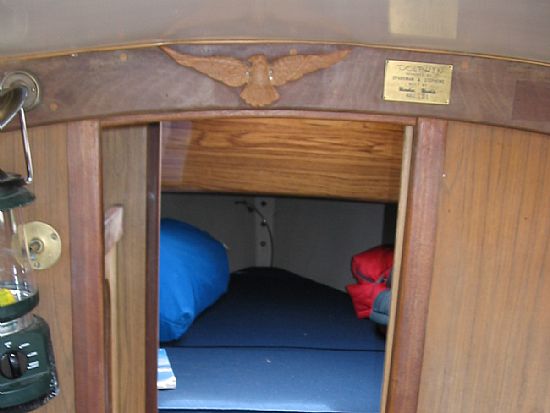 one more shot of that nameplate with hull # - so we don't forget it
******************
Stay Tuned
**********************
September 22, 2011. Nicholas did check in. Click here to go to Riant's new home, and name, Night Heron.