September 22, 2011. Nicholas Gideonse checked in with Night Heron, formerly Emily Jones' Riant (click here to go to her page). Pending receipt of pictures of Night Heron from Nicholas we'll borrow a couple that Emily sent us. Below is Nicholas' email (minor edits)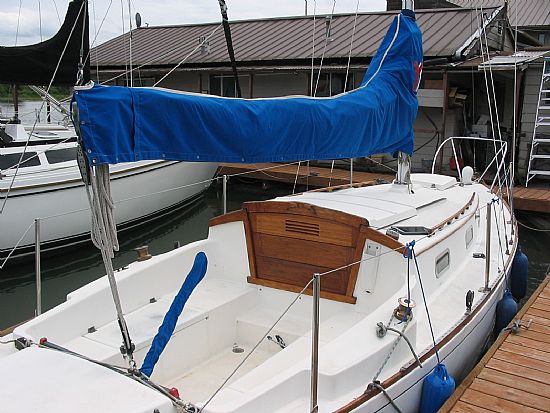 Ron:
Love the website. I have fond memories of Old Lyme from ~1972 when a dear aunt and uncle lived there. Yankee #151, ex-Riant, is now named "Night Heron", and she is now sailed only on Dorena Lake, Cottage Grove, Oregon - although I live in Portland still.


That's Catalina Island on the dinette/chart table, how "Yankee" (California) of her! I use a 30lb thrust trolling motor now as she is no longer running through those Columbia river currents; I have a four stroke Yamaha 4 hp I'll save for future San Juans sailing, but 6-8hp would be smarter. What do ocean goers carry for power? Webmaster Note: Check out Jerry Horan's setup http://dolphin24.org/210.html

I'll try to get you a fresher picture with Oregon Doug Fir woodlands in the background. She's in fine, if simple shape. I could use advice for a newer larger headsail; a local sailmaker can help. My "lapper" is fresh, but my "genoa" (maybe 120%?) is not. And what's the best rigid swim ladder set up? Webmaster Note: Good question for a Forum discussion - especially for a boat without a stern rail. This is Marionette's set up http://dolphin24.org/marionette_cruising551x.html

We sleep out on her a few weekends a year, my teenage son has had up to six kids sleep over!

Last question: Did a 62 year old lady ever sail one around the world solo? Webmaster Note: Not that I know of - but if she did, we want this story!!

Nick Gideonse
Webmaster responded by referencing links above - here's a summary
Nick

Re larger genoa - local conditions dictate. Here on Long Island Sound we can have light breezes so I have found a 170 to be a good sail to have. My workhorse is a fairly heavy 140. I like my basic, moveable swim ladder - see linked picture. Its fairly long and hooks over toe rail, and is easy to move, like when you are in the water scrubbing the waterline. Re motors - I am in the light motor, store below when sailing, camp. The heavy, permanently installed in the well, motors are great for convenience and power - but negatively affect sailing performance - its all about compromises. Where did you pick up the 62 yr old lady story?

Ron

*********************************************
February 21, 2018
.
Responding to a webmaster poke Nick sent in the following update
Ron!

Thanks for the poke… God, I love her! Stays summers on Dorena Lake (Cottage Grove, Oregon). Delightful single night simple sleep-overs some weekends, brisk 15-20 knot reliable afternoon breezes most weekends, and many of those will regularly gather party-crews of 6-8. Teaches novices frequently - most memorably the first sail of a 15 year old from Utah whose interest stemmed from reading maritime novel series (Patrick O'Brien, Horatio Hornblower).

Needs a new Genoa, as I enter my mid-50"s roller furling feels like an option. Advice? (feel free to post this if I don't get to it today….. SO many gorgeous pix to send!)

Best, Nick

Webmaster replies Standing by for the pics. We have some comments re jib furlers up in the Technical Section - http://dolphin24.org/jib_furlers.html,

and,

with the help of Google Earth and Wikipedia, we continue our education about where our Dolphins sail. Here is Dorena Lake, Oregon - that's the Pacific Ocean on the left

We're working on a better arial photo

***************************
January 13, 2020 Responding to a webmaster plea we got the following update from Nick.
Happy New Year, Ron!

She's fine, in good shape, in need of a new foresail (should I consider roller furling?) but stayed on the hard last year after Army Corp Engineers (and climate change) played screwy with Dorena/Willamette Valley, Oregon water flows, and lake levels fatally shortened the season

.I'll give it another year or two, but after that will look for Portland, Oregon area re-berth'ing.

Nick

Webmaster Note: I do not have furling jibs - all hank on - probably crazy - but years ago I heard a nightmare story about a guy and his wife sailing their 40'er in a big, getting bigger breeze, unable to get their jammed, partly furled, jib down.....On the other hand, as one gets older.....

******************************