October 20, 2011. Greg Marsden and his dad rebuilt Unda Maris III's main hatch. Below are some pictures and comments regarding this project. This started with an email in August, 2009. This is an excerpt.
I've attached a couple more photos of the work we did on the boat, reworking the hatches out of hardwood. It's my dad's handiwork here, he took the original teak framing and redid the wood slats with an aluminum backing to keep them waterproof. This was apparently a problem, as the original condition we found the hatches had several extra layers of tar paper, caulking, and Boat Board over the original hatches!
The 'After" photo
In response to a recent request for more info from another Dolphin owner, Greg followed up with this email.
Hi Ron,

Thanks for getting in touch!

Not sure how helpful this will be, as my dad rolled the aluminum for the hatch cover specifically to the old hatch frame! Here are more photos of the process and his description - attached.

Cheers,
Greg

Used outside frame of old hatch. Used Alum 3003 H4 .062" for base. Formed to contour of hatch. Fastened with SS screws and Sikaflex. water tight.

On inside -Stiffeners are Alum 6061 T6 .125" Attached with sikaflex - then covered with wood.
Used maple. It is what I had. Attached to aluminum with sikaflex.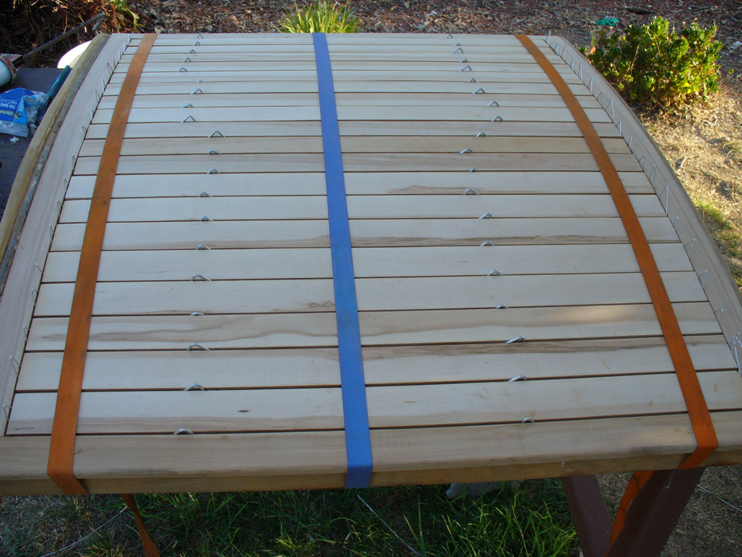 Note spacers for later caulking

Caulked with West Marine Multi-Caulk.

In Place