September 11, 2013. In August your webmaster was up in Bernard/Bass Harbor, Maine on a family vacation, alas, sans Marionette. As webmasters are always on duty it seemed contacting Todd Dunn who made my half model of Marionette, and who lives in Bass Harbor, was a good idea. This story follows a little geography lesson.

Bass Harbor is a working lobster boat harbor on the southwest corner of Mt Desert Island. It is known as the quiet side as most tourists concentrate near the eastern side of the Island - home of Bar Harbor and the carriage trails of Acadia National Park, and of Cadillac Mountain, the highest point on the east coast of North America.

Marionette has been in Bass Harbor a couple of times over the years taking advantage of the Island Explorer bus service which provides convenient (and free!) transportation all over Mt Desert Island - a blessing for the solo sailor on a time budget..

The next harbor east of Bass Harbor is the better known Southwest Harbor. Somes Sound helps separate Southwest Harbor from Northeast Harbor. It is one of the most magnificent bays on the Maine coast, over 5 miles long nearly splitting Mt Desert Island in two, and its overall geology makes it fjord like.
This whole area, including the Cranberry Islands, is also known as Great Harbor, and besides being a tourist haven, was and is home to some of the top boat builders in the country. I contacted

located in Northeast Harbor, who advised that Admiral Samuel Eliot Morison, writer and maritime historian, said that it was too bad the name, Great Harbor, wasn't used more often.
The following AcadiaMagic map will help guide us.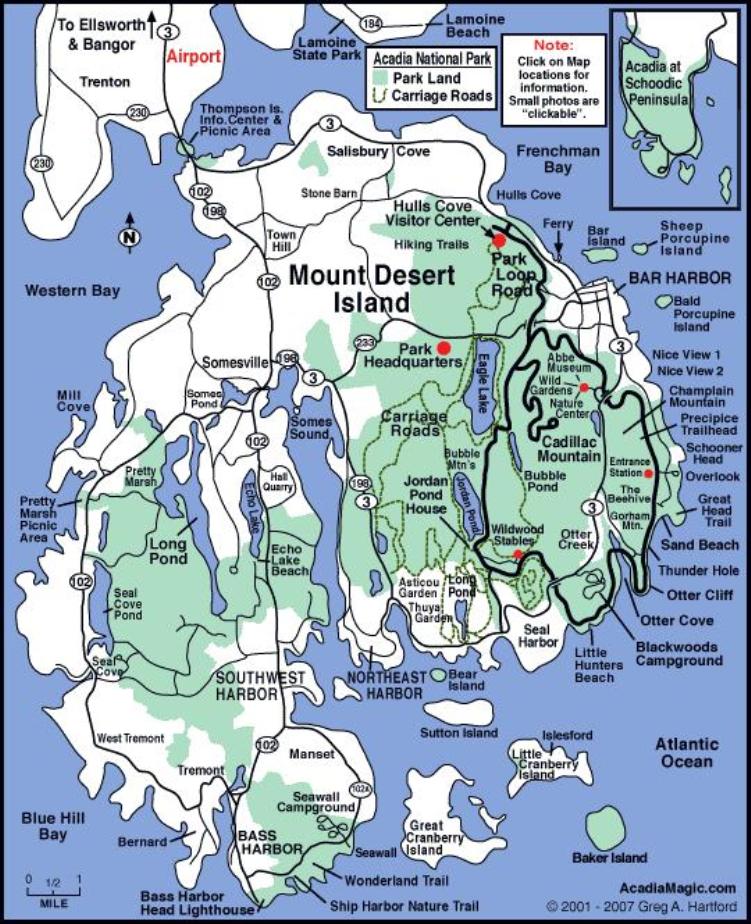 The green shaded areas are Acadia National Park
Within 5 miles of Southwest Harbor, as the crow flies you will find at least these boat builders
Hinckley Yachts http://www.hinckleyyachts.com/Sailboats/Default.php

Morris Yachts http://www.morrisyachts.com/company/

John Williams Boat Company/Stanley Yachts http://www.jwboatco.com/

Ellis Boat Co/Ellis Yachts http://www.ellisboat.com/

Classic Boat Shop/Pisces 21 Day Sailer http://classicboatshop.com/maine/about/

Red Fern Boat Co/Red Fern 22 http://www.redfernboat.com/services_rendered/redfern-22/

Hank Hinckley Boat Company/Ocean Cruising and Great Harbor Yachts http://www.hankhinckley.com/

Great Harbor Boat Company/Richard Stanley http://www.greatharborboatworks.com/

Cranberry Island Boatyard/Western Way 19 http://www.mainebuiltboats.com/members/profile.asp?MemberID=71
So, I was driving down Rt #102 on the west side of Somes Sound past Halls Quarry Road and saw the sign for the John Williams Boat Company. Their Stanley Yachts line of custom built 'Lobster' boats are pleasure yachts and are on everyone's short list of that power boat that can tease one away from their sailboat. That's a Stanley 36 in the photo at left.

I was pretty sure that this was where Todd Dunn worked and drove down the access road into the boatyard. I saw a guy walking near the office and asked him if Todd was around. I got a blank stare so asked for the guy who made half models.
"Oh", he said, "You mean Eric Sandberg. He's out on that boat" pointing to a boat down at the end of the dock. I knew that name but at that moment I did not make the connection. I walked down the dock, introduced myself, and asked Eric if he knew Todd Dunn. He said he did not know him personally but knew he lived down in Bass Harbor. I thanked him, got back in the car and drove down Rt #102 to our house in Bernard which was right on the waterfront of Bass Harbor. I turned on this computer, went to the Dolphin24.org website and typed in Eric Sandberg's name in the search engine (that button on the upper left of your screen). A short scroll down the page that came up, and I saw this
February 9, 2010.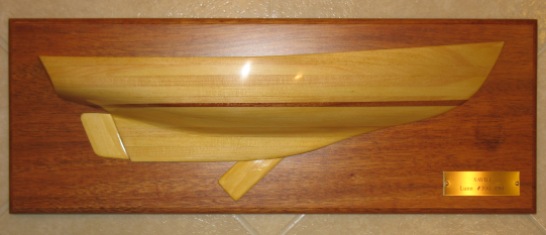 This stunning half model was made for Gary DeLong, who owns Savili, a 1961 Lunn built Dolphin #200 that he keeps on Great Wass Island, Beals, Maine. It was built by Eric Sandberg who builds his models using solid lifts, referred to as the lift method. This is the method used by builder/designers back when the half-model was the primary design tool. All his models are hand carved, and are made on a custom basis. Painted models are also available. Eric builds 15-20 models a year. Click here to see a larger scale photo. Use the back arrow on your browser to get back to this page.
The following information about Eric is provided by John Williams Boat Company where, in his day job, he is a master carpenter.

Eric Sandberg, a finish carpenter at John Williams Boat Company for the last 15 years, has been in the marine industry for over 34 years. He is a very skilled craftsman, one of the best in the area. His attention to detail and his creativity have been a perfect fit for the needs of the yard.

He resides in Trenton during the winter months. In the summer he commutes to work from his home on Islesford on Little Cranberry Island in MISS POOH, a 19' powerboat he finished himself.
Well, a Dolphin webmaster can be forgiven a mental lapse once in awhile, can't he? After all, two Dolphin half model builders only a couple of miles from each other, just a couple of crossed neurons.....a couple of Vodka tonics later I was back in control, sent an email off to Todd Dunn announcing I was in town and suggesting we meet for a drink somewhere. Todd came back with an email inviting me for a tour of the area on his restored 1936 raised deck motor yacht Tortuga based at Southwest Harbor. We set a date.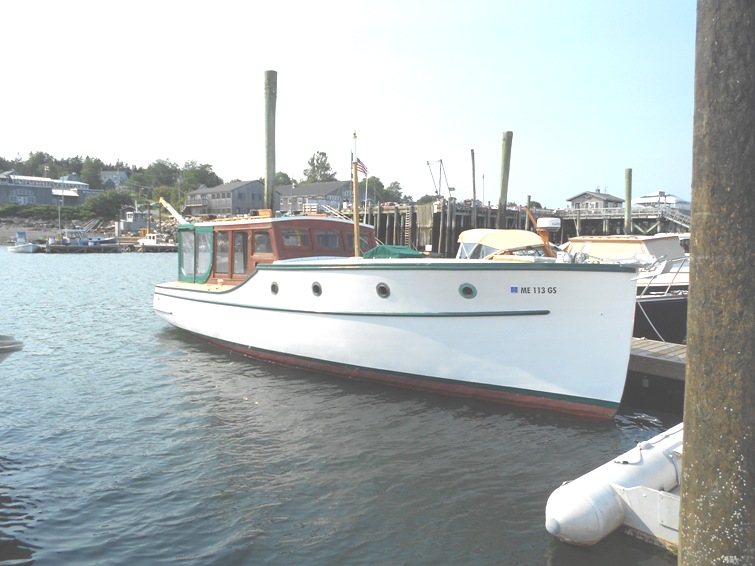 So, I showed up about 11AM with my small insulated knapsack containing a few cold beers ready for I was not sure what. I had never been aboard a boat like Tortuga and was immediately impressed with why people restore boats, particularly older wood ones - she was simply beautiful.
| | |
| --- | --- |
| pilot house | main cabin |
Todd is a sailor, and was a university professor who lived and taught in New Brunswick, Canada for many years, retired early, and has been in Bass Harbor for about 12 years.

He started building models as a hobby some 30-35 years ago and it evolved into a business when, in November of his first year of retirement, and with time on his hands he decided to build a model of his Allied Princess '36. (photo at left - we passed her on our way out of the marina) Then he was asked to build another Allied Princess model, and there he was - in business as a model builder.

He has built Hinckley Bermuda 40 and Pilot 35 models, and Morris Yacht models, among many others. He specializes in obtaining often difficult to obtain, accurate, details.
As we passed his boat I could not resist telling Todd about the connection between Allied Yachts and the Dolphin 24. Lunn Laminates, builder of 25 Dolphins in 1961, built the molds for the first Allied boat in 1960 - the 30' Seawind, and built the first 5 boats. Hull #1, Apogee, was the first fiberglass boat to sail around the world.
Webmaster Note: Those that religiously check out the underlined links already know this - if you had clicked the 'larger scale photo' link of the Savili half model above will have noticed that Savili was built by Lunn, was hull #200, and, those that checked out either the Savili or Lunn Laminates links know that Savili was the first Dolphin 24 built by Lunn!
As we slowly motored out of Southwest Harbor and up Somes Sound our conversation ranged from minutia like the Lunn Laminate connection above to Todd pointing out various spectacular yachts, and to stories about boat builders. He knew Tom Morris of Morris Yachts who built his boats right there in Bass Harbor. In the winters Todd helps Hank Hinckley whose family made the Hinckley name synonymous with top quality US made performance sailboats. Hank Hinckley builds his boats at his Great Harbor Boatworks in Southwest Harbor - the plant is located off Rt #102, the road to Bass Harbor. Hank's Great Harbor 26, Joy, was for sale at the Hinckley Brokerage in Manset, on a trailer right near the road. She was hard to miss.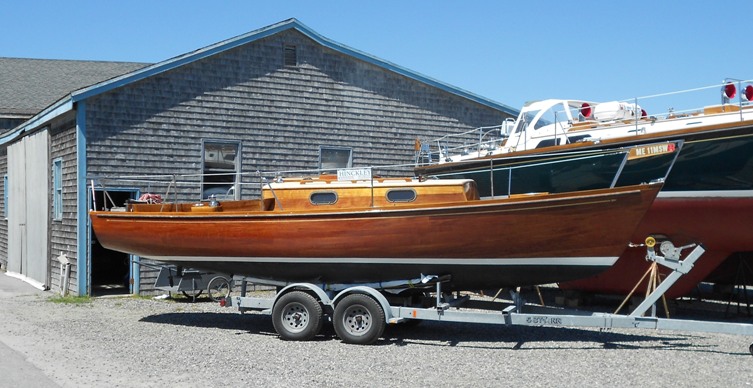 Joy - kinda looks familiar
This boat is cold molded, built in 2003, has a bulb lift keel, an inboard diesel, and a traditional, white and mahogany trimmed interior. You can see more pictures and get her spec details by going to her YachtWorld ad - click here. I wonder what a cold molded, varnished hull, Hank Hinckley built Dolphin 24 would look like....
I'll jump ahead a few hours - on my way home I had to pass right by the Hank Hinckley Boat Builders boatyard road - and as I was experienced at dropping in at boatyards, I stopped to say hello. Hank was not there but one of his carpenters was - and he gave me a tour!
| | | This modest plant/boatyard was building beautiful boats, a sustaining tradition |
| --- | --- | --- |
New Great Harbor 26 - Day Sailor version

This version of Great Harbor 26 has a glass hull, otherwise all wood. The picture at left shows the new mold for a glass deck and cockpit version

really neat, and novel, interior layout
Ok, back on board, Todd took us up Somes Sound, a lobsterpot haven, then down over toward the west shore of Northeast Harbor.

The Cruising Club of America and the New York Yacht Club had cruises up to this part of Maine, and as we motored past, their joint race committee was just getting a race off.

I got this picture of Spookie, Steve and Heidi Benjamin's Carkeek HP 40 with Cadillac Mountain in the background. Steve works for North sails. Spookie is a new boat this year and is a head turning winner - among other races she won the 186 mile Block Island Race from Stamford, Connecticut out to and around Block Island, and return.
Around the tip of Northwest Harbor and into the harbor itself is the new service home of Morris Yachts. Marionette has been in this harbor on a mooring a couple of times . A favorite visit for me is the Thuya Gardens at the top of the hill (see map at top of page). Visitors by sea can tie up at Asticou Terraces Landing on the east shore and walk up the 1/4–mile Asticou Terrace Trail to the garden and lodge, enjoying the views from several lookouts along the way.

Back to Morris Yachts, their M-Series yachts are designed by Sparkman & Stephens. Several of them could be seen in Bass Harbor where Morris has a facility and moorings, as well as in Southwest Harbor. Their docks at Northeast Harbor were lined with them.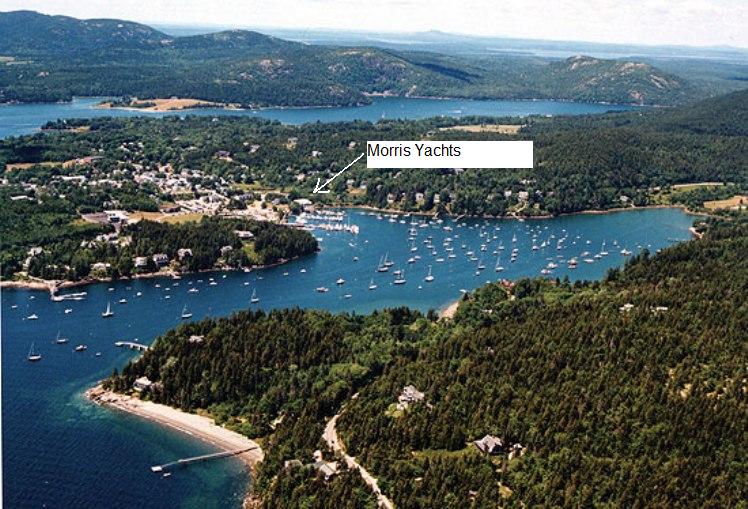 Northeast Harbor, Somes Sound in the background
Tom Morris passed away a couple of years ago but we have a connection to him and his S&S designed M-36. Back in pre website days, the Mystic Seaport Museum was the host to the S&S 75th anniversary celebration in 2004. Marionette was the representative of the Dolphin 24 Class. Tom was introducing his new M -36 at this event and was personally taking lucky individuals out for a test sail on the Mystic River right there in front of the Museum. Son Mike went out with him, and Mike also was captured later in a photo with Olin Stephens.
Click on the two lower pictures for a larger image
It was over too soon. We tied up Tortuga in her slip at Great Harbor Marina and had a couple of cold beers to help me decompress. Altogether, a really special experience.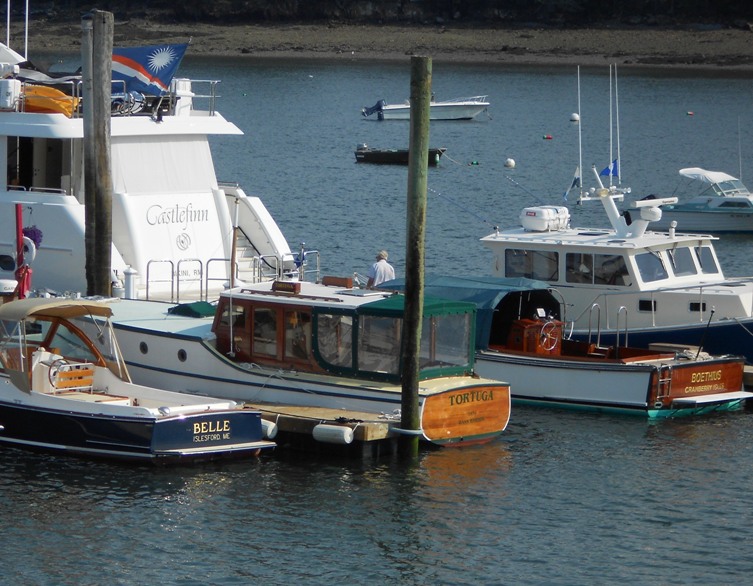 Thanks Todd
**************************************************
August 12, 2016. Todd has advised that he is giving up his model making business. He will be missed.